In edition 232 of BC Disease News (here), we examined the 1st instance decision of His Honour Judge Luba, in the case of Brown v The Commissioner of Police for the Metropolis & Another (2017). This dealt with qualified-one-way costs shifting (QOCS) eligibility amid allegations that only part of the claim included damages for personal injuries. This week, judgment was handed down on appeal in The Commissioner of Police of the Metropolis v Brown [2018] EWHC 2046 (Admin).
At 1st instance, HHJ Luba did not grant permission for an alternative costs consequence, under CPR 44.16(2)(b). On the contrary, the judge found that the 4 separate causes of action, despite not all relating to personal injury, fell within the scope of CPR 44.13(1)(a).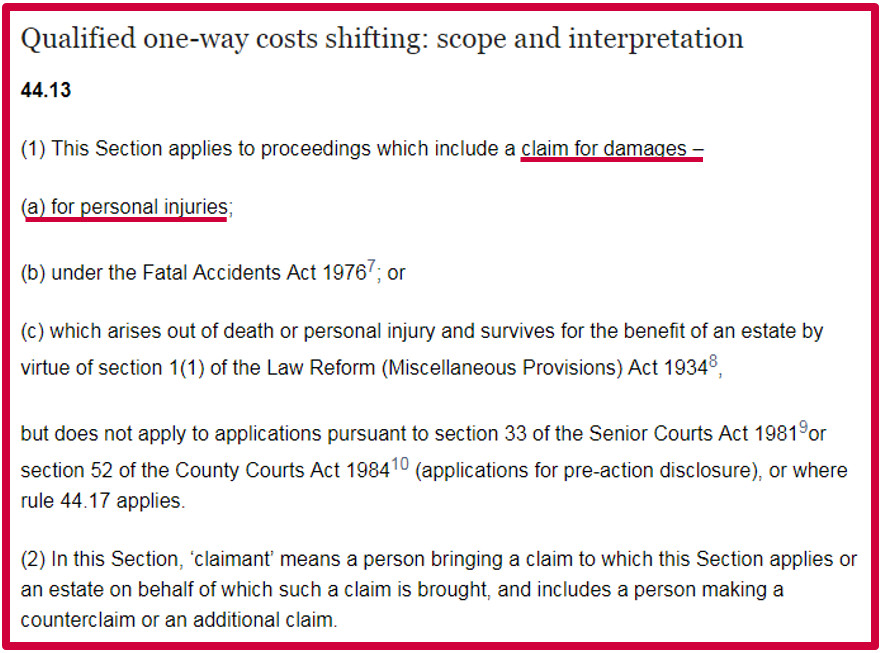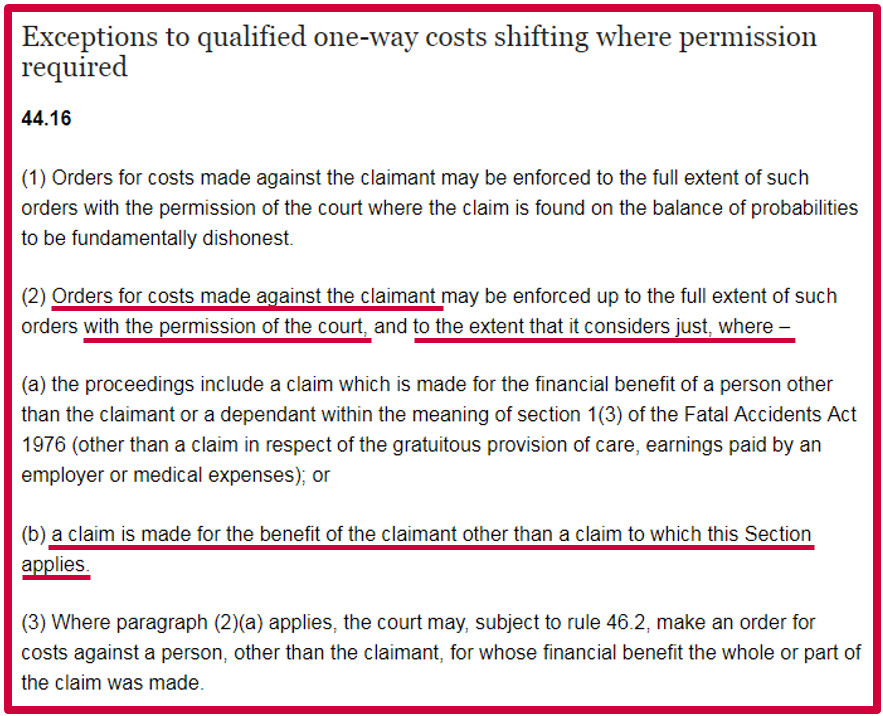 At paragraphs 18 and 19 of his judgment, HHJ Luba reasoned:
'If any one of ... [the 4 causes of action] ... does not include a claim for personal injury damages, then it might be arguable that the terms of 44.16(2)(b) are met ... however ... on a consideration of the pleaded case here, set out in the Statement of Case advanced by the Claimant against each of the two Defendants, what is alleged is that the injury has followed as a consequence of each of the four matters ...
It is not a case ... in which there has been included a separate claim for some other form of damage for loss arising in consequence of that claim alone ...'
On appeal, Mrs Justice Whipple DBE cited 3 cases of direct relevance to Brown: Wagenaar v Weekend Travel Ltd [2015] 1 WLR 1968; Jeffreys v Commissioner of the Metropolis [2017] EWHC 1505 (QB); and Siddiqui v Chancellor, Masters and Scholars of the University of Oxford [2018] EWHC 536 (QB).
Wagenaar v Weekend Travel Ltd [2015] 1 WLR 1968
At paragraph 39 of Wagenaar, Vos J provided insight into the scope of CPR 44.13:
'It is true ... that the word "proceedings" in CPR r 44.13 is a wide word which could, in theory, include the entire umbrella of the litigation in which commercial parties dispute responsibility for the payment of personal injury damages. I do not think that would be an appropriate construction. Instead, I think the word "proceedings" in CPR r 44.13 was used because the QOCS regime is intended to catch claims for damages for personal injuries, where other claims are made in addition by the same claimant. There may, for example, in the ordinary road traffic claim, be claims for damaged property in addition to the claim for personal injury damages, and the draftsman would plainly not have wished to allow such additional matters to take the claim outside the QOCS regime'.
Jeffreys v Commissioner of the Metropolis [2017] EWHC 1505 (QB)
Whipple J continued by discussing the case of Jeffreys, in which the claimant brought a claim for 4 distinct causes of action: assault, false imprisonment, malicious prosecution and misfeasance in public office. The claimant sought damages in respect of personal injuries sustained (physical and psychological) and other losses.
In this instance, Morris J found, at paragraph 37, that CPR 44.16(2)(b) 'must be interpreted as referring to "proceedings which include a claim other than a claim for damages for personal injury". He went on, at paragraph 44, to consider whether 'indivisibility' between PI and non-PI aspects of a claim has the effect on nullifying the CPR 44.16(2)(b) exception:
'... in my judgment, there is no authority for the proposition that in order for CPR r 44.16(2)(b) to apply the personal injury claim and the non-personal injury claim must be "divisible" ... If the two claims are "inextricably" linked or otherwise very closely related, then that relationship can be reflected in the exercise of discretion (in the claimant's favour) which arises once CPR r 44.16(2)(b) applies'.
Siddiqui v Chancellor, Masters and Scholars of the University of Oxford [2018] EWHC 536 (QB)
Thirdly, Whipple J commented on the relevance of the Siddiqui judgment, which followed Morris J, in Jeffreys. Foskett J also observed the 'important objective to ensure that the QOCS provisions are not abused by simply "dressing up" a non-personal injuries claim in the clothes of a personal injuries claim to avoid the normal consequences of failure in litigation'.
After having considered the case law on QOCS and mixed claims, Whipple J noted that, if HHJ Luba was correct in stating that inseverable claims cannot be caught by CPR 44.16(2)(b), then 'QOCS would have automatic application to any proceedings which include a personal injury claim, or even, on her second alternative, to any proceedings related to proceedings in which a personal injury claim is advanced ... It would mean, at its most basic, that mixed claims would have automatic protection'. Further, he echoed the concerns of Foskett J that the claims might be dressed up as PI-only claims to obtain QOCS protection.
Despite an Equality and Human Rights Commission (EHRC) intervention, Whipple J allowed the defendant's appeal. Accordingly, he ordered that the Judge, at a hearing fixed for September 2018, will have the discretion to permit enforcement of the defendant's costs order, as he considers just.
Despite accepting that adverse costs orders against claimants pose a risk to access to justice, Whipple J maintained that construing QOCS as a means to promote access to justice would go 'beyond the intended purpose' of costs protection.
Following Brown, claimants pursuing mixed claims are now at risk of losing QOCS protection if the PI element is both severable and inseverable from the non-PI element.
Full text judgment can be accessed here.