In this feature article, we consider the current position of de minimis in NIHL claims.
In edition 224 of BC Disease News (here), we reported on the case of Dryden and others (Appellants) v Johnson Matthey Plc (Respondent) [2018] UKSC 18, where the Supreme Court created uncertainty over de minimis as a ground of defence. Here, the claimant's physiological changes, namely sensitisation to platinum salts, constituted 'actionable damage', despite not being 'harmful in itself in any relevant sense'.
However, in last week's edition (here), we reported on the case of Harte v Hawker Siddeley Dynamics Ltd & 2 Ors (Liverpool County Court, 2018), in which NIHL was considered not to have been 'sufficient as to be described as significant' and 'did not make the Claimant's ability to hear appreciably worse'.
Since then, we have received draft judgment on the case of Nicholls v Osram Ltd & Anor (Newcastle County Court, 2018), where both defendants contended a NIHL claim on the basis that incremental changes in hearing threshold were not 'significant' such as to make the claimant 'appreciably worse off'.
DRYDEN AT THE UK SUPREME COURT
In the case of Dryden, the claimant developed platinum salt sensitisation, an asymptomatic condition caused by exposure to platinum salts. However, sensitised individuals are at risk of allergic reaction upon further exposure to chlorinated platinum salts.
In previously accepted law on de minimis, the House of Lords found that asymptomatic pleural plaques (fibrous thickening of the pleural membrane which surrounds the lungs) did not constitute an 'actionable injury'. The Court in Rothwell v Chemical & Insulating Co Ltd [2008] AC 281) reasoned that pleural plaques were 'symptomless bodily changes with no foreseeable consequences'. In Dryden, the medical experts compared platinum salt sensitisation with pleural plaques:
'i. Slight further exposure to asbestos will not materially worsen pleural plaques, but slight further exposure to platinum salts is likely to increase the degree of sensitisation and may result in asymptomatic sensitisation becoming symptomatic;
ii. Pleural plaques do not, themselves, turn into any other injury attributable to asbestos whereas asymptomatic sensitisation mayturn into symptomatic sensitisation (allergy);
iii. The presence of pleural plaques does not prevent a person from engaging in particular types of work that would otherwise be open to him or her, asbestos exposure being restricted by law in any event. In contrast, a person who has asymptomatic sensitisation to platinum salts is restricted in the work that he or she can do'.
The Supreme Court overruled the 1st instance and Court of Appeal decisions, in favour of the claimant. Even though the 1st instance judge, Mr Justice Jay, differentiated between sensitisation (a 'direct causal pathway') and pleural plaques (a 'biological cul-de-sac'), he still found that 'nothing short of actual symptoms could amount to actionable injury'. At paragraphs 47 and 48 of the Supreme Court judgment, Lady Justice Black distinguished Rothwell from Dryden and cast doubt on any future success of defending claims (potentially including NIHL and HAVS), on de minimis submissions:
'I would distinguish this case from Rothwell ... As I see it, it is material that the pleural plaques were nothing more than a marker of exposure to asbestos dust, being symptomless in themselves and not leading to or contributing to any condition which would produce symptoms, even if the sufferer were to be exposed to further asbestos dust. Similarly, the sensitisation of the claimants in this case marks that they have already been exposed to platinum salts, but unlike the plaques, it constitutes a change to their physiological make-up which means that further exposure now carries with it the risk of an allergic reaction, and for that reason they must change their everyday lives so as to avoid such exposure. Putting it another way, they have lost part of their capacity to work or, as the claimants put it in argument, they have suffered a loss of bodily function by virtue of the physiological change caused by the company's negligence.
As Lord Pearce said in Cartledge (supra para 15), it is a question of fact in each case whether a man has suffered material damage by any physical changes in his body. It is a question of fact that must be determined in the light of the legal principles applicable to personal injury actions ...'
HARTE JUDGMENT ON DE MINIMIS IN NIHL
However, last month, judgment was handed down in Harte v Hawker Siddeley Dynamics Ltd & 2 Ors (Liverpool County Court, 2018), in which the claimant was unsuccessful at trial against the 3rd defendant employer, which employed him 25 years prior to NIHL attribution.
Consultant ENT surgeons, Arvind Arya (instructed by the claimant) and Philip Jones (instructed by the defendants) observed the better 2015 audiogram and calculated NIHL at 10.1 dB and 3.3 dB, respectively. Both medical experts also noted a notch at 4 kHz in both ears.
Mr Araya submitted that any loss above 4 dB would be 'significant' and therefore actionable. It was claimant counsel's argument that any loss above 6 dB was 'compensatable', while Mr Jones asserted that a 3 dB loss was 'insignificant' and therefore de minimis.
Mr Jones argued that hearing loss development between attribution and the 1st audiogram was likely to have been substantially ascribed to AAHL, given the long lapse between noise exposure and attribution. Unlike Mr Araya, he was of the mind that asymmetry presence was an indication that NIHL was 'less likely'. Nevertheless, Mr Jones conceded:
'... perhaps it would be equitable to conclude there is a minor NIHL present which he has never noticed and which on objective criteria would not be judged as significant'.
Recorder Parrington found in favour of the defendants' analysis, namely that noise-related hearing loss was de minimis:
Such loss of hearing as can be ascribed to noise exposure was not in my judgment sufficient as to be described as significant and such diminution in the Claimant's hearing as was caused by exposure to noise did not make the Claimant's ability to hear appreciably worse'.
THE LATEST CASE OF NICHOLLS
In Nicholls v Osram Ltd & Anor (Newcastle County Court, 2018), the claimant pursued a claim against 2 defendant employers. It was alleged that the claimant had developed hearing loss attributable to excessive noise exposure. The claimant was employed by the 1st defendant, from 1978 to 1984, and subsequently by the 2nd defendant, from 1987 to 1990.
Limitation was conceded pre-trial. However, breach of duty was contested by the 1st defendant, which did not provide the claimant with hearing protection, nor training on the dangers of working in a noisy environment.
During the period of employment at the 1st defendant's factory, the claimant worked on lightbulb producing machines and packing machines, with high pressure pumps. These machines were left running for the duration of his shifts, at an arm's length. The claimant alleged that he had to shout, or raise his voice, to communicate with colleagues stood 4ft from him.
Single joint expert and acoustics engineer, Daniel Saunders, produced a report on the expected noise exposure. He determined that the claimant's Noise Immission Level was between 94 and 104 dB. Moreover, he calculated that the daily noise dose, during the course of employment with the 1st defendant, would have been between 87 and 90 dB(A), neither of which were in excess of the 90 dB(A) LEP,d requirement under the 1972 Department of Employment document: Code of Practice for Reducing the Exposure of Employed Persons to Noise. Mr Saunders concluded that the daily noise exposure levels were 'likely to have been above 90 dB(A)'.
However, District Judge Morgan found that the engineer's conclusion was not consistent with the 87 to 90 dB(A) range of values derived earlier in his report. As such, the claimant had failed to establish a breach of duty against the 1st defendant and the claim against the 1st defendant failed.
In any event, the 2nd defendant conceded on breach of duty. As such, the judge went on to consider the issue of de minimis in NIHL.
Joint medical statement was given by claimant expert, Mark Yardley, and defendant expert, Andrew Parker, on 12 October 2016. This was in relation to a single joint audiogram, taken on 19 July 2014.
Mr Yardley's Position Pre-Joint Statement
In his initial report, Mr Yardley referred to the CJ Moore Paper on 4 kHz and the importance of hearing thresholds at this frequency, for the purpose of perceiving speech: 'A review of the perceptual effects of hearing loss for frequencies above 3 kHz'. On this basis, he calculated NIHL of 13 dB, in the right ear, at 4 kHz. Noting asymmetrical loss, he accepted that the results of the less deafened right ear would be more appropriate for calculating losses across a range of frequencies.
Average arithmetic hearing loss in the right ear, across 1, 2 and 3 kHz, was calculated at 8.3 dB, using the conventional Coles Guidelines (CLB 2000) method. However, Mr Yardley preferred a hearing loss calculation across 1, 2 and 4 kHz, which was 18.3 dB. His reason for doing so was his observation of 'relatively well preserved hearing in the lower frequencies but a significant loss at 4 kHz bilaterally'.
Using ISO 7029 Table 1, AAHL (Presbycusis) for a 50th percentile 51-year-old male, was extrapolated as 8.3 dB – the same as the initial NIHL calculated figure across 1, 2 and 3 kHz.
Mr Parker's View of Mr Yardley's Initial Assessment in the Joint Statement
Mr Parker did not accept the Mr Yardley's reliance on the research of CJ Moore, nor did he accept the AAHL figure of 8.3 dB, suggesting an alternative figure of 10.7 dB.
By contrast, he relied on the McShefferty Papers, which we examined in detail in edition 233 of BC Disease News (here) and were successfully adduced by Mr Jones in Harte. McShefferty considered that 'just noticeable' and 'just meaningful' difference of speech in background noise was far greater in both hearing-impaired and non-hearing-impaired individuals than initially considered.
Mr Parker offered alternative calculations, using the latest guidance from Professor Lutman, et al: 'Guidelines for Quantification of Noise Induced Hearing Loss in a Medicolegal Context' (LCB 2015). Applying the LCB 'short method' and 'full method' across 1, 2 and 3 kHz produced binaural hearing losses of 2.2 dB and 3.5 dB, respectively.
Mr Parker found that the degree of hearing loss calculated by applying Professor Lutman's method was 'not material' and would not have left the claimant 'appreciably worse off'.
Joint Statement Consensus of Both Mr Yardley and Mr Parker
In their joint statement, both medical experts were in agreement that the claimant, aged 51, would have suffered 'some degree' of AAHL. Mr Yardley reconsidered his initially reported NIHL calculations and accepted that the correct calculation would apply Lutman's 'full method' across 1, 2 and 3 kHz (3.5 dB NIHL), as per the suggestion of Mr Parker. Mr Yardley extended Mr Lutman's method to present a loss of 6.4 dB across 1, 2 and 4 kHz. He contended that 3.5 dB binaural hearing loss was 'not a great loss', neither was it 'insignificant'.
However, both experts agreed that R1 of the CLB Guidelines was met, namely that there was high frequency, bilateral sensorineural hearing loss. Further, a significant notch at 4 kHz was identified bilaterally, satisfying R3(A) of the Guidelines. R2 was also satisfied.
Cross-Examination Post-Joint Statement
Under cross-examination, Mr Yardley accepted that Table 2 of the 'Guidelines on the Diagnosis of Noise Induced Hearing Loss for Medicolegal Purposes' (CLB 2000) would have been a better way to assess AAHL than Table A1 of the Black Book. He further accepted that his calculation of 6.4 dB binaural deafness, across 1, 2 and 4 kHz, was an 'oversight'.
Across 1, 2 and 3 kHz, the right ear exhibited 3.3 dB of loss, but Mr Yardley accepted that variation 'from person to person' would make it 'difficult to quantify' whether the claimant would have been 'worse off'. Mr Yardley stated that, generally speaking, if losses are greater than 5 dB, claimants can be deemed to be 'worse off'. Equally, if losses are less than 2 dB, claimants cannot.
Mr Parker, when questioned by DJ Morgan about his dismissal of the CJ Moore Paper, reasoned that Moore's research had initially been presented as a letter and later became a publication. Thus, it was unreliable.
Findings of DJ Morgan
DJ Morgan cited the relevant case authorities, beginning with Lady Justice Black, in Dryden. He also cited Roberts v Prysmian Cables and Systems Limited (2015) and Briggs v RHM Frozen Foods Limited (2015). Both of these cases featured in a tabular representation of County Court decisions on de minimis in NIHL, which was included in edition 216 of BC Disease News here. In that article, we considered the judgment in Evans v Secretary of State for the Department of Energy & Climate Change and JJ Maintenance Limited (2017).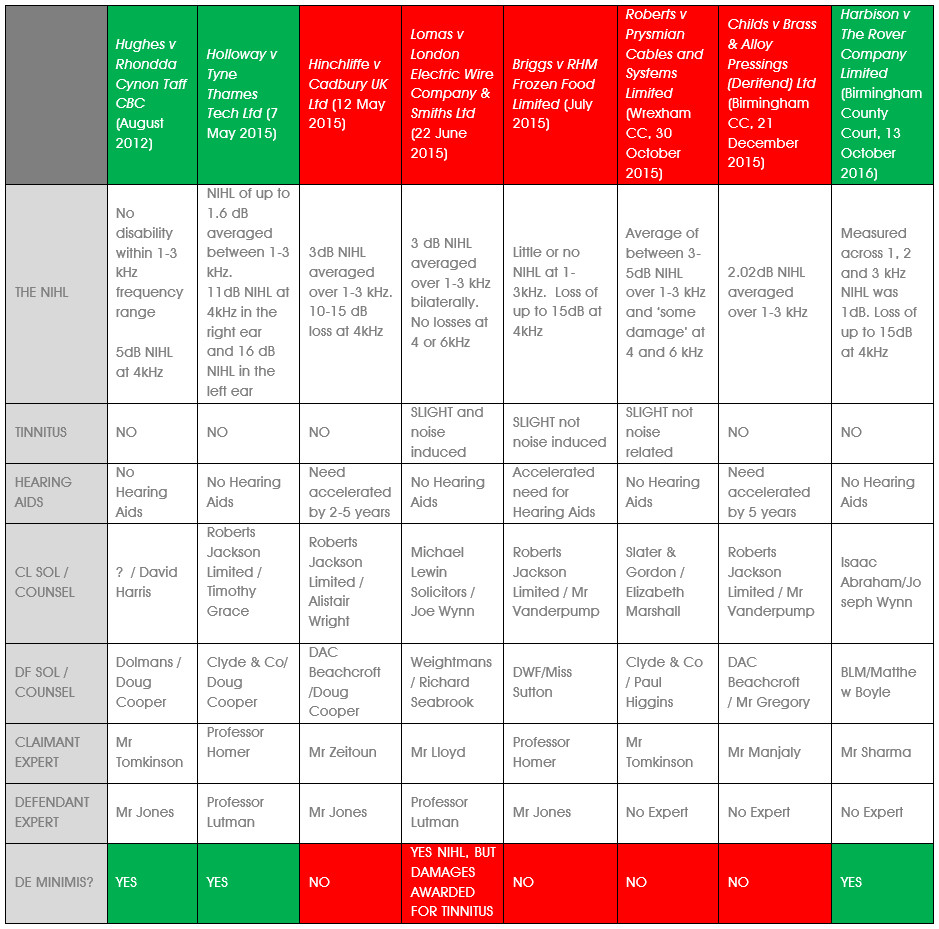 In Evans, the judge preferred the claimant expert's (Mr Singh) NIHL calculation, taken across 2, 3 and 4 kHz, producing an 'appreciable' hearing loss of 11.2 dB. The defendant expert's (Professor Lutman) calculation across 1, 2 and 3 kHz (2.3 dB), in this instance, was disregarded.
Nevertheless, the District Judge in Nicholls found that the claim against the 2nd defendant had to fail. The claimant was not 'appreciably worse' off as a result of his NIHL.
He found the defendants' expert to be far more persuasive than the claimant's. Mr Parker was 'not swayed' under cross-examination, whereas Mr Yardley's hesitant approach made him a 'less compelling witness'. The judge hastened to add that his comments were an attack on Mr Yardley's 'reliability' and not his 'credibility'.
At paragraphs 72 to 75, District Judge Morgan reasoned:
'I find therefore, relying upon evidence of Mr Parker, that the claimant has not established that with the hearing loss of 3.3 dB in his right ear at 1, 2 and 3 kHz that makes him appreciably worse off. The evidence of the claimant does not assist in this case as he cannot give evidence as to how much worse off he is than if he suffered loss only as a result of presbycusis. That is a matter for the experts and ultimately for the court.
In respect of a finding that the court is invited to make that there should be reliance upon the results of hearing loss higher frequencies of 1, 2 and 4 kHz I again prefer the evidence of Mr Parker supported by the McShefferty Papers. Mr Yardley opines that 4 kHz is an important frequency to discern speech in particular if there is background noise (the claimant has in effect noise induced hearing loss of about 13 dB in his better right ear at that frequency relying on Professor Moore's paper).
There is clearly a range of views upon this issue which has been around for many years but the recent and 'traditional' method of assessing disability is 1, 2 and 3 kHz reinforced in the 2015 Guidelines which both the experts agree in the joint statement 'that a reasonable method of estimating the degree of noise induced hearing loss' are the methods described in those Guidelines.
I am not persuaded upon the evidence before me that it is appropriate to depart from the 2015 Guidelines. Even if I were to be wrong in that respect I accept the evidence of Mr Parker again that the claimant does not demonstrate that he is appreciably worse off as the change in his hearing at the frequency of 4 kHz is insignificant'.
CONCLUSIONS
The recent NIHL judgments of Harte and Nicholls appear to have diminished fears that the Supreme Court authority of Dryden has ended de minimis as a defence in industrial disease claims.
It is also worth recognising several similarities between the judgments of Harte and Nicholls:
The robustness of medical expert reporting affected the 'reliability' of evidence, thereby influencing the success of de minimis arguments.
A test across 1, 2 and 3 kHz, using Professor Lutman's 'full method', provided the most accurate calculations of NIHL.
The Moore Paper on the importance of notches at 4 kHz proved unsuccessful when attempting to escape de minimis – this also reduced the likelihood that calculations of NIHL across 1, 2 and 4 kHz would be accepted.
The McShefferty Papers on 'noticeable' and 'meaningful' difference of speech in background noise are gaining traction and bolstering de minimis as a defence – claimants must prove how much 'worse off' they are, which is 'difficult' when NIHL is only a couple of decibels.
Asymmetrical hearing loss positively impacted upon de minimis arguments; the same can be said for Presbycusis – the better ear was the more reliable ear.