This week, judgment was handed down in the conjoined appeal of Hislop v Perde & Kaur v Committee of Ramgarhia Board Leicester [2018] EWCA Civ 1726, which ruled on the appropriate basis for costs assessment following late Part 36 acceptance in fixed fee Portal claims, governed by CPR 45. We reported on the decision of Hislop v Perde (County Court at Central London) at the court below, in edition 199 (here). The latest appeal has clarified the law on costs in 'cases in the middle', i.e. cases where acceptance of a Part 36 Offer does not occur within 21 days, but equally does not proceed to trial and receive a more advantageous judgment.
FACTS
In Hislop, RTA proceedings occurred as follows:
11 November 2014 – Claimant makes Part 36 Offer of £1,500
9 January 2015 – Defendant rejects Offer
A trial was set for 9 June 2016
2 June 2016 (7 days before trial on 9 June) – Defendant accepts Offer made in November 2014.
The claimant's fixed costs, up to 2 December 2014 (21 days post-expiration of the Part 36 Offer) totalled £2,372. From this date until late acceptance of the Offer, the claimant sought indemnity costs of £5,534.
At 1st instance, DDJ Lennon QC rejected the claim for indemnity costs post-expiration of the Offer. On appeal, Judge Walden-Smith said that the judge at 1st instance had 'erred in determining that the order for costs ought to have been fixed costs throughout' and ruled that post-offer costs should be assessed on the standard basis.
In Kaur, Public Liability proceedings occurred as follows:
7 September 2016 – Claimant makes Part 36 Offer of £2,000.
15 September 2016 – Defendant rejects Offer.
6 February 2017 – Defendant makes Part 36 Offer for £3,000, fearing costs penalty for late acceptance of Claimant's original Offer.
Deputy District Judge Reed, at 1st instance, held that the claimant would have been entitled to costs assessed on the indemnity basis, had the defendant accepted the claimant's earlier Part 36 Offer.
GENERAL RULES
The general rule in cases formerly governed by the fixed costs regime is that if a Part 36 Offer is accepted within 21 days, neither party can recover more or less in costs than is provided for by the regime – see Solomon v Cromwell Group PLC [2012] 1 WLR 1048.
However, if a Part 36 Offer is not accepted and, by way of judgment at trial, the claimant recovers more than the Offer would have paid, it would be entitled to indemnity costs from the date that the offer became effective – see Broadhurst v Tan [2016] EWCA Civ 94.
Coulson LJ found that where the fixed costs regime applies, it 'will continue to apply to those cases covered by it, unless there is an express exception', following Solomon. CPR 36.21 expressly provides an exception for costs consequences following judgment where the claim no longer proceeds under the RTA or EL/PL Protocols, as applied in Broadhurst. The same cannot be said for cases governing rules on acceptance (CPR 36.20).
In assessing whether the conjoined cases were more similar to Broadhurst than Solomon, the judge also considered if Hislop or Kaur were 'exceptional' cases, pursuant to CPR 45.29J. He did not consider that the general ambit of CPR 45.29J was directly relevant to this appeal (not argued in Hislop and argued on false premise in Kaur). Late acceptance is not always an 'exceptional circumstance'.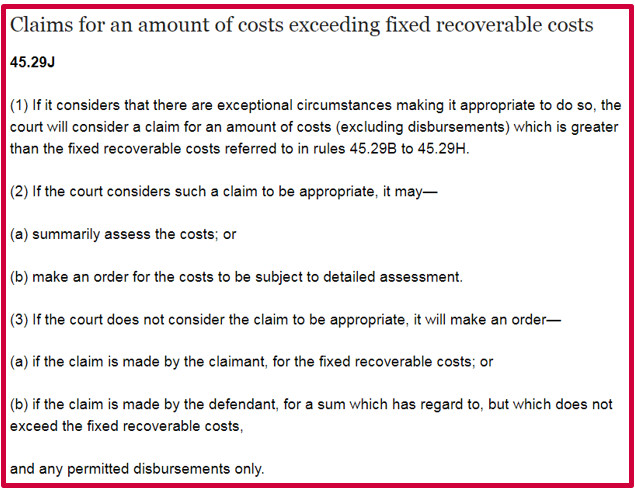 At paragraph 43, Coulson LJ found that:
'... the applicable costs regime in [a] fixed costs case where there has been late acceptance is different to that described in Broadhurst v Tan and, on analysis, very similar to that explained in Solomon'.
The Court of Appeal judge considered his interpretation of the interaction between Civil Procedure Rules to be 'sensible and coherent' for 4 reasons, stated at paragraphs 50 to 54:
'First, this interpretation is in accordance with the comprehensive nature of the fixed costs regime in Part 45 and the policy that, subject to limited exceptions, the fixed costs regime is intended to apply to the relevant PAP cases, without further ado or argument. This means that, in relation to offers made under Part 36, the only way out of the regime is triggered where a claimant beats the Part 36 offer at trial (Broadhurst v Tan). Moreover, that particular circumstance has always been a situation where the rules have striven to reward the claimant: hence the enhanced package provided by r.36.17. It therefore makes sense to say that, even in a fixed costs case, that enhanced package should be available to a claimant after trial, just as it is in any other kind of case.
Secondly, I consider that my interpretation preserves the autonomy of Part 45. If a case begins under the fixed costs regime then it should only be in exceptional circumstances that the parties are able to escape it. The whole point of the regime is to ensure that both sides begin and end the proceedings with the expectation that fixed costs is all that will be recoverable. The regime provides certainty. It also ensures that, in low value claims, the costs which are incurred are proportionate. In addition, whatever the perceived injustice in any given case, the 'swings and roundabouts' identified by Briggs LJ in Sharp will still apply.
Thirdly, it should not be thought that this interpretation means that the defendant who makes an offer which the claimant accepts late is in a radically different position to a claimant whose own offer has been accepted late. True it is that, in that situation, r.36.20(4)(b) imposes a specific liability on the claimant to pay the defendant's costs relating to the period between when the offer should have been accepted and when it was accepted. But r.36.20(12) makes it clear that the costs awarded to a defendant in respect of that delay will be assessed by reference to fixed costs only.
This is important. These rules demonstrate that, in the mirror image of the situation in which these claimants find themselves (namely, where a claimant has accepted a defendant's offer late) there is no question of either indemnity or standard basis costs being awarded to the defendant. The defendant's recovery for the period of delay is limited to fixed costs only. There could be no reason to treat the claimant in a radically different way and to go outside the fixed costs regime, and order standard or even indemnity costs, in circumstances where a defendant in a similar position to these claimants is not permitted to recover costs on that basis. In this way, my interpretation of the rules applies the same fixed costs regime to any party whose offer has not been accepted when it should have been.
Finally, it remains the position that, in an exceptional case of delay, it may be possible for the claimant to escape the fixed costs regime. That arises under r.45.29J. In this way, my interpretation of the specific rules within Part 36 does not lead to a dogmatic or rigid conclusion, because the draftsman of the Rules already had one eye on ensuring that, in an exceptional case, it might be possible for a claimant to escape, at least in part, the fixed costs regime. In that way, there remains a clear incentive for a defendant not to delay in accepting a claimant's Part 36 offer'.
HISLOP RULING
In conclusion, Coulson LJ found that Walden-Smith J was erred in overturning the 1st instance decision in favour of costs on the standard basis; '[the judge] was wrong to order that the claimant was entitled to anything other than fixed costs'. He went on to say, at paragraph 63:
'I do not consider that Ms Hislop can now argue that a 19 month delay with no apparent justification triggered the 'exceptional circumstances' provision in r.45.29J … If it is not out of the norm, it certainly cannot be exceptional.'
KAUR RULING
Coulson LJ stated that DDJ Reed was wrong to rule that the defendant's belated Part 36 Offer entitled the claimant to indemnity costs. This was not an 'exceptional' case. At paragraph 77, Coulson LJ allowed the appeal and the claimant was entitled to fixed costs up to acceptance of the defendant's offer.
Full text judgment can be found here.