In this feature article, we report that BC Legal has successfully established, at the Court of Appeal, that a costs order can be enforced against a claimant, up to the level of damages received from another defendant, in personal injury actions where qualified-one-way costs shifting (QOCS or QOWCS) applies. Approved judgment has been handed down this week.
THE CASE
The claim of Cartwright v Venduct Engineering Limited [2018] EWCA Civ 1654, heard by the Court of Appeal on 28 June 2018, involved the pursuit of a NIHL claim, initially brought against 2 defendants. The claimant received damages from the 1st defendant and later discontinued his action against the 2nd defendant, for whom BC Legal acted.
As a result, the 2nd defendant argued that, under correct interpretation of CPR 44.14, its costs could be enforced against the claimant, up to the level of damages that it received from co-defendant.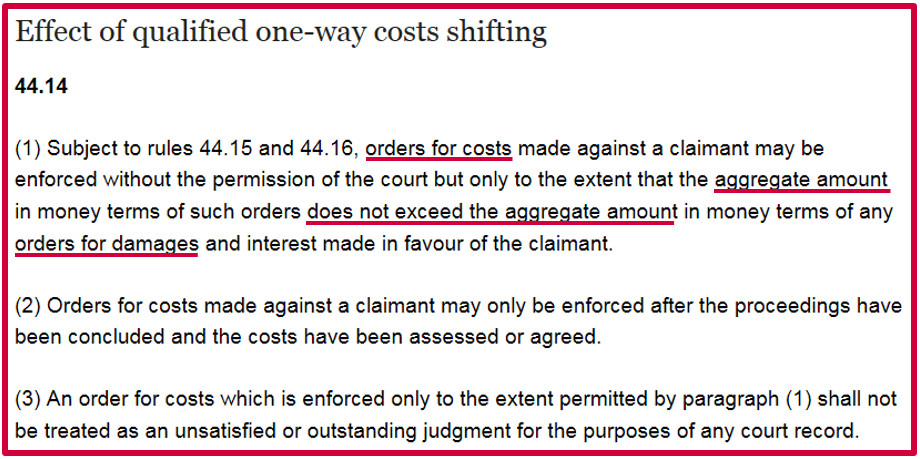 At paragraph 25 of the Court of Appeal judgment, Lord Justice Toulson warned that orders for damages may be at risk if claimants pursue a multiple defendant claim which does not succeed against all defendant parties:
'Any other result would give a claimant carte blanche to commence proceedings against as many defendants as he or she likes, requiring those defendants to run up large bills by way of costs, whilst remaining safe in the knowledge that, if the claim fails against all but one defendant, he or she will incur no costs liability of any kind to the successful defendants, despite the recovery of sums by way of damages from the unsuccessful defendant. That seems to me to be wrong in principle, because it would encourage the bringing of hopeless claims'.
The Court of Appeal was firmly of the view that the purpose of QOCS is not to provide claimants with full protection. Instead, the purpose of QOCS is to ensure that claimants are not worse off after litigation has concluded than before it started.
If claimants profit from litigation, by receipt of damages, orders for costs against claimants have the effect of limiting, not eliminating, their financial gain.
Sir Rupert Jackson, in the 'Jackson Report', which preceded the implementation of QOCS, said:
'… the costs in respect of in the pre-offer period plus the damages recovered by the claimant provide sufficient funds out of which the claimant can reasonably be expected to pay at least some costs'.
At paragraph 33, Coulson LJ reasoned that the ruling in Cartwright was therefore consistent with the intentions of the retired Justice of the Court of Appeal:
'In my view, a result which requires a claimant, in the appropriate case, to pay to a successful defendant the amount of a costs order made in favour of that defendant, out of sums payable by way of damages and interest to the claimant by an unsuccessful defendant, is precisely in accordance with what Sir Rupert calls "the necessary elements of a one-way costs shifting regime". It is important that claimants are discouraged from bringing proceedings which are unlikely to succeed. Claimants with QOWCS protection should not think that this general principle does not apply to them, or that they can issue proceedings against any number of defendants with impunity'.
IMPACT OF THE DECISION
Cartwright has now clarified that QOCS does not give claimants risk-free protection when issuing against several defendants if they fail. The claim has real significance in divisible multi-defendant cases where each defendant may have differing positions on breach of duty, causation or limitation.
It is a common position in NIHL, asbestosis, pleural thickening and HAVS cases, for damages to be awarded against 1 defendant, while another escapes liability. In such a situation, established thinking was that QOCS would provide protection to the claimant, so long there was no finding of fundamental dishonesty, or the claim was not struck out. Claimants were therefore under no risk of costs liability.
Indeed, this was the position in the only previous authority to directly consider how CPR 44.14 applies; the case of Bowman v Norfran Aluminium Limited & Ors (Newcastle Count Court, 2017). We reported on this case in edition 203 of BC Disease News (here).
In Bowman, the claimant received £20,000 in damages from 2 defendants on the day of trial and discontinued his action against another. HHJ Freedman, designated Civil Judge, found that CPR 44.14 concerned set-off and, while costs may be offset against damages received, a defendant could not offset his order for costs against damages paid by another defendant. That CPR 44.14 concerned itself with set off, rather than enforcement, was expressly stated to be wrong in Howe v MIB [2017] EWCA Civ 932 and the rationale in Bowman cannot possibly stand scrutiny.
However applying the facts of Bowman to the law as found in Cartwright, subject to how the £20,000 was agreed to be paid on the day of trial, a winning defendant could now receive its costs of defending an action from damages paid by a co-defendant. This was explained by Coulson LJ at paragraph 23, as follows:
'Let us assume that the claimant issued proceedings against two defendants, A and B, which went all the way to trial. The claimant recovered £100,000 against defendant A, but the claim against defendant B failed, leading B to incur £40,000 by way of costs. In circumstances where the claimant had freely sued B (so that a Bullock or Sanderson order was inappropriate), I can see no reason in principle why B should not recover the £40,000 from the £100,000 payable by A to the claimant'.
The Court of Appeal finding in Cartwright therefore has the potential to make claimants consider multi-defendant case strategy more carefully in future. Coulson LJ anticipated, at paragraph 32, that claimants may choose not proceed with more spurious claims against defendants because it may result in a loss of damages:
'I understand of course that in NIHL claims, it is often necessary for a claimant to consider carefully which of his or her former employers may be liable and why. I understand too that, because it is a divisible injury, there may be times when a claimant may have to issue proceedings against a number of such employers, even if it is known that the claim against employer A is likely to be stronger than the claim against employer B. But none of that can override the need to ensure that defendants such as Venduct are not faced with a hopeless claim, in respect of which they have to incur costs, only for that claim to be discontinued shortly before trial'.
Any claimant solicitor who does not assess a claim against each defendant party, and through partial loss at trial, is unable to recover the full extent of damages, risks professional negligence proceedings being brought against them; questions would be asked about why successful defendants were parties to litigation.
For insurers, the ruling in Cartwright has the potential to limit the number of claims they face if, as predicted, claimant solicitors and advising counsel consider more carefully who exactly they should proceed against. For legacy insurers and reinsurers, the statements from the Court of Appeal, in respect of frivolous claims, will be welcomed.
We also envisage that Cartwright will lead to more favourable settlements for insurers, i.e. agreed quantum of damages is far more attractive than the risk of potentially leaving the litigation empty handed. Ultimately, the risk of costs order enforcement in favour of successful defendants should lead to much more serious consideration of trial prospects.
STING IN THE TAIL?
The second element considered by the Court of Appeal in Cartwright was whether a successful defendant is able to enforce its costs by way of damages paid to a claimant under a Tomlin Order. Tomlin Orders, which are a form of Consent Order, are designed to contain provisions that a Court has no power to order, but is an acceptable compromise for parties to bring litigation to an end.
A Tomlin Order is not an 'Order of Court', rather it is an agreement between parties. The Court of Appeal, at paragraph 45, was clear that a Tomlin Order, or any settlement by way of Part 36, cannot be regarded as 'an order for damages'. As such, sums paid by a defendant in that manner will not fall within CPR 44.14:
'These authorities make it clear that a Tomlin order cannot be described as "an order for damages and interest made in favour of the claimant". It is no such thing. It is a record of a settlement reached between the parties which is designed to have binding effect. In that sense, as the parties agreed in the present case, it is no different to the settlement that arises when there is an acceptance of a Part 36 offer. Such acceptance does not require any order from the court, so a settlement in consequence of an acceptance of a Part 36 offer would also be outside the words of r.44.14(1)'.
So, while the general principle that enforcement of costs orders against claimant damages was established by the Court of Appeal in Cartwright, the extended legal principle could not be applied to the specific facts of Cartwright, as the damages, in this instance, were paid under a Tomlin Order. There is no particular reason why Tomlin Orders are used in personal injury actions, where a remedy of damages is usually sought. The Court can order that damages are paid and that is generally the order sought. However, it has become convention for personal injury actions to be compromised by Tomlin Orders. Whether insurers will see any future benefit in a method of compromise that does not constitute an 'order for damages', for the purposes of CPR 44.14, remains to be seen.
PRACTICAL GUIDANCE – WHEN ARE THE CLAIMANT'S DAMAGES AT RISK?
At Trial
At trial, where the claimant wins against 1 defendant and loses against another. The damages ordered by judgment are clearly an 'Order'.
Damages Paid Under Consent Order
Damages paid under a Consent Order. If a defendant wins, he can enforce his costs up to the level of damages agreed within the consent order.
Damages Paid Under a Provisional Damages Order
Damages paid under a Provisional Damages Order (PDO). For example, in an asbestos case, where the claimant is paid £20,000 from 1 defendant under a PDO, a winning defendant can enforce his costs against that sum. Where the common form of settlement in asbestos litigation is a PDO to protect against future risks of malignancy, this may lead to significant cost recoveries.
WHAT'S NEXT?
The exclusion of settlements for damages made by way of Tomlin Order and Part 36 removes some of the teeth from the Court of Appeal's judgment on the scope of CPR 44.14. Toulson LJ indicated that changes to CPR wording to include settlements by Tomlin or Part 36 will require Rule Committee adoption. Work is already underway to ensure that the full weight of the Court of Appeal's judgment on CPR 44.14 is felt in multi-party claims.
Full text judgment can be accessed here.