Last week, we reported on the case of London Organising Committee for the Olympic and Paralympic Games (in Liquidation) v Sinfield (LOCOG) [2018] EWHC 51 (QB), in which Knowles J provided the first authoritative High Court judgment on 'fundamental dishonesty', under s.57 of the Criminal Justice and Courts Act 2015. In this article, we discuss the effects of this decision, just one week after judgment was handed down.
The judge's interpretation of 'fundamental dishonesty' was coined at paragraphs 62 to 65, of LOCOG, as follows: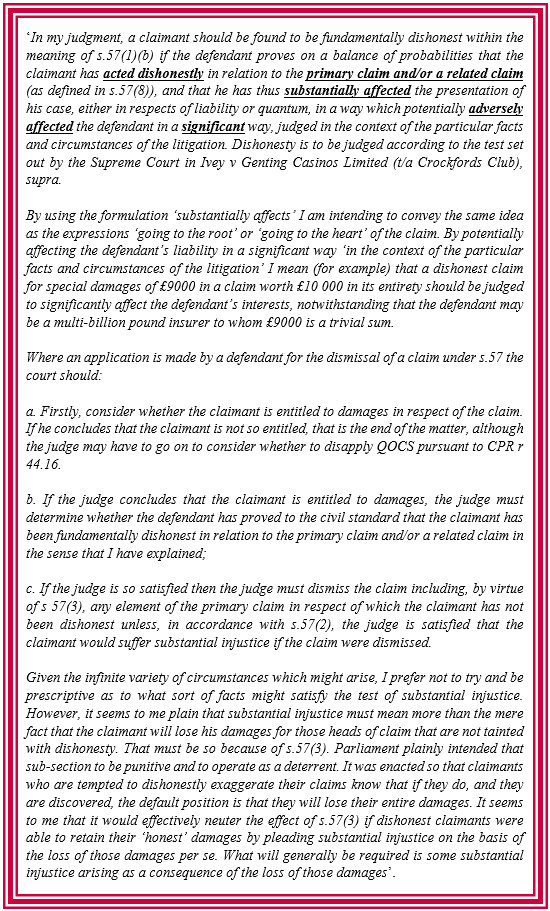 Following this judgment, a defendant law firm has reported that a claimant has withdrawn from his pursuit of a personal injury claim, which provisionally claimed around £825,000, but would have likely been fully particularised in the region of £1.5 million. The claimant was injured in a road traffic accident and sustained severe lower limb fractures, leading to compartment syndrome and numerous surgeries.
However, insurers became suspicious of the claimant's credibility and commissioned surveillance evidence. From this, they discovered that while extensive rehabilitation and care had been funded by the insurer, the claimant's continued reporting of immobility, a need for substantial care and an inability to work, was dishonest. In fact, the claimant was found to be fully mobile, capable of riding and working on a motorbike and engaging in home removal activities. Irrespective of the claimant's regained physical function, he 'even went through further unnecessary and painful surgeries to perpetuate his fraud'.
In light of surveillance evidence and expert evidence, the insurer pled 'fundamental dishonesty' and 'when confronted with ... [this] ... Mr Mervin [the claimant] took the decision to withdraw his claim with immediate effect, with no damages or costs being paid'.
A partner at the law firm which acted for the insurer, has stressed the effect of the LOCOG judgment as a deterrent to bringing exaggerated claims, stating:
'In particular, despite his serious injuries and his decision to undergo unnecessary further surgery to perpetuate his fraud, the claimant was still prepared to drop his claim, rather than allowing his dishonesty to be further scrutinised via the court process.
This decision is likely to have been a wise one in light of the guidance issued by the High Court in LOCOG, which reflects the hardening legislative and judicial attitudes to fraud'.[i]
[i] Neil Rose, 'Claimant who boosted injuries claim over £1m withdraws in face of fundamental dishonesty plea' (30 January 2018 Litigation Futures) <https://www.litigationfutures.com/news/claimant-boosted-injuries-claim-1m-withdraws-face-fundamental-dishonesty-plea> accessed 30 January 2018.