Introduction
We discussed the issue of de minimis in NIHL claims in editions 3, 93, 108, 133 and 161 of BC Disease News i.e. does NIHL of a magnitude of only a few decibels, or, outside of the key frequency range for hearing, materially affect the claimant?
This week, we revisit the topic in light of the recent decision in Evans v Secretary of State for the Department of Energy & Climate Change and JJ Maintenance Limited (12th December 2017, Cardiff County Court), in which the LCB Guidelines (2016) for the quantification of NIHL were utilised, alongside a de minimis defence.
Background to De Minimis
For the purposes of this article, it is worth revisiting the topic of human hearing. The human range of hearing is between in the region of 20 Hz and 20 kHz in children and young adults but with the high range frequencies at 8 kHz and above fading with age.
The human voice produces sound within a frequency range of about 60 Hz-7 kHz but most human speech falls within a range of 250 Hz-3 kHz. The primary importance of sound within the human speech frequency range of 250 Hz-3 kHz is internationally recognised in the transmission of speech through telecommunications networks with circuitry designed to capture sound within that range only.
However, sound at 4 kHz can also play a part in speech recognition. According to an Irish Expert Hearing Group 'each individual frequency supplies a different quantity of information for understanding speech. All frequencies between 250 Hz and 4,000 Hz contribute to speech comprehension, but some are more important than others. The most important frequency for understanding speech in a quiet environment is 2,000 Hz. The other frequencies, e.g. 250 Hz, 500 Hz and 4,000 Hz, are less important'.[1] Importantly the same Expert Hearing Group concluded that 'frequencies of 6,000 Hz and 8,000 Hz carry no information for speech comprehension'. This is reflected within the figure below reproduced from the Group's report showing the frequency ranges important for understanding speech.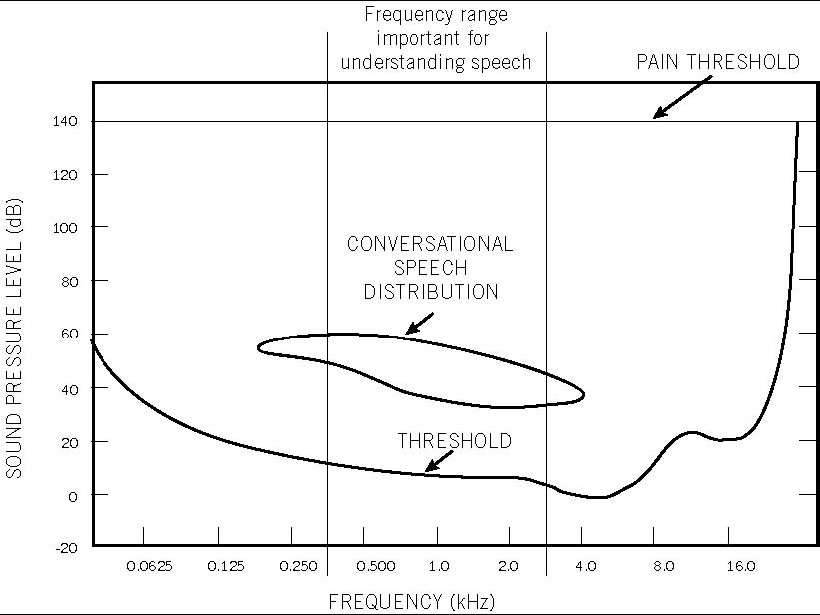 De Minimis NIHL?
With the nature of human hearing in place, we can now ask how the legal principles are to be applied in NIHL cases. Is hearing loss of only a few decibels actionable? Similarly, is more significant hearing loss outside of the key frequencies for human hearing – that is 250 Hz-3 kHz – actionable? We posed these questions in earlier editions of BCDN – where did we leave this topic?
Case Law Thus Far
To our knowledge there have now been 8 County Court decisions which address de minimis arguments in NIHL claims (there are no doubt other decisions out there). Defendants have succeeded in 3 of these cases which we summarise below: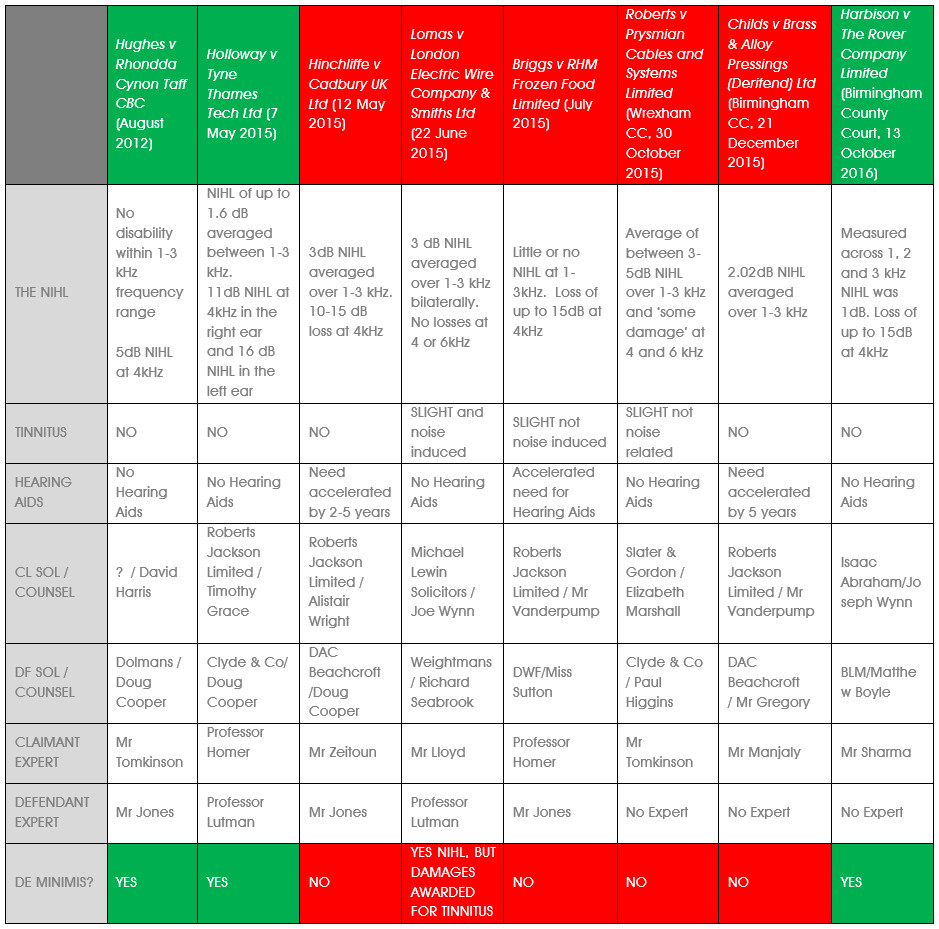 Evans v Secretary of State for the Department of Energy and Climate Change
Let us turn to the facts of the case in Evans.
The claimant claimed damages from 2 of his former employers for NIHL, including for the provision in future years of hearing aids and for the maintenance of those aids.
He was employed by the 1st defendant, NCB, from 1975-1979 and by the 2nd defendant as a general labourer from 2000-2010. It was estimated by an acoustic engineer that the claimant's Noise Immission Level (NIL) was in the region of 104 dB and this was accepted by both parties. This took into account any hearing protection worn by him. Both defendants conceded breach of duty and neither advanced a limitation defence.
The parties also agreed, applying the criteria in Coles 2000 Guidelines, that the claimant had suffered NIHL as a result of his exposure to noise in his various employments. The agreed NIL satisfied R2 requirement of the Guidelines, the audiogram showed a high-frequency hearing loss in both ears consistent with the R1 requirement of the Guidelines and the experts agreed that there was a bulge at 3 and 4 kHz in both ears consistent with the R3 requirement.
However, the defendants disagreed about the quantification of that hearing loss and about whether the loss was significant or appreciable and so submitted that unless the claimant could prove, on the balance of probabilities, that his hearing loss was significant or appreciable that it should be treated as 'de minimis' or non-compensable.
The expert for the claimant was Mr Singh and the expert for the defendant was Professor Lutman. The claimant was examined by Mr Singh in February 2013 and complained that he had hearing difficulties for around 1 to 2 years. His right ear was subjectively his worst hearing ear and he found his hearing loss to be problematic in domestic and social situations e.g. having to turn up the volume on the television and struggling to hear conversation. He did not report suffering from tinnitus.
Two audiograms were carried out by Mr Singh on the claimant with the results as follows: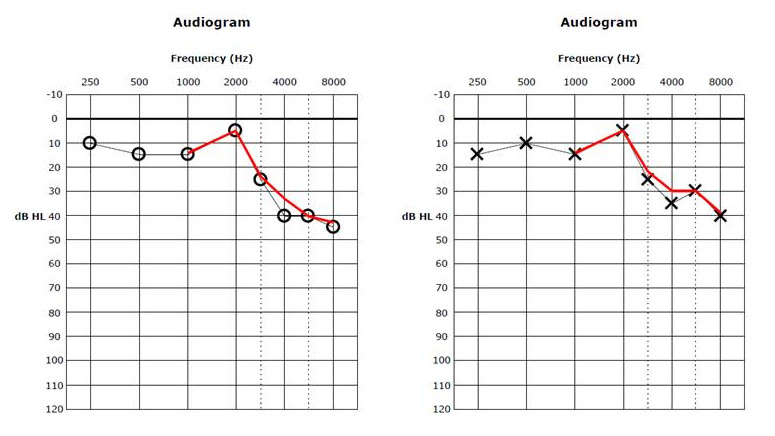 Mr Singh, relying on figures in the 'Black Book[1]', assessed the claimant's average hearing loss over 3 and 4 kHz as 11.2 dB. Professor Lutman, however, relied upon the recent LCB Guidelines (2016), to quantify the claimant's loss over 1, 2 and 3 kHz, which he assessed to be 1.1dB which he argued was too small to have a noticeable effect on the claimant's day-to-day hearing ability.
The LCB Guidelines (2016) assume that the 'anchor point' threshold values, typically at 1 and 8 kHz, will to some extent be affected by NIHL. To assume that the thresholds at the anchor points are purely down to AAHL will under-estimate the NIHL component. The new guidelines offer a method for estimating the NIHL at the anchor points and obtaining AAHL data against which to better compare the claimant's hearing thresholds and most accurately quantify the NIHL.
Mr Singh did not agree with Professor Lutman's use of the LCB guidelines which he referred to as 'illogical and unfair'. In support of this he relied upon a joint statement in a previous case from 2014 in which Professor Lutman appeared to accept Mr Singh's suggestion that the logical problems with the LCB guidelines could be avoided by assessing the binaural loss at 2, 3 and 4 kHz.
Professor Lutman in the present case conceded that if LCB 2016 was strictly used with 1 kHz as the lower anchor point, the estimation of NIHL, might be distorted.
In relation to this HHJ Bidder QC, stated at para 18 of the judgment:
'It seems to me that that must be taken as a concession by one of the authors of the 2016 paper that that paper needs refinement. While it is, I accept, a peer-reviewed paper in a respected journal, it should be noted that the authors specifically describe it within the paper as a "proposal". While Miss Williams for the Defendants tells me, and I accept from her, that LCB 2016 has been accepted by some 1st instance judges (and, no doubt, rejected by others) it has not been considered at an appeal level.
He also went on to point out that the parties had not cited any responses by experts in this field to the proposals in the 2016 Guidelines. As such, in relation to the Guidelines HHJ Bidder concluded:
'Given that Prof Lutman accepts, in this case, that strict adherence to the paper by use of the 1 kHz level as an anchor point may distort the estimation of NIHL in this case, I do not consider that it is necessary for me to conclude, on a balance of probabilities, that that paper must be accepted as some sort of "gold standard" for the quantification of NIHL.'
Professor Lutman, accepting the distortion caused by taking 1 kHz as the lower anchor point, made an adjustment recommended in the 2016 Guidelines where there is a steep fall off at 8 kHz and he replaced the measured thresholds at 1 kHz with a value of 7 dB (instead of the measured value of 15dB). 7 dB corresponds with the 50th percentile for age associated hearing loss at 1 kHz. Once that procedure was adopted, the NIHL was then assessed as 2.3 dB (binaural 1, 2, 3 kHz average). Professor Lutman, again contended that this loss was too small to be noticeable and in cross-examination, Mr Singh agreed with this.
However, Mr Singh, argued that hearing at 3 and 4 kHz are also very important in terms of speech intelligibility. He submitted that in the Black Book, there is an acknowledgment that the adoption of the 1,2 and 3 kHz frequencies for conventional noise loss should not imply the absence of any disability in some individuals with hearing losses restricted to frequencies outside that rage – with there being a significant loss at 3 and 4kHz in this case.
He also relied on a paper written by Professor Moore of the Cambridge Neurosciences Department in July 2016, published in the International Journal of Audiology. This paper summarises a large amount of research material which, Mr Singh contended, supported the importance of hearing loss at 4 kHz. In particular it states at page 131:
'There are many studies showing that frequency components above 3 kHz contribute to speech intelligibility for people with normal hearing'.
The paper goes on to use the example of a man aged 55 assessed using the LCB 2016 guidelines to which he said:
'The mean estimate of the NIHL at 1,2 and 3 kHz is only 2.4 dB which would usually be considered as of not importance. The mean estimate of the NIHL at 1, 2 and 4 kHz is more substantial, at 11.7 dB…This example illustrates how the noise-induced component of the hearing loss at frequencies above 3 kHz can lead to some increase in difficult in understanding soft speech in quiet and a marked increase in difficult in understanding speech in background noise'.
Professor Moore, also presents research which alleges that hearing the voices of women and children and certain bird song may be compromised by hearing loss at 4 kHz and above and that the ability to determine whether a sound is coming from in front or behind.
Finally, the following statement of Professor Moore was also relied upon:
'Therefore the audiometric threshold at 4 kHz and possibly also at 6 kHz, should be taken into account when considering compensation for occupational NIHL in a medico-legal context. A major complaint of people with NIHL is difficulty in understanding speech in noise. A good predictor of the ability to understand speech in noise for people with NIHL is the average audiometric threshold at 2 and 4 kHz'.
Professor Lutman rejected this analysis and contended that the loss of 11dB at 3 and 4 kHz could not be taken to be significant because of the lack of published research as to whether such losses at those frequencies have any impact. He relied upon his previous collaborative work undertaken with Professor Moore in which they were unable to find a statistically significant effect of that additional hearing loss and moreover, that any trend showed minimal effect. Indeed the specific finding (as written by Moore) was that:
'Similar to what was seen in the multiple regression analysis above, there is a trend (not statistically significant) for the additional "bulge" in the audiograms shown above to confer a small decrement in performance on the speech recognition in noise test. From a scientific point of view, the trend should not be relied upon, as it is not statistically significant; in other words there is a chance that a repeat study might not show the same thing'.
HHJ Bidder QC addressed this argument as follows at para 45:
'Clearly I must give weight to that scientific view of the significance of the evidence. That experiment did not show to scientific probability, the appreciable impact of the higher frequency losses. However, that analysis was in 2014. The larger scale survey which was clearly needed to establish statistical significance, if it could do so, has not taken place and what followed was the Moore survey in 2016 which, in my judgment, on balance of probabilities does establish the real significance of 4 kHz and above to those suffering from an established NIHL at that frequency'.
Professor Lutman also relied on 2 studies carried out in 2015 and 2016 by McShefferty which consider the 'just noticeable difference' in speech to noise ratio and points out that there is no benchmark for what is a 'just noticeable difference' in speech to noise ratio (SNR). The studies suggested that noise reduction schemes might need to achieve a benefit of greater than 3 dB to be reliably discriminable. In the later paper, the 'just meaningful difference' in SNR was considered. They found that the mean difference for more clinically relevant tasks was 6-8 dB regardless of hearing ability.
However, on the facts of this case, HHJ Bidder QC, rejected these findings as unhelpful, he said at para 50:
'Mr Singh, at page 119 criticises the limitations of the 2 studies – and I do not believe that Professor Lutman has disputed those limitations, but, in my judgment, more significantly, he contends that if those papers are accepted, all I am able to conclude is that 3 dB and 6 dB are likely to be of significance in terms of just noticeable and just meaningful levels in terms of speech to noise rations when considering a relatively broad speech spectrum. Here, however, it is not in dispute between the experts that there is a binaural noise loss of 11.2dB averaged at 3 and 4 kHz and, even accepted the McShefferty research that cannot be regarded as insignificant'.
As a result, the judge concluded that:
'In my judgment, there is support in the Coles 2000 paper for taking an average of 2,3 and 4 kHz to assess NIHL in certain circumstances and I prefer the conclusions of Mr Singh to those of Professor Lutman in relation to the correct anchor point, for reasons I have given above. There is agreement between the experts that there is an 11.2 dB NIHL averaged binaurally at 3 and 4 kHz and I consider the weight of the expert evidence favours that as being likely to cause a material and appreciable difference for this claimant in both audibility of sound and resolution of speech. In particular, I prefer the clinical experience of Mr Singh, who is used to seeing the effects of such sensorineural loss on patients he treats'.
It was found therefore that the claimant had proved, on a balance of probabilities, that the noise he was exposed to during his employment with the defendants contributed to the NIHL and it made a material, significant and appreciable difference to his capacity to hear and understand sounds. Therefore, he said, the damage was 'unquestionably compensable'. Applying the JC Guidelines for NIHL, the judge categorised the claimant's hearing loss as moderate but towards the bottom of the bracket and as there was no tinnitus, the award for general damages was £7,500. As to the need for hearing aids, an award of special damages was made in the sum of £4,067.49. The total award of damages was therefore £11, 567.49, this was apportioned so that the first defendant was liable for the sum of £1,272.42 and the second defendant for £4,279.97.
Conclusion
We predicted in our guide to the new LCB Guidelines (2016) (here), that as these guidelines were adopted, de minimis arguments would become an increasing feature of NIHL claims. In this Guide, we analysed some 10,000 audiograms and the impact of the LCB Guidelines was that around 50% of claims broadly fell within a de minimis categorisation.
So what can be taken from this most recent judgment?
Whilst there is nothing in this judgment which specifically rejects the LCB Guidelines (2016), and the use of the frequencies of 1, 2 and 3kHz are still the norm – it is fair to say that Professor Lutman's concession, in which he appears to accept Mr Singh's suggestion that the logical problems with the LCB guidelines could be avoided by assessing the binaural loss at 2, 3 and 4 kHz, was detrimental to this case.
It is likely that in future cases where there is a loss at 4kHz, that this argument and studies in support will be utilised by claimants, however, this does not alter the fact that quantifying hearing loss over 1, 2 and 3 kHz and its impact on hearing remains the usual approach.
[1] Guidelines for Medicolegal Practice, Assessment of Hearing Disability-King, Coles, Lutman & Robinson, Whurr Publishers, 2003
[1] Hearing Disability Assessment, Report of the Expert Hearing Group, Department of Health and Children (Ireland) 1998.