On Monday, 8 January, following a surprise cabinet reshuffle, David Gauke MP was appointed as the new Lord Chancellor and Secretary of State for Justice, replacing the previously incumbent David Lidington MP.[i]
The former Macfarlanes LLP Solicitor, will be the first Lord Chancellor with a legal background since Kenneth Clarke QC, who was sworn in in May of 2010. He is the first Solicitor in history to undertake this role.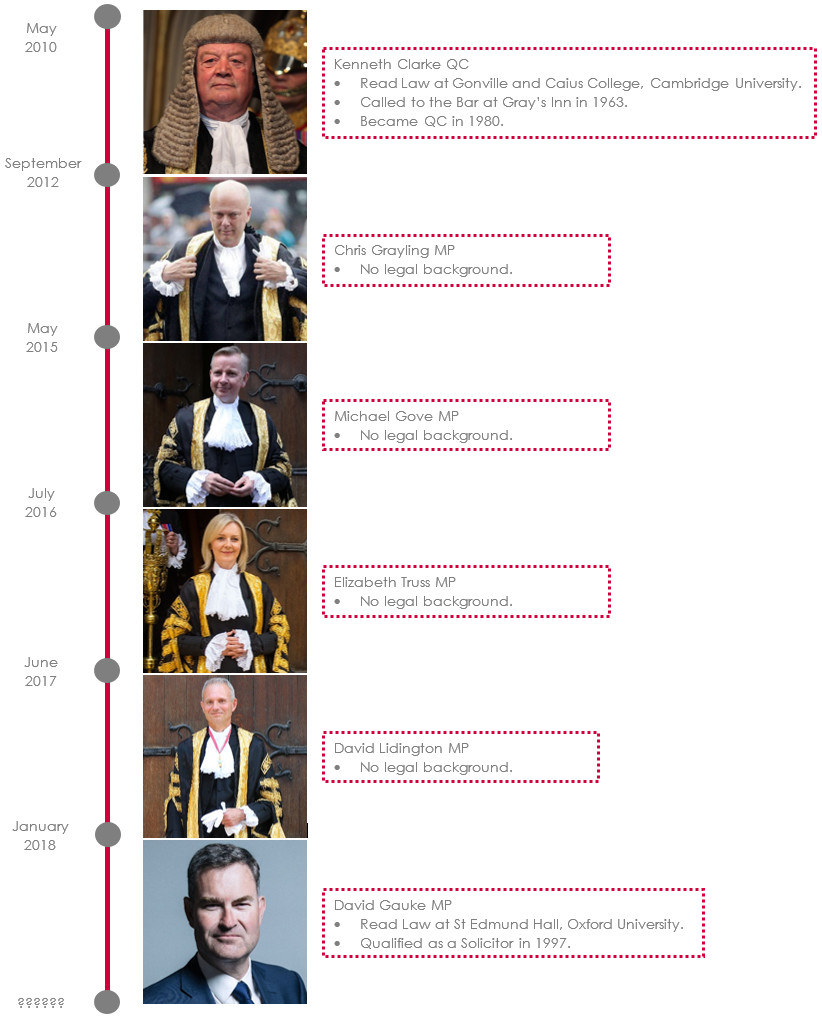 In reaction to his appointment, the minister said:
'Justice is the cornerstone of our democracy and a key part of a fairer society. That is why I am delighted to be taking up the position of secretary of state for justice and the vital role of Lord Chancellor. I am looking forward to meeting experts and front line staff to drive the crucial work started by my predecessors, to reform our prisons and courts, uphold the rule of law and promote our world-leading legal services'.[ii]
The Law Society has welcomed the former Work and Pensions Secretary as he begins his new post, with Law Society President, Joe Egan, highlighting that there are challenging times ahead for the legal sector. He went on to say that:
'Priorities include promoting access to justice, ensuring the viability of legal aid and delivering an effective court modernisation programme. In addition, the lord chancellor will be a prominent voice as we seek to gain the best possible deal for the UK legal sector in the government's negotiations for a new relationship with the European Union post-Brexit.'[iii]
Since the cabinet position was occupied by Chris Grayling MP, in May of 2012, there have been three consecutive appointments, all of whom demonstrated little to no legal experience before taking office.
Various political and legal commentators, in the past, have doubted the credibility of Lord Chancellors lacking legal experience – a requirement axed by ex-Labour Chancellor, Lord Falconer, in 2005. David Allen Green, the solicitor and Financial Times reporter for law and policy remarked:
'Like the idea that after hundreds of years of the Lord Chancellorship being monopolised by barristers, we had to have Grayling, Gove, Truss and Lidington before it ever went to a solicitor…'[iv]
However, Andrew Keogh, of CrimeLine, provided a less optimistic outlook on the change in approach to candidacy, on this occasion:
'That the new Lord Chancellor is a lawyer is not something that pleases me. Quite the contrary, as it will make his inevitable failure to meet the responsibilities of that great office, all the sadder. From a non-lawyer, much more understandable'.[v]
In recent times, wide and comprehensive reform, scheduled to affect civil and criminal justice, has seen growing tension between claimant and defendant representatives. A negative personal injury discount rate, brought into force by Elizabeth Truss MP, has been a main topic of contention, stressing a need for a strong and experienced arbiter to appease all parties impacted by impending reform.
At a time where trust in the Lord Chancellor is sorely required, the Guardian published the view of the Prime Minister, whose spokesman denied that a 'high turnover' of Lord Chancellors, in recent years, had been problematic.
An amendment to the personal injury discount rate, to between 0% and 1%, was expected to be announced in December of 2017. However, we reported, in edition 210 (here), that the Ministry of Justice were not able to reach a conclusion with the evidence collated throughout the consultation period. The responsibility for future discount rate modification will likely fall on David Gauke MP, during his term in office. Other reforms which the minister will oversee, include a rise in the small claims limit, enacted through the Civil Liability Bill, additional to Jackson reforms on access to justice, comprising an expanded matrix of fixed costs, a separate fixed costs scheme for NIHL claims and a new intermediate track.
[i] Michael Cross, 'Gauke named as first solicitor lord chancellor' (8 January 2018 Law Gazette) <https://www.lawgazette.co.uk/news/solicitor-gauke-is-named-as-justice-secretary-/5064253.article> accessed 9 January 2018.
[ii] Neil Rose, 'Gauke becomes first solicitor Lord Chancellor' (9 January 2018 Legal Futures) <https://www.legalfutures.co.uk/latest-news/gauke-becomes-first-solicitor-lord-chancellor> accessed 9 January 2018.
[iii] Ibid at 1.
[iv] Ibid at 2.
[v] Ibid at 2.