In July, the case of Jordan v MGN Limited [2017] EWHC 1937 (Ch) came before Mr Justice Mann at the High Court. In his judgment, Mann J dismissed the claimant's 'desperate' application to bring an end to the action, on the basis that an earlier Part 36 offer had been accepted. The court ordered the claimant to pay the defendant's costs, on the indemnity basis, for the period between expiry of the offer and acceptance and limited the recovery of claimant costs up to the expiration date of the offer. Jordan highlights the significance of 'a culpable failure to engage in negotiations which would, if conducted more properly, have been likely to have led to a settlement'.
On 12 August 2014, the claim form was issued, valuing the claim at £100,000. Then, on 24 September 2014, the first Part 36 offer of £15,000 was made. A letter, dated 14 October 2014, declined acceptance of this offer. The defendant made successive Part 36 and 'Without Prejudice Save As To Costs' (WPSAC) offers of £20,000, £45,000, £30,000, £40,000, £60,000, £80,000 and £80,000 again, between December 2014 and 26 August 2016. The claimant failed to respond to any offers, but, on 18 April 2017, proposed their own Part 36 offer of £90,000. Reacting to this, the defendant counter-offered damages of £90,000 and costs up to 7 July 2016, but requested that the claimant pay the defendant's costs from 16 September 2016 on the indemnity basis. The defendant's letter also stated:
'Had you approached us in July 2016 with the proposal that you have made, for the very first time, in April this year, this case would, as you know, have been settled on 7 July 2016. But instead of negotiating, your client has sat on his hands until late in the day ... The costs that have been incurred on each side since MGN made its offer on 19 July 2016 will outweigh the £10,000 difference between us in damages many times over. It follows that by waiting until now to make your offer, the real issue between our client is not damages but costs. If your client had engaged with us properly in WPSAC correspondence, as a normally funded litigant would have, extensive costs would have been avoided. It would appear that if your client did not have the benefit of a CFA and ATE insurance, he would have taken a more sensible and proportionate approach to settlement ... it appears your client expects MGN to bear its costs as well as his costs for the entirety of this litigation to date. This seems to us to be little short of outrageous when your client could have secured a settlement along the lines of what he is now seeking to achieve in July 2016 if he had only engaged in constructive negotiation ... Our client remains just as willing to settle this claim as it always has been. It does not wish to go to trial when there is only £10,000 between the parties on damages. MGN does not view this claim as being worth £90,000 or anything close to that figure but, as it has always been, MGN is willing to approach settlement negotiations commercially with an eye to the costs being incurred in this litigation on both sides'.
Regardless, the claimant rejected the defendant's 'tactical' offer, stating that it 'will not and cannot – as you will know – be accepted'. Further, on 19 June, the claimant solicitor sought consent to increase the value of claim on the claim form to £150,000, which was granted.
The highest offer was tabled on 22 June, at a 'without prejudice meeting', where the claimant and defendant offered to settle at £160,000 and £100,000 respectively.
After various failed propositions to reach a financial arrangement, the claimant solicitor attempted to accept the previous offer of £90,000 but they were unable to do so since the offer had already been rejected and could no longer be accepted.
However, the claimant argued that to proceed to trial would be unnecessary and sought to accept the first offer, made on 24 September 2014 for £15,000; 10% of the recently amended claim value. The defendant solicitor responded to this by saying:
'... MGN's Part 36 offer of 24 September 2014 remains open for acceptance, though that will not necessarily continue to be the position. For the avoidance of doubt, acceptance of that offer - out of time – would be permitted by MGN on the basis that your client pays MGN's costs from the end of the Relevant Period (15 October 2014) to the point of acceptance pursuant to CPR 36x10(5)(b) as applicable to Part 36 offers made before 6 April 2015). This would be on the basis that MGN's costs would be assessed if not agreed on the standard basis even though MGN has very good arguments that acceptance of that Part 36 offer at this stage should lead to its costs being paid/assessed on the indemnity basis. Had your client engaged constructively in settlement, and accepted MGN's reasonable offers instead of overstating his case, this claim would have settled a long time ago at a fraction of the cost. Having regard to that, we are entirely unmoved by your now urging MGN to take a "reasonable, sensible and proportionate settlement" when that is precisely what you and your client have consistently failed to do'.
On 4 July 2017, a day before the trial, which was subsequently vacated, the claimant made an application to bring an end to the action. The grounds of their application included the fact that 'the defendant's conduct had become abusive of the process, or a determination that there was or could be a valid compromise, or that the claimant was entitled to accept, and did accept, a very old Part 36 offer'. However, the application dwindled to a single footing; that the claimant had accepted the September 2014 Part 36 offer and was due costs post-initial acceptance from the defendant, or, if a cost order obliged the claimant to pay, that this should not be on an indemnity basis.
At the application hearing, Mann J considered the former edition of CPR 36.10, governing cost consequences of offers predating 6 April 2015, to decide whether it would be 'unjust' to depart from the 'normal' order as to costs from the date of the expiry of the relevant period.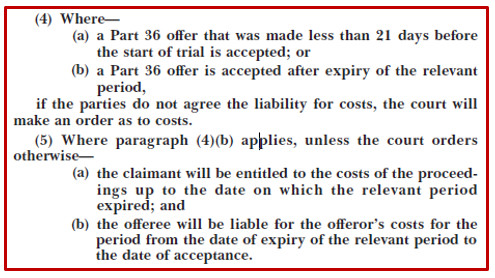 From paragraphs 54 to 56, Mann J reasoned:
'If one asks who has been responsible for incurring unnecessary costs then the answer, in my view, is plainly Mr Jordan, once he has accepted the Part 36 offer. He has accepted an offer which is very much less than the range of subsequent offers that were made on terms which were comparable in relation to non-monetary relief. He could have had as much as £80,000 instead of the £15,000. After incurring very large amounts of costs he decided to go back and accept the earlier and much lower sum. Nothing had happened which would have made MGN responsible for the incurring of costs which had accrued in the period after its Part 36 offer. It is not as though (for example) late in the day MGN disclosed something which it ought to have disclosed before, which was unknown to and unanticipated by Mr Jordan and which demonstrated after all that his case was worth only £15,000. Nothing like that happened. What happened is that Mr Jordan decided, for his own reasons (which are considered below in connection with the indemnity costs point) not to take the action to trial. He was responsible for all the costs, which turn out to be wasted since he originally failed to accept the Part 36 offer.
Mr Browne simply failed to make a case for saying that (on this hypothesis) his client's decision not to pursue the claim to trial to test the claim (and perhaps do better than £90,000), and pursue his costs claim, should render reasonable his decision to accept a much lower sum, which he could have accepted 2½ years previously, and not to have to pay the costs of the intervening period, much less recover his own.
In my view Mr Browne has not even begun to make a case for departing from the usual order. The usual order is amply justified in this case. That conclusion is reinforced by what I find below in relation to indemnity costs. The claimant has been responsible for prolonging litigation for a considerable period and then (basically) caving in. The just result is that the normal consequences of the late acceptance of a Part 36 offer should follow'.
Justifying the order of indemnity costs, which usually apply when the conduct of the paying party is unreasonable to a high degree, Mann J stated, at paragraph 64:
'... the failure to start to engage when the 2016 offers started coming in and increasing is culpable. One would have thought that a client who was willing to consider settlement would have started to engage more at that point. I find it hard to believe that a normal paying client, who was not litigating under a CFA and with the protection of ATE insurance, would have adopted the tactic of not responding and not engaging further'.
He went on to conclude, at paragraph 72:
'The bottom line is that Mr Jordan did not advance any explanation, let alone a good one, why, having run his case for 2½ years, having failed to respond properly to a number of offers, one of which was close to his own proposed financial settlement, having caused himself and the other side to run up significant amounts of costs, and having exposed the defendant to the prospect of having to pay the CFA uplift and ATE premiums (which I am satisfied is a powerful threat to a defendant), should at the last minute do the equivalent of walking away from the action. I consider that all those factors, and the other matters referred to in this section, are good reasons for ruling that the costs be paid on the indemnity basis, and I so order'.