Previously, in edition 345 of BC Disease News (here), we reported that legally represented defendants' acceptance of claims advanced under the Damages Claims Portal (DCP) platform would soon be made compulsory.
HM Courts & Tribunals (HMCTS) planned for this change to take effect from 2 June 2022, through amendments to Practice Direction 51ZB (the Damages Claims Pilot). Such amendments were comprised in the 145th Update to the Practice Direction.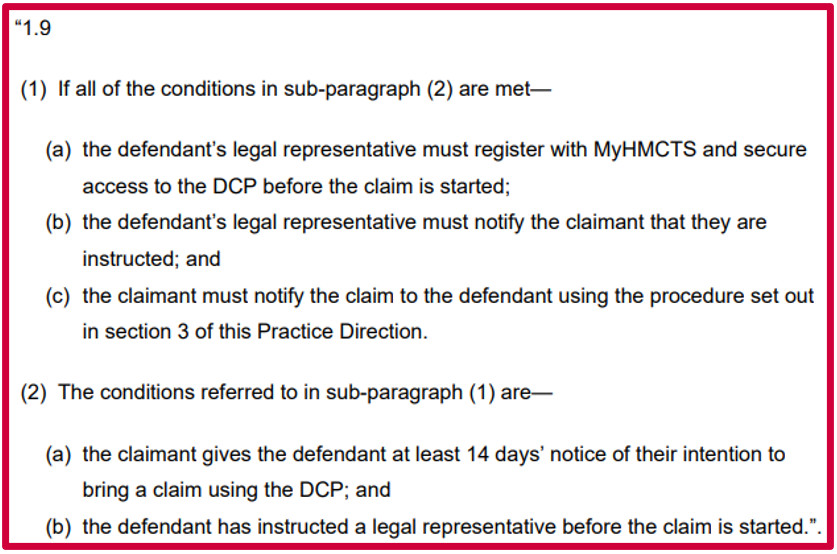 At the last minute (on 1 June) and for unknown reasons, however, the Master of the Rolls, Sir Geoffrey Vos, and the Under-Secretary of State for Justice, Tom Pursglove MP, signed the 148th Update to the Practice Direction, which had the effect of revoking the 145th Update.[i] In short, the latter instrument postponed the proposed obligation on defendant firms to use the DCP. It is still to be used on a voluntary basis.
A spokesperson for HMCTS apologised for the inconvenience caused by the delay and assured that a revised date would be announced in due course.
According to Shirley Denyer, a Technical Consultant to the Forum of Insurance Lawyers (FOIL), the advantages of the DCP concept are 'very readily understood by defendant representatives', as:
'It can only be advantageous and cost effective to bypass the traditional processes of issue and service and receive claims directly into an inbox, allowing cases to be allocated and handled on screen'.
In practice, though, concerns had been voiced over issues with systems design and operations.
For instance, the lack of information on claims communications, e.g. the exclusion of the claimant representative's reference on the claims form and the omission of the parties'/solicitor's reference on email notifications. There is also no application programming interface (API) linking the DCP directly to law firms' case management systems (CMS) for effective claims monitoring and supervision. What is more, some users have reported that the DCP often does not allow defences to be filed.[ii]
Perhaps more worrying than the expressed concerns themselves is the fact that these problems were identified with limited defendant experience, not just because the DCP testing environment had been non-existent, but also because very few claims were being issued within the DCP.
Writing for the Motor Accident Solicitors Society (MASS) magazine before the 2 June deadline was shelved, Ms. Denyer urged HMCTS to put in place longer timescales for DCP implementation and called for greater direct involvement of lawyers in the development of digital processes, which could be complemented with strategy and training.
[i] Neil Rose, 'Last-minute damages claim portal reprieve for defendants' (6 June 2022 Legal Futures) https://www.legalfutures.co.uk/latest-news/last-minute-damages-claim-portal-reprieve-for-defendants> accessed 6 June 2022.
[ii] Gordon Exall, 'MORE ABOUT THE CLAIMS PORTAL: AMENDMENTS RELATING TO LEGAL PROFESSIONALS RESPONDING TO CLAIM IS NOW REVOKED: KEEP UP TO DATE WITH TWITTER…' (1 June 2022 Civil Litigation Brief) <https://www.civillitigationbrief.com/2022/06/01/more-about-the-claims-portal-amendments-relating-to-legal-professionals-responding-to-claim-is-now-revoked-keep-up-to-date-with-twitter/> accessed 6 June 2022.