In edition 345 of BC Disease News (here), we previewed the Trolex Air XS, which is being marketed as the world's first 'real-time detector' of respirable crystalline silica (RCS) particulates in airborne dust mixtures. The Air XS Monitor is expected to 'revolutionise worker safety within the construction industry', which exposes an estimated 600,000 British workers to the risk of developing silicosis every year, alongside tuberculosis, kidney disease, arthritis, chronic obstructive pulmonary disease (COPD), lung cancer and chronic bronchitis.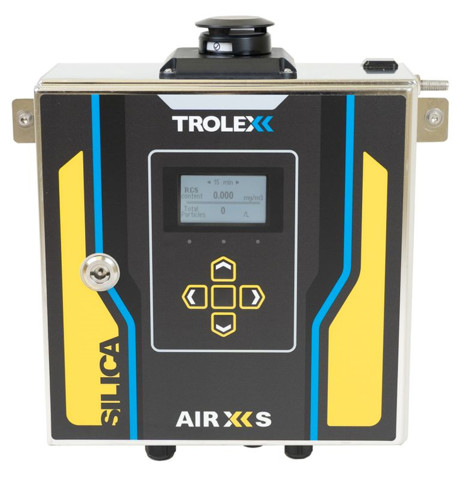 (Source: Health and Safety Event)
Our article coincided with an announcement that the All Party Parliamentary Group (APPG) for Respiratory Health was drafting an update to its report: 'Silica – the Next Asbestos?' – analysed in edition 307 (here) – that sought to explore the latest technological advances in risk reduction strategies unknown to the APPG when the first iteration Report was published, in 2020. It was insinuated that the Trolex device could be a product matching this description, boasting customisable on-device silica exposure limit thresholds and warnings at a time when the Government is being asked to halve the current 0.1mg/m3 workplace exposure limit (WEL) to 0.05mg/m3.
At the prestigious British Safety Industry Federation (BSIF) Safety Awards, which took place on 6 April 2022, the Air XS Monitor received the prize of 'Highly Commended' in the 'Product Innovation' category. Achieving recognition of excellence at such an important industry event was a 'huge privilege' for Trolex, admitted Managing Director, Steve Holland.[i]
Another line of pioneering gadgets, featured of late in construction news outlets, is DustCanary's CPAM range.[ii] These use advanced, patented air-sampling technology (innovative optical particle counter), built by the Defence Science and Technology Laboratory (Dstl), in cooperation with the University of Hertfordshire, to monitor exposure to respirable dust, e.g. RCS, over an 8-hour shift. 'Real-time' visual and audio prompts alert wearers when exposure is excessive.
[i] 'Trolex have been awarded "Highly Commended" by the British Safety Industry Federation' (8 May 2022 HUB-4) <https://hub-4.com/news/trolex-have-been-awarded-highly-commended-by-the-british-safety-industry-federation> accessed 23 May 2022.
[ii] 'DustCanary introduce CPAM range' (21 May 2022 Agg-Net) <https://www.agg-net.com/news/dustcanary-introduce-cpam-range> accessed 26 May 2022.