Last month, it was announced that the world's first 'Canary'-type sensor, for the 'real-time' detection of individual poisonous organophosphates (OP) in aircraft cabins, had been verified by the National Physical Laboratory (NPL) – the UK Government Metrology Institute with a well-respected reputation for its role in setting and maintaining physical measurement standards for British industry.[i]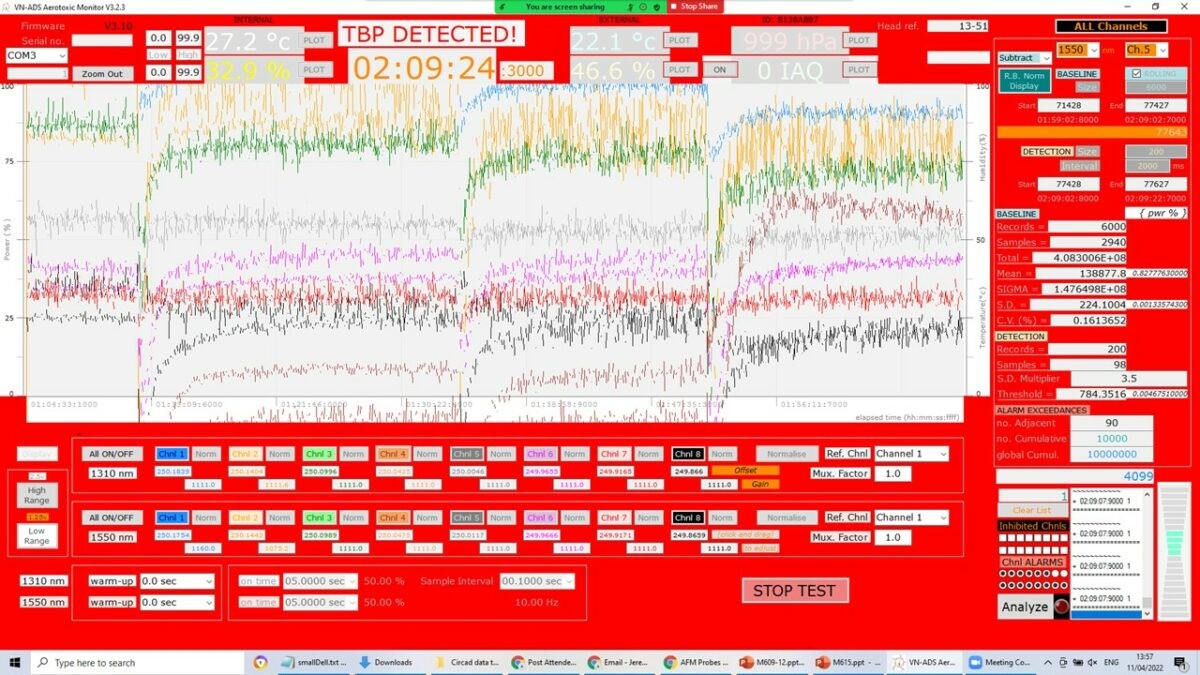 (Source: VN-ADS – image shows detection of 3 individual bursts of TBP injected into the cabin air test chamber)
This patented device has been developed by VN Aerotoxic Detection Solutions (VN-ADS) Ltd, a privately held start-up company.
Over a six-year period, Professor Jeremy Ramsden,[ii] of the University of Buckingham, has led a team of international researchers to build unique, nano optical aerotoxic detection technology capable of selectively identifying low-levels of volatile and semi-volatile organic compounds, such as tributyl phosphate (TBP), tricresyl phosphate (TCP), triphenyl phosphate (TPP), etc.[iii]
TCP is an ingredient in oil used to lubricate aircraft engines. In most passenger jets (the Boeing 787 being an exception), cabin air supply is 'bled' from the compression section of the engine. It is believed that sometimes, during the 'bleed air' process, mechanical faults cause seals inside the engine to leak heated oil fumes (and their chemicals) into the air supply, causing so-called 'fume events'. 'Fume events' are said to occur when contaminated 'bleed air' is pumped into the cabin in the form of noxious smelling fumes and smoke, nicknamed 'Eau de Boeing'. The suspected frequency of 'fume events' ranges from 'less than 33 events per million' flights (FAA), to '1 in every 5,000 flights' (Kansas State University), to 'a quarter of flights suffering slight but significant contamination' (The Aerotoxic Association).[iv]
Immediately after experiencing 'fume events', passengers and workers typically suffer episodes of dizziness, headaches, breathing problems, loss of mental capacity and vomiting.
In fact, it is alleged, in ongoing litigation in England & Wales and in the US, that long-term exposure to organophosphates (primarily TCP) in contaminated 'bleed air' can cause chronic and potentially fatal 'aerotoxic syndrome' (encompassing tremors, memory loss and brain damage) in frequent fliers, pilots and cabin crew – read our Collection of Articles on the topic for more information on the high-profile death of British Airways (BA) pilot, Richard Westgate. In August of last year, Big Issue North, reported that Unite the Union was aware of 220 active claims in the UK.[v]
Airlines embroiled in legal action, including BA, EasyJet, Thomas Cook, Jet2 and Virgin Atlantic, refute allegations of regular exposure to toxic fumes mid-flight and contest 'independent expert evidence' of 'nervous system' impairment by citing studies which have found no proof of enduring ill-health attributable to cabin air quality. For example, the 2017-published European Aviation Safety Agency (EASA) study, which concluded that the quality of cabin air is 'similar to or better than' normal indoor environments, like schools, office buildings, and homes.[vi] Whilst the largest and most comprehensive systematic review (covering 138 papers) on the topic, conducted by Manchester Metropolitan University (MMU), disagrees and points to much of data indicating poor air quality in the cabin, the authors acknowledge the causation dilemma; namely that the single 'contaminant or mixture of contaminants in sufficient concentration proven to be capable of the symptomology' remains elusive.[vii]
In response to the 'Aircraft Cabin Air Litigation' collective case management order (we reported this here), which will see up to eight leading aerotoxicity claims heard at a full trial,[viii] VN-ADS was approached for trials of its sensor.
Having aroused the interests of ethical airline partners and the aviation insurance industry, VN-ADS' Sales Director, Mark Gilmore, saw the streamlining of industrial disease litigation through the Royal Courts of Justice (RCJ) as:
'… a huge market opportunity with the need for 'real-time' onboard portable detection of TCP … and TBP … becoming a necessity for aircraft operators and manufacturers in the face of legislation, which will inevitably follow the successful prosecution of employee claims'.[ix]
Now, for the first time since the industry adopted jet engine propulsion in 1951, utilising the handheld VN-ADS device, it is possible to know if and when poisonous compounds are present in aircraft cabin air. Airlines can put appropriate measures in place to guarantee the health and safety of international passengers and crew.
Unlike some fibre-optic chemical-sensing technologies, which detect chemical changes in solution by monitoring the absorbance or fluorescence of a surface coating on the sensor tip, the aircraft cabin sensor measures changes in interference patterns generated by 'analyte-responsive layers deposited on the sensor tip'. The advantage of the VN-ADS sensor is increased sensitivity, increased robustness and increased flexibility of operation (universality).
VN-ADS has taken advantage of expertise at the University College London (UCL), Aston University, Loughborough University, Nottingham University and the Fraunhofer Aeronautical Test Facility, in Germany, in order to assist with developmental testing.
Compared to the original prototype version, the handheld unit has increased its sensitivity by a factor of over 100.
Following NPL's independent validation and verification of the capabilities of VN-ADS' proprietary technology, using gas chromatography-mass spectrometry (GC MS) techniques, the company has the green light to commence in-flight trials (in actual flight and in test facilities).
Incidentally, in an article in the Los Angeles Times[x] and in new research published in the Journal of Contemporary History,[xi] it was disclosed that a Bill had recently been introduced in US Congress (the proposed Cabin Air Safety Act), which would, if passed, force aircraft cockpits and cabins to be equipped with sensors, e.g. the VN-ADS unit, that alert pilots and flight attendants to poor air quality that is dangerous to human health. In addition, it would mandate that airlines and manufacturers develop procedures on how to respond to such alerts, i.e. with training on the reporting and investigation of 'fume events'.
Similar pieces of legislation have previously languished before lawmakers, but the draft legislation currently faces little opposition and is fiercely backed by industrial unions (representing pilots, flight attendants and mechanics).
The British Air Accidents Investigations Branch (BAAIB) and the Federal Aviation Administration (FAA) have also been proponents of compulsory sensors in the past. The latter even funded a study to determine 'fume event' toxicity using $250 air samplers. However, airlines refused to allow flight attendants to bring the devices aboard, a 2014 report revealed.
Aircraft manufacturers, Boeing and Airbus, have not shared any reaction to the Bill, which only adds to their historically unclear stance on this issue.
In 2001, Boeing asked suppliers to present sensors capable of alerting crew members within minutes of 'compromised air quality conditions', but never installed sensors on aircraft, as suppliers were unable to demonstrate the existence of a 'reliable and accurate real-time sensor for detection of contaminated bleed air validated for use in commercial aircraft'. Lufthansa asked Boeing for sensors on 777X jets, in 2015, but these were never installed. Nonetheless, the aeronautical manufacturer has always declared that it 'continues to work with scientists… to study potential technologies such as sensors and advanced filtering'.
It was therefore suspicious when a Los Angeles Times investigation unearthed an internal memo, which had been turned over in litigation in 2015, wherein a Boeing Executive described it as a 'risk' to supply even one airline with air sensors:
'Flight attendant, pilot unions, and congressional supporters could use this effort as evidence that sensors are needed and ... to drive their agenda forward to have bleed air sensors required on all aircraft'.[xii]
Aside from general concern that data from sensors could prove damaging if used as evidence in lawsuits, it has been suggested that the issue is being overlooked because of increased expenditure, as sensor-detected bleed air leaks would see more aircraft grounded pending repair.
Chairman of the Aerotoxic Association, John Hoyte, deems the 'breakthrough' US Bill to be the 'most critical advance' of the not-for-profit charity's campaign to have aerotoxic syndrome officially recognised as an occupational disease by governments, airline operators, aviation authorities and state doctors globally.
The Shropshire Star reported that Mr. Hoyte has set up the Aerotoxic Solutions Consultancy, which will be able to advise doctors, lawyers, scientists and the public on known and now available health and safety solutions to the syndrome, such as the VN-ADS monitor.[xiii]
Last year, Mr. Hoyte also heralded the certification of Teledyne Controls' aircraft cabin environment sensor,[xiv] which records 13 environmental parameters, including data on airborne particulates from 0.3 to 10 microns (μm) in size, carbon dioxide, carbon monoxide, ozone and volatile organic compounds.[xv]
[i] David Newman, 'NPL Verifies Cabin Air Sensor for TBP' (28 April 2022 VN-ADS) <https://vn-ads.co.uk/the-worlds-first-real-time-poisonous-compound-sensor-for-aircraft-cabins-has-been-verified-by-uks-national-physical-laboratory/> accessed 18 May 2022.
VN Aerotoxic Detection Solutions Ltd, 'Worlds First "Real-Time" Poisonous Compound Cabin Air Sensor Protects Pilots & Aircrew, but gives an "Aerotoxic" Headache to Airlines and Aircraft Operators' (12 May 2022 Pressat) <https://pressat.co.uk/releases/worlds-first-real-time-poisonous-compound-cabin-air-sensor-protects-pilots-aircrew-but-gives-an-aerotoxic-headache-to-airlines-and-aircraft-operators-12d92fbc71359e4025462f8114484f2b/> accessed 18 May 2022.
[ii] Professor Ramsden was Professor of Nanotechnology at Cranfield University from 2002 until 2011. Even though the University's funding comes almost entirely from the Air Transport Industry, it was commissioned by the UK Government to conduct a cabin-air sampling study and exonerated the aviation industry and its safety regulators. It did so, despite reporting organophosphate contamination of cabin air in 73% of flights tested; and despite reporting air-sample levels of organophosphate isomer tri-ortho-cresyl phosphate (ToCP) at levels greater than manufacturers claimed were in the engine lubricating oil. Professor Ramsden was sacked from Cranfield University after criticising its Report. – 'PROF. DR. JEREMY RAMSDEN' (BleedFree.EU) <http://bleedfree.eu/documentation/o-r/prof-dr-jeremy-ramsden/> accessed 18 May 2022.
[iii] '"Canary" Nano Optical Sensor Technology now detects Tributyl Phosphate (TBP) in Aircraft Cabins' (VN-ADS) <https://vn-ads.co.uk/> accessed 18 May 2022.
[iv] 'Aerotoxic Syndrome Class Action Lawsuit' (Schmidt & Clark LLP) <https://www.classactionlawsuithelp.com/aerotoxic-syndrome-class-action-lawsuit/> accessed 25 May 2022.
[v] Mark Metcalf, 'Aerotoxin legal claims mount' (20 Aug 2021 Big Issue North) <https://www.bigissuenorth.com/news/2021/08/aerotoxin-legal-claims-mount/#close> accessed 25 May 2022.
[vi] 'EASA publishes two studies on cabin air quality' (23 March 2017 EASA) <https://www.easa.europa.eu/newsroom-and-events/press-releases/easa-publishes-two-studies-cabin-air-quality> accessed 25 May 2022.
[vii] Hayes K et al., Occupational risk of organophosphates and other chemical and radiative exposure in the aircraft cabin: A systematic review. Science of the Total Environment 796 (2021) 148742. <https://aerotoxic.org/wp-content/uploads/2021/09/Hayes-et-al-aerotox-review.pdf> accessed 25 May 2022.
[viii] David Newman, 'AEROTOXIC SYNDROME CLASS ACTION LAWSUIT' (19 March 2021 VN-ADS) <https://vn-ads.co.uk/aerotoxic-syndrome-class-action-lawsuit/> accessed 18 May 2022.
[ix] VN Aerotoxic Detection Solutions Ltd, 'UK Aerotoxic Detector Technology Developer Readies for Aviation Class Action Opportunity' (10 March 2021 Pressat) <https://pressat.co.uk/releases/uk-aerotoxic-detector-technology-developer-readies-for-aviation-class-action-opportunity-56a2aef1aa82fb33ec63ca8aab896ab1/> accessed 18 May 2022.
[x] Kiera Feldman, 'After Times investigation, Congress is moving to curb toxic fumes on airplanes' (31 March 2022 Los Angeles Times) <https://www.latimes.com/california/story/2022-03-31/congress-curb-toxic-fumes-seeping-airplane-cabins> accessed 26 May 2022.
[xi] Mawdsley SE, Burden of Proof: The Debate Surrounding Aerotoxic Syndrome. Journal of Contemporary History. January 2022. <https://research-information.bris.ac.uk/ws/portalfiles/portal/309933775/00220094221074819.pdf> accessed 26 May 2022.
[xii] Kiera Feldman, 'HOW TOXIC FUMES SEEP INTO THE AIR YOU BREATHE ON PLANES' (12 December 2020 Los Angeles Times) <https://www.latimes.com/projects/toxic-chemicals-planes-covid-19-travel-woes/> accessed 25 May 2022.
[xiii] Sue Austin, 'Shropshire pilot welcomes breakthrough in fight against debilitating syndrome' (13 May 2022 Shropshire Star) <https://www.shropshirestar.com/news/local-hubs/bridgnorth/2022/05/13/pilot-welcomes-breakthrough-in-fight-against-aerotoxic-syndrome/> accessed 26 May 2022.
[xiv] Rachel Salvidge, '"I couldn't feel my hands and legs": Is toxic air poisoning pilots, passengers and crew?' (26 August 2021 Ends Report) <https://www.endsreport.com/article/1725702/i-couldnt-feel-hands-legs-toxic-air-poisoning-pilots-passengers-crew> accessed 25 May 2022.
[xv] 'CABIN AIR QUALITY: Holding all the ACES' (May/June 2021 Aerotoxic Association) <https://aerotoxic.org/wp-content/uploads/2021/10/combinepdf-1.pdf> accessed 25 May 2022.