In edition 342 of BC Disease News (here), we summarised the key components of The Civil Procedure (Amendment) Rules 2022 and the 140th Update to the Practice Directions.
We announced that a process was being introduced to allow digital Notices of Change of Solicitor to be made on the MyHMCTS system, this being the online tool for managing and progressing cases under the Damages Claims Pilot [see Practice Direction (PD) 51ZB].
Last spring (here), we reported that Her Majesty's Courts and Tribunals Service (HMCTS) had launched the Pilot, as part of its £1 billion (50 project) reform programme intended to improve and modernise its services.
To date, MyHMCTS system users have been able to complete multiple steps of the civil litigation process with the Damages Claims Portal (DCP) platform, including:
Issuing Claim Forms;
Uploading Particulars of Claim;
Notifying (serving) Claims;
Providing Acknowledgements of Service;
Informing the court of any agreed extensions to file Defences;
Responding to Claims by admission, or by submitting Defences with answers to Directions Questionnaires; and
Replying to Defences by choosing not to proceed, or with answers to Directions Questionnaires.
N.B. After the Directions Questionnaires step, claims are transferred to the County Court and ordinary conduct under the Civil Procedure Rules resumes until the case is resolved (i.e. up to trial).
In its first 3-months of operation, only 9 claimant firms were permitted to take part in the Pilot, initially accommodating single-party (1 claimant versus 1 defendant) Part 7 claims for unspecified damages (mostly personal injury claims). Eligible claims also include Part 7 claims that have been issued after exiting the Ministry of Justice (MoJ) Portal, but exclude Part 8B claims [employers' liability/public liability (EL/PL) Portal stage 3 claims].
Fast-forward to this month, when the Law Society publicly declared that, from 4 April, all legally represented claimants must advance County Court claims falling within the scope of PD 51ZB through the DCP (for which MyHCMTS registration is a pre-requisite).[i]
This new policy was substantiated by the 142nd Update to the Practice Directions, which modified paragraphs 1.2 and 1.6 of the relevant PD.
Subsequently, in the latest 144th Update, further amendments to those comprised in the 142nd Update clarified that PD 51ZB does not apply to litigants in person and capped multi-party DCP claims at either:
2 claimants versus 1 defendant; or
1 claimant versus 2 defendants.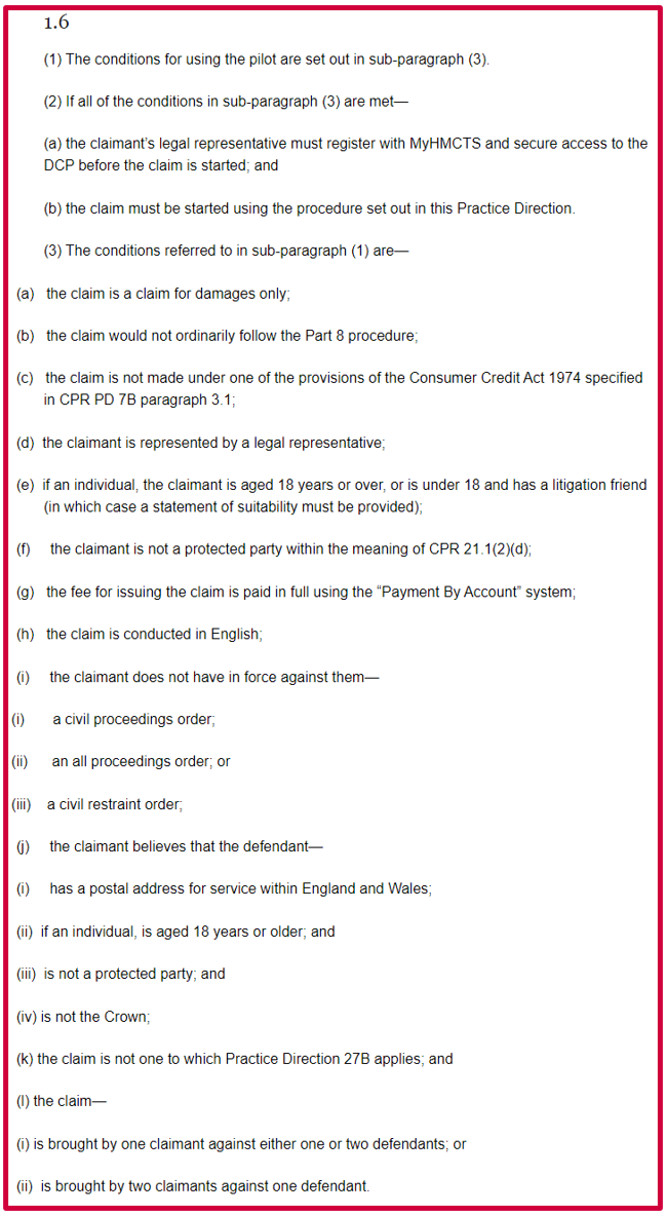 What will be the consequence of claimant solicitors failing to adhere to the new mandatory process? On this particular issue, the Law Society has said, as follows:
'If a claim is issued on paper rather than via the new portal, it will be for the court (either of its own motion or on application of the parties) to determine whether it should have been issued online and, if so, what (if any) sanction should be imposed'.
At present, defendant solicitor usage remains optional. However, within a matter of weeks, it is expected that another update to the PD will set out when and how defendant firms will be obligated to accept claims using the DCP.
We will continue to alert readers to further changes to PD 51ZB, as the details of the Pilot procedure become more extensive.
Last month, The Master of the Rolls, Sir Geoffrey Vos, delivered a speech to the Society of Computers and Law, claiming that 'Damages Claims Online' was 'taking off rapidly'.[ii] Whilst it is arguable that uptake has actually been slower than anticipated, Sir Geoffrey predicts that, by the mid-2020s at the latest (with the Pilot end date being 30 April 2024):
'… in England and Wales we can expect a truly integrated online digital justice system to resolve civil, family and tribunals disputes … Analogue systems and paper will be things of the past'.
[i] 'Online damages claims become mandatory' (1 April 2022 Law Society) <https://www.lawsociety.org.uk/campaigns/court-reform/news/get-ready-for-mandatory-online-damages-claims> accessed 8 April 2022.
[ii] THE RIGHT HON. SIR GEOFFREY VOS The Future for Dispute Resolution: Horizon Scanning The Society of Computers and Law. Sir Brian Neill Lecture 2022. Online- Thursday 17 March 2022 <https://www.judiciary.uk/wp-content/uploads/2022/03/MR-to-SCL-Sir-Brain-Neill-Lecture-2022-The-Future-for-Dispute-Resolution-Horizon-Scannings-.pdf> accessed 8 April 2022.