'If a rate in excess of the guideline rate is to be charged to the paying party, a clear and compelling justification must be provided'.
This was the determination of the Court of Appeal, in the case of Samsung Electronics Co. Ltd & Ors v LG Display Co. Ltd & Anor (Costs) [2022] EWCA Civ 466.
The 2021 edition of the Guide to the Summary Assessment Of Costs states that:
'In substantial and complex litigation an hourly rate in excess of the guideline figures may be appropriate for grade A, B and C fee earners where other factors, for example the value of the litigation, the level of the complexity, the urgency or importance of the matter, as well as any international element, would justify a significantly higher rate'.
In Samsung Electronics, the respondents, having been successful in bringing an appeal, attempted to justify recouping costs substantially in excess of solicitors' guideline hourly rates (GHR) by observing that it 'is almost always the case in competition litigation' that rates charged will be inflated.
However, Lord Justice Males, giving unanimous judgment, regarded that merely stating the nature of the case (i.e. that it is a commercial case, or a competition case, or that it has an international element) is 'no justification at all'.
Justification, he stressed, will not suffice, 'unless there is something about these factors in the case in question'. There would appear to be some logic to this interpretation, as the Guide on Summary Assessment stipulates only that such factors 'may' render excessive rates appropriate, implying that some further qualification is required.
The present case, though, concerned 'a one-day appeal, where the only issue was the appropriate forum for the trial, the documentation was not heavy, and the amount claimed (£900,000) was modest by the standards of commercial cases'.
As such, there was nothing here to make the respondents' £72,818.21 costs schedule (made up of Grade A (£801.40 to £1,131.75) and Grade C (£443.27 and £704) rates[i]] justifiable.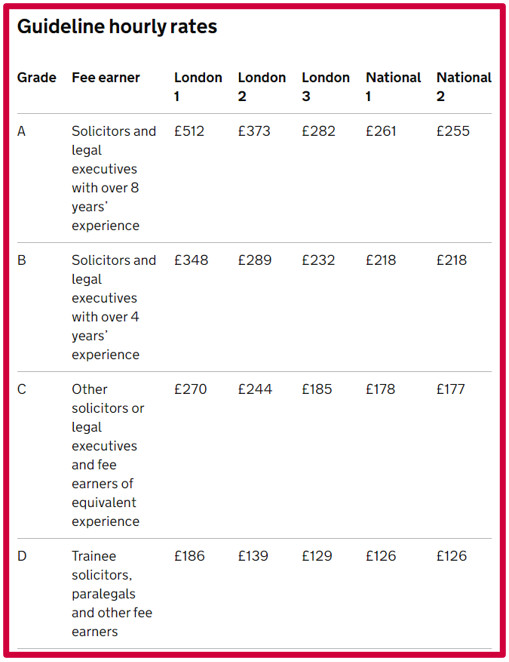 Males LJ therefore reduced the amount claimed and summarily assessed the respondents' costs of the appeal in the sum of £55,000.
Full text judgment can be accessed here.
Worth noting is the fact that the Guide on Summary Assessment of Costs makes plain that rates above guideline figures are not restricted to high level commercial work and may also apply to 'large and complex personal injury work'.
It follows that it would not be enough for a personal injury solicitor to simply submit, as in Samsung Electronics, that above average rates are 'almost always' commanded in 'large and complex personal injury work' and guarantee their costs be summarily assessed as charged.
[i] John Hyde, 'Judge finds 'no justification' for firm charging £1,100 an hour' (6 April 2022 Law Gazette) <https://www.lawgazette.co.uk/news/judge-finds-no-justification-for-firm-charging-1100-an-hour/5112117.article> accessed 6 April 2022.