On 3 November 2021, the High Court handed down judgment in the case of Haggerty-Garton & Ors v Imperial Chemical Industries Ltd [2021] EWHC 2924 (QB), which concerned a fatal asbestos-related disease claim. This has been described as a 'landmark' decision by legal news outlets, with the Court having for the first time applied Scots law in delivering its determination on quantum for mesothelioma injury.[i]
For context, the underlying claim was that the defendant employer had negligently exposed the deceased to injurious quantities of asbestos dust and fibres, from 1973/4 to 1978/9, at its factory in Scotland, where explosives were manufactured. Part of the deceased's work involved the removal of old and friable asbestos lagging from pipes, and he undertook this task neither having been given adequate safety masks or respirators, nor information or training about the dangers of asbestos.
Receiving his mesothelioma diagnosis in the summer of 2018, the deceased subsequently passed away in January 2019, aged 63 (loss of life expectancy of 22.4 years). As his illness progressed, the 1st claimant (the deceased's widow and executrix) looked after him at home, before eventually relinquishing her job as a teacher to become his full-time carer.
Pleading that Scots law was relevant, she commenced legal action under the Damages (Scotland) Act 2011 for the benefit of herself and her children (the deceased's stepchildren). Contested heads of loss included solatium (the Scottish equivalent of general damages for pain, suffering and loss of amenity, in England and Wales); dependency for loss of past and future services; and loss of society (the Scottish equivalent of statutory bereavement damages, in England and Wales).
Initially, the defendant denied that the deceased 'would have been required to handle asbestos' and called on the claimants to prove that any dust inhaled by him gave rise to a 'reasonably foreseeable hazard'. It also asserted that any cause of action had accrued in England (where the claimants resided) and that the recoverability of loss would be governed by the law of England and Wales, i.e. the Fatal Accidents Act 1976 (as amended by the Administration of Justice Act 1982).
By the time of the 3-day October 2021 trial, though, the defendant had admitted (1) to liability, (2) to Scots law being the appropriate means of quantifying the claim and (3) to the 1st claimant's entitlement to make the claims they had advanced. What is more, the 2nd to 6th claimants had already settled their claims (subject to court approval) against the defendant.
Mr. Justice Ritchie conducted an assessment of damages for the quantum issues that had not been agreed prior to trial. Together with those agreed damages, the 1st claimant was awarded a total sum of £570,549.09 plus interest (£614,060.45), apportioned as follows:
1st claimant – £492,544.84.
Oldest stepson – £42,266.30.
Middle stepson – £42,266.30.
Youngest stepson – £36,983.01.
This figure exceeded the £432,127 calculation in the defendant's counter schedule, but fell below the £760,289 evaluation in the 1st claimant's schedule of loss.
Ordinarily, for claims dating back to the 1970s, common law principles dictate that heads of loss determined by Scots law should be assessed in accordance with the law of England and Wales. In the present case, though, this potentially 'complicating factor' was alleviated by the defendant consenting to Scottish case law on compensation for 'loss of society' being taken into account. Without such consent, the quantification of the claim would have been significantly less fruitful. This is because no part of the 1976 Act permits for extended family members (e.g. step-children) to seek remuneration for grief and sorrow caused by death.
Indeed, the class of eligible applicants for the fixed £15,120 bereavement award (see s.1A) has been criticised by the Joint Select Committee on Human Rights for being too narrow, while an English Regan v Williamson[ii] award, which may serve as a modest additional pecuniary benefit in fatal actions, 'remains grounded in the services provided and valued [under the Act]'.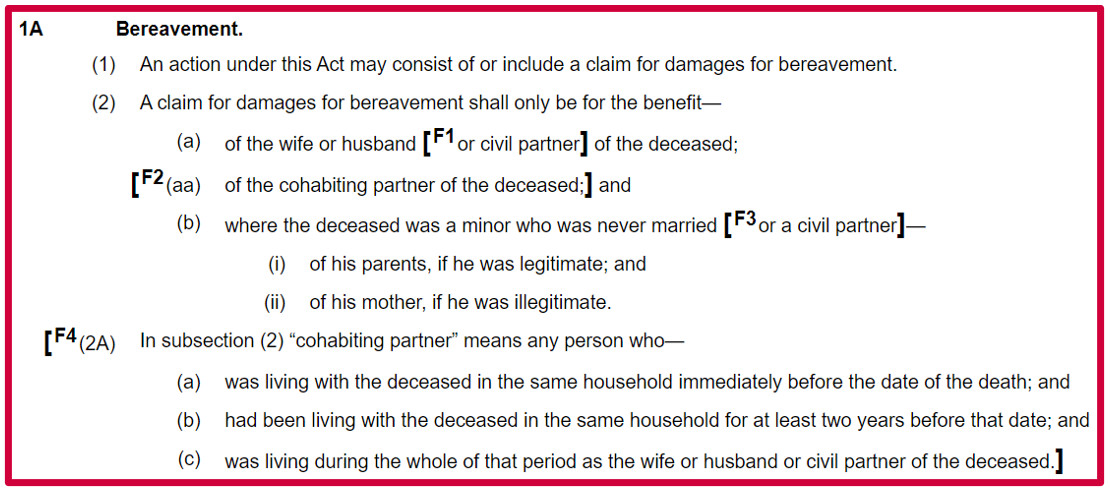 As regards to damages loss of services, in Haggerty-Garton, both parties concurred that there was synchronicity between Scots law and the law of England and Wales, thereby allowing the traditional method of assessment, i.e. by reference to Kemp and Kemp on Quantum.
It is also worthwhile noting that the 10% uplift for non-pecuniary loss, in line with the law of England and Wales [introduced in response to the abolition of recoverable conditional fee agreement (CFA) success fees and after-the-event (ATE) insurance premiums], was not authorised in this instance, where the estate claim for solatium was assessed under Scots law.
Full text judgment can be accessed here.
[i] 'English judge allows Scots law of damages in mesothelioma claim' (5 November 2021 Scottish Legal News) <https://www.scottishlegal.com/article/english-judge-allows-scots-law-of-damages-in-mesothelioma-claim> accessed 8 November 2021.
[ii] [1976] 1 WLR 305