Several years ago, the UK Government declared that it had passed 'tough new measures to end the blight of nuisance calls'.
Section 35 of the Financial Guidance and Claims Act 2018 was drafted to amend The Privacy and Electronic Communications (EC Directive) Regulations 2003 and thereby ban the (instigated) use of public electronic communications service 'to make unsolicited calls for the purposes of direct marketing in relation to claims management services'.
By insertion of the new Regulation 21A, the only circumstance where claims management companies (CMC) are still permitted to make direct marketing telephone calls is if the recipient has 'consented to such calls being made' by notifying the caller.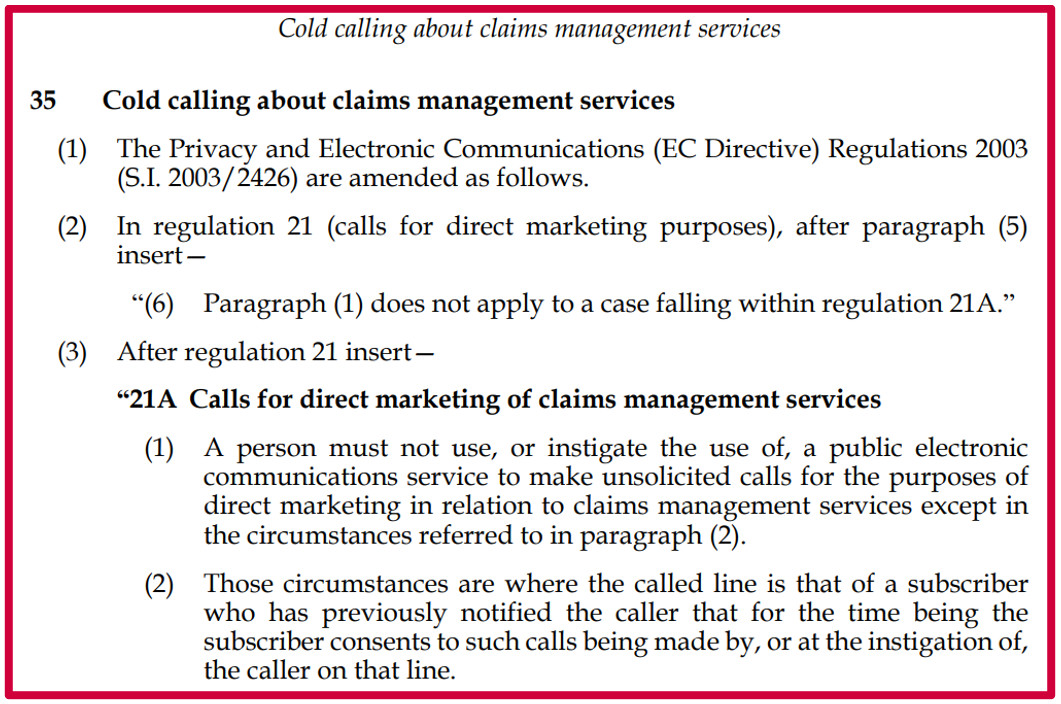 Enforcement of the ban was conferred on the Information Commissioners' Office (ICO), rather than the Financial Conduct Authority (FCA).
However, the results of a new YouGov survey gives the impression that the ICO is not conducting its role in an efficient manner.
As was reported in Legal Futures, last month, more than 55% of the 2,068 adults polled by YouGov had been contacted without consent in the 12-months leading up to June 2021. Thus, it is estimated (by extrapolating the data) that, in the space of 1-year, 29 million adults in the UK received 249 million cold calls or texts.[i]
9 in every 10 people responded that they felt 'annoyed, angry, anxious, disgusted, or upset' by their experiences with CMCs.[ii]
The Association of Personal Injury Lawyers (APIL), which commissioned the survey and shared its findings, revealed that 93% of respondents were in favour of a comprehensive ban on cold calling and unsolicited messages. For those who had personally received a call, support for a total ban rose to 97%.
3% opposed a ban, which marries up with the fact that only 2% of those surveyed made personal injury claims as a consequence of direct marketing communications.
However, a 2% success rate could theoretically generate as many as 500,000 claims (if 29 million adults were contacted), which is not an insignificant number.
Notwithstanding this, APIL's Chief Executive, Mike Benner, maintains that the 2018 Act was a 'missed opportunity', accentuating the fact that injury-related calls and texts have continued to be the most common cause of complaint to the ICO by a 'considerable margin':
'It generates the false perception that obtaining compensation is easy, even when there is no injury … Both plain common sense and this research tell us that no-one will agree to be called about a personal injury claim'.
Whether or not public criticism of Regulation 21A will coerce the Government into legislative reform (i.e. withdrawal of the exemption) remains to be seen, but we will continue to monitor the issue with interest.
[i] Nick Hilborne, '"Angry" public wants total ban on PI cold calling, survey finds' (8 September 2021 Legal Futures) <https://www.legalfutures.co.uk/latest-news/angry-public-wants-total-ban-on-pi-cold-calling-survey-finds> accessed 21 September 2021.
[ii] 'PUBLIC WANTS BAN ON INJURY COMPENSATION CALLS AND TEXTS' (8 September 2021 APIL) <https://www.apil.org.uk/press-release/Public-wants-ban-on-injury-compensation-calls-and-texts> accessed 24 September 2021.