Last year, BC Legal successfully defended an industrial deafness claim, where noise levels were deemed not to have exceeded 90 dB(A) (Lep,d or Leq). Recently, the claimant sought permission to appeal the decision, on the basis that the trial judge had erred in his reasoning, but His Honour Judge Freedman found no real prospects of success.
In this article, we provide a summary of the judgment in Gallagher v MC Realisations (Birmingham) Limited (2021), which includes some interesting commentary on the application of the 'Code of Practice for reducing the exposure of employed persons to Noise' (1972) and on the experience and objectivity of both expert and lay witnesses.[i]
The claim was pursued by Walker Prestons Solicitors, on behalf of the claimant. The claimant was employed as a fitter (initially as an apprentice) by the defendant machinery and tool manufacturer, between 1974 and 1986. The defendant was a subsidiary of the TI Group umbrella corporation.
Providing a witness statement and giving oral evidence, the claimant explained how, 'from time to time', he used noisy equipment, including grinders, pneumatic drills, pneumatic impact guns and chop saws. He also described how his time spent in the assembly shop, the fitting shop and the machine shop would involve working in close proximity to colleagues also operating noisy equipment and machinery. Allegedly, this meant that he had to shout to make himself heard.
Having received a diagnosis (by way of Mr. Mandrali's medical report) of moderately severe bilateral noise-induced hearing loss, measuring 20 dB across 1, 2 and 3 kHz (in addition to self-diagnosed tinnitus), the claimant insisted that the period of employment with the defendant was responsible.
At the October 2020 trial, Deputy District Judge Furness heard evidence from Mr. Pacey, a Chartered Mechanical Engineer, who was an extensively experienced lay witness with a proven track record of ascertaining noise exposure levels faced by employees of TI Group companies at various operational sites, in the '70s, '80s and '90s.
Mr. Pacey informed the judge that in fitting shops, use of hand grinding machines would be infrequent and that most of the work that required use of hand drills and spanners would not generate significant noise. In fitting shops, machines did give off significant noise, but since that products were made in limited numbers, few components were being manufactured at any given time. Essentially, the loud machines were not in continuous use.
Appended to his witness statement were 7 noise surveys of sites similar to the defendant's premises. In the main, they did not demonstrate noise levels exceeding even 80 dB(A). When asked why there was no noise survey of the defendant's site, he answered that 'a noise survey was not necessary because the levels of noise overall were not such as to pose a risk to health'.
The matter for the DDJ Furness to determine, therefore, was whether the defendant exposed the claimant to a foreseeable risk of injury, under common law.
In respect of the well-established common law position, it was necessary to give regard to the 1972 Code of Practice (CoP). This states that if occupational noise levels exceed 90 dB(A), employers are obliged to take steps to attenuate and mitigate the effects of such levels, along with providing earplugs, warnings and instruction.
However, it became apparent that the daily noise dose threshold [90 dB(A) Lep,d], at least in the context of continuous exposure (see paragraph 4.3.1 of the CoP), had not been met.

The Court was provided with a copy of the report of the single joint expert (SJE), Mr. Worthington, which concluded that:
'… it is not possible to demonstrate on the balance of probability that the Claimant would have experienced an average noise level reaching or achieving 90 dBA during his employment with the Defendant between 1974 and 1986'.
Mr. Worthington also considered threshold limits in the context of non-continuous noise exposure (see paragraph 4.4.1 of the CoP), in answers to Part 35 questions. Again, he came to the conclusion that, even if exposure occasionally exceeded 90 dB(A), it was too irregular and too infrequent to surpass an equivalent continuous sound level of 90 dB(A) Leq.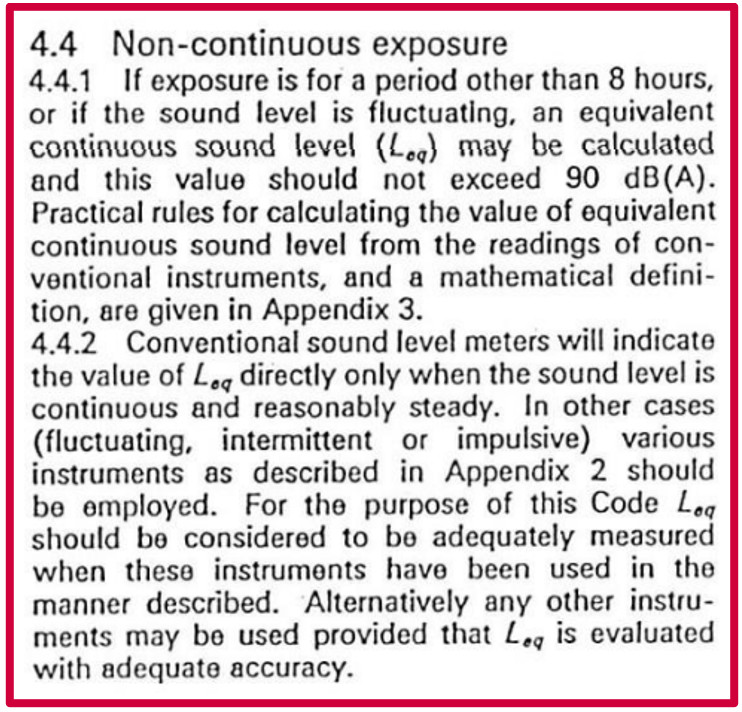 The trial judge agreed, ruling in the defendant's favour.
Now fast-forward to the Newcastle County Court Hearing, which took place this spring, wherein the claimant (now aged 63) sought HHJ Freedman's permission to appeal DDJ Furness' decision.
The claimant's primary ground of appeal was as follows. Criticism was directed at the trial judge for adopting the SJE's approach to non-continuous noise exposure (with reference to paragraph 4.4.1) and falling into the error of 'not [also] looking at' paragraph 4.5.1 of the CoP – a clause of 'utmost relevance', according to the claimant.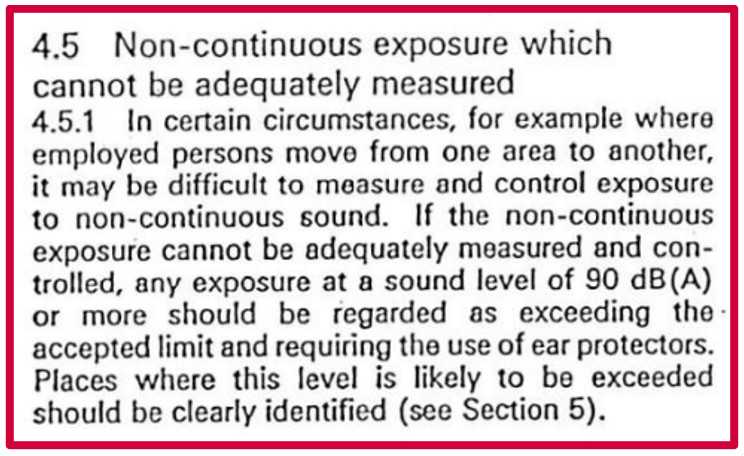 Claimant counsel put forward its submission that Mr. Worthington had left it to DDJ Furness to assess whether or not paragraph 4.5.1 was engaged, but he had neglected to do so. It was averred that, had DDJ Furness focused on paragraph 4.5.1, he would have concluded that there was 'some exposure' to noise levels of at least 90 dB(A) and, in such circumstances (where it was difficult to measure and control non-continuous exposure), the defendant was in breach for not taking precautionary action.
In closing submissions at trial, defendant counsel (Ms. Davies, of Ropewalk Chambers) argued before the judge that it was of 'critical importance' to understand that paragraph 4.5.1 was not applicable to the present case, as this was a circumstance where non-continuous exposure could be adequately measured. Further, it was argued that this was also a circumstance where exposure could be adequately controlled, as the ability to control noise levels is contingent on the capacity to measure them:
'… if one could measure them, then one could control them, as a matter of logic, if it was necessary to do so'.
HHJ Freedman accepted that the trial judge had omitted to make 'any specific reference to paragraph 4.5.1', albeit no specific reference was made to paragraph 4.4.1 either. That being said, it was not accepted that the trial judge 'could not have had regard to it' because the concluding paragraph of his judgment did recognise that the case fell into the category of 'non-continuous exposure'.
Although not 'overtly stated', it was therefore 'clear inferentially' that paragraph 4.5.1 was not engaged and that it was 'enough' to consider paragraph 4.4.1:
'The short point is that Mr Worthington retrospectively has been able to undertake a measurement of noise levels and, in that event, it is reasonable to argue that an employer could have done likewise.
… inferentially the judge must have concluded that it was feasible, if necessary, to control the noise levels and so it seems to me, first that the judge did by inference reject the submission that 4.5.1 of the code was engaged here and secondly, he did inferentially conclude that the reason why it was not engaged was that noise levels could be measured and controlled, as necessary'.
This conclusion was thanks, at least in part, to the 'objective approach' of Mr. Worthington, who was a commonly instructed SJE and was known to be a 'very experienced' professional, having produced engineering reports for NIHL cases on 'innumerable occasions'. It was the circuit judge's view that, had more specific questions been put to Mr. Worthington, the claimant could have probed (and potentially dispensed with its duty to establish) its assertion that noise levels could not have been measured, due to the claimant 'moving from one area to another'.
As a result, HHJ Freedman refused the claimant's application on the basis that the trial judge was entitled to arrive at the findings he came to.
Whilst it might have been 'unfortunate' that DDJ Furness did not explain all of his reasoning to the claimant's satisfaction (i.e. omitting to make specific reference to paragraph 4.5.1), there was no automatic invalidation of his judgment.
Appreciation was given to the that that it is 'not an easy function to discharge' the considerable time pressure of a 1-day fast-track trial, where a large number of materials are assimilated and a reasoned ex tempore judgment is drafted:
'It is easy to criticise a judge … but … a judge in these circumstances is placed under very real constraints and it is unsurprising if there is not reference to every point made or indeed every part of the code which the judge has been called upon to apply, as being the relevant standard.
What is important is that the judge should make it clear he has heard all of the evidence, that he understands the thrust of the submissions made by both parties, that he has taken their submissions into account, that he has had proper regard to the conclusions of the single joint expert and that he has come to a reasoned decision'.
[i] See pages 336-370 <https://www.bc-legal.co.uk/images/pdf/Noise%20Essential%20Reading.pdf>.