On 8 June 2021, the Employers' Liability Tracing Office (ELTO) published its Annual Report for 2020.
At the close of 2020, a total of 195 EL insurers had opted to join ELTO as (up from 189, in 2019). This figure represents more than 99% of the current EL market. As a result, ELTO holds over 29 million records covering 40.9 million years of EL insurance cover (as at Q1 2020).
Searches of these records are commonly requested by claimants wishing to bring personal injury claims against their (former) employers, as they provide a route for tracing the relevant insurer on risk during, e.g. the alleged period of injurious exposure.
According to the latest Report, 81,073 total enquiries were received by ELTO in 2020. This is 22,307 (28%) down on the previous year and is an accurate reflection of the claims market. Indeed, Steven Browne, in his opening Statement, emphasised that:
'As more of us stayed at home last year, there was a reduction in the number of Employers Liability claims raised …'
Delving deeper into the numbers, in 2020, claimants made 6,369 mesothelioma enquiries and 57,330 non-mesothelioma enquiries, at success rates of 88.8% and 97.5%, respectively.
As is evident from the graphs below, non-mesothelioma claimant enquiries have been falling year-on-year over the past half-decade. By contrast, mesothelioma claimant enquiries have generally followed an upward trajectory, though 2020 enquiries were an exception to this trend, returning to levels observed back in 2017.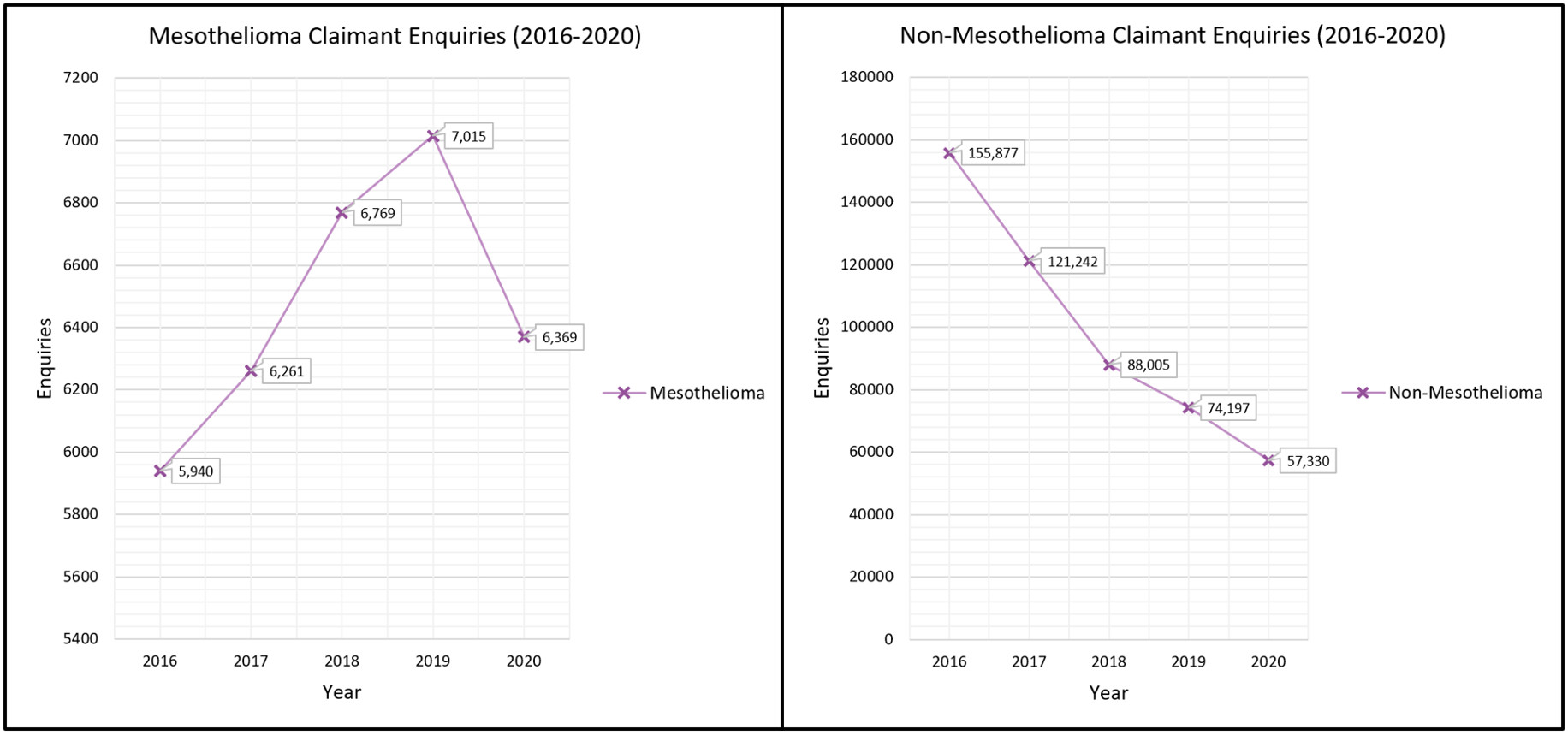 The general downturn in volume of annual enquiries has been attributed to a reduction in the number of noise-induced hearing loss enquiries, but irrespective of this (and the fact that mesothelioma enquiries dipped), the ratio of accident-to-disease enquiries fell for the first time in several years, in 2020.

Ranked below, are the most prevalent types of disease suffered by claimants who submitted ELTO searches.

Also of interest to readers may be the location of employers targeted by claimant ELTO searches (both accident and disease).