In edition 320 of BC Disease News (here), we reported that the Civil Justice Council (CJC) had published its interim Working Report for the Consultation on Solicitors' Guideline Hourly Rates (GHR).
Within the Report, the Working Group proposed new and uplifted rates for all grades of fee earner across the country, ranging from 7% to 35%, and these were based on rates 'allowed on provisional and detailed assessment' in 754 cases.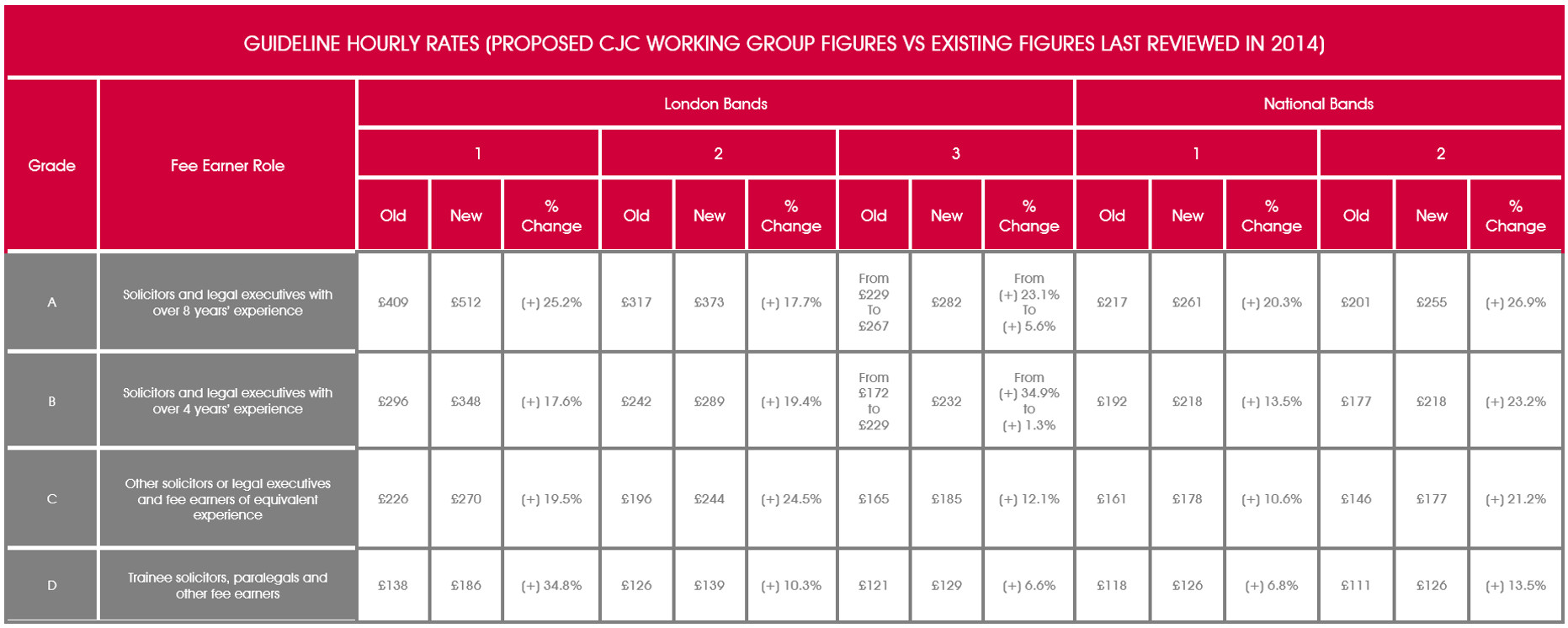 Although prospective changes to GHR have been described as 'modest', they do at least offer an overall increase, compared to those offered in the CJC's 2014 Report (rejected by the then Master of the Rolls, Lord Dyson), which represented an overall decrease of 5%.[i]
A consultation phase then ran until 31 March 2021, with the Council having welcomed stakeholder feedback on the methodology used to update GHR. A total of 103 responses were received.
Earlier this year, we reported that a handful of respondents to the consultation were cautious that GHR recommendations based on rates 'allowed', rather than rates 'claimed', were precluding the Working Group from producing broad approximations of actual rates in the market – the inference being that 'allowed' rates will have been influenced by 11-years out of date GHR. There were also assertions from complex injury specialists, for instance, that the market rate in their area of legal practice was markedly higher than GHR.
Irrespective of views put forward, Working Group Chair, Mr. Justice Stewart, announced last month that it had not been 'sufficiently persuaded to make substantial modifications' to any of its interim Report recommendations, with the full and Final Report (dated 30 July 2021) rationalising the decision to double down.[ii]
The Law Society is 'broadly supportive' of the Group's requests, with Head of Justice, Richard Miller, complimenting the 'robustness' of its analysis and the realistic reflection of present day market rates.[iii]
Elsewhere, it was only to be expected that most paying parties (and their representatives) would complain that recommended GHR are too substantial and receiving parties (and their representatives) would think that recommended GHR do not go far enough.
Nonetheless, the Working Group is convinced that the methodology used was 'sufficiently sound' and, therefore, that the matrix of adjusted GHR should be implemented in full and be applicable to all summary assessments from the date of their introduction.
Other notable recommendations include the abolition of National Grade 3 (to be amalgamated with National Grade 2) and the re-definition of London Grade 1 for 'very heavy commercial and corporate work by centrally based London firms', with London Grade 2 absorbing 'all other work' in the City and central London locations.
Several amendments to the 'Guide to the summary assessment of costs' are also highly anticipated.
At paragraph 28, for example, it is emphasised that GHR not only provide a starting point for those faced with summary assessment, but 'may also be a helpful starting point on detailed assessment'.
What is more, at paragraph 31, it now states that the location of a fee earner is 'determined by reference to the office to which s/he is, or is predominantly, attached'. This ties into the ancillary recommendation for the Civil Procedure Rule Committee (CPCR) that the person who signs off a summary assessment form (N260) and detailed assessment bill should have to specify the location of the fee-earners carrying out the work. Such an amendment would 'deal with files being transferred to a different office for work to be done there'.
Finally, the Working Group is hopeful that any debate regarding annual uprating in line with an appropriate Service Producer Price Index (SPPI), in the context of the ongoing fixed recoverable costs review, will guide future GHR updates.
It is now up to the Master of the Rolls and Head of Civil Justice, Sir Geoffrey Vos, to consider the Working Group's recommendations in detail and determine what action ought to be taken.
A more comprehensive review due to take place in around 3-years' time, in any event.
[i] 'Civil Justice Council pushes ahead with guideline hourly rates changes' (2 August 2021 Legal Futures) <https://www.legalfutures.co.uk/latest-news/civil-justice-council-pushes-ahead-with-guideline-hourly-rates-changes> accessed 4 August 2021.
[ii] Master of the Rolls, 'Civil Justice Council publishes final report on guideline hourly rates' (30 July 2021 Courts and Tribunals Judiciary) <https://www.judiciary.uk/announcements/civil-justice-council-publishes-final-report-on-guideline-hourly-rates/> accessed 4 August 2021.
[iii] Eduardo Reyes, 'Hourly rates rebuff for non-London commercial firms' (2 August 2021 Law Gazette) <https://www.lawgazette.co.uk/practice/hourly-rates-rebuff-for-non-london-commercial-firms/5109437.article> accessed 4 August 2021.