On 25 March 2020, the Industrial Injuries Advisory Council (IIAC) published Position Paper 47, on incidence of cancer among firefighters.
Prompting this analysis was pressure over exposure to harmful substances, which likely occurred during the Grenfell Tower fire, on 14 June 2017.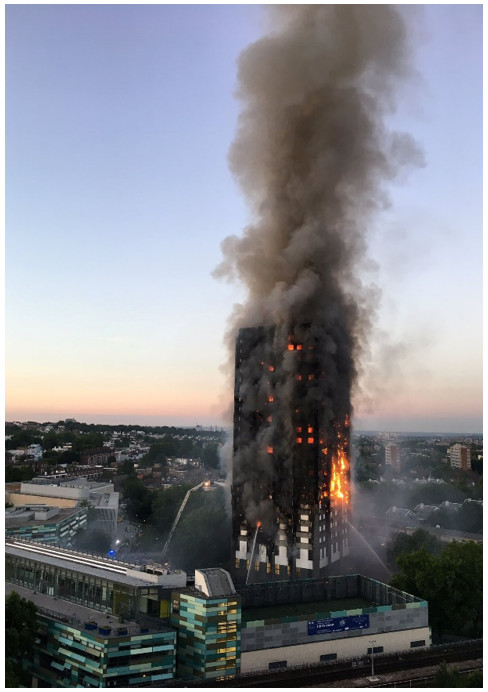 [Source: Wikimedia Commons – Natalie_Oxford (14 June 2017) 'Grenfell Tower fire, 4:43 a.m.']
Fires produce a complex mixture of chemicals and dusts in the air, releasing a number of known or suspected carcinogens, including benzene, propylene, 1,3- butadiene, formaldehyde, polycyclic aromatic hydrocarbons (PAHs) and polychlorinated biphenyls (PCBs).
In most Canadian and US states, a number of cancers are recognised as occupational diseases among firefighters. For example, in British Columbia, recognised diseases include brain, bladder, colorectal, kidney, ureter, testicular, oesophageal, lung, breast and prostate cancer, as well as non-Hodgkin's lymphoma, leukaemia and multiple myeloma.
With the exception of mesothelioma, though, the UK has never recognised firefighting-related cancers under the Industrial Injuries Disablement Benefit (IIDB) scheme.
In more recent times, concerns have been raised by the Fire Brigades Union (FBU) over the possible adverse long-term effects of exposure (to smoke and chemical toxins) at Grenfell on its members and on others (e.g. clean-up workers and the local resident population), while the House of Commons Environmental Audit Committee (EAC) expressed similar concerns in a section of its 2019 report, entitled: 'Toxic Chemicals in Everyday Life'.
Position Paper 47 therefore serves as an update to earlier IIAC publications on testicular cancer prevalence in firefighters (2008) and the (non)malignant effects of working as a fire‐fighter (2010).
On this occasion, however, the Council did not find consistent evidence that the risk of any type of cancer (besides mesothelioma) was more than doubled as a result of firefighting.
Notwithstanding the fact that a large number of studies have shown increases in risk of firefighting-associated cancer at specific sites, the magnitude of risk estimates were said to vary considerably, depending upon the study date, the nationality of the firefighters and the duration of employment.
As such the Council recommended against prescription for cancer in firefighters, though it continues to monitor several ongoing studies and remains open to the possibility of reviewing its position as the research evidence base grows.
One interesting study cited in Position Paper 47 was by Stec et al (2018), as the first UK-based research to identify firefighters' exposure to PAH carcinogens, such as benzo[a]pyrene, 3-methylcholanthrene, and 7,12-dimethylbenz[a]anthracene.[1]
Samples were collected from skin (jaw, neck, hands), personal protective equipment (PPE), and work environments (offices, fire stations and engines) in two UK Fire and Rescue Service Stations.
In line with increasing scientific interest in the possibility of dermal uptake of carcinogenic chemicals over the past decade, the authors concluded that the primary exposure route for the group of participants appeared to be via skin absorption.
As a result of this finding, the latest IIAC Paper stated that:
'Concern about skin exposure to chemicals and contamination of equipment and clothing needs further scientific investigation and additional control measures'.
[1] Stec AA et al., Occupational Exposure to Polycyclic Aromatic Hydrocarbons and Elevated Cancer Incidence in Firefighters. Scientific Reports. Volume 8, Article number: 2476 (2018) <https://www.nature.com/articles/s41598-018-20616-6.pdf> accessed 1 July 2021.