On 31 May 2021, new fixed tariffs for 'whiplash injury' in road traffic accident claims entered into force [see the The Whiplash Injury Regulations 2021] and the Official Injury Claim (OIC) website went live to handle low value claims (up to £5,000 for personal injury) that are subject to these tariffs.
In edition 328 of BC Disease News (here), when we announced that the small claims limit for employers' liability and public liability claims would be increasing to £1,500 from April 2022 [i.e. not encompassed within The Civil Procedure (Amendment No. 2) Rules 2021], we also shared the views of peers in the House of Lords, on 26 April, who warned that the incoming whiplash reforms could result in an 'explosion' of quasi-bogus 'mixed claims', farmed by claims management companies (CMCs) and claimant law firms.
Parliamentary Under-Secretary of State for Justice, Lord Wolfson of Tredegar, on the issue of 'mixed claims' (otherwise known as 'hybrid claims', said as follows:
'My noble friends Lord Hunt of Wirral, Lord Bourne of Aberystwyth and Lord Naseby made the point that there is a risk that the regulations could be subverted by other injuries suddenly becoming the main injury. As the noble and learned Lord, Lord Hope of Craighead, mentioned, Section 3(8) of the [Civil Liability] Act [2018] provides that, where a claimant suffers injuries in addition to a whiplash injury, the court is not prevented from awarding damages that reflect the combined effect of the injuries sustained. The courts will therefore need to determine how mixed injuries are addressed. We are confident that judicial expertise will address these matters on a case-by-case basis, but we will look vigilantly to ensure that the regulations are not undermined, whether by the claims management industry or otherwise, by people reordering their claims so that minor injuries become the main part of their claim'.
The Motor Insurers' Bureau (MIB) and the Ministry of Justice (MoJ) are both aware that claimants with 'mixed injuries' are unable to value their claims using the soft tissue whiplash injury tariff table and that the OIC portal has been principally designed to progress 'whiplash injury'-only claims.
It is evident that the Civil Liability Act 2018 and its complementing Regulations made no attempt to address how one would value pain, suffering and loss of amenity (PSLA) in an RTA claim where, for example, the claimant has been diagnosed with whiplash injury alongside tinnitus and/or psychological injury.
Estimates suggest that around 130,000 people-per-year that are involved in RTAs go on to develop 'multiple injuries'. These individuals are now standing in 'legal no man's land', thanks to the emergence of the whiplash reforms, and practitioners envision that this could make it very difficult to resolve litigation without risk of under-compensation.[i]
Stuart Hanley, Head of Legal Practice at claimant firm, Minster Law, said that thousands of claimants will be left 'between the devil and the deep blue sea' until a solution is devised.
The MoJ has been forced to admit that there is 'no immediate solution' to the issue, but is committed to making certain that the new regime is not fatally undermined.
On 3 June, the Insurance Times reported that the MIB had established a cross-sector working group, with representation from the Association of Personal Injury Lawyers (APIL), the Association of British Insurers (ABI) and the Motor Accident Solicitors Society (MASS), to create a functioning framework for 'mixed claims'.[ii]
Further details were outlined in a release from the OIC (see image below), including the fact that a range of suitable test cases are being prepared for the Court of Appeal to clarify the position on damages as soon as possible[iii]: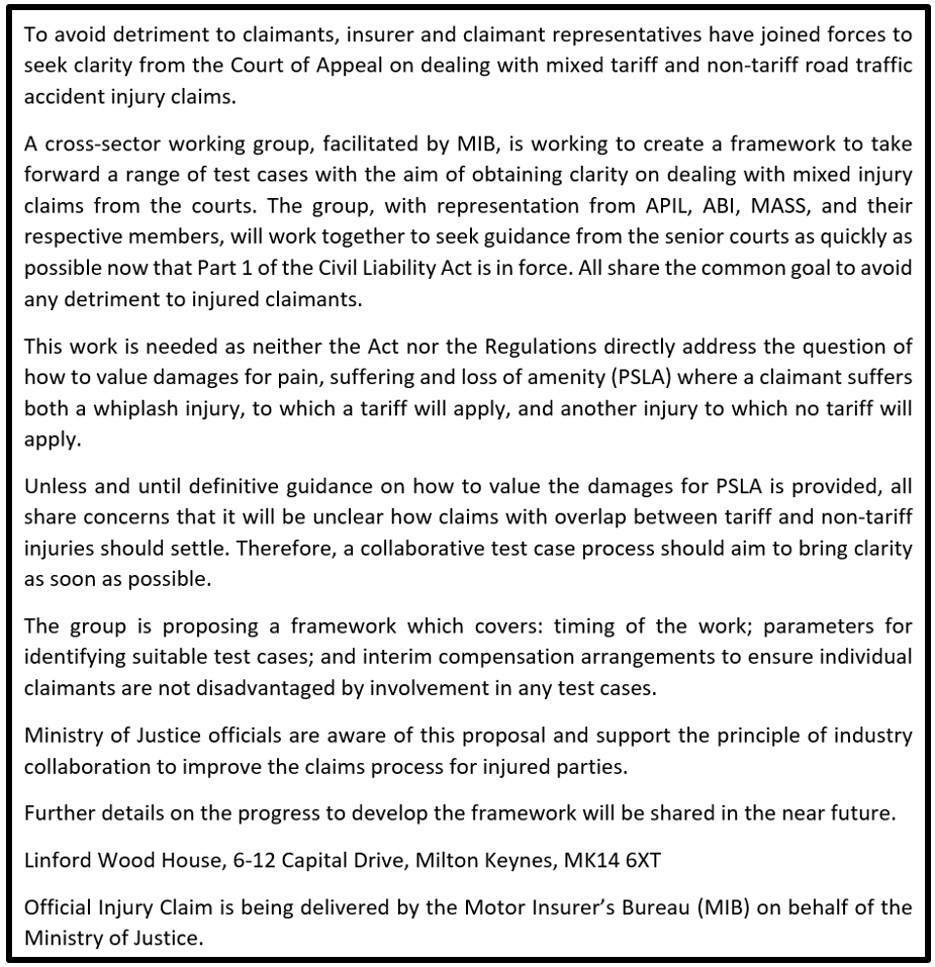 It will therefore not be long before the Court of Appeal, for the first time, assesses quantum in a 'multiple injury' case, which is governed by both common law and a statutory scheme.
How might the Court calculate damages in such a case? To arrive at a sensible prediction, it could be valuable to observe the approach traditionally adopted in historic litigation involving several types of simultaneously occurring injuries.
In the case of Brown v Woodall [1995] PIQR Q36, Sir John May applied a mathematical methodology:
'In this type of case, in which there are a number of separate injuries, all adding up to one composite effect upon a plaintiff, it is necessary for a learned judge, no doubt having considered the various injuries and fixed a particular figure as reasonable compensation for each, to stand back and have a look at what should be the aggregate figure and ask if it is reasonable compensation for the totality of the injury to the plaintiff or whether it would in the aggregate be larger than was reasonable?'
Barrister, Gordon Exall, has indicated, in his Civil Litigation Brief blog, that there are 4 feasible ways that the court could (but not necessarily without adverse legal implications) deal with compensation in 'multiple injury' low-value RTA claims:[iv]
An approach where the statutory figure is completely ignored and common law damages are awarded for injuries falling outside of the tariff. What about s.3(8) of the 2018 Act, which states that: '… in a case where a person suffers an injury or injuries in addition to an injury or injuries to which regulations under this section apply, awarding an amount of damages for pain, suffering and loss of amenity that reflects the combined effect of the person's injuries'? Surely a statutory award could only be disregarded in full if the sum was 'so inadequate'.
The 'traditional' approach (see Brown above), i.e. an aggregate figure for the totality of the victim's injury. This may, however, be incompatible with s.3(2) of the 2018 Act, which states that: 'The amount of damages for pain, suffering and loss of amenity payable in respect of the whiplash injury or injuries, taken together, is to be an amount specified in regulations made by the Lord Chancellor'. Thus, it would appear that it is not open to the court to discount the statutory award.
An approach where the statutory sum is fixed, but the common law damages may, if appropriate, be 'subject to discount for "overview"', due to the existence of the statutory award.
A sophisticated, 'tapered' approach – per Heil v Rankin [2001] QB 272 – where the statutory sum gradually tapers into insignificance, as the non-tariff aspect become increasingly serious.
Mr. Exall considers the 3rd suggestion (in the list above) to be the most likely, as it does not interfere with the statutory figure.
That being said, there is no obvious solution. Richard Miller, Head of Justice for the Law Society, best reflected the gravity of the Court of Appeal's predicament, when he said:
'There is no precedent for reducing the compensation for the more serious injury because there are more minor injuries. There is nothing in the legislation that allows for paying something lower than the tariff for whiplash injuries'.
Many commentators have predicted that the 'mixed claim' conundrum will cause a spike in soft tissue whiplash claims with additional elements of tinnitus, wrist injury and psychological harm.[v] We have already discussed the growing trend of tinnitus in 'common whiplash' claims in edition 293 (here) and the benefit of involving disease lawyers when complex causation arguments arise.
It is also forecast that the 31 May reforms could induce a 'drift' towards fraudulent (dishonest) employers' liability (EL) and public liability (PL) claims, as these have not yet been impacted by legislators and still attract 3rd party legal costs.
For now, claimants bringing 'multiple injury' actions will have to decide whether to settle offers on the table, or to instead wait for Court of Appeal guidance, which could take some months to materialise. Lower courts may elect to adjourn or stay listed hearings on quantum pending guidance from the higher Court.
[i] John Hyde, 'News focus: Confusion reigns over whiplash portal' (7 June 2021 Law Gazette) <https://www.lawgazette.co.uk/news-focus/news-focus-confusion-reigns-over-whiplash-portal/5108742.article> accessed 7 June 2021.
[ii] Clare Ruel, 'MIB establishes working group to understand hybrid injury claims' (3 June 2021 Insurance Times) <https://www.insurancetimes.co.uk/news/mib-establishes-working-group-to-understand-hybrid-injury-claims/1437698.article> accessed 4 June 2021.
[iii] Gordon Exall, 'MORE ON MULTIPLE INJURIES, THE TARIFF AND TEST CASES' (4 June 2021 Civil Litigation Brief) <https://www.civillitigationbrief.com/2021/06/04/more-on-multiple-injuries-the-tariff-and-test-cases/> accessed 4 June 2021.
[iv] Gordon Exall, 'HOW MUCH IS AN ARM AND A NECK? THE ASSESSMENT OF DAMAGES FOR PAIN AND SUFFERING IN MULTIPLE INJURY CASES AFTER THE CIVIL LIABILITY ACT 2018' (24 May 2021 Civil Litigation Brief) <https://www.civillitigationbrief.com/2021/05/24/how-much-is-an-arm-and-a-neck-the-assessment-of-damages-for-pain-and-suffering-in-multiple-injury-cases-after-the-civil-liability-act-2018/> accessed 4 June 2021.
[v] John Hyde, 'Fraudsters will "evolve" after whiplash reforms says insurance lawyer' (4 June 2021 Law Gazette) https://www.lawgazette.co.uk/news/fraudsters-will-evolve-after-whiplash-reforms-says-insurance-lawyer/5108739.article> accessed 11 June 2021.