Last month, judgment was handed down in the case of Jackman v Harold Firth & Son Ltd [2021] EWHC 1461 (QB). This was a fatal mesothelioma case, pursued by the widow of a deceased labourer (on her own behalf and on behalf of his estate).
The defendant, on the balance of probabilities, was found liable for exposing the deceased to asbestos fibres in the course of his employment.
Passing away on 4 November 2016, aged 76, he suffered progressively deteriorating symptoms (though some were likely to have been downplayed) for several months and did not receive invasive treatment.
Appropriate compensation for pain, suffering and loss of amenity (PSLA) was £75,000, along with £2,000 for loss of services and £13,000 for care and assistance [rooted in Rothwell v Chemical & Insulating Limited [2006] EWCA Civ 27].
Before making a ruling on liability, His Honour Judge Bird (sitting as a High Court judge), had to conclude that, at the time of alleged exposure, the deceased was 'employed' by the defendant company. Liability was essentially conceded if this was the decision of the court.
The issue at play, here, was the available evidence in the case – or rather the lack of it.
It was alleged that the deceased had been exposed while employed by the defendant and working at ICI in Huddersfield. However, no statement had been taken from the deceased prior to his death, the defendant had ceased trading years before the claim was advanced and no disclosure from ICI was sought.
The HMRC schedule showed that the deceased had worked for the defendant from at least April 1969 until around April 1972.
Following a consultation, on 16 May 2016, Dr. Naseer sent a letter to the deceased's GP, which, besides noting that his CT scan indicated '[pleural] mesothelioma as a result of asbestos exposure', also remarked that he had 'worked in construction industry and also worked with asbestos pipes in the 1970's at ICI' and that this could be the causal connection.
HHJ Bird considered this letter to be the 'best contemporaneous record' of the deceased's exposure.
Meanwhile, former ICI Huddersfield employees, Mr. Alan Gautry (1969-70) and Mr Archie McGill (1956-81), prepared witness statements prior to their own deaths and consented to use of these statements in proceedings.
The clear impression from both statements was that labourers, laggers and maintenance engineers working at the ICI plant, between 1969 and 1972 (some of which were sub-contracted, i.e. not ICI employees), came into contact with asbestos.
Indeed, acid and hot water-carrying pipes at the ICI factory were insulated with asbestos and, should those pipes require maintenance, insulation had to be removed and replaced. Mr. McGill recalled that asbestos 'could be seen outside on a breezy day being carried along on the wind' and that clumps of asbestos dust were not 'damped down' before being swept up. Mr. Gautry recalled his boiler suit 'usually' being covered in dust at the end of a working day.
Much of the determination on liability in this case turned on the claimant herself, having produced oral testimony, handwritten notes and 2 signed witness statements (prepared 3-years apart).
When presented with this evidence, the judge was advised by the opposing party that there was a 'danger of treating honest recollection of events that happened a long time ago as firm evidence'.
He was referred to the dicta of Mr. Tattersall QC, at paragraphs 73 to 77 of the judgment in Bannister v Freemans [2020] EWHC 1256 QB, who summarised the courts' treatment of potentially fallible human memory in historic case law [Sienkiewicz v Grief (UK) Ltd [2011] UKSC 10; Kimathi & Ors v The Foreign And Commonwealth Office [2018] EWHC 2066 (QB); Gestmin SGPS SA v Credit Suisse (UK) Ltd & Anor [2013] EWHC 3560 (Comm); Prescott v The University of St Andrews [2016] SCOH 3; and Sloper v Lloyds Bank Plc [2016] EWHC 483 (QB)].
Having dissected the decision in Bannister [a case reported in our Horizon Scan of the Disease Market (here) for commentary on very low-dose asbestos exposure], HHJ Bird was able to derive the following principles of his own:
'i) A strong recollection of events expressed in evidence with confidence is not a reliable guide to the accuracy of the recollection.
ii) The fact that a witness has a considerable amount to gain if his or her recollection of events is accepted by the court as fact, means that the witness' recollection is very likely to be biased towards that which supports the outcome he or she seeks.
iii) When a witness recalls events from the past, he or she is in fact unconsciously reconstructing those events. The description the witness provides of the relevant event or events is in fact a description of the reconstruction undertaken at that point.
iv) Testing recollection against contemporaneous documentation is a very useful and important exercise. Testing in this way at least gives the court an opportunity to compare a near contemporaneous version of events (subject to no or little reconstruction) with a re-constructed version of events'.
He went on to observe that these 'germane' principles neatly aligned with the newly published PD 57AC.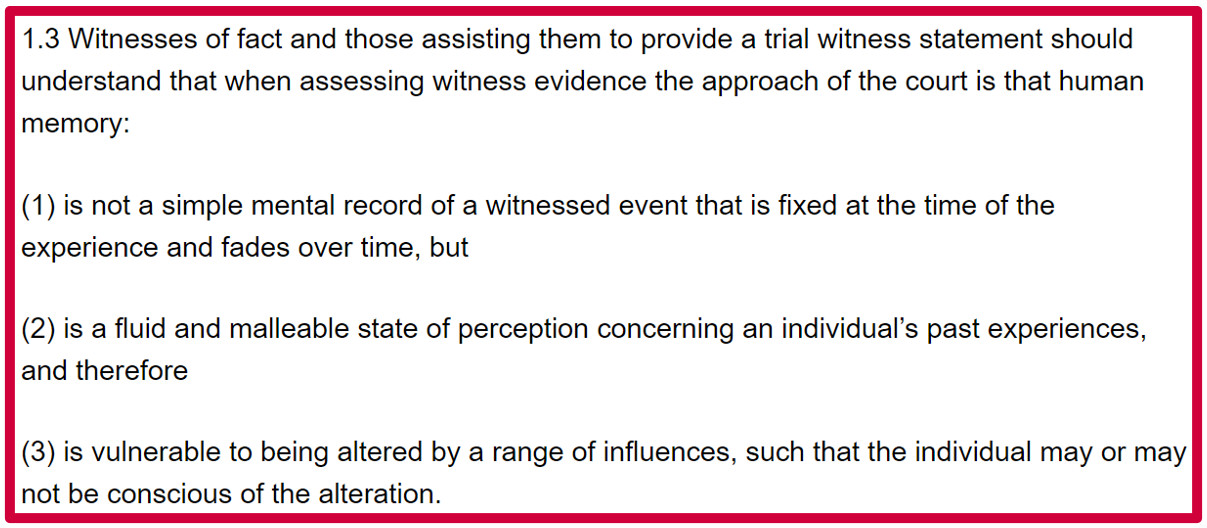 We were therefore correct, in edition 326 of BC Disease News (here), to anticipate that para 1.3 of the Appendix to the newly published Practice Direction would be regarded as relevant to 'any civil matter':
'Although the PD and its appendix apply to proceeding in the Business and Property Courts the following principles set out in the appendix are of universal application [para 14 of Jackman]'.
In the present case, the judge made it clear that he would not adopt a 'lax' approach to fact finding, in spite of the 'inherent tragedy' in mesothelioma cases:
'Mrs Jackman's evidence must be looked at in context and as part of the entire evidential picture available to me. The overall picture requires me to take account of the fact that the defendant has presented no factual evidence of its own. However, the absence of direct evidence from the defendant does not mean that I must accept what Mrs Jackman says. The claimant must still prove her case'.
Generally, the claimant demonstrated the 'hallmarks' of a 'careful', 'honest' and 'impressive' witness. The fact that she had corrected her 2nd witness statement in pen before signing it was testament to this.
She recollected that, post-mesothelioma diagnosis, the deceased had discussed with her that he would have been exposed to asbestos when he worked at ICI. Frankly, the prospect of him forgetting his employer at the time of exposure was 'so small that it could be ignored' and was deemed 'reliable', especially in the light of corroborative medical evidence.
However, part of the claimant's evidence was irregular, especially when compared against both statements prepared by Mr. Gautry and Mr. McGill. She appeared to remember her husband describing his working conditions after he returned from ICI, while employed by the defendant, and came to understand that he was 'cleaning asbestos out of pipes':
I imagined him working inside a pipe. I do not remember if this is specifically what he said he was doing, working inside a pipe, or if this just what I pictured'.
Moreover, from 1973 onwards, the claimant documented how the deceased would often 'chunter' and 'complain' about the 'filthy' and 'unpleasant' nature of his job, but also alluded to the fact that he could be 'resentful' and bore a grudge against his former boss – he would 'explode' at the mere mention of Mr. Firth's name.
Having cautiously analysed the claimant's recollection of conversations with the deceased over 40 years ago, in line with relevant authorities, HHJ Bird concluded that the deceased had worked at ICI for the defendant and that he dealt with the 'lagging of pipes and the removal of lagging', rather than 'cleaning asbestos from inside pipes'. As such, the defendant was in breach of its duty owed to the deceased, which had caused him to suffer fatal personal injury.
Full text judgment can be accessed here.