A London theatre, renowned for the 'persistent disrepair of its labyrinth of its backstage passageways' up until a renovation in the 1990s, is facing legal action over incidence of fatal asbestos-related disease among former employees.
This is according to an article in The Telegraph, published on 15 May 2021.[i]
Claimant personal injury solicitors implicated consider that the existence of asbestos at the prestigious Royal Court Theatre, on Chelsea's Sloane Square, was 'rife', because of the number of cases arising from a 'relatively small workforce'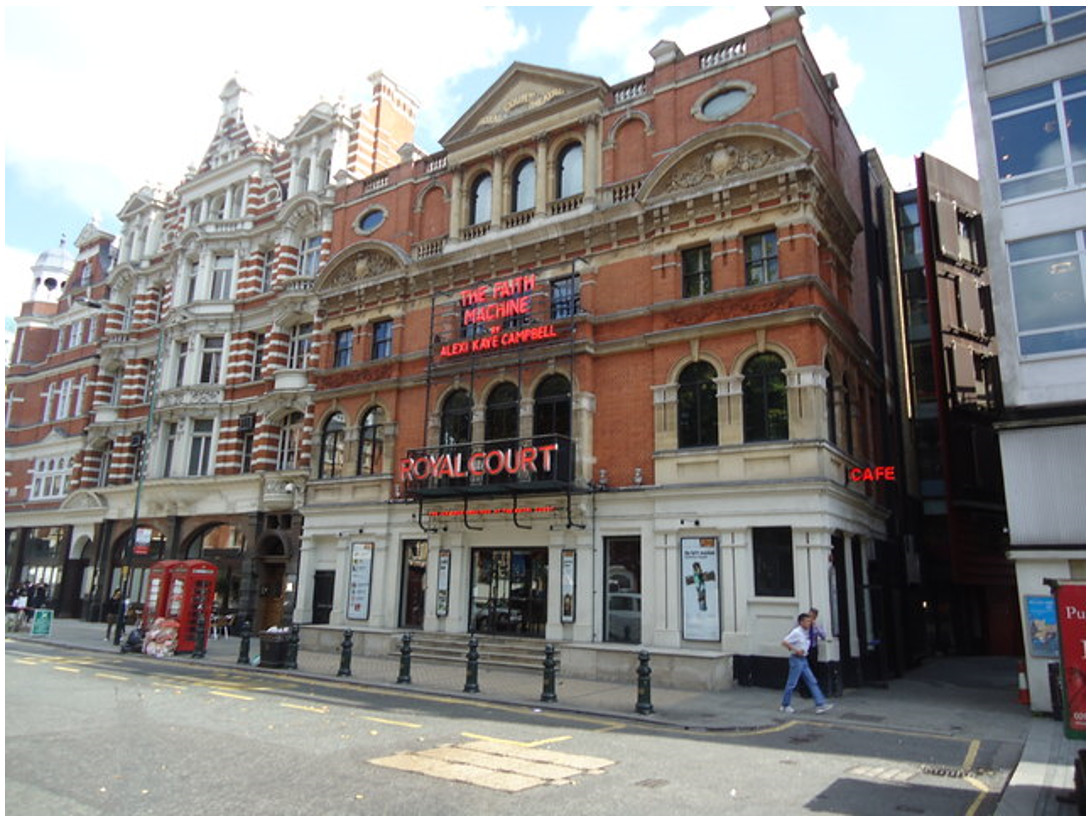 Source: Geograph – Stacey Harris (1 September 2011) 'The Royal Court Theatre, Sloane Square'
A spokesperson for the Theatre informed newspaper reporters that a single mesothelioma claim was being pursued against its owner, the English Stage Company, and that it would strive to resolve the matter 'as soon as possible'. They also purported to be 'unaware of any other potential claims'.
The confirmed claim is being brought by the estate of Mr. Allan Olsen, a former assistant master carpenter for the Theatre in the late 1960s and early 1970s, who died of mesothelioma in January 2020, aged 71.
He was responsible for building and disassembling the first stage production of the Rocky Horror Picture Show, in 1973, and prior to his death, it is alleged that he remembered sawing through asbestos sheets with handheld tools and blowing away remnants of asbestos dust.
Having worked with the carcinogen, supposedly without protection, his widow, Sonia, who was also employed as an usherette at the Theatre, avers that Mr. Olsen was a victim of 'neglect'.
Although only one claim has been officially substantiated, The Telegraph specifically states that it is aware of at least two widows preparing a case against the Stage Company. The other claim is being deliberated by the estate of an unspecified actor, who performed at the Theatre.
It is thought that the total compensation sought from this litigation would be upwards of £500,000, but payment of such damages is heavily reliant on the identification of employer' liability (EL) insurance. By leaking information into the public domain, the claimants hope that they may circumvent the 'artistic chaos', which has so far prevented the relevant insurer on record from being uncovered.
This article serves as a reminder that the application of asbestos in the 20th century was incredibly wide-ranging.
Although its physico-chemical properties had practical functionality in construction, for use in factories, schools, hospitals, houses and other buildings, the material was also utilised for artistic purposes, in theatres, cinemas, museums and on film sets.
Indeed, in 2009, parts of the Medieval exhibit in the British Museum had to be separated from asbestos-backed boards, while as recently as 2016, Camden's Bloomsbury Theatre had to undergo £1.2 billion in refurbishments, a sizeable portion of which paid for asbestos removal works.[ii]
Previously, Mensi et al (2010) looked at several case studies of workers in the entertainment industry (including an opera singer and theatre actor), who had been diagnosed with mesothelioma, and revealed varying sources of asbestos exposure.[iii] For instance, asbestos was sprayed on ceilings to provide soundproofing, as an effective noise absorber. Acoustic insulation was also afforded by safety curtains (in excess of 200kg), which had dual purpose as fire retardants.[iv] Accounts from study participants further disclosed that stage scenery and props were made out of asbestos containing materials, e.g. artificial snow, sand, dust, webs, etc.
Although production of asbestos-containing synthetic snow was halted during the 2nd World War,[v] use of products (commonly containing 100% industrial-grade chrysotile fibres) named 'White Christmas', 'Pure White', 'White Magic' and 'Snow Drift'[vi] have been well-documented in illustrious motion pictures, e.g. 'The Wizard of Oz' (1939),[vii] 'Holiday Inn' (1942)[viii] and 'It's A Wonderful Life' (1946).[ix]
[i] Royal Court Theatre asbestos scandal as prestigious venue faces multiple claims from staff' (15 May 2021 The Telegraph) https://www.telegraph.co.uk/news/2021/05/15/royal-court-theatre-asbestos-scandal-prestigious-venue-faces2/> accessed 18 May 2021.
[ii] Bloomsbury Theatre to reopen after asbestos found' (12 September 2017 Bainbridge E-Learning) <https://bainbridgeelearning.co.uk/bloomsbury-theatre-reopen-asbestos-found/> accessed 21 May 2021.
[iii] Mensi C et al., Asbestos-related diseases in entertainment workers. La Medicina del Lavoro. Nov-Dec 2010;101(6):416-8. <https://www.researchgate.net/profile/Carolina-Mensi/publication/49667538_Asbestos-related_diseases_in_entertainment_workers/links/02e7e5283574be7019000000/Asbestos-related-diseases-in-entertainment-workers.pdf> accessed 21 May 2021.
[iv] 'Curtains kill pensioner' (1 December 2007 The Mirror) <https://www.mirror.co.uk/news/uk-news/curtains-kill-pensioner-525030> accessed 21 May 2021.
[v] 'Asbestos alert in vintage Christmas decorations' (10 December 2015 Stephensons) <https://www.stephensons.co.uk/site/blog/personal-injury-blog/asbestos_alert_in_vintage_christmas_decorations> accessed 21 May 2021.
[vi] Nathan Ferguson, 'UNLIKELY USES OF ASBESTOS: FAKE SNOW AND THE WIZARD OF OZ' (19 July 2017 North Star Environmental Ltd) <https://www.northstarenvironmental.co.uk/unlikely-uses-of-asbestos-fake-snow-and-the-wizard-of-oz/> accessed 21 May 2021.
'Asbestos snow warning' (Birchall Blackburn Law) <https://www.birchallblackburn.co.uk/asbestos-snow-warning/> accessed 21 May 2021.
[vii] 'The snow in The Wizard of Oz was asbestos. The Wicked Witch's broom was made of asbestos, as was the Scarecrow's entire outfit despite the fact that asbestos' health risks were already known at the time in 1939' (Chonday) <https://www.chonday.com/snowizard18/> accessed 21 May 2021.
[viii] Martin Anderson, 'Dreaming of a White (Asbestos) Christmas' (24 November 2017 Boyes Turner) <https://www.boyesturnerclaims.com/news/dreaming-white-asbestos-christmas> accessed 21 May 2021.
[ix] 'Blizzard wizards: How special effects team made snow in It's a Wonderful Life' (BBC) <https://www.bbc.co.uk/programmes/articles/YYy7rDW8ls2vSntsj0RrMZ/blizzard-wizards-how-special-effects-team-made-snow-in-its-a-wonderful-life> accessed 21 May 2021.