The list of eligible beneficiaries of claims for damages for bereavement are listed under s.1A(2) of the Fatal Accidents Act 1976.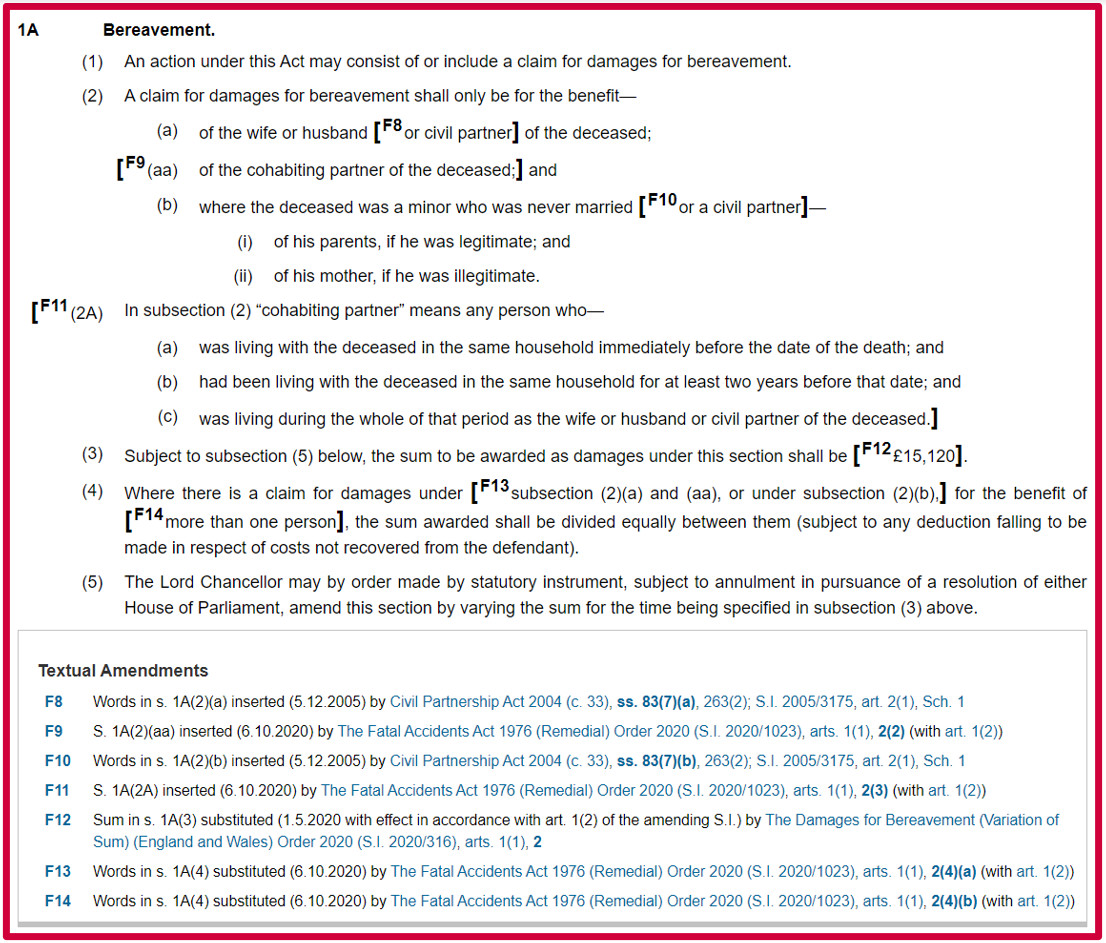 This list was most recently updated through The Fatal Accidents Act 1976 (Remedial) Order 2020, which entered into force on 6 October 2020.
The Remedial Order amended the 1976 Act to allow couples, who have cohabited for at least 2-years, to qualify for compensation for bereavement, thus rectifying the Court of Appeal's declaration of incompatibility, in the case of Smith v Lancashire Teaching Hospitals NHS Foundation Trust & Ors (Rev 2) [2017] EWCA Civ 1916.
In edition 308 of BC Disease News (here), we discussed that the Joint Committee on Human Rights had, in its 2nd Report on the then Draft Remedial Order (dated 18 May 2020), reiterated that s.1A(2) was 'still vulnerable to human rights challenges', e.g. from 'fathers grieving the loss of children born outside of wedlock; parents grieving the loss of adult or married children; children grieving the loss of a parent; and siblings grieving the loss of a brother or sister'.
What is more, the Committee of MPs questioned whether the Scottish model of assessing damages for 'loss of society', under the Damages (Scotland) Act 2011, on a case-by-case basis, is fairer than the fixed lump sum model in England & Wales (£15,120) and Northern Ireland (£15,100).
At the time, the then President of the Association of Personal Injury Lawyers (APIL), Gordon Dalyell, considered that the Government was only taking the 'smallest of steps to improve the law', which was 'simply … not enough'.
APIL now has a new President, in Sam Elsby, and his tenure has seemingly begun where the previous incumbent left off.
At the end of April, the Association published Bereavement damages: A dis-United Kingdom,[i] a Report which has piggy-backed on the Joint Committee's call for wider consultation on the law on bereavement damages, on the basis that without such a consultation:
'Bereaved people will remain discriminated against, and their relationships with deceased loved ones will remain unacknowledged. Bereaved people will continue to be subject to a postcode lottery'.
The Report proceeds to denounce the Government's continued resistance to change as 'unacceptable', in the face of clear advice that the law remains 'unfit for the 21st century', with the effect of this 'snub to bereaved families' being 'unprincipled', 'discriminatory' and 'stigmatising'. It goes as far as to say that 'bereaved families are treated like second class citizens'.
Mr. Elsby claims that the cross-jurisdictional levels of compassion and support shown to bereaved families has created a 'dis-United Kingdom' and unsurprisingly points to the Scottish model for unanimity:
'In Scotland, claims for compensation for bereavement are considered on a case-by-case basis, with personal circumstances and relationships taken into consideration. This is how it should be, but it is not how bereaved people are treated in England, Wales or Northern Ireland. Instead, bereaved people in those jurisdictions are dealt with in a way which is rigid, discriminatory, and woefully out of date.
The time for the law in England, Wales and Northern Ireland to be brought into the 21st century is long overdue. The law in Scotland has no difficulty recognising the closeness between parents, children of all ages, grandparents, siblings and other people who lived with the deceased as part of the family. In the rest of the UK it's as if many such relationships are not important, or do not even exist'.
According to APIL, the public supports this stance. Indeed, in June 2019 and May 2020, YouGov was commissioned to conduct a poll on the British adult population's attitude to bereavement damages. Sample sizes were just over 2,000 on both occasions and uncovered that:
69% think £15,120 is too little compensation.
73% think the amount of compensation for grief and trauma should vary according to the circumstances of each case.
85% think a father should still receive compensation, even if he was not married to the mother of his child.
56% think each relative's claim for compensation should be individually assessed.
Whether or not this Report provokes the Government to embark on a wider review of s.1A(2) is yet to be seen.
[i] Dan Bindman, 'APIL urges reform of bereavement damages "postcode lottery"' (28 April 2021 Litigation Futures) <https://www.litigationfutures.com/news/apil-urges-reform-of-bereavement-damages-postcode-lottery> accessed 30 April 2021.