A week ago, barrister, Gordon Exall, published a blog post on the County Court case of X (A Minor) v MPL Home & Senza Group Ltd (2021), which dealt with a dispute on the basis upon which costs in a settled product liability claim should be assessed, or fixed.[i]
The underlying claim was brought on behalf of a minor, who suffered personal injury when drying her hair with an electric hairdryer. She sustained burns on her wrist when an electric spark came off the hairdryer and burst into flames.
An agreement (payment of an amount of money) between the victim and the tortfeasors was reached.
As a result, a claim was made for the purposes of a judge approving settlement and, on 31 December 2020, District Judge Vernon gave his approval.
During last year's hearing, there was insufficient time to deal with the residual issue of costs and the matter was adjourned for further consideration in the latest Cardiff County Court hearing.
Essentially, the claimant's position was that the case should not be subject to fixed costs, as the employers' liability/public liability (EL/PL) Protocol did not apply. By contrast, the defendant considered fixed costs to be applicable, as the matter fell within the scope of the Protocol.

This was a case that admittedly satisfied all 4 elements of paragraph 4.1 of the Protocol.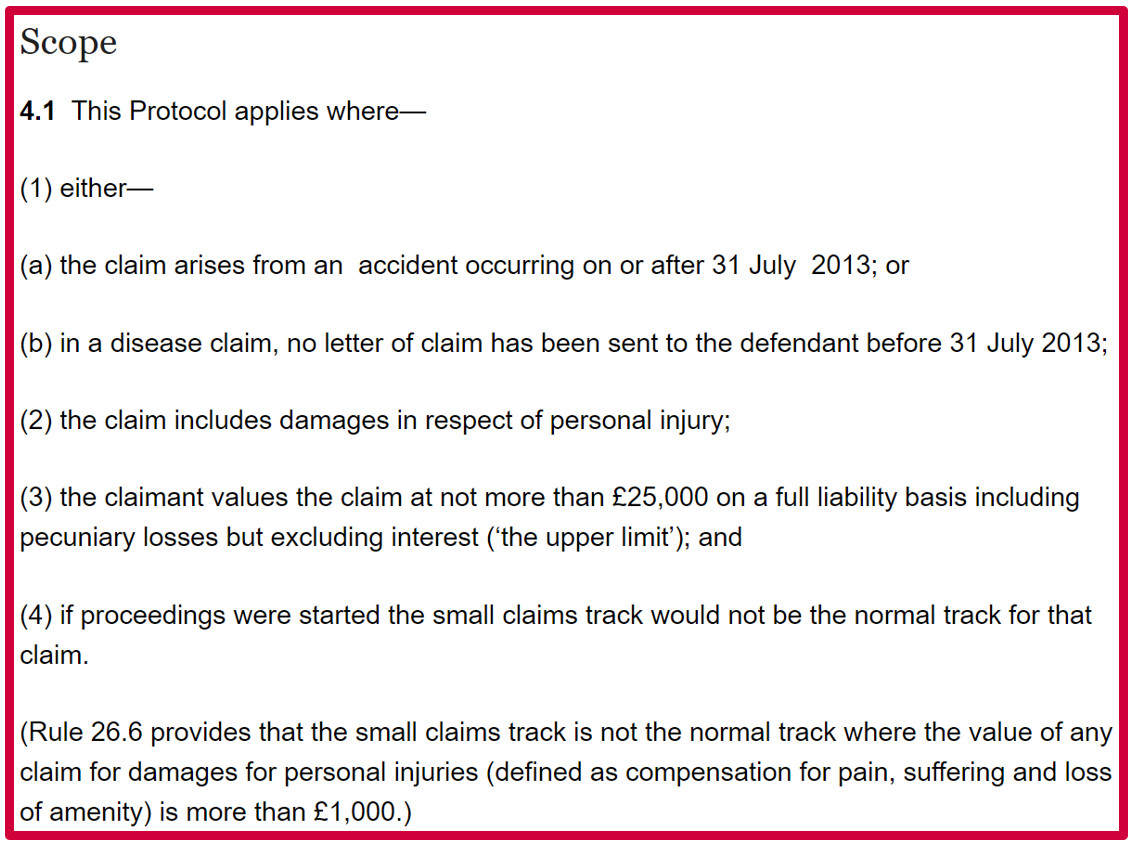 However, the bone of contention here surrounded the meaning of a 'public liability' claim.
Looking to paragraph 1.1(18) of the Protocol, where 'public liability' is defined, it was the defendants' submission that this was a 'claim for damages arising out of a breach of a statutory or common law duty of care owed by the defendants to the claimant and that the defendant is not the claimant's employer and therefore this is a claim which falls within the definition of public liability claim'.
Whereas, the claimant asserted that this claim could not be classified as a 'public liability' claim and/or was simply not suitable for the Protocol. In so doing, counsel for the claimant put forward their submissions in 4 component parts.
1. The EL/PL Protocol provides a streamlined process for straightforward claims and is therefore not intended to cater to complex product liability litigation.
Whilst DJ Vernon confirmed that the EL/PL Protocol process does streamline claims, he rejected the notion that product liability claims are, by their very nature, too complex to be handled within the boundaries of the Protocol. Indeed, EL claims can be both complex and straightforward.
Claims may exit the Protocol for reasons that are explicitly envisaged by the Protocol:
If contributory negligence is raised in a claim or there is a denial of liability (paragraph 6.13).
If it is unsuitable for the Protocol because there are complex issues of fact or law or a group litigation order has been contemplated, etc. (paragraph 7.59).
Thus, 'clear mechanisms' enable the exclusion of a claim (which may be 'complex') from the Protocol, but none of these mechanisms imply that a claim should be barred from the Protocol from the outset on a general assumption of 'complexity'.
2. A claim for product liability can be a claim brought as claim for breach of contract, which falls outside of the definition of 'public liability' claim, in paragraph 1.1(18) of the Protocol.
Whilst theoretically, it was possible for a claim such as this (i.e. alleging an injury-causing defect) to be brought as a breach of contract claim, which might fall outside of the 'public liability' umbrella, the judge could see nothing in this particular claim to indicate that it had been specifically or solely advanced in such a way.
What is more, the age of the claimant and the circumstances of the accident did not assist in demonstrating that they were a party to any contract giving rise to contractual liability.
In the alternative, the claimant directed the judge to paragraph 4.3 of the Protocol, which contains a list of claim types that are not appropriate for the Protocol, but does not mention product liability.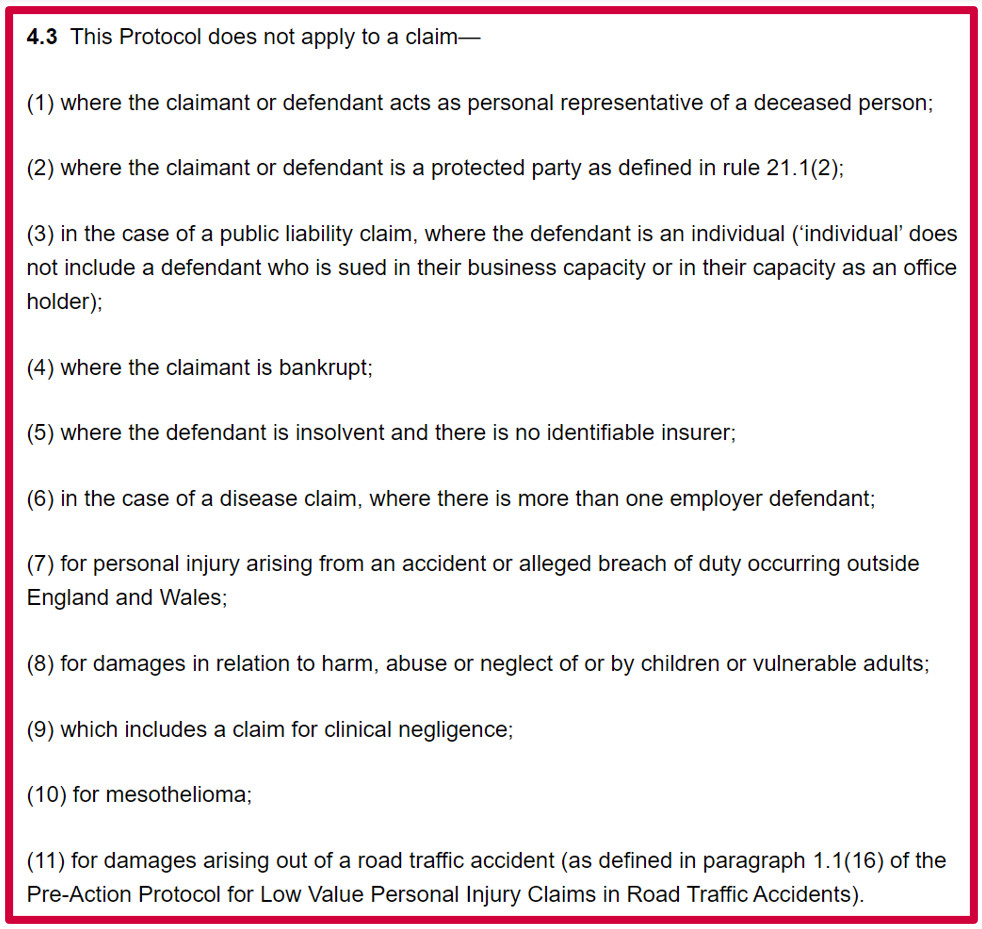 In an attempt to convince the court that this provision is not exhaustive, they went on to state that other claims that are unsuitable for the EL/PL Protocol, e.g. housing disrepair claims, holiday sickness claims and professional negligence claims, are also omitted from paragraph 4.3.
However, DJ Vernon identified that all of these other unsuitable claims are accommodated for by tailor-made pre-action protocols, which provides a legitimate excuse for their absence from paragraph 4.3. If product liability claims do not fall under a bespoke Protocol, but instead fall under the EL/PL Protocol, this line of reasoning carried no weight.
3. The only specific protocol that should apply to product liability litigation is the professional negligence protocol.
Since the professional negligence Protocol does not define the words 'profession' or 'professional', evidence in support of this stance was sparse.
Claimant counsel referred to commentary in Clerk & Lindsell, which, despite also not containing any conclusive definitions of terms, does state that a 'profession' typically 'involves the idea of an occupation requiring either purely intellectual skill or manual skill, controlled – as in painting, sculpture or surgery – by the intellectual skill of the operator, as distinguished from an occupation, which is substantially the production or sale or arrangements for sale of commodities'.[ii]
More often than not, categories of defendants who could face a product liability lawsuit, especially one advanced under the Consumer Protection Act 1987, are producers, importers, or sellers of a product. The judge deemed that such categories were 'more accurately' depicted by occupations that Clerk & Lindsell referred to as the 'production or sale or arrangements for sale of commodities' than to occupations encapsulated by a 'profession'.
Compounding this was the fact that the 1987 Act does not appear to envision any product liability claim being commenced against the designer of a product, who would better suit Clerk & Lindsell's narration of what makes a 'profession'.
4. Parliament intended for product liability litigation to be exempt from the EL/PL Protocol, as the limitation period provided for under the Limitation Act 1980 is separate from the provision that stipulates time limit for personal injury claims (under s.11).
On this, DJ Vernon considered it 'incorrect', or 'at least inappropriate', to draw any analogy between the Parliament's intentions when drafting the Protocol and the inclusion of s.11A in the 1980 Act. He posited that there may be 'very good' reasons behind s.11A, which need not necessarily affect the operation of the Protocol.
Finally, he was not swayed by White Book commentary, which infers that 'public liability' claims may only be brought against 'authorities', as the implication of paragraph 4.3(3) is that the Protocol applies to a 'public liability claim' where the defendant is a sole trader in charge of some premises – such a defendant would surely not qualify as an 'authority' in any sense of the word.
All in all, the District Judge was not persuaded by any of the arguments put forward by the claimant's legal representatives that this product liability claim (and potentially others) should not have been commenced (as a 'public liability' claim) in accordance with the EL/PL protocol.
Accordingly, the defendants' liability for costs was based on the fixed costs regime, resulting in the least financially burdensome conclusion to the claim.
[i] Gordon Exall, 'DOES A CLAIM FOR A DEFECTIVE PRODUCT FALL WITHIN THE DEFINITION OF PUBLIC LIABILITY CLAIMS? A JUDGMENT AT FIRST INSTANCE' (3 May 2021 Civil Litigation Brief) <https://www.civillitigationbrief.com/2021/05/03/does-a-claim-for-a-defective-product-fall-within-the-definition-of-public-liability-claims-a-judgment-at-first-instance/> accessed 6 May 2021.
[ii] Per Scrutton LJ, in Inland Revenue Commissioners v Maxse [1919] 1 K.B. 647.