American researchers at Henry Ford Health System have conducted a retrospective study on carpal tunnel syndrome (CTS) incidence among workers, using data from the US 'Bureau of Labor Statistics' (BLS), from 2003 to 2018.
The purpose of this investigation was to better define the relationship between occupational industries and levels of CTS risk.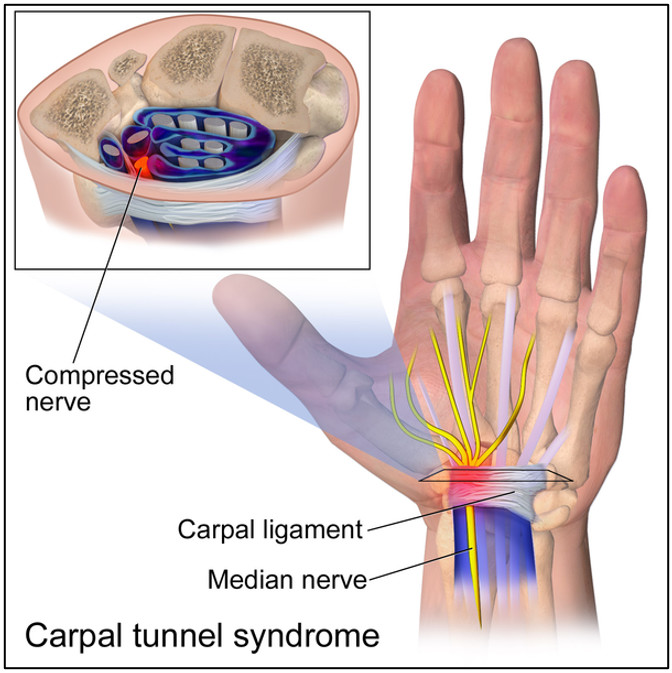 [Source: Wikimedia Commons – Bruce Blaus (20 August 2013): 'Blausen.com staff (2014) "Medical gallery of Blausen Medical 2014'. WikiJournal of Medicine 1 (2). DOI:10.15347/wjm/2014.010. ISSN 2002-4436]
Publishing their findings in the Journal of Occupational and Environmental Medicine,[i] they stress that, in spite of conflicting information in previous studies, workers in construction and other manufacturing jobs may be more susceptible to developing the condition than those who work in office roles.[ii]
It is assumed that lifting, gripping and forceful wrist motion associated with blue collar roles has contributed towards rates of CTS that outpace those caused by physical forces (e.g. from use of computers) typically associated with white collar roles.
Comparisons were made with Jenkins et al (2013),[iii] an analysis of CTS in the working Scottish population, from 2006 to 2010, using data from the General Registrar Office for Scotland. It was exposed that:
'While the incidence rates differ greatly between the two studies, both this UK study and our BLS study found higher incidence rates among labour type work when compared with clerical-type work'.
As evidence of this:
Overall CTS incidence rate in the US (0 per 10,000 people) versus overall CTS incidence rate in Scotland (10.3 per 10,000 people).
CTS incidence rate in the US labour industry (2 per 10,000 people) versus CTS incidence rate in Scottish 'skilled trades occupations'[iv] (13.6 per 10,000 people).
CTS incidence rate in the US clerical industry (6 per 10,000 people) versus CTS incidence rates in Scottish 'managers, directors and senior officials'[v] (4.4 per 10,000 people) / 'administrative and secretarial occupations'[vi] (8.2 per 10,000 people) / 'sales and customer service technicians'[vii] (9.6 per 10,000 people).
Direct comparison with the UK study was 'difficult', though, as there were differences in the definitions of CTS injuries, reporting inaccuracies and the categorisation of occupations.
Regardless, Senior Investigator, Charles Day M.D., considers that the results of this latest investigation serve as 'an important reminder that carpal tunnel is a primary contributor to hand and upper extremity pain in both the clerical and manufacturing workplaces, and that ergonomic conditions for workers in both industries should be equally considered'.
Of course, it was acknowledged that there are employees in labour industries whose responsibilities are primarily clerical in nature and vice versa, but equating manufacturing/construction and clerical industries with stereotypical tasks was deemed to be an 'adequate representation' of the norm.
A positive outcome to emerge from the investigation was that work-related CTS injuries across all private industries declined over the monitoring period, but this trend could not be decisively attributed to improvement in worker safety/ergonomics, nor to changes in reporting requirements.
As such, the researchers have called for a large, randomised population study, 'using age, sex, and body weight matched workers who are randomized to labour-type or computer-based activities over a long period of time assessing for CTS symptoms and carpal tunnel pressure'. British research covering these bases would be useful as a prognosticator of where risk (of personal injury litigation) lies.
[i] Battista EB et al., Manufacturing Workers Have a Higher Incidence of Carpal Tunnel Syndrome. Journal of Occupational and Environmental Medicine: March 2021 - Volume 63 - Issue 3 - p e120-e126 <https://journals.lww.com/joem/_layouts/15/oaks.journals/downloadpdf.aspx?an=00043764-202103000-00015&pdfToken=aHR0cHM6Ly9wZGZzLmpvdXJuYWxzLmx3dy5jb20vam9lbS8yMDIxLzAzMDAwL01hbnVmYWN0dXJpbmdfV29ya2Vyc19IYXZlX2FfSGlnaGVyX0luY2lkZW5jZV9vZi4xNS5wZGY/dG9rZW49bWV0aG9kfEV4cGlyZUFic29sdXRlO3NvdXJjZXxKb3VybmFsczt0dGx8MTYxNTIxOTM5NzA3MztwYXlsb2FkfG1ZOEQzdTFUQ0NzTnZQNUU0MjFKWUs2TjZYSUNEYW14Qnl5WXBhTnprN0ZLalRhYTFZejIyTWl2a0hacWpHUDRrZFMydjBKNzZXR0FuSEFDSDY5czIxQ3NrME9wUWkzWWJqRU1kU296MlVoVnliRnFReEE3bEt3U1VsQTUwMnpRWnI5NlRRUndoVmxvY0VwL3NKNTg2YVZiY0JGbGx0S05Lbyt0YnVNZkw3M2hpUHFKbGl1ZHFzMTdjSGVMY0xiVi9DcWpsUDNJTzBqR0hsSFF0SldjSUNEZEF5R0pNbnBpNlJsYkVKYVJoZUdlaDV6NXV2cXozRkxIZ1BLVlhKemRoRFI3ZUZKcGErbllSVU1vS2dseWliaCsySEhDQWhEcjVXRXoxUWR3VzNVPTtoYXNofExJalBzV1JESm8vN3lJVXQ3Vndoanc9PQ==> accessed 8 April 2021.
[ii] 'Henry Ford Study: Carpal Tunnel Syndrome Is Not Just an Office Workers' Condition' (6 April 2021 Henry Ford Health System) <https://www.henryford.com/news/2021/04/carpal-tunnel-syndrome-study> accessed 8 April 2021.
[iii] Jenkins PJ et al., Carpal tunnel syndrome: the association with occupation at a population level. J Hand Surg Eur Vol. 2013 Jan;38(1):67-72. <https://journals.sagepub.com/doi/abs/10.1177/1753193412455790?journalCode=jhsc> accessed 20 April 2021.
[iv] Standard Occupational Classification 2010 major group.
[v] Ibid.
[vi] Ibid.
[vii] Ibid.