According to optometrists, Sarah Arnold and Deborah Young, digital eye strain (also known as 'computer vision syndrome') is an 'emerging public health issue', which, like musculoskeletal disorders (see our article in edition 323 of BC Disease News, here) has been exacerbated by the SARS-CoV-2 pandemic.
Writing in Personnel Today, they documented their recent experience, as practitioners at display screen equipment (DSE) risk assessment provider, Eyes for Work, of a 30% increase in patients complaining of digital eye strain since the 1st coronavirus lockdown, in spring of 2020.[i]
Characterised by dry and tired eyes, headaches, blurred vision, screen glare and neck pain, digital eye strain is now the most common computer-related repetitive strain injury (RSI) among workers, surpassing carpal tunnel syndrome (CTS) and tendonitis.
On average, daily use of computer screens currently exceeds 13-hours and visual discomfort increases with screen time.
Workers are said to have 'sharply rising' rates of ocular irritation, with present estimates pointing to as many as 90% of screen users. Last year, the College of Optometrists predicted that millions of Britons could suffer from a collection of symptoms dubbed 'coronavision', after an Opinium poll of 2,000 workers revealed that 22% had noticed a worsening of vision during lockdown and 32% attributed this to an increase in screen time.[ii] The College is collaborating with Anglia Ruskin University to assess the effects of the coronavirus pandemic on the management of eye disorders.
Ms. Arnold and Ms. Young expressed concern that employers have apparently offered 'little, if any' support to remote workers throughout the coronavirus pandemic and are thus 'contravening their duty of care'. More than this, they expressed concern over the 'far reaching' physical and psychological impact of ignoring good 'eye-gonomic' practices, i.e. following the 'science of optimising occupational vision and structuring work environments/practices to nurture sustainable eye comfort and visual function'.
Employers are duty bound, under the Health & Safety at Work Act 1974, 'to manage and reduce the risks which employees are exposed to when they carry out their work', and the Health and Safety Executive (HSE), in May 2020, updated its guidance to stipulate that the responsibilities owed to remote workers are the same as any other:
'If you have staff working at home, you must still manage the risks to their health from Display Screen Equipment'.
Whilst the functionality of in-house occupational health professionals conducting DSE risk assessments remotely is impractical, DSE assessments can be carried out by employees themselves in their own homes, using online questionnaires to produce 'tailored, evidence based, self-help strategies as well as best practices to ensure their visual health is maintained'.
Traditionally, symptoms of poor eye health could be alleviated or resolved by making 'eye friendly' changes to work environments/management strategies and also attending regular eye examinations.
Ms. Arnold and Ms. Young, however, speculate over growing concern that it is no longer a 'complete solution' for an employer to simply signpost employees (at their request) to undergo an 'eye and eyesight test' with an optician – pursuant to Regulation 5 of the Health and Safety (Display Screen Equipment) Regulations 1992.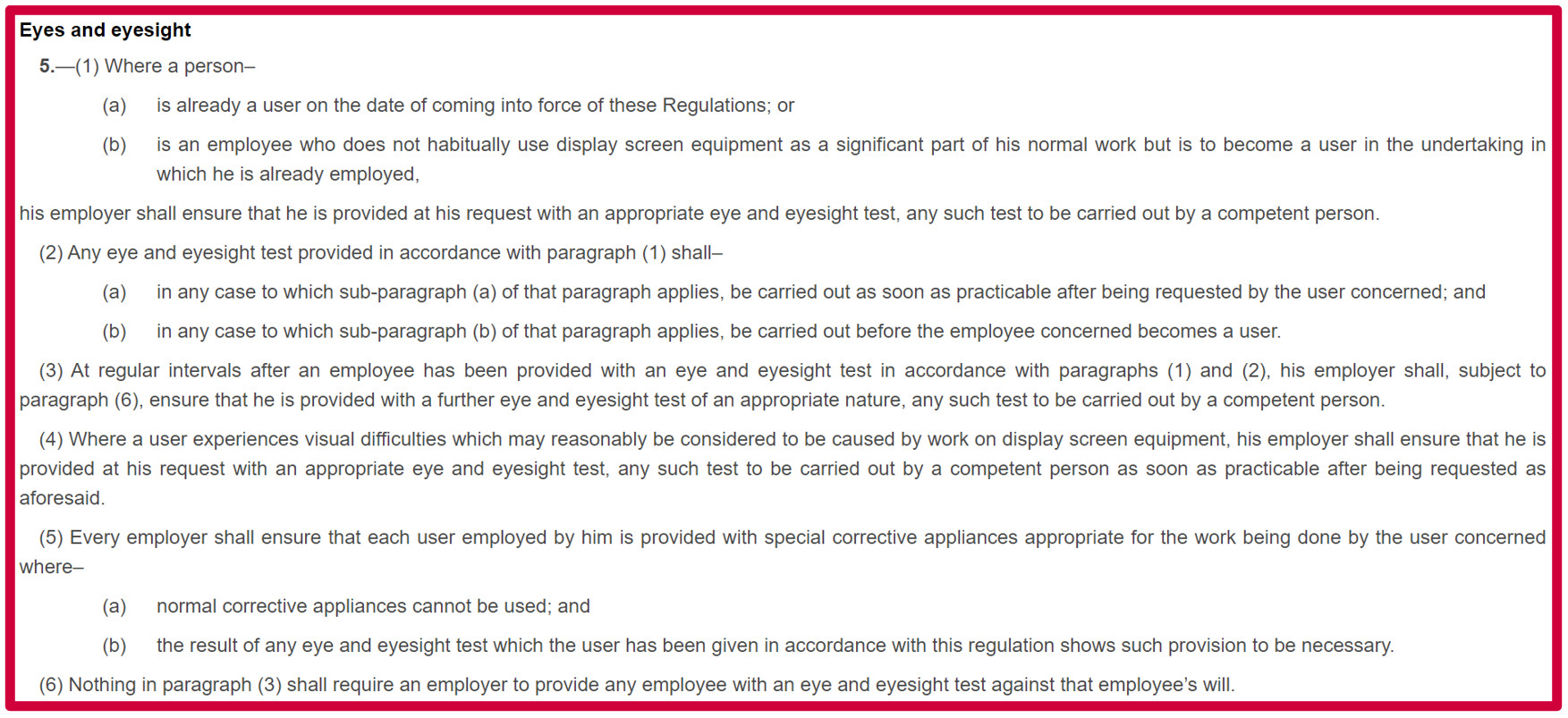 They argue that routine eye test appointments often assign insufficient time to comprehensively investigate digital eye strain. Further, that employees are inadequately equipped to describe their impediments for an optometrist to make an accurate diagnosis. Finally, that even if advice on the management of their condition is received, it is often generic, verbal and can be forgotten.
Overall, the Personnel Today article's message is that employers should be 'investing in employees' training and education and providing them with eye-gonomic and ergonomic solutions can mitigate occupational injuries (in other words ones that arise out of and in the course of your employment)':
'Education is key to protect workforces but also themselves from personal injury claims'.
Ultimately, litigation is a 'difficulty' that employers may face if they fail to address digital eye health alongside their ergonomic duty of care.
[i] Sarah Arnold and Deborah Young, 'Rising screen use is risking long-term eye injuries for staff' (14 April 2021 Personnel Today) <https://www.personneltoday.com/hr/rising-screen-use-is-risking-long-term-eye-injuries-for-staff/> accessed 20 April 2021.
[ii] '"Coronavision" eye warning' (10 July 2020 College of Optometrists) <https://www.college-optometrists.org/the-college/media-hub/news-listing/coronavision-eye-warning.html> accessed 20 April 2021.