In edition 274 of BC Disease News (here), we précised the High Court's judgment in the case of Head v The Culver Heating Co Ltd [2019] EWHC 1217 (QB), on the quantification of damages for loss of earnings, brought about by the claimant's life expectancy being cut short.
The case regarded an occupational mesothelioma claim, whereby the defendant employer had accepted liability for negligently exposing the claimant to asbestos in the course of his employment as a heating engineer, between 1974 and 1979. Pre-trial, the parties had agreed damages for various heads of loss, including 'care and assistance'; 'travel expenses'; 'miscellaneous expenses'; 'private medical treatment' (including prospective immunotherapy); 'audiology costs', 'house adaptations'; and 'equipment'.
However, at the expedited trial, discussion continued on the disputed 'lost years' claim, for which the claimant assessed losses at £4,421,683, while the defendant assessed losses at 'nil'.
Her Honour Judge Melissa Clarke, sitting as a High Court Judge, favoured the defendant's reliance on Adsett v West [1983] QB 826, in which McCullough J ignored 'income resulting from the capital which the deceased already owned at death'.
Adsett was relevant to the facts of Head, because a 'significant' proportion of Mr. Head's income was derived from his investments (he had a 90% shareholding in a 'multi-million pound turnover' business, which paid him dividends). He only earned a fixed, 'modest' salary as managing director, for tax efficiency purposes.
Conventionally, 'lost years' claims have allowed litigants to recover earned income arising from their capacity to work, rather than income derived from capital which survives their death.[i]
It was not permissible, at 1st instance, for the claimant to distinguish Head from Adsett on the grounds that his investment was a 'reflection of his acumen, experience, skill and hard work', as opposed to a 'passive holding in a business', which would continue to provide the same return irrespective of his death.
The claimant's 'surplus' earnings (all sources of income minus living expenses) were less than his net dividend income, which meant that no shortfall accrued in the event of death (actually a windfall of around £15,000) and the 'lost years' claim was dismissed, accordingly.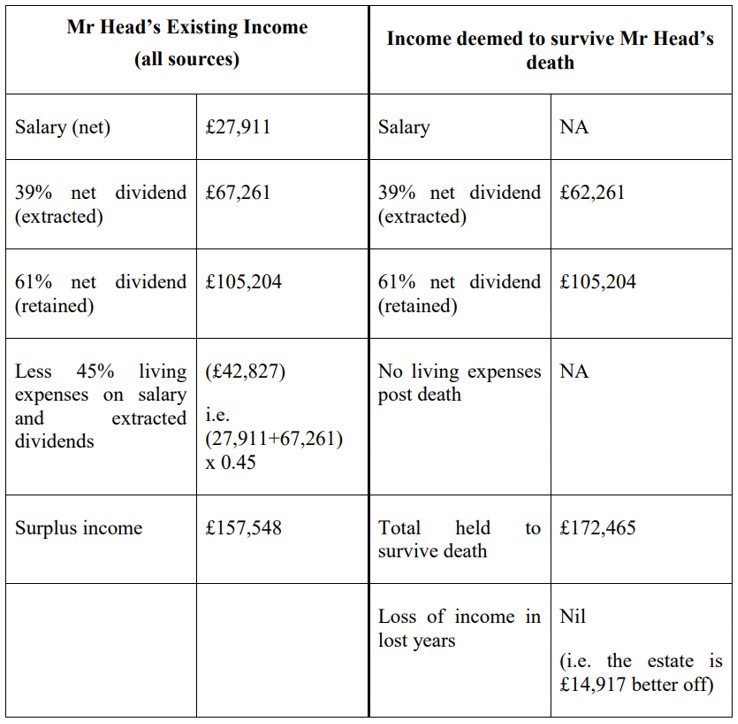 However, earlier this year, Lord Justices Bean and Males and Lady Justice Andrews unanimously allowed the appeal against the decision of HHJ Clarke, which was pursued by Mr. Head's widow (the claimant died shortly after the High Court ruling).[ii]
The Court of Appeal deemed it necessary to re-determine the issues at play to 'avoid real injustice'.
Although it was necessary to draw a line between loss of earnings from work and loss of income from investments, the deceased was not viewed by the appellate court as a 'passenger' in his business. He was, and would have remained for some time, the 'driving force' within the company. His 'modest' salary did not reflect the value of his work and was not the full extent of his earnings from work.
Inspiration was drawn from Cavanagh J, in the recent case of Rix v Paramount Shopfitting Company Ltd [2020] EWHC 2398 (QB) (see edition 324 of BC Disease News here, for our analysis on the financial dependency claim), to conclude that:
'… at the time of Mr Head's death all the income which he and his wife received from the company (save for the small deduction in respect of Mrs Head's work) was the product of his hard work and flair, not a return on a passive investment.
Mr Head was free to dispose of that income in whatever way he chose'.
In this way, the approach to quantifying damages for loss of financial dependency and 'lost years' is now consistent and Mr. Head's estate was entitled to claim for loss of earnings in the 'lost years'.
Thus, the 1st instance judge's assessment of the 'lost years' claim was set aside and the case was remitted for an assessment of damages before the Senior Master.
Full text judgment can be accessed here.
Head was not a case where a mesothelioma victim lived off of national lottery winnings prior to being diagnosed, nor was it a case where they survived on dividends from shareholdings that were not the 'fruits of their own labour', but a gift (as in Adsett). It was also not a case where the victim had retired by the date of diagnosis and ceased all active involvement with their company. If any of these circumstances had arisen, then the loss of earnings claim for the 'lost years' would not have been successful.
[i] See Pickett v British Rail Engineering Ltd [1980] AC 136.
[ii] Thomas Herbert, 'Court of Appeal Considers "Lost Years" Claims in Head v The Culver Heating Co Ltd' (19 January 2021 Ropewalk Chambers) <https://www.ropewalk.co.uk/knowledge-sharing/blog/disease/1769/court-of-appeal-considers-lost-years-claims-in-head-v-the-culver-heating-co-ltd> accessed 16 April 2021.
MAX ARCHER AND KATE BOAKES, 'Deborah Head (Executrix of the Estate of Michael Head, Deceased) v The Culver Heating Co Ltd. [2021] EWCA Civ 34' (20 January 2021 Asbestos Law Blog) <https://asbestos-law-blog.co.uk/2021/01/20/deborah-head-executrix-of-the-estate-of-michael-head-deceased-v-the-culver-heating-co-ltd-2021-ewca-civ-34/> accessed 16 April 2021.