In edition 320 of BC Disease News (here), we reported that the Civil Justice Council (CJC) had published its Working Report for the Consultation on Solicitors' Guideline Hourly Rates (GHR).
From the Report, we gauged that all grades of fee earner were on-track for an initial uplift in charging rates. Thereafter, the Council intimated that rates would be updated annually, in line with an appropriate Service Producer Price Index (SPPI), with a more comprehensive review due to take place in around 3-years' time.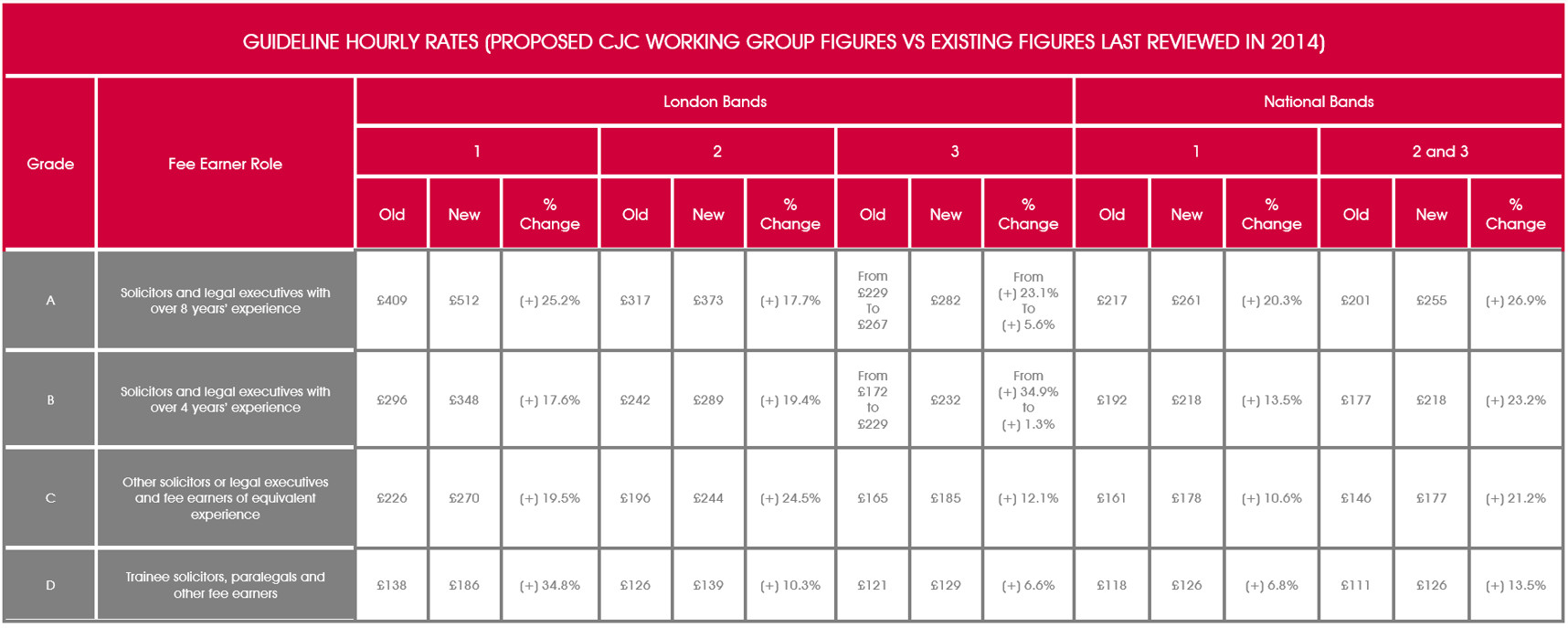 Post-publication, the Council welcomed stakeholder commentary on the methodology used by the Working Group to devise the newly recommended GHR – responses can be submitted up to 4pm, on 31 March 2021.
Having enlisted the assistance of 8 Senior Courts Costs Office (SCCO) Judges, SCCO Costs officers and 26 Regional Costs Judges (RCJs) across England and Wales, the evidence upon which the rates were based were those 'allowed on provisional and detailed assessment' in 754 cases.
However, the Forum of Complex Injury Solicitors (FOCIS) has been consistently critical of the potential shortcomings of such an approach – see the following excerpt from the Report:
'FOCIS suggested that the working group should rather consider a reasonable market rate for differing types and scale of (multi-track) claim, and if clients are actually charged the between-the-parties cost shortfall as an indicator of whether the market rates are artificially inflated or deflated by the rates allowed by the courts. It is correct that the Jackson report made reference to market rates, but the problem is that its definition of them was "...the rates which an intelligent purchaser with time to shop around for the best deal would negotiate". This is an elusive concept and not one which can be satisfactorily arrived at by considering the rates which a number of solicitors in the field/ geographical area agree with their clients. Further, detailed information on whether and to what extent clients are actually charged the shortfall between costs agreed and costs recovered from the other party is difficult to come by.
…
FOCIS said that the data showed that the market rate (with regional variations) for complex injury specialists is markedly higher than GHR (in the applicable region); further, that the rates allowed are, in most cases, well above GHR, but less than the market rate. FOCIS said that the rates allowed are still dragged down by arguments relating to the GHR and that most complex injury clients with claims post LASPO are liable for own costs shortfall - hence the market rates are real client rates, not artificial rates set to maximise between the parties cost recovery'.
In the first week of March, Litigation Futures revealed that FOCIS had written to Working Group Chair, Mr. Justice Stewart, and requested the disclosure of collected data on rates claimed by solicitors.[i]
FOCIS Chair and Stewarts Law Partner, Julian Chamberlayne, remarked that by looking only at the rates allowed, without first considering the distribution of rates claimed, this meant that policy makers were not looking at the 'full spread' of information and thus precluded them from producing broad approximations of actual rates in the market, as intended.
Through the eyes of a statistician, the abbreviated approach employed was said to create an 'inherent bias and breach a fundamental principle of distribution theory':
'Only once you have considered the full spread can an informed decision be made on whether it is appropriate to curtate on one basis or another'.
By way of analogy, Mr. Chamberlayne explained that, if 10 theoretical cases were to be up for assessment, 'with grade A charge rates in each case rising in £10 increments from £300 to £390', the mean rate claimed would be £345. However, if assessments were conducted by a judge 'who never allowed more than £340', the mean rate allowed would be £330. In this scenario, the allowed rate would 'drag down' the prevailing market rate by £15.
In practice, FOCIS warns that by recommending amended rates based solely on allowed rates, which will undoubtedly have been influenced by outdated, behind-the-curve GHR, there is a risk of 'circularity' afflicting the important exercise undertaken by the Working Group.
Keep posted for more articles on solicitors' GHR in the coming weeks and months.
[i] Neil Rose, 'GHR review "must take account" of hourly rates solicitors claim' (2 March 2021 Litigation Futures) <https://www.litigationfutures.com/news/ghr-review-must-take-account-of-hourly-rates-solicitors-claim> accessed 5 March 2021.