The Supreme Court has delivered a 'landmark decision' in the case of Uber BV & Ors v Aslam & Ors [2021] UKSC 5, on the proper employment status of private hire vehicle drivers described as 'independent contractors'. Although every case turns on its own facts, this latest Uber ruling has the potential to trigger a wave of employment litigation brought by constituents of the UK's 'gig economy', of which there are around 5 million.
It also has ramifications for negligence liability, where the relevant duty of care is contested.
At the time of the initial Employment Tribunal hearing, in 2016, there were 30,000 Uber drivers operating in London and 2 million registered users of the Uber app.
When the claim was eventually appealed to the Supreme Court, the central question was whether the Tribunal was correct to find that drivers, whose services were arranged through Uber's smartphone app, 'work' for Uber under a worker's contract, or whether they instead work for themselves as 'independent contractors', performing services under contracts made with passengers through Uber as their booking agent?
If the former, it was necessary to consider the circumstances in which the drivers were working under such contracts. Was it whenever they were logged into the Uber app within the territory in which they were licensed to operate and ready and willing to accept trips; or only when transporting passengers to their desired destinations?
For the purposes of s.230(3) of the Employment Rights Act 1996, a 'worker' is defined as follows: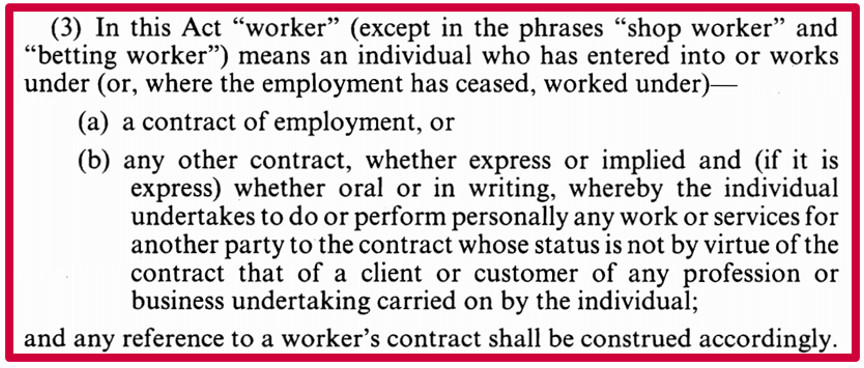 In this case, there was no contract of employment, per s.230(3)(a). Turning to assess whether s.230(3)(b) criteria was met, the only element refuted was that there was 'a contract whereby an individual undertakes to perform work or services for the other party', i.e. Uber submitted that the claimants were not to be regarded as working under contracts with the company whereby they undertook to perform services for the company. Drivers were, according to Uber, performing services 'solely for and under contracts made with passengers through the agency of the company'.
Ordinarily, the greater the extent of control exercised by the putative employer over the work or services performed by an individual, the stronger the case for classifying that individual as a 'worker' employed under a 'worker's contract'. Examples of subordination and/or dependence are habitually indicative of such control, but will turn on the facts – see Bates van Winkelhof v Clyde & Co LLP [2014] UKSC 32.
To some extent, the claimants in the present case had a 'substantial measure of autonomy and independence', in being free to choose, when, how much and where (within the licensed territory) to work, albeit a lack of contractual obligation to an ostensible employer when not working is not necessarily incompatible with 'worker' status when working.[i]
However, there were aspects of the tribunal's findings which, taken in combination, showed that the transportation service performed by drivers and offered to passengers through the Uber app is very tightly defined and regulated by the company, so much so that Uber exercised a 'significant degree of control' over its drivers:
On remuneration, drivers' fares are 'fixed' by Uber and they can only modify their income by choosing to work more or less hours. Uber also retains 'sole discretion' on the matter of awarding full or partial refunds to passengers, in response to complaints about driver service.
On contractual terms, drivers are required to accept Uber's 'standard form of written agreement'. The terms on which drivers perform their services (and the terms on which they transport passengers) are 'dictated' by Uber and cannot be challenged.
On accepting ride requests, this is 'constrained' by Uber once a driver logs onto the App, with the company retaining 'absolute discretion' to accept or decline any request for a ride. Once an offer is presented to a driver, there a 2-ways that Uber exercises control over acceptance:

The driver is not informed of the passenger's destination of travel until they are picked up to circumvent drivers declining on this basis. All a driver is told is the passenger's average rating (from previous trips) so that they may avoid low-rated and potentially problematic customers.
The driver's rate of acceptance (and cancellation) of trip requests is monitored against a level set by Uber. If levels fall, the driver receives an escalating series of warning messages and if performance does not improve, they may be automatically logged off the Uber app and shut out from logging-in for 10-minutes. Uber describes this as a 'penalty', warranted for causing prospective customer delay and dissatisfaction, and has a similar effect to docking pay from an employee. It 'plainly' places drivers in a position of subordination to Uber.

On delivery of services, although Uber allows drivers to provide their own car to perform their work, it vets the types of car that may be used. What is more, the technology, which is integral to drivers' services, is 'wholly owned and controlled' by Uber. The company also employs a 'classic form of subordination … characteristic of employment relationships', by requesting that passengers rate their driver after each trip for managing performance. Failure to maintain an average customer feedback rating, as specified by Uber, results in warnings and ultimately in termination of a driver's relationship with the company.
On driver-to-passenger communications, Uber restricts contact to 'the minimum necessary' to avoid the creation of any relationship extending beyond an individual ride. Hence, fare collection, driver payment and complaint handling is managed by Uber in such a way that eradicates the need for 'direct' Drivers are expressly prohibited from exchanging contact details with passengers and may only contact a passenger after a ride to return lost property.
Uber's service is designed and organised to provide a standardised experience, forming the perception that drivers are substantially interchangeable and ensuring that the company (rather than individual drivers) obtains the benefit of customer loyalty and goodwill.
The Employment Tribunal was therefore justified in having concluded that, although free to choose when and where they worked, the claimants 'work for and under contracts with Uber' at times 'when they are working'.
It was also justified in having concluded that a driver was '"working" under such a contract during any period when he (a) had the Uber app switched on, (b) was within the territory in which he was authorised to use the app, and (c) was ready and willing to accept trips', thus rejecting Uber's contention that 'working' begins from the moment when (and not until) a trip request is accepted:
'The fact … that an individual has the right to turn down work is not fatal to a finding that the individual is an employee or a worker and, by the same token, does not preclude a finding that the individual is employed under a worker's contract. What is necessary for such a finding is that there should be what has been described as "an irreducible minimum of obligation": see Nethermere (St Neots) Ltd v Gardiner [1984] ICR 612, 623 (Stephenson LJ), approved by the House of Lords in Carmichael v National Power plc [1999] 1 WLR 2042, 204. In other words, the existence and exercise of a right to refuse work is not critical, provided there is at least an obligation to do some amount of work.
…
I do not consider that the third condition [c] identified by the tribunal that the driver was in fact ready and willing to accept trips can properly be regarded as essential to the existence of a worker's contract; nor indeed did the tribunal assert that it was. But it is reasonable to treat it, as the tribunal did, as a further condition which must be satisfied in order to find that a driver is "working" under such a contract'.
Full text judgment can be accessed here.
Leigh Day, the firm instructed to act for the claimants in this case, is believed to be seeking compensation on behalf of around 2,000 Uber drivers and is also representing Addison Lee and Stuart drivers.
Reacting to the judgment, Partner at Devonshires, Katie Maguire, believes that it will have 'huge implications' for Uber and for the gig economy as a whole. She told The Law Society Gazette and Litigation Futures that business models may be forced to adapt going forwards, but a backlash for retrospective duties of care owed to workers/employees is also inevitable.
Elsewhere, Beverley Sutherland, Managing Director of Crossland Employment Solicitors, commented that this latest Supreme Court decision sets a 'different tone, really focusing on the need for protection of those who are tightly controlled by their masters and who do not have the ability to improve themselves and develop and their only way of increasing their earning power is to work harder'. It is this 'change of emphasis' that is expected to affect the gig economy more generally, with 'many other cases in the process of appeal'.[ii]
Impact on EL/PL Litigation?
In editions 146 (here) and 147 (here) of BC Disease News, we examined the effect of employment status in employers' liability (negligence) claims.
Barrister, Sheryn Omeri, of Cloisters Chambers, has recently done the same, in the wake of the Uber case, publishing her article in the Journal of Personal Injury Law.[iii]
She addresses the historical position at common law, which is 'slightly less clear' than the position underscored by the Health and Safety at Work Act 1974 (e.g. s.3 imposes a duty upon employers to protect the health and safety of those who are self-employed but nonetheless affected by the employer's business), before going on to conclude that:
'[the] latterly-reinforced view of the Supreme Court suggests the possibility, indeed, the likelihood of an expansion of employers' liability at common law in the context of personal injury, commensurate with the expansion of rights and protections for "gig economy" workers in the context of employment law. That is, if there was ever any serious doubt, it now appears inevitable that courts will recognise the that employers owe a duty of care to those who are not, strictly speaking, "employees" as such but who would fall within the definition of "worker" in the employment context'.
Further, that 'the seeds of such inevitability were likely sown in existing personal injury jurisprudence', as early as the first half of the 20th century.
As evidence of this, she cites the High Court case of Inglefield v Macey [1967] 1 WLUK 239 – although the claimant was an 'independent contractor', in circumstances where the defendant provider of work had supplied the necessary equipment, as a matter of principle, the defendant owed duties to take care regarding the equipment with which the claimant had been supplied and to warn the claimant if he was setting him to work at some place which was dangerous.
She also refers to the Court of Appeal case of Lane v Shire Roofing Co (Oxford) Ltd [1995] 2 WLUK 281 – it was expressly observed that when it comes to the question of safety at work, there is a real public interest in recognising the employer/employee relationship when it exists, because of the responsibilities that the common law and statute place on the employer.
Analogously, she points to previous incremental developments in cases where parent companies have been found to owe a duty of care to employees of subsidiaries (the employers) – an issue that we discussed as recently as edition 323 (here).
'… the employer's control and the employee's reliance on the employer which justify courts imposing a duty to take care to protect the employee from harm. If control and resultant reliance form the basis of the existence and substance of the duty of care, it must follow that where an individual has been determined to be a worker on the basis of the "control test" the employer owes him or her some form of common law duty of care. As in the case of the duty owed to employees, the extent of the duty and the standard of care must vary depending upon the extent of control, or in other words, the facts of each case'.
[i] McMeechan v Secretary of State for Employment [1996] EWCA Civ 1166;
Cornwall County Council v Prater [2006] EWCA Civ 102
James v Redcats (Brands) Ltd [2007] UKEAT 0475_06_2102
[ii] Jemma Slingo, 'Gig economy: Uber drivers are workers, Supreme Court finds' (19 February 2021 Law Gazette) <https://www.lawgazette.co.uk/news/gig-economy-uber-drivers-are-workers-supreme-court-finds/5107509.article> accessed 19 February 2021.
Neil Rose, 'Uber drivers "set for £12k awards" after Supreme Court ruling' (19 February 2021 Litigation Futures) <https://www.litigationfutures.com/news/uber-drivers-set-for-12k-awards-after-supreme-court-ruling> accessed 19 February 2021.
[iii] Sheryn Omeri, Uber-careful: implications of modern "gig economy" litigation for the employer's common law duty of care. Journal of Personal Injury Law. J.P.I. Law 2019, 1, 59-65. <https://482pe539799u3ynseg2hl1r3-wpengine.netdna-ssl.com/wp-content/uploads/2019/03/Uber-careful.pdf> accessed 26 March 2021.