A fortnight ago on Wednesday, the European Commission released the final text of Europe's Beating Cancer Plan, which is a non-legislative European Union (EU) initiative intended to reduce the cancer burden for European health systems and patients (and their families), with cancer-related deaths projected to rise by 24% by 2035.[i]
The main aim of the Plan, as a 'key pillar' of the European Health Union, is to address cancer-related inequalities between and within each of the 27 Member States and to support, coordinate and complement State efforts as a collective.
Of course, the UK is no longer an EU Member State, having withdrawn from the Union on 31 January, as a consequence of the 2016 'Brexit' referendum.
This does not mean, however, that EU business and decision-making is irrelevant to the UK, as it is still our closest and largest trading partner.
The last comprehensive European action plan against cancer dates back to the early 1990's and has therefore been highly anticipated.
Costing €4 billion, the new Plan introduces 10 flagship initiatives and multiple supporting actions.[ii]
As at December 2020, when the Draft Plan was published, its section entitled: 'Reducing exposure to hazardous substances and radiations', discussed EU action on occupational cancers. However, commentators have acknowledged that the amended final version is, in part, less exhaustive than its predecessor, which will come to the disappointment of some – see the final text below (deleted draft wording is crossed-out and added final draft wording is square bracketed).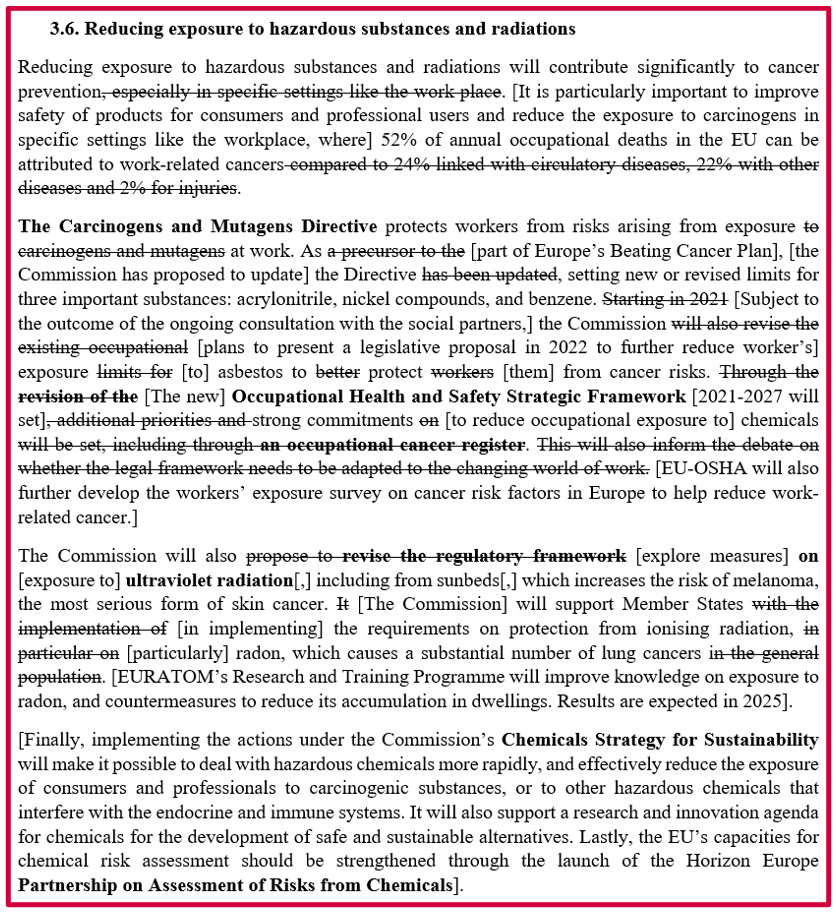 Still going ahead, is the setting of new and revised occupational exposure limits for acrylonitrile, nickel compounds and benzene, in a subsequent revision of the Carcinogens and Mutagens Directive – to find out what sectors of workers are at risk of exposure to each of these substances, read our article in edition 315 of BC Disease News (here).
Other pledges kept from the Draft include legislation that further reduces occupational exposure to asbestos, albeit delayed by 1 year, to 2022, as well as Commission reports on ultraviolet radiation and ionising radon exposures. Commentators have noted that the language used to describe action on sunbed exposure has been 'softened', but this may simply indicate that the Commission's programme on UV exposure risks will be more wide-reaching than first imagined.
One proposal that appears to have been abandoned in the final text is the creation of an occupational cancer register through the Occupational Health and Safety Strategic Framework.
New to the agenda is work undertaken by the Chemicals Strategy for Sustainability on the moderation of workplace exposures which disrupt endocrine and immune system function and the promotion of safe alternatives.
We will continue to monitor the progress of Europe's Beating Cancer Plan into the future and assess the UK's reaction to any reports that emerge.
[i] 'Europe's Beating Cancer Plan' (European Commission) <https://ec.europa.eu/info/law/better-regulation/have-your-say/initiatives/12154-Europe-s-Beating-Cancer-Plan> accessed 5 February 2021.
Carlo Martuscelli, 'Commission (finally) releases Europe's Beating Cancer plan' (3 February 2021 POLITICO) https://www.politico.eu/article/europe-beating-cancer-plan-released-european-commission/> accessed 5 February 2021.
[ii] Europe's Beating Cancer Plan: A new EU approach to prevention, treatment and care' (3 February 2021 European Commission) <https://ec.europa.eu/commission/presscorner/detail/en/ip_21_342> accessed 10 February 2020.