Back in edition 315 of BC Disease News (here), we reported on the case of Smith v Secretary of State for Transport [2020] EWHC 1954 (QB), which assessed the credibility of a witness' recollection of their employment with British Rail – the alleged period of occupational exposure in an asbestos-related disease claim.
In this article, we analyse the judgment of Pinnegar v Kellogg International Corporation & Anor [2020] EWHC 3431 (QB), which was handed down in December and followed a common line of argument in long-tail claims where the alleged breach took place several decades prior.
Pinnegar regarded a fatal claim, advanced by the daughter of a former plumber/pipe fitter, who died with mesothelioma, aged 81. The action consisted of an estate claim, pursuant to the Law Reform (Miscellaneous Provisions) Act 1934, and a dependency claim, pursuant to the Fatal Accidents Act 1976.
Though damages were agreed in the sum of £180,000, liability was denied.
The defendants' fundamental issue with accepting liability surrounded the deceased's witness statement, taken shortly before his death. The statement documented the deceased's employment in 1966/67, when he worked for the 1st defendant on the 2nd defendant's site, ostensibly alongside pipe laggers. It was submitted that disturbed asbestos from lagging had 'materially increased' his risk of mesothelioma (the deceased also acknowledged that other employments exposed him to asbestos and could equally have caused or contributed to his condition).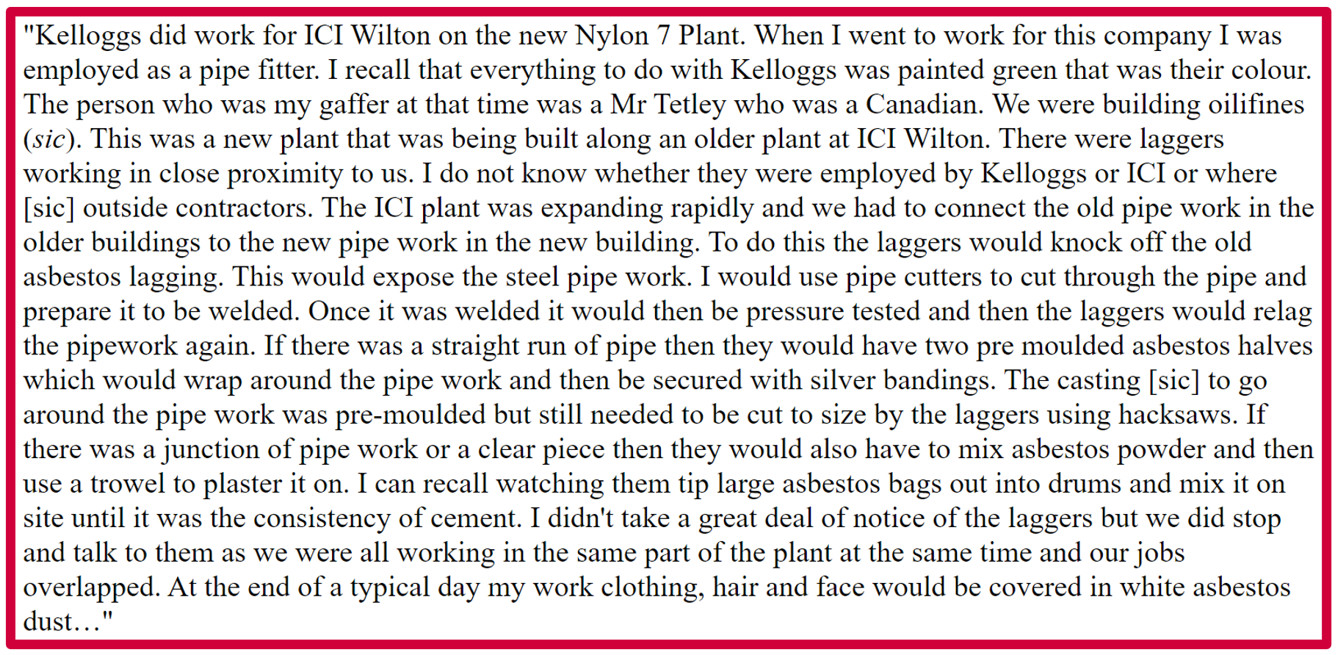 Nonetheless, the defendants contended that this evidence was 'unreliable' and lacked 'quality'. Specifically, because it lacked 'detail of when he was exposed, where he was exposed [e.g. outdoors or indoors], what he was doing at the time of exposure and the context in which it occurred'. Further, that there were 'no references to frequency or duration of the alleged exposure' and there were inconsistencies. For instance, the deceased inferred that it was the laggers that were responsible for causing him to be 'covered in asbestos dust', despite making an admission that he 'didn't take a great deal of notice of the laggers ...'
At the High Court, His Honour Judge Platts accepted that his consideration of the deceased's account was 'essentially a fact finding exercise'. The circuit judge was referred to the relevant authorities, which discuss the fallibility of human memory when recalling historic exposures. These included:
Leggatt J, in Gestmin SGPS v Credit Suisse (UK) Ltd [2013] EWHC 3560, at paras 16 to 20

'One of the most important lessons of such research is that in everyday life we are not aware of the extent to which our own and other people's memories are unreliable and believe our memories to be more faithful than they are. Two common (and related) errors are to suppose: (1) that the stronger and more vivid is our feeling or experience of recollection, the more likely the recollection is to be accurate; and (2) that the more confident another person is in their recollection, the more likely their recollection is to be accurate …'

HHJ Gore QC, in CXB v North West Anglia NHS Foundation Trust [2019] EWHC 2053 (QB), at paragraphs 8 to 13; and
Thornton J, in Smith v Secretary of State for Transport [2020] EWHC 1954 (QB), at paragraph 40.

'Research has shown that memories are fluid and malleable, being constantly rewritten whenever they are retrieved. The process of civil litigation itself subjects the memories of witnesses to powerful biases. The nature of litigation is such that witnesses often have a stake in a particular version of events. Considerable interference with memory is also introduced in civil litigation by the procedure of preparing for trial …'
In the round, this so-called 'fact finding exercise' required HHJ Platts to consider the following factors:
The 50-year gap between experiencing asbestos exposure and recording it in his statement (i.e. the 'human memory' issue).
The deceased's ill state at the time of making his statement.
The deceased's inevitable discussions with his solicitor before his statement was prepared and signed, which may have informed its contents.
The claimant's refusal to disclose attendance notes from meetings between the deceased and his solicitor, albeit justifiably, on the grounds of legal professional privilege. However, defendant counsel drew back from inviting the court to draw adverse inferences from this refusal and the judge agreed, not only to avoid undermining the principle of privilege, but also because the matter added little to his assessment of the evidence.
The claimant, in her own evidence, acknowledged that the deceased 'knew exactly what the purpose of the meeting [to prepare the statement] was for', i.e. to identify asbestos exposure to frame a claim for compensation to provide future care for his estate and dependants.
Upon consideration of these factors, the judge arrived at the following observations:
'(a) Mr Skeen Skeen's description of his working history generally appears to be accurate and appears to be consistent with his daughter's recollection that he had "a very good recollection of his work history".
(b) The lack of detail as to the nature and duration and frequency of his exposure at Wilton is, in my judgment, entirely to be expected of a person seeking to recollect events that occurred to some 50 years earlier.
(c) His account is consistent with the very brief account he gave in support of this application for Industrial Injuries Disablement Benefit.
(d) In certain matters of detail concerning this employment he has been shown to be accurate. In particular, his reference to the fact that the ICI plant was expanding rapidly, the existence of a new Nylon 7 plant, and his recollection that olefin plants were being constructed at the time are all confirmed by the documentary evidence which has subsequently been disclosed.
(e) He did not work with laggers at any other time during his working life and therefore his description of the work they did and their use of insulating materials can only have come from his observation of laggers working at Wilton.
(f) His description that "I can recall watching them tip large asbestos bags out into drums…" implies not just a vague recollection but an actual memory of something which in fact happened which he witnessed.
(g) The fact that Mr Skeen was able to recollect detail that has no relevance to the claim such as his recollection that the pipework being worked on by the first defendant was painted green and his recollection that there was some animosity between pipefitters or plumbers on the one hand and the laggers on the other adds weight to his general reliability. This part of his evidence is unlikely to have been misremembered or fabricated.
(h) Although the way the work is described in the statement may have been informed by discussions between Mr Skeen and his advisers, that of itself is unremarkable. What is important is that he has signed a statement of truth confirming that he believes the facts stated in the statement to be true. Dr Jones confirmed that Mr Skeen's description of what the laggers were doing and the way they worked was entirely consistent with normal practice at the time. I have no reason to suppose that what he describes in the statement is other than an accurate articulation of his recollection.
(i) For the reasons given above I am satisfied that the material used by the laggers was in fact probably asbestos as Mr Skeen describes'.
Looking at the 'totality of the evidence', therefore, HHJ Platts concluded that the deceased's account of his employment was 'broadly reliable' and could be accepted.
'Importantly, I accept his evidence that "at the end of a typical day my work clothing, hair and face would be covered in white asbestos dust". It may well be that his exposure was less frequent than that sentence implies, but I am satisfied that on many occasions Mr Skeen's clothing face and hair were covered in a white dust at the end of the day and that that dust was probably asbestos which emanated from the work of laggers. I accept that that probably happened as a result of laggers either stripping asbestos in order to enable the steam pipes to be branched out of and into the existing network; and/or cutting pre-formed asbestos sections with hacksaws; and/or tipping large asbestos bags out into drums in order to mix it on site'.
The defendants conceded that, were the claimant to convince the Court that he was 'required to work alongside laggers and became covered in asbestos dust by reason of that process', then this would 'constitute a clear breach of duty and liability would be established'.
In light of the above findings, the sitting High Court judge was of the mind that the claimant was 'probably exposed to … asbestos dust during his work … That that exposure was as a result of the tortious act of the defendants and that it materially increased his risk of developing mesothelioma'.
As a result of the claim succeeding, judgment in the sum of £180,000 was ordered.
Full text judgment can be accessed here.