Armed Forces compensation claims specialist, Hilary Meredith Solicitors, has reached an agreement with the Solicitors Regulation Authority (SRA) to pay a fine for breaching its Accounts Rules.[i]
On the back of an inspection, conducted by the Regulator, the claimant firm admitted to incorrectly holding unpaid professional disbursements in its office account for a 3-year period, in the sum of £702,517.59 (as at 31 October 2017).
Correctly adhering to the SRA Accounts Rules 2011, disbursements should have been paid (e.g. to counsel or medical experts) or transferred to the client account by the end of the second working day following receipt – see Rule 17.1(b)(ii).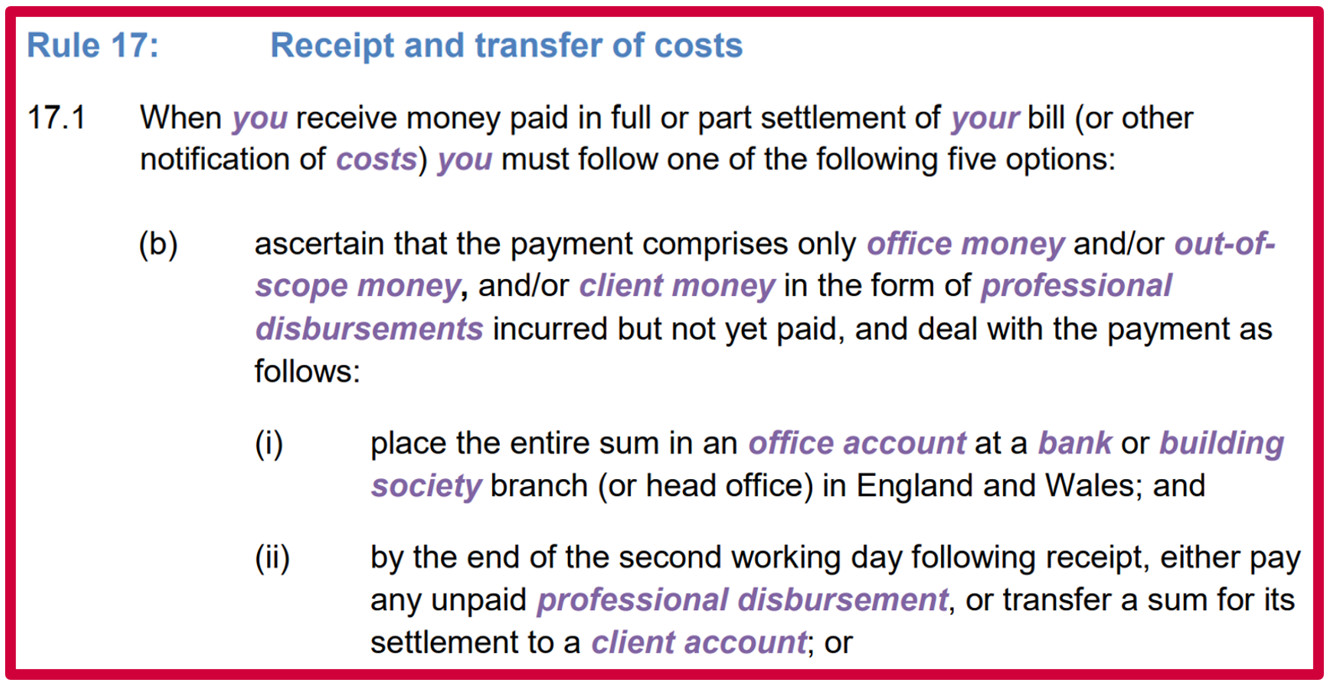 By causing a 'minimum client account shortage', Hilary Meredith was also in breach of Principle 10 of the SRA Principles 2011, given that it failed to protect client money and assets.

Although the firm has since reviewed and updated its accounting systems and internal controls to reduce the risk of similar breaches happening again, its prior failing to establish and maintain proper systems left it in breach of Rule 1.2(e) of the Accounts Rules.

In light of these long-standing breaches, for which Hilary Meredith was 'directly and solely culpable', Rule 4.1 of the Regulatory and Disciplinary Procedure Rules was met, i.e. a financial penalty was the appropriate sanction – specifically a fine which equated to 0.4% of its annual turnover (£13,333). This percentage was derived from the fact that the misconduct was of a low-level nature (a score of 1) and a medium-level impact (a score of 4).

However, given that Hilary Meredith accepted the allegations 'at the earliest opportunity', acted cooperatively with the Regulator and replaced the client account shortage 'in full' by January 2018, no client could be said to have suffered any tangible loss, nor could it be said that the firm had benefited from its misconduct. As a result of these mitigating factors, the £13,333 fine was reduced by 40% (the maximum discount) to £8,000.
The firm also agreed to pay the SRA's investigation costs, totalling £2,750.
[i] 'Hilary Meredith Solicitors Limited - Licensed Body (Hilary Meredith Solicitors)' (15 December 2020 SRA) <https://www.sra.org.uk/consumers/solicitor-check/561149/> accessed 5 January 2021.
Neil Rose, 'Leading firms fined for accounts rules breaches' (4 January 2021 Legal Futures) <https://www.legalfutures.co.uk/latest-news/leading-firms-fined-for-accounts-rules-breaches> accessed 5 January 2021.
John Hyde, 'Forces firm fined over £700k build-up of unpaid disbursements' (3 January 2021 Law Gazette) <https://www.lawgazette.co.uk/news/forces-firm-fined-over-700k-build-up-of-unpaid-disbursements/5106874.article> accessed 6 January 2021.