INTRODUCTION
As we reported in edition 259 of BC Disease News edition 259 (here), 'very early stage' research carried out by researchers at the Glasgow Brain Injury Research Group (GBIRG) and led by neuropathologist, Dr. Willie Stewart, showed that 75% of rugby players' brains exhibited dementia pathology at a rate 6-times higher than in the general population.
A fortnight ago, various Associated Press outlets published a flurry of articles on a breaking story that rugby players from around the world were preparing 'game changing' and 'potentially seismic' group litigation against several of the sport's governing bodies, which would be commenced in the UK.[i]
BRAIN INJURY AND SPORT IN GENERAL
This personal injury action will bear some resemblance to the case advanced almost a decade ago by 4,500 former American Football players against the National Football League (NFL), albeit for a smaller damages settlement than $765 million (actually 'up to $1 billion' to compensate those who were not parties to proceedings).
The lawsuit is also highly topical in the UK at present, given the parallel research and campaign to elevate the profile of neurodegeneration among professional footballers.
It is alleged that tens of international, male, ex-professional rugby players (potentially from both Rugby Union and Rugby League) have, since retiring, presented with indicators of dementia, post-concussion syndrome, memory loss (amnesia), insomnia, migraines, mood swings and depression and that these symptoms have been caused by sub-concussive head knocks and concussive collisions sustained throughout their careers.[ii] This is despite the fact that these men are otherwise young, incredibly fit and physically active.
HOW COMMON IS CONCUSSION IN PROFESSIONAL RUGBY?
Rugby Union boasts one of the highest concussion rates across all team sport. In fact, the Rugby Football Union (RFU), which runs the sport in England, oversees an injury surveillance project and found that concussions account for 1 in 5 matchday injuries. More than this, concussions have been the most common injury in the past 3 successive seasons. In the 2017/18 season, 16% of English elite players suffered at least 1 concussion.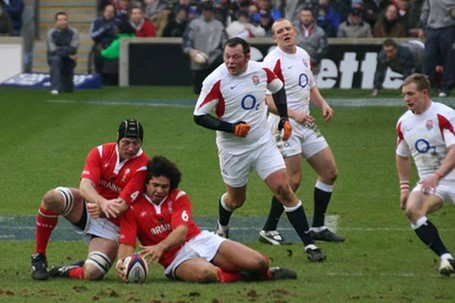 [Source: Wikimedia Commons – Unofficial England Rugby's photos (4 February 2006) 'Colin Charvis slides onto the ball, along with Ian Gough, while England's Thompson, Tindall and Noon approach (Wales v England).']
ON THE BRINK OF WIDESPREAD LITIGATION?
Until a few days ago, newspaper columnists had been alluding to the fact that it was 'merely a matter of time' before multi-million-pound proceedings were served on 3 governing bodies: The Rugby Football Union, the Welsh Rugby Union and World Rugby. Sure enough, last Thursday, it was officially revealed that the pre-action Letter of Claim had been sent. Another wave of claims is also being lined up against the Irish Rugby Football Union.[iii]
Some commentators have declared this to be the 'most significant development of rugby's concussion battle', while others have branded developing events a 'watershed moment for the sport'.
Dr. Stewart considers, on reflection, that it was 'only a matter of time' before ex-professionals took legal action to seek 'some sort of legal status as to what is going on':[iv]
'In terms of rugby, although they've made great strides in attempting to identify brain injuries on the park, the number of brain injuries in rugby is still phenomenally high. In terms of the number of brain injuries and concussions identified, it is only a fraction of the number that are actually occurring. And then there is the problem of head impacts themselves, never mind concussions. Cumulative exposure to head impacts, we believe, is just as much a risk as a handful of concussions'.
Is this just the 'tip of the iceberg'?
Although one insider pointed to an 'epidemic' of claims that will spur from 'public' awareness, candidly, Dr. Stewart acknowledged that that the scope of the issue is currently undetermined:
'The difficulty we have is gathering enough experience from former rugby players to be able to say with certainty, but I think you would be foolish to ignore it'.
LEGAL REPRESENTATION
The 'British law firm', which has been contacted by claimants in these proceedings, is Rylands Law (trading as Aticus Law).[v]
At present, it is supposedly representing over 100 (highest quoted figure is 110) former players between the ages of 25 and 65, 'many [80 or so] of whom are showing symptoms of neurological problems'. However, 'many more' are expected to get in contact, with the firm presaging a 'ticking timebomb' of players exhibiting brain disease of serious concern (potentially up to 50% of retirees).
Rylands' sole Director, Richard Boardman, contextualised the players' allegations of negligence as follows:
'We know that senior figures in the game have been discussing the issue of head injuries since at least 1975. Yet, inexplicably, the game's approach to concussion seems to have become less progressive in the professional era, as evidenced by the three-week mandatory break following a concussion being reduced to just six days in 2011. Whilst health and safety has moved in the wrong direction, the professional game has become a game with increasing collisions as players get heavier, stronger and faster'.
N.B. the 'three-week' rule was established in 1977 and the decision to overturn it was purportedly on the advice of the Concussion in Sports Group. Barry O'Driscoll, who resigned as a Medical Commission Member at the International Rugby Council (World Rugby's predecessor) in protest, believes that the move to a 'six-day' rule 'will be one of the crucial parts of the case', as the policy measure was guided by 'very little scientific basis'.
Mr. Boardman added:
'We are now in a position where we believe the governing bodies across the rugby world are liable for failing to adequately protect their players on this particular issue. Depending on how many people come forward, the case could be worth tens of millions, maybe even hundreds of millions'.
Rylands has already instructed Susan Rodway QC, of 39 Essex Chambers, as lead counsel for the suit in England and Wales, whilst John Foy QC, of 9 Gough Chambers, has been prospectively named lead counsel for the Irish suit (with Dr. Steve Allder as the consultant expert neurologist).
Since Thursday, it has been made plain that the first 9 (formerly 8) claimants will be the test cases in a group litigation order (GLO). All 9 have been examined by neurologists at King's College London and diagnosed with early-onset dementia, plus suspected chronic traumatic encephalopathy (CTE), the latter of which can only be confirmed post-mortem. Newspapers also spoke of 3 others diagnosed with probable CTE, but they were 'not yet signed up'.
THE CLAIMANTS
The claimants embroiled in this dispute are members of the 1st generation to have played an entire career of full-time rugby, after the game turned professional in the mid-1990s.
Should their claims progress to court, they will argue that the responsible overseeing organisations have breached their duty of care on 24 separate counts, having not acted upon the 'known and foreseeable' risks of head injury to reduce or minimise the risk of permanent damage, particularly after the sport's dynamics were clearly intensified by becoming professionally accredited. However, it is acknowledged that they would face 'substantive legal issues' if their case went to court and a pre-trial settlement would be the likely conclusion.[vi]
When news reports on this topic were first feeding through, it was somewhat confusing, scrolling from article-to-article to understand exactly who was 1 of the 9 test cases, 1 of the 3 remainder cases, or simply a retired professional that has been in contact with Rylands. Chronologically, the facts have become easier to digest.
Early reports, dated 7 December 2020, in the New Zealand Herald and The Telegraph, mentioned New Zealand All Blacks, Carl Hayman and Geoff Old, as well as England's Mouritz Botha, in conjunction with an announcement that up to 70 players had been approached by a 'British law firm' seeking to discuss their post-career medical state and seek their engagement in litigation.[vii]
Mr. Botha (38), who played as a lock, retired through concussion and believes that 'rugby as a whole was quite negligent'.
What is more, Mr. Hayman (41), a prop who spent part of his career in the UK playing for the Newcastle Falcons and had not yet undergone medical testing, divulged that lawyers were culminating 'a pretty ever-growing list [of players]':
'I think it's going to be something quite substantial that's going to come from it'.
Subsequently, on 8 December 2020, print media revealed 3 more names: England's Steve Thompson and Michael Lipman, and Wales' Alix Popham, all of whom have been labelled test cases and all of whom received an official early-stage dementia diagnosis evidenced by diffusion tensor imaging (DTI) scan, neuropsychological testing and an interview with a neurologist.
Mr. Thompson (42), who plied his trade as a hooker, is prone to panic attacks, mood swings and memory loss. He frequently forgets the name of his wife and cannot remember winning the 2003 Rugby World Cup.[viii]
Recalling some of his memories on the training field, he said:
'I went from working on a building site and training twice a week to training every day, sometimes twice a day. Many of those training sessions were contact sessions using a scrummage machine and I would be in the thick of things, with all the pressure pushed on me. It was not uncommon for me to be left dazed, seeing white spots and not knowing where I was for a few seconds, sometimes I would pass out completely. It was just an accepted part and parcel of training.[ix]
A serious neck injury forced him to retire in 2007, but he was given the all-clear to return. When his neck injury recurred in 2011, he was being forced to retire for the second time:
I really wished that I had ended my career earlier, maybe my diagnosis might not be so bleak. There's no getting away from it being a contact sport, but we have to give future generations a better and safer game'.
Without reform, Mr. Thompson, who is said to be the lead case, is of the opinion that head injuries in rugby will continue to initiate expedited retirements.
As for Mr. Popham (41), the flanker, he is under the impression that he has registered a 'minimum' of 'over 100,000 sub-concussions' in the duration of his career at a professional level.[x] He blames this for his forgetfulness, his snappy and aggressive demeanour and his anxiety. For now, the MRI shows 'no sign of any major problem', though there were 'a few white dots' to suggest measurable brain disease.[xi]
Finally, Mr. Lipman (40), an openside flanker, remembers suffering at least 13 concussions (but estimates up to 30 concussions) during the course of his professional career. Most notably, in 2009, he suffered several concussions in a short space of time.[xii]
Nonetheless, in an interview with the Sydney Morning Herald, he brought to light the fact that if he wasn't 'completely knocked out', he 'played on'. When he was concussed, he would allegedly 'find an excuse to go off to the blood bin', give himself 10-minutes to 'help' himself and then return to the pitch to continue.
Describing himself as a 'walking time bomb' and remembering being 'carried off' the pitch 5 times in a single season, Mr. Lipman is now hesitant, uncertain, irritable, impatient, suffers with severe migraines and mood swings, and has quite inhibited speech. He scored 77/100 in cognitive tests, signifying mild dementia.[xiii]
Once the Letter of Claim was dispatched, details of 2 more litigants embroiled in the group action surfaced.
English former back row, Neil Spence (44), joins Mr. Lipman, Mr. Popham and Mr. Thompson as an ex-professional diagnosed with early-stage dementia and suspected CTE. Much ike his fellow litigants, he alleges having problems with his speech and suffers with confusion, uncertainty, anxiety attacks, depression and extreme mood swings (often manifesting in anger).[xiv]
He recalls judging how well he had played by how 'fuzzy-headed' he felt at the final whistle of a game.
Forced to retire aged 28,[xv] former Welsh centre, Adam Hughes (30), is the youngest of the 9 test claimants. Unlike the others, he has not been diagnosed with dementia, nor provisionally with CTE, but has exhibited brain injury, additional to post-concussion syndrome and severe motion sickness.[xvi]
THE CLAIMANTS' 15-POINT-CHARTER
On 9 December 2020, The Daily Mail reported that players had joined forces to put together a 15-point-charter, or 'commandments', which they were urging World Rugby to adopt, alongside recent action taken to reduce high tackles, with a view to increasing safety and reducing the 'intense scrutiny' it is currently facing:[xvii]
For World Rugby to accept that playing professional rugby can lead to CTE and other neurodegenerative diseases.
At present, World Rugby's official guidance states that concussion is a 'traumatic brain injury' and that all concussions are dangerous and 'can be fatal' and lead to 'neurological complications', but is no more specific than that.
For regulated training to be introduced, limiting contact to a certain number of sessions a year.
The extent of World Rugby's current 'load management guidance' protocols is to advise against 'spikes' in work-load and for recovery to be 'planned and individualised'.
For a limit on the number of substitutes-per-game and considerate use of substitutions.
Research is ongoing, pursuant to the World Rugby Chairman's manifesto.
For all players' unions to have greater independence.
Since many players' unions, e.g. the Rugby Players' Association, are funded by World Rugby or national governing bodies.
For zero-hour contracts to be abolished, thereby quashing the monetary incentive to play when injured.
This is a matter for individual clubs and players' unions to discuss.
For competent baseline testing each pre-season.
All Premiership clubs undergo this type of test, which forms the basis of Head Injury Assessments (HIA) carried out mid-game when a concussion is suspected.
For the adoption of better sideline testing.
World Rugby-compliant testing lasts a mandatory 12-minutes and is followed up by adherence to return-to-play protocols.
For concussion spotters to have the authority to remove players showing visible symptoms.
As matters stand, removal can only be ensured by spotters once they feed information to independent matchday doctors.
For a career-long central database chronicling injury history.
GDPR (data protection) challenges are frustrating its implementation.
For the removal of Rugby Union's reliance on various arch-conservative organisations, such as the International Consensus Group on Concussion in Sport (CISG), the International Concussion & Head Injury Research Foundation (ICHIRF) and select sports science departments.
The stance of World Rugby is that consensus groups add robust validity, as does the work of independent experts and commissions.
Urgent research to be carried out on front row forwards.
Where research to-date implies no proven risk of greater injury.
For greater education on the issue of concussion.
World Rugby claim they have educated more than 500,000 players on Head Injury Assessments (with the assistance of a dedicated concussion App) and this is also mandatory for referees, coaches and medics.
For every 3 concussions suffered by a player to instigate the receipt of full medical tests.
This is mandatory under the HIA process, with players suspected of being concussed undergoing an off-field assessment by a doctor and a video review. There are other tests for those with delayed onset post-match concussions.
For the removal of reliance on MRI scans to prove brain trauma.
For better aftercare for retirees.[xviii]
N.B. upon hearing point (4) of the Charter, The Telegraph reported that the Rugby Players' Association was prepared to start legal proceedings against Rylands and refute 'damaging claims' that the players' union is 'not fit for purpose'.[xix]
THE DEFENDANTS
On 8 December 2020, BBC Sport journalists obtained comments from the organisations which have been named as the defendants in prospective proceedings.[xx]
World Rugby (Global)
'While not commenting on speculation, World Rugby takes player safety very seriously and implements injury-prevention strategies based on the latest available knowledge, research and evidence'.
The Rugby Football Union (England)
'The RFU has had no legal approach on this matter. The Union takes player safety very seriously and implements injury prevention and injury treatment strategies based on the latest research and evidence.
The Union has played an instrumental role in establishing injury surveillance, concussion education and assessment, collaborating on research as well as supporting law changes and law application to ensure proactive management of player welfare'.
Nevertheless, Chief Executive, Bill Sweeney, has pledge to 'make the game better and safer for future generations'.[xxi]
The Welsh Rugby Union (Wales)
'[It] … supported and endorsed the World Rugby comment on the subject'.
Joint Statement from World Rugby, The Rugby Football Union and The Welsh Rugby Union
'We have been deeply saddened to hear the brave personal accounts from former players. Rugby is a contact sport and while there is an element of risk to playing any sport, rugby takes player welfare extremely seriously and it continues to be our number one priority. As a result of scientific knowledge improving, rugby has developed its approach to concussion surveillance, education, management and prevention across the whole game.
We have implemented coach, referee and player education and best-practice protocols across the game and rugby's approach to head injury assessments and concussion protocols has been recognised and led to many other team sports accepting our guidance. We will continue to use medical evidence and research to keep evolving our approach'.
WHAT ABOUT EX-PROFESSIONAL FOOTBALLERS?
Last month, claimant personal injury solicitor, Ipek Tugcu, warned that football clubs and authorities in the UK were at risk of facing multi-million-pound lawsuits if they continued to 'fail to protect players from brain injuries caused by heading the ball'.[xxii]
Making reference to 'indisputable' evidence [principally the landmark FA-commissioned Football's InfluencE on Lifelong health and Dementia risk (FIELD) study] that 'repetitive head trauma' is linked to 'increased risk of neurodegenerative disease such as dementia', the Bolt Burden Kemp Senior Associate expressed disappointment at how little the professional game has changed.
She went on to say that: 'Identifying dementia as an industrial disease would be a huge step in formally recognising the risks of the sport and protecting players' and could expedite limits on heading in training.
Ironically, only a matter of days after Ms. Tugcu's statements were published, it was revealed that 'ground-breaking' legal action was due to commence on behalf of a number of former players.[xxiii]
Instructed counsel, Nick De Marco QC, of Blackstone Chambers, shared details about the aims of this early-stage group action, amid a 'pattern of silent suffering' and a 'serious endemic' of fatal brain injury:
'By bringing this case we hope not only to provide our clients with adequate compensation to pay for the future medical treatment and care they will inevitably need, but also to bring about much-needed reform to protect all players in sport, whether amateur or professional, adult or child'.
On 11 December 2020, it was uncovered that Rylands, the same claimant firm undertaking the rugby group action, would be proceeding with this action in the New Year.[xxiv]
It is understood that 40 families have contacted Rylands on behalf of retired professionals with neurodegenerative disease, most of whom are in their 50s, 60s and 70s.
Employing a similar tactic to the rugby litigation, around 10 of all prospective claimants under retainer would be put forward as test cases, followed by a larger group litigation order.
It will be for Mr. De Marco QC, alongside John Foy and James Byrne, of 9 Gough Chambers, to prove negligence and causation, but against whom?
Ian Stebbings, of 1 Chancery Lane Chambers, questioned who could be held responsible for these injuries in a detailed and thought provoking piece, but was on the whole doubtful of blameworthiness.[xxv]
Many of the potential defendants to litigation (e.g. the clubs, the leagues, the players' unions, the referees, etc.), despite owing a duty of care to the players, simply owe a duty to ensure that the rules are adhered to – which they are, because heading is not banned in training, nor in match play. This runs contrary to what Chris Bryant, the Labour MP and Chair of the Parliamentary Group on Acquired Brain Injury, said on 16 November:
'The Football Association's response has been shocking - they have been knowingly negligent'.
Even the law makers of the game, the International Football Association Board (IFAB), may be too remote to control rules on heading to minimise injury – see the Australian case of Agar v Hyde (2000) 74 A.L.J.R 1219, in which the International Rugby Football Board was deemed not to have owed a duty of care to players to change the rules on scrummages and reduce the risk of injury.
And of course, any prospective defendants to litigation will submit that players accept the risk of injury through voluntary participation in the sport – as with certain types of COVID-19 infection claims, there is scope for the rare volenti non fit injuria defence to be raised without also raising eyebrows.
Claimants will present a conceivably stronger case if they can prove that there has been a cover up, i.e. that governing organisations knew about the neurodegenerative risks of heading footballs for many years and did nothing to protect players' health.
The Guardian, in November, made reference to several articles in the 1960's and 1970's, which intimated that the industry would not have been completely blind to the risk:
Firstly, an article written in The Guardian by John Arlott, which read:
'There were other professionals who became physically nauseated by the constant impact of a muddy ball on their foreheads. It is surprising that we do not hear of instances of brain damage similar to punch-drunkenness in those who went through this constant battering'.[xxvi]
Secondly, private discussions among members of the Manchester Association of Engineers (MAE), when, in 1973, they were presented with the article, 'The Impact, Rebound and Flight of a Well Inflated Pellicle as Exemplified in Association Football':
'… the mechanics of boxing knockout and heading footballs were debated … It was noted that professional footballers instinctively make no attempt to head a ball travelling over 40mph, to keep the impact damage to the brain to an acceptable level'.
Thirdly and finally, an article published in the Sunday Times, in 1974, which remarked that:
'… of the 55 players reported in the newspaper who had died in football since 1951, 26 had head injuries and eight were attributed at coroners' inquests solely to heading the ball'.
To-date, though, there is no intelligence to suggest that there has been a conspiracy, much to the dissatisfaction of the victims of dementia and their families.
[i] Ben James, 'Bombshell rugby lawsuit looming as up to 70 players reportedly set for legal battle over head injuries' (7 December 2020 Wales Online) https://www.walesonline.co.uk/sport/rugby/rugby-news/bombshell-rugby-lawsuit-looming-up-19415814> accessed 9 December 2020.
[ii] Graham Bean, 'Rugby faces legal challenge on concussion from former players' (8 December 2020 The Scotsman) <https://www.scotsman.com/sport/rugby-union/rugby-faces-legal-challenge-concussion-former-players-3060846> accessed 9 December 2020.
[iii] Johnny Watterson, 'Irish rugby players to be part of concussion group lawsuit' (9 December 2020 Irish Times) <https://www.irishtimes.com/sport/rugby/irish-rugby-players-to-be-part-of-concussion-group-lawsuit-1.4431012> accessed 11 December 2020.
[iv] 'Traumatic brain injury expert not surprised players are planning legal action' (8 December 2020 The Herald Scotland) <https://www.heraldscotland.com/sport/uk-sport/18929830.traumatic-brain-injury-expert-not-surprised-players-planning-legal-action/> accessed 9 December 2020.
[v] John Hyde, 'Rugby dementia claim lawyer: This is about safety, not compensation' (9 December 2020 Law Gazette) <https://www.lawgazette.co.uk/news/rugby-dementia-claim-lawyer-this-is-about-safety-not-compensation/5106731.article> accessed 11 November 2020.
[vi] Sean Ingle, 'Rugby players' claim for brain injury has "less than 50/50" chance, say experts' (13 December 2020 The Guardian) <https://www.theguardian.com/sport/2020/dec/13/rugby-union-players-claim-for-brain-injury-dementia-world-rugby> accessed 21 December 2020.
[vii] Dylan Cleaver, 'Exclusive: Legal battle over rugby head knocks, ex-All Blacks involved' (7 December 2020 New Zealand Herald) <https://www.nzherald.co.nz/sport/exclusive-legal-battle-over-rugby-head-knocks-ex-all-blacks-involved/OVUPWG6K4N3ABEFK4GMYQL3ZSA/> accessed 9 December 2020.
Daniel Schofield, 'Exclusive: Rugby faces group litigation action on concussion' (7 December 2020 The Telegraph) <https://www.telegraph.co.uk/rugby-union/2020/12/07/exclusive-rugby-faces-group-litigation-action-concussion/> accessed 9 December 2020.
[viii] Michael Aylwin and Andy Bull, 'Rugby World Cup winner Steve Thompson reveals he has dementia and joins landmark legal case' (8 December 2020 The Guardian) <https://www.theguardian.com/sport/2020/dec/08/steve-thompson-former-rugby-union-players-dementia-landmark-legal-case> accessed 9 December 2020.
[ix] Will Macpherson, 'Steve Thompson: England World Cup hero reveals he has dementia with landmark rugby legal case planned' (8 December 2020 Evening Standard) https://www.standard.co.uk/sport/rugby/steve-thompson-dementia-rugby-legal-case-b223808.html> accessed 9 December 2020.
[x] Andy Bull, 'Alix Popham: "We knew our bodies would be in bits. We had no clue our brains were"' (8 December 2020 The Guardian) <https://www.theguardian.com/sport/2020/dec/08/alix-popham-interview-rugby-union-dementia-special-report> accessed 9 December 2020.
[xi] 'Alix Popham: Ex-Wales forward reveals traumatic brain injury and early onset dementia diagnosis' (9 December 2020 Sky News) <https://www.skysports.com/rugby-union/news/12321/12156411/alix-popham-ex-wales-forward-reveals-traumatic-brain-injury-and-early-onset-dementia-diagnosis> accessed 11 December 2020.
[xii] Andy Bull, 'Michael Lipman: "If I knew then what I know now, I'd have been a lot more careful"' (9 December 2020 The Guardian) <https://www.theguardian.com/sport/2020/dec/09/michael-lipman-if-i-knew-then-what-i-know-now-id-have-been-a-lot-more-careful> accessed 9 December 2020.
[xiii] 'Michael Lipman: Ex-England flanker on his daily struggle with life after concussions' (18 December 2020 BBC) <https://www.bbc.co.uk/sport/rugby-union/55337039> accessed 21 December 2020.
[xiv] 'Concussion in sport: More former rugby union players prepare to take action (17 December 2020 BBC) <https://www.bbc.co.uk/sport/rugby-union/55345195> accessed 21 December 2020.
[xv] Andy Bull, 'Two more named in players' dementia action against rugby authorities' (17 December 2020 The Guardian) <https://www.theguardian.com/sport/2020/dec/17/legal-claim-on-concussion-launched-by-former-players-against-rugby-authorities> accessed 21 December 2020.
[xvi] Michael Aylwin, '"A side of me is lost for ever": two more rugby players on their brain injuries' (17 December 2020 The Guardian) <https://www.theguardian.com/sport/2020/dec/17/rugby-union-dementia-head-injury-legal-claim-rfu-wru-world-rugby-adam-hughes-neil-spence> accessed 21 December 2020.
[xvii] Ben Ransom, 'Steve Thompson: I can't remember World Cup final win with England in 2003' (9 December 2020 Sky Sports) <https://www.skysports.com/rugby-union/news/12321/12155207/steve-thompson-i-cant-remember-world-cup-final-win-with-england-in-2003> accessed 9 December 2020.
[xviii] Will Kelleher, 'The 15 "commandments" demanded by former players taking legal action over brain injuries... and what rugby has already done to improve safety' (8 December 2020 Daily Mail) <https://www.dailymail.co.uk/sport/rugbyunion/article-9032185/The-15-commandments-demanded-former-players-taking-legal-action-rugby-done.html> accessed 9 December 2020.
[xix] Daniel Schofield, 'Rugby Players' Association refute claims it is not fit for purpose' (9 December 2020 Yahoo!) <https://news.yahoo.com/rugby-players-association-ready-legal-204143632.html> accessed 11 November 2020.
[xx] Chris McLaughlin, 'Steve Thompson in group of ex-rugby union internationals to sue for brain damage' (8 December 2020 BBC Sport) <https://www.bbc.co.uk/sport/rugby-union/55201237> accessed 9 December 2020.
[xxi] Alex Lowe, 'Rugby chief Bill Sweeney: We can't hide from brain injury truth' (12 December 2020 The Times) <https://www.thetimes.co.uk/article/rugby-chief-bill-sweeney-we-cant-hide-from-brain-injury-truth-jcgm8s6nd> accessed 14 December 2020.
[xxii] Warren Manger, 'Football clubs warned to protect players from dementia - or face paying millions' (20 October 2020 The Mirror) <https://www.mirror.co.uk/sport/football/news/football-clubs-warned-protect-players-22878082> accessed 27 October 2020.
[xxiii] Legal action launched over brain injuries among sportspeople' (18 November 2020 BT) <https://www.bt.com/sport/news/2020/november/legal-action-launched-over-brain-injuries-among-sportspeople> accessed 2 December 2020.
[xxiv] 'Forty ex-footballers set to take legal action over dementia links in 2021' (11 December 2020 Sky News) <https://www.skysports.com/football/news/11095/12157935/forty-ex-footballers-set-to-take-legal-action-over-dementia-links-in-2021> accessed 20 December 2020.
[xxv] Ian Stebbings, 'Heading the ball - Part of the game or an industrial disease' (23 November 2020 1 Chancery Lane) <https://1chancerylane.com/heading-the-ball-part-of-the-game-or-an-industrial-disease/> accessed 23 December 2020.
[xxvi] Andy Bull, 'Why has it taken 50 years for football to connect heading with brain injuries?' (18 November 2020 The Guardian) <https://www.theguardian.com/sport/blog/2020/nov/18/why-50-years-football-connect-heading-with-concussion> accessed 20 December 2020.