Until recently, the MRC Centre for Environment and Health was leading the Institution of Occupational Safety and Health's (IOSH) Diesel Exposure Mitigation Study (DEMiSt) – the centre for excellence is a partnership between Imperial College London (the lead institution), King's College London, the London School of Hygiene and Tropical Medicine and St George's University of London.[i]
DEMiSt was designed to investigate the impact of exposure to diesel engine exhaust emissions (DEEE) on the health of urban professional drivers – an area of 'surprisingly little research' ­– and is the 'largest real-world in-vehicle personal exposure study to date'. With around 1 million UK taxpayers working in the sector, it was hypothesised that occupational health issues were being 'under-appreciated' and even 'overlooked'.
The current epidemiological position is that DEE likely increases the risk of developing lung cancer [see the International Agency for Research on Cancer's (IARC) Group 1 carcinogen classification, in 2012[ii]], chronic obstructive pulmonary disease (COPD), heart disease, type-2 diabetes and infertility. We also recently reported (here) that air pollution, which comprises of DEE, has been associated with heightened incidence of Parkinson's disease and dementias.
Back in edition 291 of BC Disease News (here), we notified our readers that preliminary DEMiSt observations had been presented at the European Respiratory Society (ERS) International Congress, on 29 September 2019.
At the time, we anticipated that comprehensive DEMiSt findings would be published in Q1 of 2020.
However, it was only earlier this month that Imperial College London shared a link to the full and final report.[iii]
Within the report, the researchers stated that their baseline study conclusions alluded to 11,492 hours of exposure data pertaining to 141 professional drivers – specifically exposure to black carbon (containing particulate matter), which was a proxy measure (chosen ahead of hydrocarbons, carbon monoxide or nitrogen oxides) of difficult-to-quantify DEE.
On average, 18.6% of the professional drivers' time was spent 'at work driving' and this accounted for 36.1% of their total black carbon exposure. Meanwhile, 54.4% of their time was spent 'at home', but this was only responsible for a 31.8% contribution towards their total black carbon exposure.
Moreover, drivers were exposed to 4-times more airborne black carbon [4.1 micrograms per cubic metre of air (µg/m3)] when 'at work driving' than when 'at home' (1.1 μg/m3). Taxi drivers were among the most exposed (6.5 µg/m3), closely followed by couriers (5.5 μg/m3), waste removal drivers (4.3 μg/m3), heavy freight drivers (3.9 μg/m3), utility service drivers (3.1 μg/m3) and emergency service drivers (2.8 μg/m3), while bus drivers were the least exposed (2.3 μg/m3).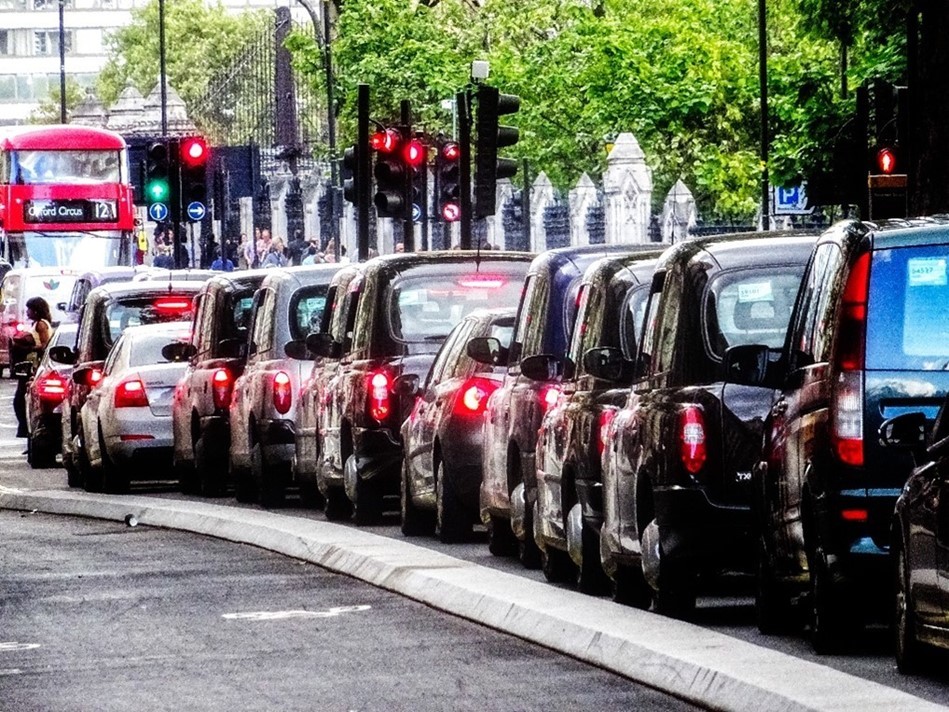 [Source: Flickr – Garry Knight (30 September 2016): 'Taxi Traffic']
It was also the case that drivers experienced spikes of black carbon exposure, peaking at 100 µg/m3 and lasting up to 30-minutes, as fumes lingered in vehicle cabins. These peaks typically occurred in congested Central London traffic, car parks, depots, tunnels and 'street canyons' (between high buildings).
Lead researcher and Senior Lecturer at Imperial College, Dr. Ian Mudway, remarked that it was noticeable to see 'just how surprised drivers taking part in the study were at the levels of their exposure to diesel'.
Naturally, the researchers wrote that moving to zero tailpipe emission vehicles with airtight cabins would be the most effective way to curb DEE exposure, both for drivers and for the general pollution. Widespread policy measures designed to ease congestion and limit emissions have also been touted as ways to avoid adverse health implications for professional drivers. However, it was acknowledged by the experts involved in this project that there are significant costs and technological obstacles to bringing about drastic change.
As a result, the following low-cost changes were also recommended as intermediate steps to lessen occupational exposure [additional to turning off engines, installing tailpipe exhaust extraction systems and wearing FFP3-standard masks, per the instructions of IOSH – see our article on the No Time To Lose (NTTL) Pocket Card on DEEE exposure, which featured in edition 294 (here)]:
Always drive with windows closed.
Use the recirculating ventilation function with vehicle windows closed, but only for short periods in high pollution areas.
Carefully consider route choice to avoid areas of high congestion and try to avoid tunnels.
Reduce driving frequency during peak evening hours (4 pm to 7 pm).
Move shifts from weekdays to weekends.
Rotate drivers if there is a risk of isolated workers being disproportionately exposed.
Use in-cabin filters in certain circumstances.
Underpinning this advice was the revelation that driving with windows open rather than closed produced a 0.44 µg/m3 increase in exposure. What is more, DEMiSt's supplementary intervention study of 42 drivers indicated that in-cabin filters decreased exposure by 0.40 µg/m3 throughout the course of a shift. Albeit this indication was inconclusive and requires further research to be validated.
In the context of COVID-19, the British Occupational Hygiene Society (BOHS) not only welcomed DEMiSt findings, but also warned against drivers adopting mitigating measures to minimise exposure to coronavirus (SARS-CoV-2), e.g. opening windows or turning on external fan ventilation. In this way, it appears that the Society is more concerned about the prevention of inadvertent black carbon inhalation in vehicles than the risk of viral transmission.[iv]
[i] 'About Us' (MRC Centre for Environment and Health) <https://environment-health.ac.uk/about-us/#:~:text=The%20MRC%2DPHE%20Centre%20for,Research%20Council%20(MRC)%20and%20Health> accessed 29 November 2020.
[ii] 'IARC: DIESEL ENGINE EXHAUST CARCINOGENIC' (12 June 2012 IARC) <https://www.iarc.fr/wp-content/uploads/2018/07/pr213_E.pdf> accessed 29 November 2020.
[iii] Jack Stewart, 'Professional drivers put at greater risk of cancer, says new research' (13 November 2020 Imperial College London) <https://www.imperial.ac.uk/news/208593/professional-drivers-greater-risk-cancer-says/> accessed 29 November 2020.
[iv] 'BOHS cautions that new research into occupational exposure to diesel for professional drivers highlights a COVID-19 dilemma with ventilation' (16 November 2020 BOHS) <https://www.bohs.org/media-resources/press-releases/detail/new-research-occupational-exposure-to-diesel-for-professional-drivers-highlights-covid-19-dilemma-with-ventilation/> accessed 29 November 2020.