In May 2019 (here), we examined data collated by the Office for National Statistics (ONS) on mesothelioma mortality among teaching and educational professionals, from 2001 to 2016. Teachers are deemed to be at 5-fold risk of developing mesothelioma versus the general population.
Subsequently, this September, the ONS published new information on mortality from 2017 to 2019, which has given us the opportunity to add to our tabular and graphical representations and produce more comprehensive trend-based analysis.[i]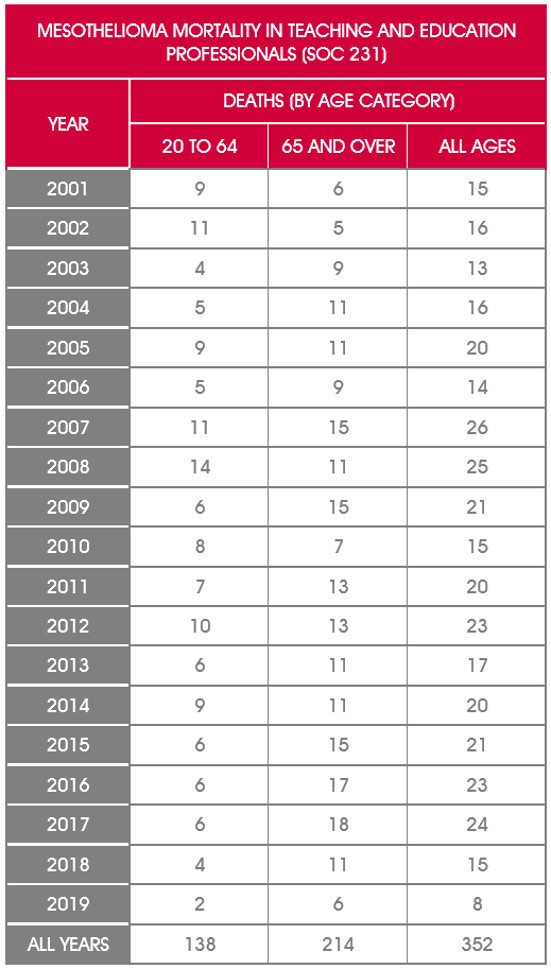 Over the 10-year period, between 2010 and 2019, 186 teachers died of mesothelioma, 122 (65%) of whom were 65-years-old and above. Since 2001, 352 have been victims of the fatal disease, 214 (61%) of whom fell into the post-retirement age category. The graph below demonstrates how mesothelioma mortality has consistently affected the profession across both post-millennial review periods.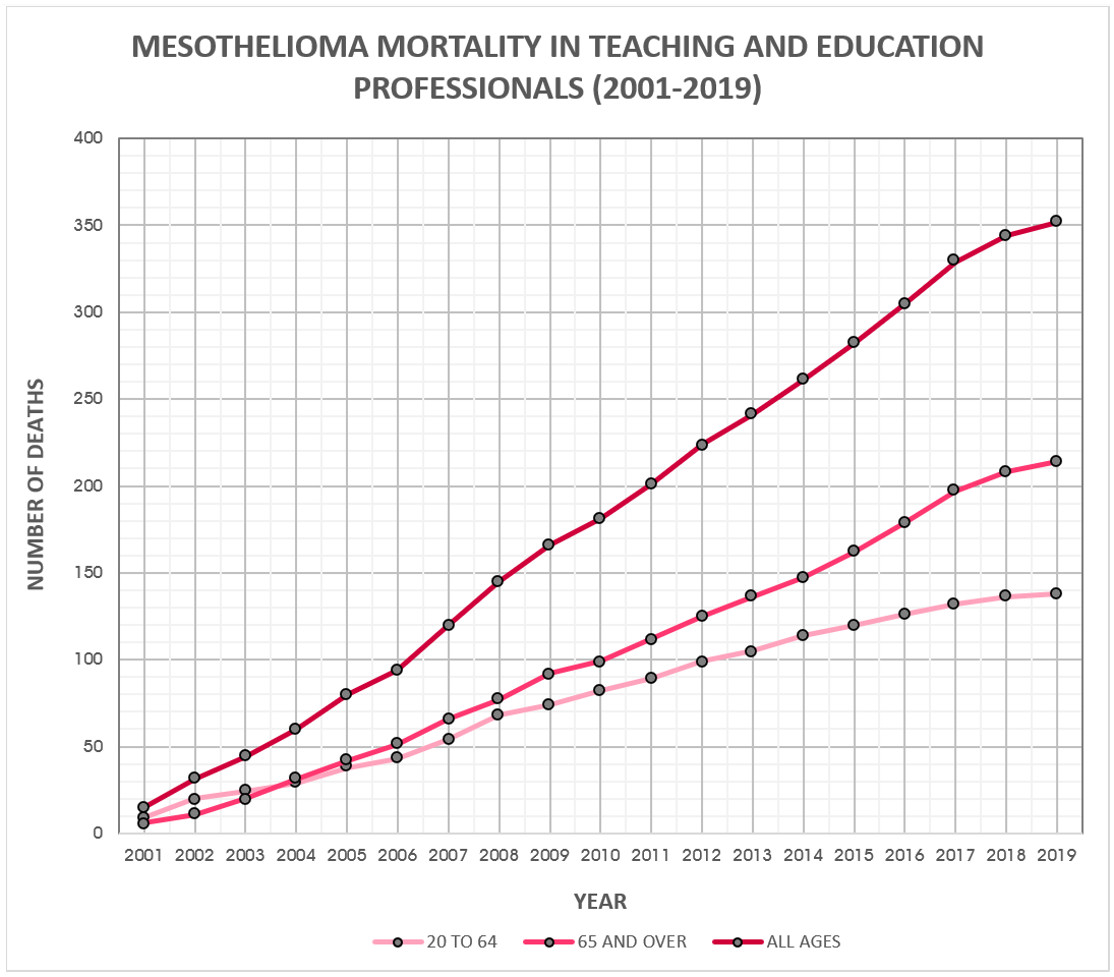 In the past few years, there has been a visible decline in the number of teachers and education professionals dying with mesothelioma. This can be explained by the ONS statistics and is consistent with the Health and Safety Executive's (HSE) forecast that we are approaching the peak of mesothelioma incidence in the UK. Comparing the last 10-years against the period from 2007 to 2016 (calculated in our predecessor article), there have been 25 fewer deaths and an increased proportion of post-retirement fatalities by 4%.
Despite the flattening mortality curve, the Education and Skills Funding Agency (EFSA) and the Joint Union Asbestos Committee (JUAC) accept as true that 80% of schools contain asbestos.
Of these schools, around 3,000 were designed in the late 1950's, under the Consortium of Local Authorities Special Programme (CLASP). With asbestos-containing structural support columns and an intended lifespan of 40-years, the fact that so many are still standing has been flagged as a matter for concern.
Conservative party politician, David Morris MP, has previously stated that the demolition of 1,000 active CLASP buildings would make a 'considerable difference to the asbestos risk posed by the UK's total building stock'.
This could foreseeably be (at least in-part) facilitated by a new, £1 billion, 'transformative', 10-year rebuilding programme for schools across England, which the Chancellor of the Exchequer announced earlier this year and was revealed in edition 311 of BC Disease News (here).
Earlier this autumn, the National Education Union (NEU) submitted its Comprehensive Spending Review, which requested earmarked funding for the 'phased removal' of asbestos from all educational buildings in the UK's 32,770 schools [echoing the ResPublica Report recommendations referred to in edition 299 (here)].
Joint General Secretary of the NEU, Kevin Courtney, told the Mirror that the death toll of 1 teacher dying every fortnight 'will continue until the Government develops a planned and costed [removal] programme'.[ii]
However, as we remarked above, the mesothelioma mortality curve is showing early signs of plateauing in the education sector, so there is some evidence to suggest that allowing 'well protected' asbestos to be left in-situ in 'good condition' would yield a slower mortality rate in years to come.
[i] 'Number of deaths where the underlying cause was mesothelioma, for teaching and educational professionals in England, deaths occurring between 2017 and 2019' (15 September 2020 ONS) <https://www.ons.gov.uk/peoplepopulationandcommunity/birthsdeathsandmarriages/deaths/adhocs/12246numberofdeathswheretheunderlyingcausewasmesotheliomaforteachingandeducationalprofessionalsinenglanddeathsoccurringbetween2017and2019> accessed 6 November 2020.
Spreadsheet Table <https://www.ons.gov.uk/file?uri=/peoplepopulationandcommunity/birthsdeathsandmarriages/deaths/adhocs/12246numberofdeathswheretheunderlyingcausewasmesotheliomaforteachingandeducationalprofessionalsinenglanddeathsoccurringbetween2017and2019/mesotheliomafinalfile.xlsx> accessed 6 November 2020.
[ii] Alan Selby, 'Scandal of almost 300 British teachers who've died from exposure to asbestos' (3 October 2020 Daily Mirror) <https://www.mirror.co.uk/news/uk-news/scandal-almost-300-british-teachers-22787332> accessed 17 November 2020.