The Healthcare Staff Mesothelioma Asbestos Guidance Study (MAGS) is a Mesothelioma UK-funded project that was conducted by the University of Sheffield.
The acronym, MAGS, was inspired by pioneering clinician, Dr. Mags Portman.
She was diagnosed with pleural mesothelioma in January 2017 and, having dedicated the remainder of her life to sharing her personal encounter with the disease and promoting developmental research, she died in 2019, aged 44.
In Dr. Portman's memory, MAGS was designed with the main aim of developing a 'critical account of the experiences of presentation, diagnosis, treatment and care for healthcare staff [and other asbestos-related conditions] with mesothelioma'.
This account was based on 3 stages of study, from which recommendations were drawn.
Stage 1: Rapid Literature Review
The rapid literature review was performed in August 2019. Given that an existing literature review, published in 2010, had already evaluated 13 relevant articles produced from 1980 to 2008, the focus of MAGS was literature submitted from 2008 to 2019.[i]
In total, there were 10 pertinent items that covered experiences of healthcare staff with mesothelioma (focusing on doctors and nurses, but not other healthcare professionals/staff and excluding dentists and dental technicians).
These articles equivocally conveyed that healthcare professionals with mesothelioma report 'experiences shared with other patients with the same condition, physically and especially emotionally', which is why they should be treated in a 'patient first, professional second' manner. They also recounted social issues relating to the change in role from professional clinician to patient, often seeking to maintain control of their care by, for example, using colleagues to make progress via unofficial channels. Some are also affected by the phenomenon of clinical nihilism.
Stage 2: Freedom of Information (FOI) Request
The function of the FOI request was to gather up-to-date information on mesothelioma case numbers among healthcare staff.
It was sent to NHS Resolution (the body that deals with litigation pursued against the NHS, e.g. claims in negligence) on 3 September 2019 and read as follows:
'I would like to know about civil law cases of negligence that have been taken against the NHS with regard to current or former NHS employees who have developed mesothelioma and have sued because they believe it to be due to asbestos exposure at work. I would be interested to know cases in the last 15 years (or less if information is available but not for that period).
Any information would be helpful but, if possible, I'd like to know, for each year: i) Number of cases received; ii) Number of cases settled in favour of the employee, number of cases with out-of-court settlement and number of cases settled in favour of the NHS.
I would also like to know (again, if information is available): iv) employee type; v) employee gender'.
What NHS Resolution's response revealed was that, between 2004 and 2017, there had been 961 mesothelioma claims (with allegations of negligent asbestos exposure) brought against the health service. Of these 961 claims, 553 were successful, at a cost (compensation payouts only) of £19,565,492. The average settlement figure-per-claim was therefore £35,381.
Compare and contrast this against an older BBC FOI request, which ascertained that 182 successful asbestos-related disease claims (a broader category than the FOI in MAGS), received between January 2013 and December 2016, had yielded damages awards of £25,824-per-claim.[ii]
In future, the Sheffield University researchers suggest that regular annual FOI requests could be tendered to track the ongoing pattern of claims, as current methods of predicting mesothelioma and asbestos-related disease levels are underestimating the risk and are 'clearly not fit for purpose':
'… if the number of claims carries on rising this would support the assertion that cases of mesothelioma have not peaked; it would also support the argument that hospitals are not low-risk environments'.
Stage 3: Interviews
Albeit on a small scale, 9 semi-structured interviews were set up with (partners of) former healthcare staff about their experiences with malignant mesothelioma, as part of the final stage of MAGS – this is the first example of specific research of this kind and represented a wider range of staff than that found in the literature review.
Table – Interviewee Characteristics: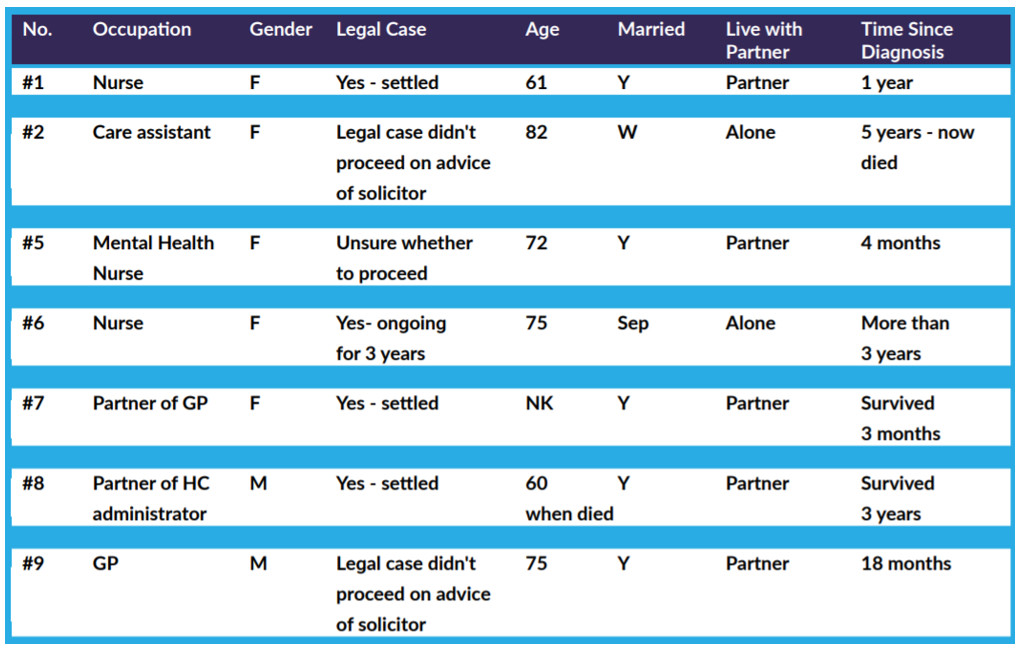 The discussion section of the Report echoed many of the conclusions arrived at in the literature review, notably concerning the physical and mental impacts of diagnosis and treatment.
Higher levels of clinical understanding, coupled with nihilistic tendencies, can result in more profound feelings, though these characteristics were more prevalent in senior doctors than in nurses. Indeed, 'interviewee #6' had no knowledge of mesothelioma whatsoever.
Where healthcare workers are marked by asbestos-related disease, it is advised that they join support groups to help fellow patients and offset their suffering.
Recommendations
Stemming from the 3-stage review, the following recommendations were made (see phrases emboldened):
'5) Awareness of asbestos risk should be added to the mandatory training for new members of NHS staff.
6) Those staff leaving the NHS should be reminded that asbestos exists in most NHS premises; they should therefore be aware that mesothelioma and other asbestos-related illness is a possibility. In wider education, particularly of GPs, the idea that hospital are low-risk environments should be questioned; mesothelioma should not be discounted in NHS and former NHS staff.
…
8) It is, however, important to improve the quantitative data concerning how much mesothelioma there is in the population of current and former NHS staff. The ONS data is a huge underestimate. As such:
It would be worth repeating the FOI request put in for this report on an annual basis, asking for the number of cases taken by current and former NHS staff in the previous year.
In addition, the request for a breakdown of the figures by category of staff over a longer period (to comply with data protection concerns) should be repeated until a clear answer is given by the ONS. This recommendation would require financial back-up of approximately £1,200.
Any figure obtained through this route would miss those who had not proceeded with legal cases. An estimate of this might be gained through approaching legal firms and asking them for the proportion of NHS mesothelioma cases they proceed with from all those who approach them.
Even this figure would miss those who do not approach legal firms in the first place. It is difficult to think of how a figure for this group could be obtained.
9) i) The large extent of asbestos contamination in healthcare settings is now well established by research. ii) The present report has highlighted other data showing that this contamination is causing mesothelioma amongst healthcare workers at a much higher rate than that shown in ONS statistics. Given these two points, the NHS needs to establish better asbestos management processes and systems. In essence, these would have three elements:
Regular testing of healthcare settings for asbestos using new techniques that can detect far lower levels than was possible when the limits set by the Asbestos Regulations 1969 came into force.
Track: where asbestos is found, interventions to manage to be implemented, such as provision of protective equipment and removal of the asbestos.
Prevention: through education of managers and health carers, as set out in points 5 and 6 above'.
Head of Mesothelioma UK's Services Division, Liz Darlison, assures that the charity will push MAGS outcomes into the public domain, with a view to increasing awareness of asbestos exposure risk in the healthcare setting.[iii]
Ms. Darlison also recognises, as we have (in the course of BC Disease News articles), that asbestos does not only remain in situ in hospitals, but also in schools. In fact, mesothelioma mortality in teachers, compared to the general population, is 4-fold, where mesothelioma mortality in nurses is 2-fold.
We reported, in edition 305 (here), that Mesothelioma UK had established a legal panel of 8 disease specialist claimant law firms. It would therefore be unsurprising if MAGS were to instigate a wider discussion on asbestos in public buildings and/or increase volumes of claims met by NHS Resolution and others.
[i] Moore S et al., Living with mesothelioma. A literature review. Eur J Cancer Care (Engl). 2010 Jul;19(4):458-68. <https://onlinelibrary.wiley.com/doi/epdf/10.1111/j.1365-2354.2009.01162.x> accessed 1 October 2020.
[ii] 'Nine out of 10 NHS trusts have asbestos in hospitals' (9 December 2020 BBC) <https://www.bbc.co.uk/news/uk-england-45561384> accessed 1 October 2020.
[iii] 'New report published on impact of asbestos-related cancer on healthcare professionals' (Mesothelioma UK) <https://www.mesothelioma.uk.com/news/new-report-published-on-impact-of-asbestos-related-cancer-on-healthcare-professionals/> accessed 1 October 2020.