Since 1 October 2020, The Civil Procedure (Amendment No. 3) Rules 2020 have been enforced and with them, the new costs budgeting Precedent T.
Section 4 of the Statutory Instrument introduces a new CPR 3.15A: 'Revision and variation of costs budgets on account of significant developments ("variation costs")'.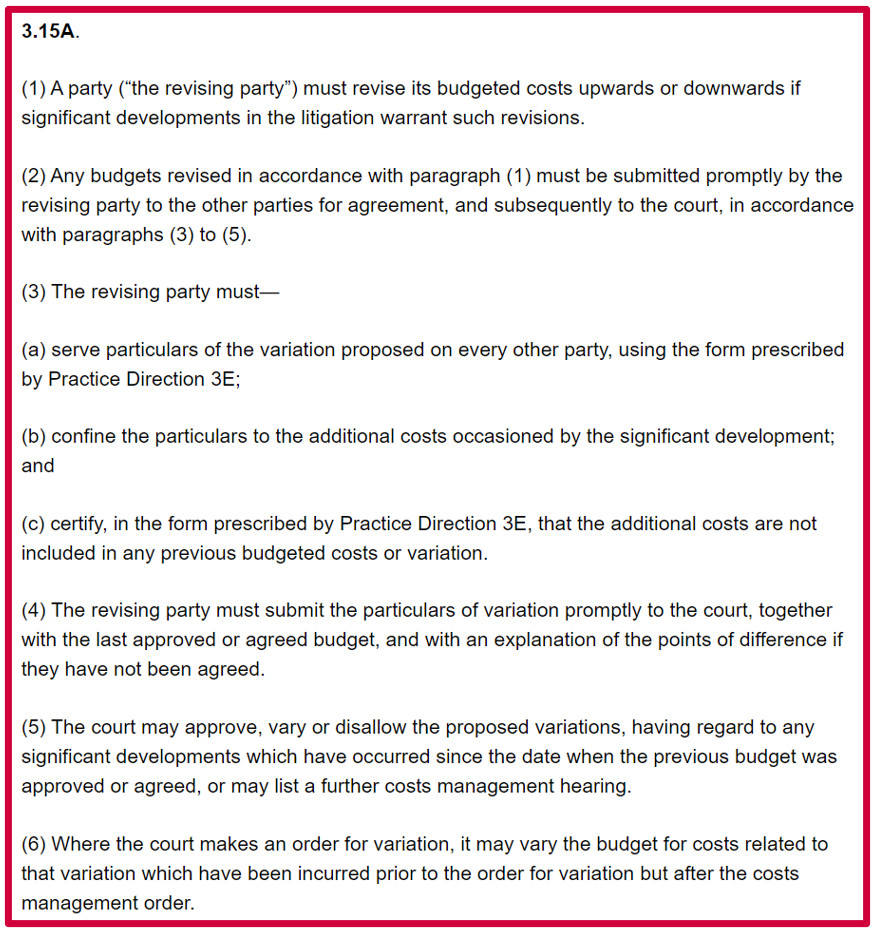 CPR 3.15A revises the old procedure covering updates to Precedent H costs budgets, in instances where there are 'significant developments' during the course of litigation.
The former position on budget variation had been informed by the ruling of Chief Master Marsh, in the case of Sharp v Blank & Ors [2017] EWHC 3390 (Ch) and was articulated through an expired iteration of the Costs Management Practice Direction (PD) 3E, though precedent was known to have been inconsistently practiced:[i]

Having scrapped para 7.6, it is now mandatory and proper procedure to use Precedent T, in the event that 'variation costs' are accrued. This is made clear by CPR 3.15A and updated PD 3E wording (pasted from the Schedule to the 122nd Practice Direction Update):

In 2019, the Association of Costs Lawyers (ACL) surveyed practitioners and found that 24% of respondents claimed to always stick to their budgets, while 21% admitted to always exceeding what is budgeted and 45% sometimes exceed budgeted costs. Meanwhile, 19% of costs lawyers have never seen an application to revise a budget.[ii]
These statistics may dramatically change moving forwards, with ACL Chair, Claire Green, conceding that courts will almost certainly look less favourably on parties that go over budget without attempting to adhere to the reworded Rules and Practice Direction.
Urging solicitors to 'act conservatively at this stage and not take any risks', Ms. Green highlighted that a series of court rulings will be necessary to define, for example, 'significant developments' and 'promptly', in the context of CPR 3.15A.
Nonetheless, speaking at the Costs Law Reports Conference last month, Queen's Bench Master Victoria McCloud gave some indication as to what these undefined terms might imply.
The Master cautioned that 'prompt' would foreseeably be interpreted 'strictly' and without much room for excuse, while 'significant developments' would probably comprehend a scenario wherein a party only envisages exceeding their budget by a small amount.
What is more, she signalled that courts would take an 'unsympathetic' view of a party approaching the court for a revision without first entering into discussions with their opponent.
Transitioning from costs to expert witnesses, we now move on to discuss another important change comprised in the 122nd Practice Direction Update.
The judiciary's intensifying focus on claims fraud and dishonesty over the past couple of years has only served to bolster the reputation of civil contempt proceedings.
As a consequence, the Master of the Rolls and the Lord Chancellor have consented to the Civil Procedure Rule Committee's (CPRC) modification of PD 35 para 3.3, so that experts are now (since 1 October) forced to produce more extensive signed statements of truth that recognise the risk of contempt applications being made against them, should applicants accuse them of having been dishonest.

Earlier this year, barrister and commentator, Gordon Exall, forewarned the significance of this extended expert declaration:
'There is nothing to prevent a party from adopting this wording now. Most reports served at this time, in most civil proceedings, will not reach court until after October 1st. There is no suggestion that reports using the "old" declaration will be nugatory, however it will be prudent to point out the new requirements to all experts in ongoing cases'.[iii]
[i] 'Budget Variation Notice (Precedent T)' (ARC Costs) <https://www.arccosts.co.uk/our-services/precedent-t-budget-variation-notice/> accessed 2 October 2020.
[ii] Neil Rose, 'Budget revision warning as new rules comes into force' (1 October 2020 Litigation Futures) <https://www.litigationfutures.com/news/budget-revision-warning-as-new-rules-comes-into-force> accessed 2 October 2020.
[iii] Gordon Exall, 'CHANGES COMING INTO FORCE IN OCTOBER 1: CHANGES TO THE STATEMENTS GIVEN BY EXPERTS' (29 July 2020 Civil Litigation Brief) <https://www.civillitigationbrief.com/2020/07/29/changes-coming-into-force-in-october-1-changes-to-the-statements-given-by-experts/> accessed 2 October 2020.