Tomorrow, the Fatal Accidents Act 1976 (Remedial) Order 2020 will enter into force.
Back in May of last year (here), we reported that the Ministry of Justice (MoJ) had published A proposal for a Remedial Order to amend the Fatal Accidents Act 1976.
The purpose of the draft Remedial Order, contained within the proposal, was to adjust the restrictive wording of s.1A(2) of the Fatal Accidents Act 1976, which Sir Terence Etherton MR had deemed, in the case of Smith v Lancashire Teaching Hospitals NHS Foundation Trust & Ors (Rev 2) [2017] EWCA Civ 1916, to be incompatible with Articles 8 (right to respect for private and family life) and 14 (prohibition of discrimination) of the European Convention on Human Rights (ECHR), in accordance with s.4 of the Human Rights Act (HRA) 1998.
The claimant, in Smith, was a cohabitee of the deceased and could not be defined as an eligible applicant for bereavement damages, under the existing s.1A(2) list.

As such, the new statutory instrument was prepared to broaden s.1A(2) and enable 'a claimant who cohabited with the deceased person for a period of at least two years immediately prior to the death' to bring a claim for damages for 'bereavement'. It was also foreseen that multiple cohabitants could qualify and under these circumstances, the award would be divided equally.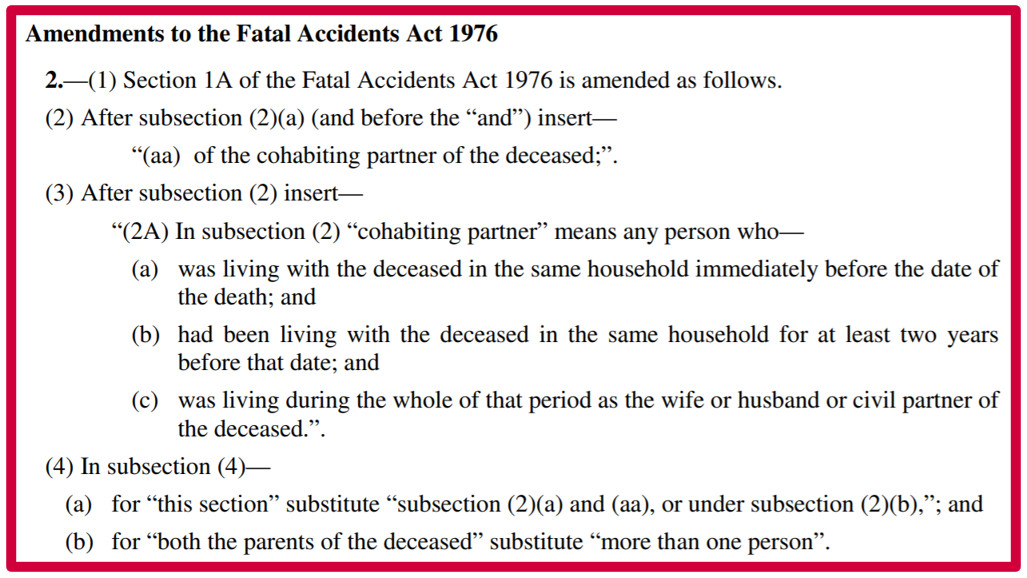 N.B. The fixed compensatory sum for bereavement was increased to £15,120 for claims with a cause of action (i.e. date of death) accruing on or after 1 May 2020, by implementation of The Damages for Bereavement (Variation of Sum) (England and Wales) Order 2020 – we notified our readers of this in edition 306 of BC Disease News (here). For claims with pre-dating causes of action, the sum remains at £12,980.
Of course, the fact that a definitive date of enforcement has now been officially set means that a wider review of the 'bereavement' damages regime, which had been encouraged by the Joint Committee on Human Rights (in their 1st report and 2nd report, dated May 2019 and May 2020, respectively), is not on the cards. Such reform would require primary legislation.
Thus, from 6 October, the incompatibility issue looming over the 1976 Act should be resolved and this is ultimately expected to have a 'small' financial impact on paying parties.
What is unclear, moving forwards, is whether the Government was right to declare that 'the existing provisions on bereavement damages are discriminatory', not least because they were 'only ever intended to … [allow] … a token payment payable to a limited group of people', or whether the Joint Committee was correct to warn that without extended reform, s.1A is 'still vulnerable to human rights challenges', e.g. from:
Cohabitees who were in a permanent'and 'loyal' relationship lasting less than 2-years;
Non-cohabiting partners, who planned not to cohabit until they were married;
Cohabitees stricken by the grievance of divorce;
Fathers grieving the loss of children born outside of wedlock;
Parents grieving the loss of adult or married children;
Children grieving the loss of a parent; and
Siblings grieving the loss of a brother or sister.