On Saturday, The Telegraph revealed that the Industrial Injuries Advisory Council (IIAC) will soon begin investigating neurodegenerative brain disease in professional footballers as an industrial disease, with a view to extending the list of 'prescribed diseases' eligible for industrial injuries disablement benefit (IIDB) payments.[1]
This was confirmed by the IIAC's Annual Report (published 15 July 2020), with the Report's minutes harking back to a news story which was featured in edition 300 of BC Disease News (here), namely that the Jeff Astle Foundation had lobbied the Council for disease classification earlier this year.
In the wake of 'preliminary discussions', Dr. Willie Stewart, the eminent consultant neuropathologist and lead author of the landmark Football's InfluencE on Lifelong health and Dementia risk (FIELD) study,[2] which found that ex-professional footballers are 3.5 times more likely to develop dementia than the general population, has been invited to address the Council's full panel of experts.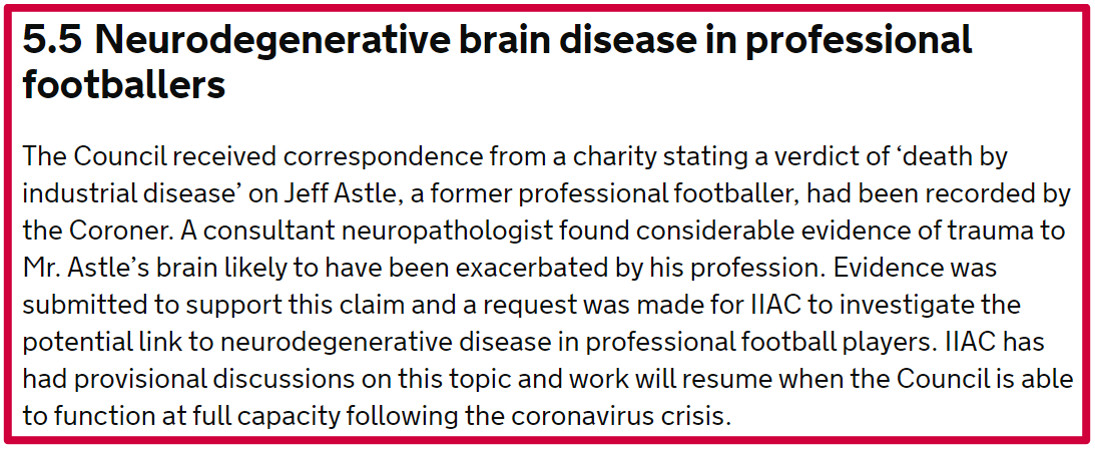 Aside from the planned future work of the IIAC, several other developments on this developing exposure-risk relationship have surfaced in recent weeks, which may foreseeably serve to either intensify or temper calls for disease prescription.
The Scientific Literature Continues to Grow
For instance, an academic paper was recently published in the Journal of Neurology, Neurosurgery and Psychiatry, documenting the first and largest study to-date to explore the relationship between elite level contact sport and post-retirement risk of common mental health disorders.[3]
This was produced by researchers at the University of Glasgow and constitutes the 4th paper to be affiliated with the FIELD study,[4] which was based on a sample of 7,676 brains, donated by Scottish former professionals born between 1900 and 1976.
Despite facing a 3-fold risk of brain disease, members of the study group were less likely to be hospitalised with mental health disorders than the control group (23,000 members of the general population), which may limit the scope of previously drawn links between chronic traumatic encephalopathy (the dementia sub-type under the microscope) diagnoses in American football (NFL) players and mental ill health.
Indeed, the footballers were 50% less likely to be admitted to hospital for anxiety and stress-related disorders, depressive disorder, alcohol use disorders, drug use disorders and bipolar and affective mood disorders, but were no more or less likely to commit suicide.
Dr. Stewart, who co-authored the paper, stressed the importance of their latest discovery:
'… in recent decades there have been suggestions than common mental health disorders and suicide are features of neurodegenerative disease in contact sports athletes. The results from FIELD would suggest this is not the case after all'.
Without elevated prevalence of mental health issues as a precursor symptom to long-term neurodegeneration, it is more difficult to identify those at risk and therefore harder to quantify the scale of the problem (assuming, of course, that there is a problem).
Elsewhere, researchers at Loughborough University's Sports Technology Institute have, under the instruction of the Football Association (FA), learned that leather footballs are up to 40% heavier when wet, meaning that the resultant impact force of heading the ball in the past would have been significantly higher than contact with dry leather footballs or footballs of the modern age.[5]
As such, the gradual transition away from leather footballs in the 1980s has been earmarked as an important time-related focus for upcoming research. If the cumulative sub-concussive impact of heading a football is proven to be the cause of neurodegeneration, does the weight of the ball increase the risk of adverse health consequences versus present day factors, e.g. more intense training, more fixtures, increased velocity of the lighter ball through the air, etc.?
Evidently, there are still many questions left unanswered.
What are the Professional Football Bodies Doing?
Additional to commitments which we have already cited, the FA is funding 2 more projects, which have been designed to detect any early signs of neurocognitive degeneration in former professional footballers. These projects are being undertaken by the University of Nottingham and the London School of Hygiene and Tropical Medicine. They are both scheduled to come to a conclusion by 2022.[6]
What is more, FIFPro, the world players' union, has declared that the introduction of an 'improved' concussion protocol is 'critical' and should be rolled out 'as soon as possible', without delay. In order to make this 'new and permanent global protocol' a reality, the union has advocated for stakeholders to introduce a host of pilot protocols (e.g. using temporary substitutes during a 10-minute diagnosis period with an independent and impartial physician).[7]
Finally, the International Football Association Board (IFAB), which is responsible for overseeing the rules of the professional game, has sought to reassure individuals who are concerned about footballer brain health that, although the COVID-19 pandemic has been the main focus in 2020, 'discussions relating to head injuries and concussions are continuing'.
Questions Asked, as More High-Profile Ex-Professionals Die with Dementia
A month ago, The Mirror reported that:
'Four former footballers [John Talbot (79), Mike Tindall (79), Tommy Carroll (77) and Barry Pierce (85)] with dementia have died within a week amid growing fears that heading the ball may cause brain damage'.[8]
Meanwhile, in July, England 1966 World Cup winner, Jack Charlton, died aged 85. He was the 3rd winner, following Ray Wilson and Martin Peters, with dementia as his cause of death.
The Jeff Astle foundation is currently aware of more than 300 ex-professionals who have been diagnosed with dementia, the oldest players having competed professionally in the 1980s.
Persistent media coverage of footballers being diagnosed with (and/or dying of) dementia is without doubt ramping up pressure on Parliament and governing football authorities to establish or disprove the existence of a work-related disease.
[1] Jeremy Wilson, 'Exclusive: Dementia in football investigated as potential industrial disease' (12 September 2020 The Telegraph) <https://www.telegraph.co.uk/football/2020/09/12/exclusive-dementia-football-investigated-potential-industrial/> accessed 13 September 2020.
[2] Mackay DF et al., Neurodegenerative Disease Mortality among Former Professional Soccer Players. N Engl J Med 2019; 381:1801-1808 <https://www.nejm.org/doi/full/10.1056/NEJMoa1908483?query=featured_home> accessed 12 November 2019.
[3] Russell ER et al., Mental health and suicide in former professional soccer players. Journal of Neurology, Neurosurgery & Psychiatry (2020) <http://eprints.gla.ac.uk/218535/7/218535.pdf> accessed 13 September 2020.
[4] 'FORMER PROFESSIONAL FOOTBALLERS HAVE LOWER RISK OF MENTAL HEALTH DISORDERS' (22 July 2020 University of Glasgow) <https://www.gla.ac.uk/news/headline_730939_en.html> accessed 13 August 2020.
[5] 'Study finds ex-players half as likely to need mental health treatment' (22 July 2020 BBC) <https://www.bbc.co.uk/sport/football/53503084> accessed 13 August 2020.
[6] 'HEAD OF MEDICINE, DR CHARLOTTE COWIE, PROVIDES AN UPDATE ON NEW FIELD STUDY FINDINGS' (22 July 2020 The FA) <https://www.thefa.com/news/2020/jul/22/update-on-new-field-study-findings-dr-charlotte-cowie-220720> accessed 13 August 2020.
[7] Jeremy Wilson, 'Calls for football to introduce temporary concussion substitutes reinforced by latest research findings' (22 July 2020 The Telegraph) <https://www.telegraph.co.uk/football/2020/07/21/calls-football-introduce-temporary-concussion-substitutes-reinforced/> accessed 13 August 2020.
'CONCUSSION PROTOCOL IN PROFESSIONAL FOOTBALL: UPDATE' (21 July 2020 FIFPro) <https://www.fifpro.org/en/health/concussion/concussion-protocol-in-professional-football-update> accessed 13 August 2020.
[8] Warren Manger, 'Four ex-footballers die with dementia in space of a week amid growing heading concerns' (19 August 2020 The Mirror) <https://www.mirror.co.uk/sport/football/news/four-ex-footballers-die-dementia-22548884> accessed 21 August 2020.