The Government of Queensland, Australia, has taken steps to ensure that (from 1 September 2020) mandatory lung screenings are offered to 15,000 workers at quarries and metalliferous mines, where iron ore, copper, tin, nickel, gold, silver and zinc are extracted.[i]
This is additional to the 37,000 compulsory lung screenings already offered to coal miners.
Initial screenings are due to take place on employment start dates, with repeat screenings occurring every 5-years thereafter.
The purpose of the Australian state's initiative is to reduce the number of potentially fatal black lung (coal workers' pneumoconiosis) and silicosis cases. By undertaking more tests, it is likely that fewer cases will go undetected.
Evidencing this, in edition 256 of BC Disease News (here), we reported that the Health and Safety Executive (HSE) had alleged, in its publication: Silicosis and coal workers coal worker's pneumoconiosis in Great Britain, 2018, that:
'Available sources are likely to substantially underestimate the annual incidence of silicosis'.
What is more, when we announced that the All-Party Parliamentary Group (APPG) on Respiratory Health had launched an inquiry into the impact of silicosis on the UK construction industry, in edition of 280 (here), not-for-profit collaborators were quoted as having said that 'silicosis ... still largely goes undetected'.
According to the Directory of Mines and Quarries (DMQ) 2020, there are over 2,000 active mines and quarries in the UK, extricating a wide range of minerals – the DMQ is published by MineralsUK, which is the is the British Geological Survey's (BGS) Centre for Sustainable Mineral Development.[ii]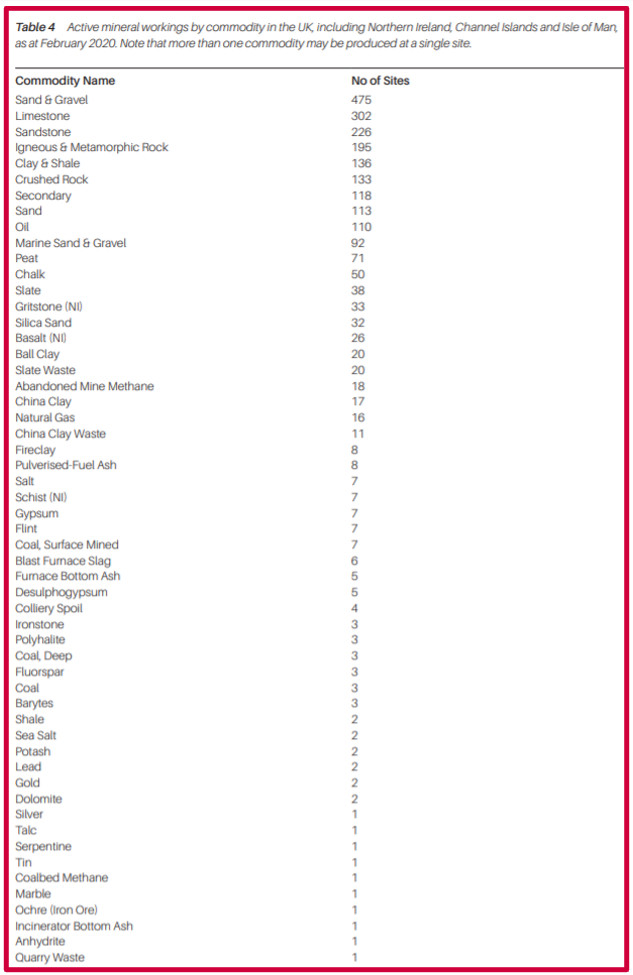 (Source: The Directory of Mines and Quarries 2020)
Even though the UK mining and quarrying sector still comprises of a fully-functioning human workforce, the health surveillance responsibilities for employers appear to be less onerous than in Queensland.
For example, HSE's 2004 publication: Occupational Health management in the Quarry Industry, advises that chest X-rays should only be carried out 'if clinically required', while its 2013 publication: Control of exposure to silica dust: A guide for employees, states that chest X-rays will only be undertaken 'if the doctor feels they are necessary'.
However, in the past year, the UK has been convinced to follow in Queensland's footsteps with the institution of a silica dust register that authenticates full histories of industrial exposures – see edition 283 (here) for more information on the work of Unite the union and Thompsons Solicitors.
The question, moving forwards, will be whether the UK Government and HSE are similarly persuaded to adopt more stringent advice on periodical chest X-rays for workers who are most at-risk of occupational disease.
[i] 'Thousands of metal mine and quarry workers will get free chest x-rays in bid to cut levels of killer lung diseases' (1 September 2020 The Daily Mail) <https://www.dailymail.co.uk/news/article-8683631/Queensland-metal-quarry-workers-free-chest-x-rays.html> accessed 3 September 2020.
[ii] 'Welcome to MineralsUK' (BGS) <https://www.bgs.ac.uk/mineralsUK/home.html> accessed 3 September 2020.