On 20 August 2020, judgment was handed down in the case of Griffiths v TUI UK Ltd [2020] EWHC 2268 (QB).[i]
This decision was an appeal against a September 2019 ruling, which dismissed the claimant's holiday sickness claim (acute gastroenteritis), allegedly contracted through consumption of contaminated food/fluid at an all-inclusive Turkish resort.
The determining factor, here, surrounded an expert report produced by the claimant's consultant microbiologist, Professor Pennington, which dealt with causation ('whether on the balance of probabilities the illnesses in question were caused as a result of staying at the hotel in question and a breakdown in the health and hygiene practises at the hotel').
Despite having been granted permission to obtain their own reports from a nominated gastroenterologist and a nominated microbiologist, by order of Deputy District Judge Parker (dated 13 March 2018), the defendant did not submit evidence in accordance with the court order. A belated application to obtain gastroenterological evidence was subsequently refused, as the defendant's conjoined application for relief from sanctions was unsuccessful.
Whilst the defendant denied the claim in full and disputed where and under what circumstances the claimant had fallen ill, the only evidence on causation which had been submitted in this action was that of Professor Pennington (his report and answers to Part 35 questions); evidence which was 'truly "uncontroverted"', i.e. not challenged or undermined by the opposition (e.g. through calling witnesses of fact, putting in documentary evidence, or undertaking cross-examination).
The report itself was so short that it was described as 'minimalist'.
At 1st instance, Her Honour Judge Truman dismissed the claim (with prospective general damages having been valued at £29,000), on the basis that 'a number of' the assertions made by Professor Pennington were 'bare ipse dixtit' (translated from Latin as 'a dogmatic and unproven statement').
Having failed to supply a range of opinion and having failed to consider and exclude other potential causes of the claimant's condition [which Burnett LJ and Sir Brian Leveson, in Wood & Anor v TUI Travel Plc (t/a First Choice) [2017] EWCA Civ 11, deemed necessary to prove causation in holiday sickness claims], it was concluded that the report was, in some instances, not compliant with CPR 35:
'It is trite law that the burden of proof is on the claimant. It is open to a defendant to sit back and do nothing save make submissions, and if the evidence is not sufficient to satisfy a court on the balance of probabilities, a claimant will not succeed … When causation is clearly in issue, I do consider it incumbent on the medical experts to provide some reasoning for their conclusions'.
On appeal to the High Court, before Mr. Justice Spencer, the claimant submitted that HHJ Truman had erred in rejecting Professor Pennington's evidence, 'in the absence of any evidence, whether expert or otherwise, challenging or contradicting his conclusion', in accordance with Court of Appeal's decision in Coopers Payen Ltd & Anor v Southampton Container Terminal [2003] EWCA Civ 1223, at paragraphs 42 and 67:
'In such circumstances [where there an expert is the only witness on a particular topic] it is difficult to envisage a case in which it would be appropriate to decide this case on the basis that the expert's opinion was wrong.
…
Where a single expert gives evidence on an issue of fact on which no direct evidence is called, for example as to valuation, then subject to the need to evaluate his evidence in the light of his answers in cross-examination his evidence is likely to prove compelling. Only in exceptional circumstances may the judge depart from it and then for a good reason which he must fully explain'.
Claimant counsel further submitted that the expert's report was 'far away from a bare "ipse dixit"', contrary to the judgment of the lower court.
The defendant, on the other hand, contended that HHJ Truman had reached the correct decision at 1st instance. In support of this argument, it was averred that there was no blanket legal precedent in support of the proposition that unopposed evidence must be automatically accepted, or rarely rejected (regardless of its quality).
It proposed a restrictive test, which would ensure that a court could only be forced to accept uncontroverted expert evidence under a restrictive, narrow set of circumstances where there is no 'good reason' not to, namely where the evidence is:
Complete, in the sense that it addresses all relevant issues which need to be considered;
Sufficiently reasoned, to the extent that its conclusions can be understood; and
Not contradicted or undermined by factual evidence.
Applying this recommended test (more constricted than Coopers Payen), the defendant claimed that Professor Pennington's report would only satisfy 1 of the 3 sub-conditions and would not therefore qualify for mandatory acceptance.
More than this, it was said that the report arrived at its conclusions 'so abruptly and with so little reasoning, and with so many issues left in the air and unresolved', that any opinion contained within it had been appropriately labelled as 'bare ipse dixit'.
At the appeal hearing, in July, Spencer J identified tackled issues regarding uncontroverted reports and ipse dixit reports separately and in turn.
When can a court reject an uncontroverted expert report?
With respect to the 1st question, the High Court judge identified that the claimant had been right to cite paragraph 42 of Coopers Payen (quoted above) as authority on the matter of whether (and in what scenarios) uncontroverted evidence may be viewed as worthless.
He went on to reason that Clarke LJ, in that case, must have imagined a stricter set of criteria than the 3-stage test proposed by the defendant in the present appeal:
'In the absence of direct authority on the issue, I take the view that a court would always be entitled to reject a report, even where uncontroverted, which was, literally, a bare ipse dixit, for example if Professor Pennington had produced a one sentence report which simply stated: "In my opinion, on the balance of probabilities Peter Griffiths acquired his gastric illnesses following the consumption of contaminated food or fluid from the hotel … However, what the court is not entitled to do, where an expert report is uncontroverted, is subject the report to the same kind of analysis and critique as if it was evaluating a controverted or contested report, where it had to decide the weight of the report in order to decide whether it was to be preferred to other, controverting evidence such as an expert on the other side or competing factual evidence. Once a report is truly uncontroverted, that role of the court falls away. All the court needs to do is decide whether the report fulfils certain minimum standards which any expert report must satisfy if it is to be accepted at all'.
In his judgment, Spencer J found that the minimum threshold for acceptance of evidence in a case must be 'substantial compliance' with paragraph 3 of Practice Direction (PD) 35, which addresses the form and content of an expert's report:
'… it is no part of the Practice Direction that an expert, in providing a summary of the conclusions reached, must set out the reasons for those conclusions and it would be harsh indeed for a court to find that, despite the terms of the Practice Direction, a report failed to meet the minimum standards required for the report to be accepted in evidence because it did not set out the reasoning leading to the conclusions. In my judgment, the law does not so require. Of course, a failure to set out the reasoning might diminish the weight to be attached to the report but, as I have stated, at this stage the weight to be attached to the report is not a consideration: that only arises once the report is controverted. It may be that, had the Defendant served controverting evidence, Professor Pennington would have expanded upon his reasoning, for example in a meeting of experts, and such reasoning would have found its way into a joint statement. As it turned out, that step never became necessary because the evidence of Professor Pennington stood alone. Nor did the Defendant seek to challenge the reasoning that might have lain behind Professor Pennington's conclusions by calling for him to be cross-examined, as it had every right to do. In those circumstances, the court must assume that there is some reasoning which lies behind the conclusion which has been reached and summarised, and that this reasoning is not challenged'.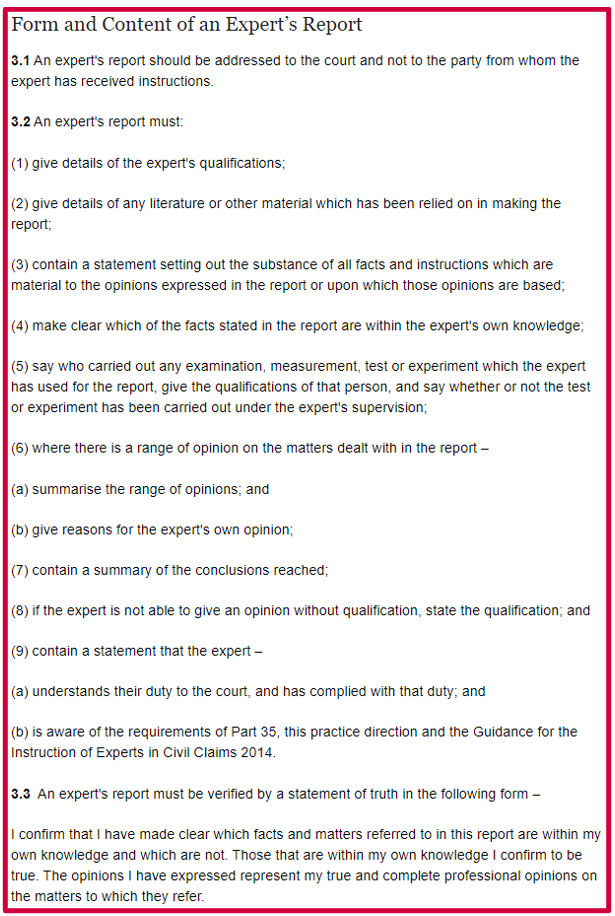 If an uncontroverted report can be rejected, was the court entitled to do so on the basis that it was ipse dixit (or otherwise so deficient)?
Given the judge's determination on the 1st question, it was not necessary to provide an answer to the 2nd question.
In spite of this, Spencer J admitted that, whilst the report did comprise of 'serious deficiencies' (full reasoning and explanations were not set out) and whilst these deficiencies could have caused 'serious embarrassment' had the report been controverted, 'it was not fair to characterise the opinion of the expert as bare ipse dixit'.
Analysing the language used by Supreme Court Justices Reed and Hodge, who presided over the case of Kennedy v Cordia (Services) LLP (Scotland) [2016] UKSC 6, he reasoned that Professor Pennington 'went a long way towards substantiating his opinion by his consideration of the matters referred to'. His report could therefore not be described as 'bare' or 'unsubstantiated', carrying little weight and amounting to 'worthless' ipse dixit, as their Lordships had envisaged. In fact, the High Court judge went further, boldly stating, at paragraph 38:
'… I doubt whether any report and opinion from an expert which substantially complies with the Practice Direction to CPR Part 35 could ever justifiably be characterised a mere ipse dixit'.
All things considered, therefore, Spencer J found in favour of the claimant, allowing the appeal and overturning the trial judge's ruling.
Full text judgment can be accessed here.
[i] Nick Hilborne, 'Courts cannot critique "uncontroverted" expert reports' (25 August 2020 Litigation Futures) <https://www.litigationfutures.com/news/courts-cannot-critique-uncontroverted-expert-reports> accessed 25 August 2020.