Part 2 of the Overseas Operations (Service Personnel and Veterans) Bill, which had its 1st reading in the House of Commons on 18 March 2020, will (pending Royal Assent) amend s.33 of the Limitation Act 1980 to limit the court's discretionary power to disapply time limits for civil claims brought against the Ministry of Defence (MoD) by (ex-)service personnel, in respect of personal injuries or death, which relate to overseas operations of the armed forces ('overseas armed forces actions').

Perhaps the most significant amendment proposed by the draft legislation is that it would insert, into s.33(1) of the 1980 Act, the clause:
'The court shall not under this section disapply any provision of section 11 in its application to an overseas armed forces action if the action was brought after the expiration of the period of six years from the section 11 relevant date' (pursuant to Schedule 2 of Part 1 of the Bill).
In practice, what would this mean for a soldier who wished to commence legal action after developing a condition with a long latency period, such as noise-induced hearing loss or asbestos-related disease, owing to exposure in the course of their employment outside of the British Islands? Well, as usual, they would have 3-years from their 'date of knowledge' (this would ordinarily be acquired later than the 'cause of action' in such claims) to bring a claim in time.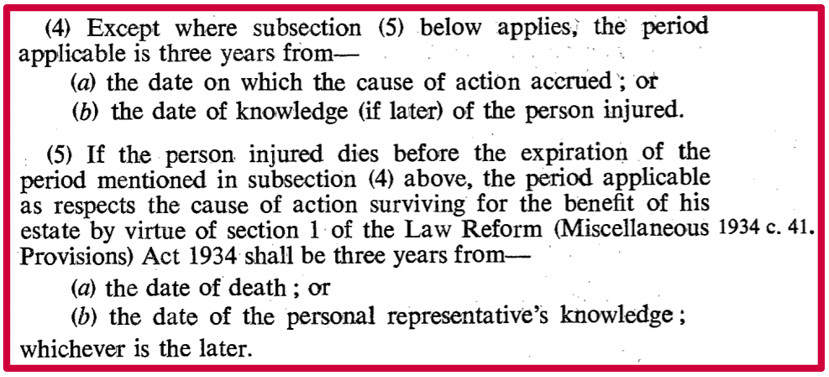 Thereafter, they would have 3-years to bring a claim out of time, subject to the success of a s.33 application. Once 6-years from the 'date of knowledge' has elapsed, the Courts would no longer have jurisdiction to hear the claim on an indefinite basis. That being said, the claimant would (if they had not already) hypothetically still have an additional 365-days to seek redress under the no-fault Armed Forces Compensation Scheme (AFCS), which sets a 7-year limitation period.

Although the purpose of this new Bill is to 'stop vexatious and repeated claims' against the MoD,[i] it has already been fiercely opposed by some ministers.[ii]
This is despite the fact that, at a recent Commons debate, which took place on 16 July, Junior Defence Minister and author of the Bill, Johnny Mercer, rejected accusations that the Government was seeking to circumvent/frustrate the ability to bring military compensation claims 'because it [the 6-year limit] is not from the point of when the injury happened or the incident that caused the injury; it is from the point of awareness or the point of diagnosis … I will be honest that I cannot, off the top of my head, think why individuals would be diagnosed and choose not to do anything about it, then choose to do something about it much later.'[iii]
Responding to Mr. Mercer MP's comments, SNP Minister, Carol Monaghan, described the proposal as an 'attack' on personnel and veterans and went on to caution:
'I know that the minister said this morning that the six-year limit is from the point of diagnosis, but the culture in the military means that some personnel are told that they are unable to pursue a claim while they are serving, or told by those higher up the chain of command that they do not have a valid claim'.
Hilary Meredith, owner of claimant firm, Hilary Meredith Solicitors, which specialises in military compensation claims, has also spoken out on the potential impact of the Bill on prospective claimants:
'The proposed six-year longstop on civil claims in this legislation will significantly disadvantage those who have served abroad – particularly service personnel and veterans who go on to suffer PTSD, which is often not diagnosed until several years after the event.
It is totally unacceptable for the Government to legislate to deny those who put their lives on the line for our country overseas the same employer liability rights as the UK civilians they defend.
While I welcome legislation to protect our veterans from the relentless cycle of criminal reinvestigations … the Government is giving with one hand and taking away with the other.
The solution is very simple – introduce a long stop on criminal prosecutions and leave civil time scales as they are. Soldiers should not be penalised because they have served overseas. It is totally unfair'.[iv]
Stay tuned for updates on the Bill's progress through Westminster in future editions of BC Disease News. At present, though, the 2nd reading in the Commons is yet to be announced.
[i] Danielle Sheridan, 'Overseas Operation Bill to protect British veterans criticised for being "MoD protection" in parts' (15 July 2020 The Telegraph) <https://www.telegraph.co.uk/news/2020/07/15/overseas-operation-bill-protect-british-veterans-criticised/> accessed 17 August 2020.
[ii] John Hyde, 'Limitation changes "not an attack on veterans", says forces minister' (27 July 2020 Law Gazette) <https://www.lawgazette.co.uk/news/limitation-changes-not-an-attack-on-veterans-says-forces-minister/5105166.article> accessed 17 August 2020.
[iii] 'British Overseas Troops: Civil Liability Claims' HC Deb 16 July 2020, Volume 678. <https://hansard.parliament.uk/Commons/2020-07-16/debates/3E07526B-72EC-4FDB-9898-A3CA6E103428/BritishOverseasTroopsCivilLiabilityClaims#contribution-3EA93A10-BC11-4667-830E-811648B67DB8> accessed 17 August 2020.
[iv] 'Overseas Operations Bill – House of Commons debate demonstrates why legislation needs urgently amending' (16 July 2020 Hilary Meredith Solicitors) <https://hmsolicitors.co.uk/overseas-operations-bill-house-of-commons-debate-demonstrates-why-legislation-needs-urgently-amending/> accessed 17 August 2020.