The Diffuse Mesothelioma Payment Scheme (DMPS), established by virtue of s.1 of the Mesothelioma Act 2014, is a tariff-based (age at diagnosis-based) strict liability regime that provides compensation for mesothelioma victims (and their dependants) that are unable to bring a civil liability claim in negligence.
On 2 April 2020, the Upper Tribunal gave some additional guidance on the intended scope of the statutory award scheme when it published its decision in the case of DP v Topmark Claims Management Ltd [2020] UKUT 0106 (AAC).
The facts of this case centred around a care home worker, who died of mesothelioma-related causes aged 37, in September 2014. It was alleged that she had been exposed to asbestos in the course of her employment.
Shortly after the deceased was diagnosed with the condition (March 2014), solicitors were instructed with a view to advancing an industrial disease claim. However, it was not until September 2016 that the claimant widower was informed by legal representatives that there was insufficient evidence to commence legal proceedings against his wife's former employer, even though the inquest into her death concluded that she had been exposed to asbestos in the workplace. Although the claimant was referred to another claimant firm, it was not possible to start proceedings before the limitation period expired, in September 2017.
In the interim, the claimant sought compensation on behalf of the deceased under the DMPS. However, his application was initially refused and subsequently upheld on appeal to the First Tier Tribunal (FTT). The claimant had been unsuccessful because he was not 'unable' to pursue a civil claim when the DMPS assessed his application ('the date of the decision under appeal'). In essence, the claimant was not deemed to be an 'eligible dependant', under s.3(1) of the 2014 Act.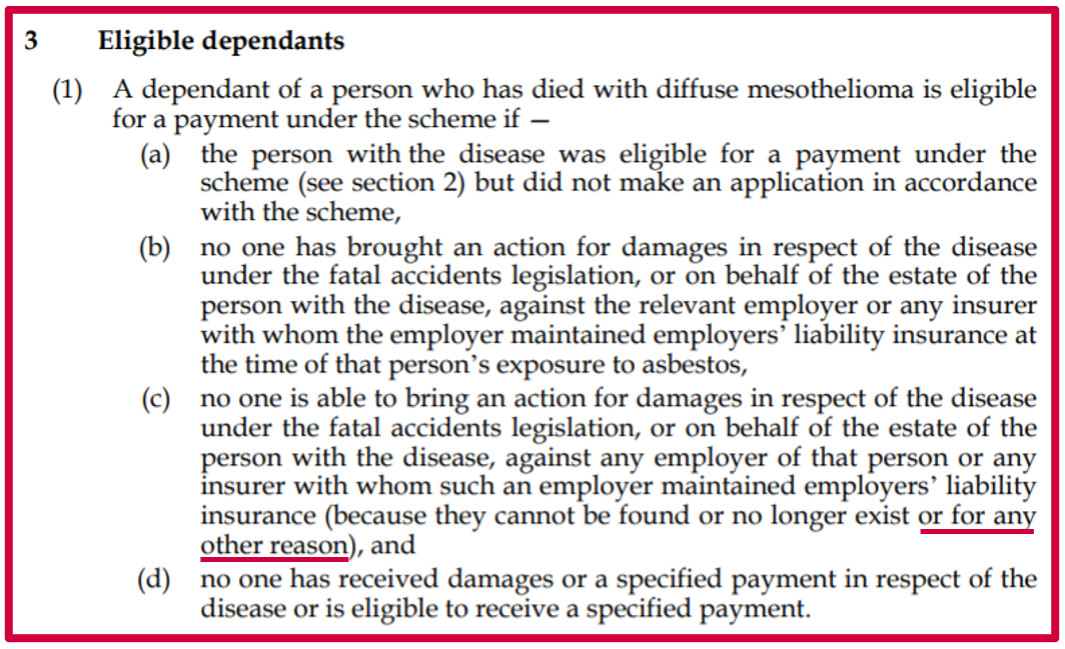 Having obtained permission to appeal to the Upper Tribunal, the claimant's case rested on the principal submission that once the limitation period had expired, he was not 'able to bring an action for damages … for any other reason', per s.3(1)(c), and was therefore eligible for the a DMPS award.
Is Regulation 7 of The Diffuse Mesothelioma Payment Scheme Regulations 2014 Exhaustive?
The mirror provision for s.3(1)(c) in the 2014 Regulations is Regulation 7 and this makes no reference to 'any other reason' – does this mean that Regulation 7 is an exhaustive list of reasons why a person cannot bring an action, i.e. exhaustive of 'any other reason', in s.3(1)(c)?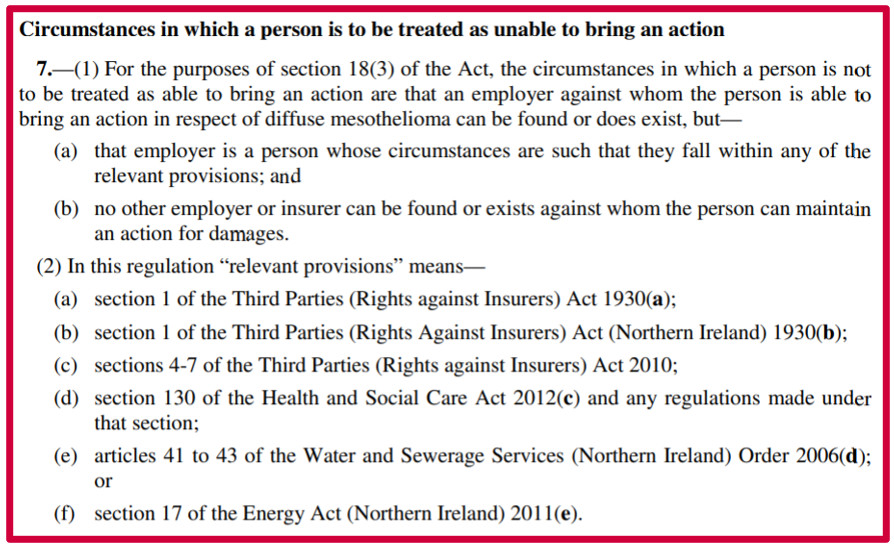 Upper Tribunal Judge Markus QC, when dealing with this first question, found that Regulation 7 was prescriptive of certain circumstances which constitute 'any other reason', but was not exhaustive.
What is more, s.18(3) of the 2014 Act contains the conditional modal verb, 'may', which 'leaves open the possibility of other circumstances which are not specified', strengthening the finding that circumstances which are specified in the legislation are not exhaustive.

What Does 'Any Other Reason' Mean?
Once it was determined that Regulation 7 was not exhaustive of 'any other reason', it was necessary to determine what 'any other reason' actually means.
Counsel for the appellant suggested a 'natural' interpretation, i.e. that 'any other reason' could be defined by 'any reason'.
However, Judge Markus QC observed that this could not be supported by the language of the legislation. If the meaning of 'any other reason' were to be without limit, then why would it refer to specific reasons in the same breath as 'any other reason'?
The Tribunal, in regards to this 2nd question, took inspiration from paragraph 26 of the Department for Work and Pensions' (DWP) Memorandum, which was written before the predecessor Bill was introduced:
'… there are a number of different reasons why a person may be unable to bring proceedings against a former employer or that employers' Employers' Liability Insurance ("EL") insurer for example where the employer has gone bankrupt or been wound up or otherwise ceased trading, or where the identity of his EL insurer is unknown or the policy document cannot be traced, but it is very difficult to predict in advance what all those reasons may be and it would be very complex to try to do so'.
From this, it was construed that 'any other reason' was to be defined as any circumstance where a judgment against a tortfeasor or insurer could not be satisfied, e.g. through insolvency, dissolution, etc.
Thus, 'any other reason' was concerned with the circumstances of the putative defendant (as is inferred by the specified reasons) and was not intended to extend to a 'wholly different kind' of reason to the specified reasons.
What if the Upper Tribunal's Interpretation of 'Any Other Reason' Was Wrong?
In the course of answering this 3rd question, Judge Markus QC considered whether, had his construction of 'any other reason' been wrong, the appellant could be regarded as not 'able to bring an action', on account of their claim being statute-barred.
He began by expounding that the Mesothelioma Act had been drafted in such a way that it created a 'scheme of last resort'. Rather than affording an 'alternative' remedy (to a civil remedy), the 2014 Act was designed to produce a different result from that delivered by the civil justice system.
The judge went on to clarify, more specifically, that claims are not automatically barred when the limitation period expires. He did so by quoting Kay LJ, at paragraph 65 of Cain v Francis [2008] EWCA Civ 1451:
'The effect of the limitation provision was not to extinguish the claimant's right of action, only to bar his remedy'.
A claimant may bring an action out of time, despite the availability of a limitation defence, but their success will of course be dependent upon a judge's willingness to exercise their s.33 discretion and disapply the limitation period:
'Had Parliament intended that the Scheme should be available where a claim was barred by the Limitation Act, it would have said so'.
In the round, Judge Markus QC was persuaded to reject the appellant's submission that being statute-barred left him unable to bring a claim, for the purposes of s.3(1)(c) of the 2014 Act.
N.B. earlier in the judgment, it was settled that, in the absence of legislative guidance, the FTT should have approached the appellant's DMPS appeal on the basis of the circumstances as they were at that time, i.e. not 'the date of the decision under appeal'.
Nonetheless, even if the FTT had been correct in its approach, the Upper Tribunal agreed with the lower court that facing 'practical difficulties' when bringing a claim in time does not mean that a claim cannot be brought. Again, the judge emphasised that the DMPS does not provide an 'alternative route' to civil litigation.
Consequently, the appellant's appeal was dismissed.
Full text judgment can be accessed here.
This was the first time that the Mesothelioma Payment Scheme had been considered at an appellate hearing.[i]
Dismissal of the appellant's case will undoubtedly have had some impact on the complexion of the mesothelioma claims market.
Had Judge Markus QC interpreted 'able to bring an action' or 'any other reason' more widely, e.g. to encompass statute-barred claims, or in-time claims which had been compromised in some way, it is less likely that he would have laboured the point that DMPS payouts do not represent an 'alternative' to civil compensation.
Theoretically, this might have led to more mesothelioma victims attempting to pursue statutory compensation claims, in-turn reducing the number of civil claims advanced.
[i] Charles Bagot QC, 'Mesothelioma compensation scheme considered at appellate level for the first time: Charles Bagot QC represented the appellant widower pro bono via the Free Representation Unit' (2 June 2020 Hardwicke Chambers) <https://hardwicke.co.uk/mesothelioma-compensation-scheme-considered-at-appellate-level-for-the-first-time-charles-bagot-qc-represented-the-appellant-widower-pro-bono-via-the-free-representation-unit/> accessed 8 June 2020.