The 3-year hiatus of the Northern Irish Assembly (known as Stormont) had resulted in a substantial backlog on policy. In some respects, this was seen as a lucky escape for the devolved power, as it had seemingly slept through the personal injury discount rate (PIDR) furore that England, Wales and Scotland had endured.
It would have come as a shock to many, therefore, to read our announcement, in edition 305 of BC Disease News (here), that Northern Ireland's Minister for Justice was proposing to revise the rate down (under the existing legal framework) to (-)1.75% from 2.5%. Officials were asked to undertake a statutory consultation with the Government Actuary's Department (GAD) and the Department of Finance (DoF), which is still ongoing.
To gauge how significant an impact this change (if accepted) could have on compensators, see our worked 'loss for life' example [based on estimated Ogden (new 8th Edition) multipliers for the proposed (-)1.75% rate], below.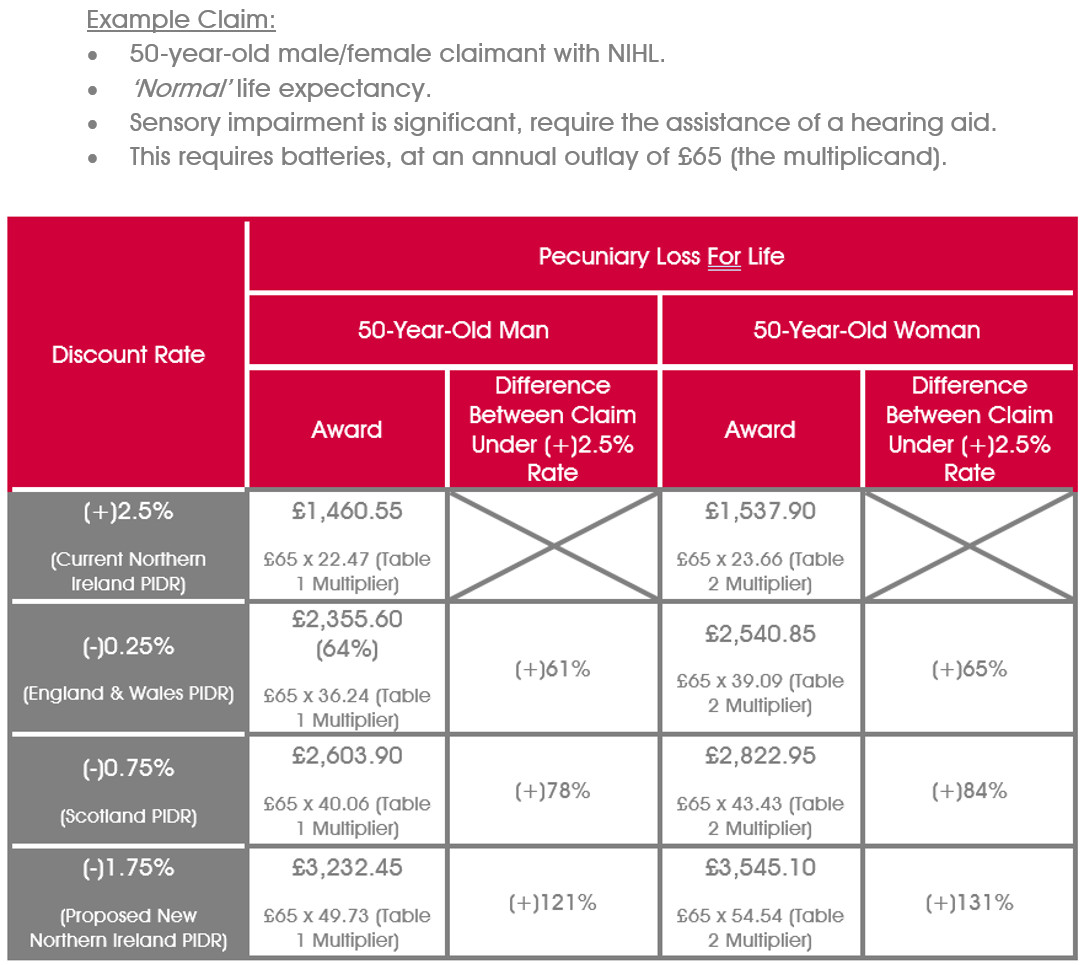 Concurrently, it was hinted that there could be a separate review into how the PIDR is set in Northern Ireland, i.e. a review of the existing legal framework upon which the (-)1.75% proposal is constructed.
Sure enough, on 17 June 2020, The Department of Justice opened a public consultation (alongside an impact assessment), seeking views on whether a new legal framework should be established to determine the PIDR moving forwards, i.e. not in accordance with the current Damages Act 1996 approach, which imported the House of Lords' assumption, in Wells v Wells [1998] UKHL 27, that claimants invest their lump sum damages extremely cautiously in 'very low risk' index-linked Government gilts:[i]
'We do not think there is any reason to believe that the investment decisions of claimants in Northern Ireland are likely to be significantly different from those made by claimants in other jurisdictions. The Department therefore considers that, while claimants in Northern Ireland should continue to be assumed to be more risk averse than ordinary investors, the discount rate in this jurisdiction should also now be set to reflect more closely how they invest in reality, so as to better protect against the risk of over-compensation, and any potential unfair financial burden on public bodies, businesses and consumers' (para 3.13 of the June 2020 consultation document).
Table from Impact Assessment, Identifying Non-Monetised Costs and Benefits of Hypothetical Discount Rates, Set With Reference To ILGs (Option 1) and 'Low Risk' Investments (Option 2):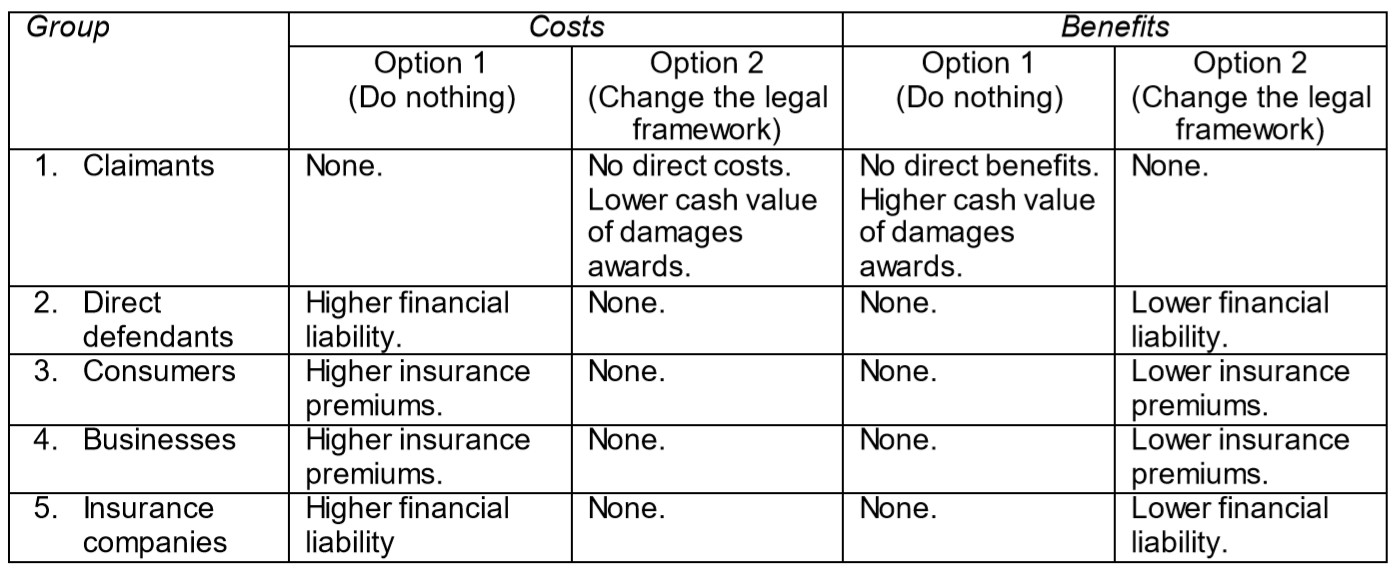 (Source: Department of Justice)
Interested parties have been encouraged to give their opinions on (1) Northern Irish claimant investment decisions and (2) the connection between the PIDR and Wells v Wells, either by filling out a survey, or by sending responses via This email address is being protected from spambots. You need JavaScript enabled to view it..
The consultation is due to close on 14 August 2020 and a summary of responses will be reported in due course.
Assuming that the proposed (-)1.75% PIDR is adopted without delay, commentators consider that the relevant secondary legislation could be implemented by Autumn of this year, at the earliest.[ii]
If so, this could mean that a negative discount rate would be in place while the public consultation into the 1996 Act is being completed (realistically taking many months or even years) and would continue to have effect unless and until newly drafted primary legislation was introduced to overturn the existing legal framework that underpins the PIDR.
That being said, the stalling impact of COVID-19 on civil justice, should it continue, may serve to mitigate some short-term fiscal damage caused during this interim period.
[i] 'Consultation personal injury discount rate how should it be set' (Department of Justice) <https://www.justice-ni.gov.uk/consultations/consultation-personal-injury-discount-rate-how-should-it-be-set> accessed 20 June 2020.
[ii] Louise Butler and David Johnson, 'Northern Ireland Personal Injury Discount Rate Update' (18 June 2020 DAC Beachcroft) <https://www.dacbeachcroft.com/en/gb/articles/2020/june/northern-ireland-personal-injury-discount-rate-update/> accessed 20 June 2020.