On 18 March 2020, the Solicitors Regulation Authority (SRA) published the agreed outcome of a decision on professional misconduct, in the interests of transparency in the regulatory and disciplinary process.[i] It serves as an important reminder to practitioners and legal business owners of the suitable penalty facing unqualified persons that reach settlement without first obtaining authority from their clients.
Vijay Parekh undertook 14 years of employment as a paralegal in a regulated law firm.
Last year, he acted for a client in relation to a claim for personal injury, which had been valued by counsel at £33,750, thereby encouraging offers between £30,000 and £35,000
In spite of this, Mr. Parekh made an offer of settlement for £25,000, on 9 January 2019, without the instruction or authority of his client.
This offer was subsequently accepted by the defendant's solicitors.
Exploiting the fact that his client was oblivious both to the offer acceptance and to counsel's independent valuation of the claim, Mr. Parekh purported, in an email dated 10 January 2019, that the offer had been made by the opposing party. He went on to mislead his client into believing that counsel's valuation was £5,000 less (£30,000) and that it was advisable to accept the 'defendant's' £25,000 offer, given that a court could assess damages in the region of £24,000 to £26,000.
Adhering to legal advice, the client 'accepted', completely unaware that the purpose of 'accepting' was essentially to provide retrospective validation of the offer made on their behalf.
After an internal investigation into this matter was launched by his employer, Mr. Parekh resigned with immediate effect.
As for disciplinary proceedings, the SRA found that Mr. Parekh had 'occasioned or been party to an act or default in relation to a legal practice'. Thus, it was 'undesirable for him to be involved in a legal practice because it shows that he has been dishonest, may mislead his clients and act without their authority'.
On this occasion, he admitted to having acted 'dishonestly', but a subsequent audit of files found that the incident in question was a solitary example of misconduct.
Irrespective of mitigating behaviour, the SRA considered it appropriate to exercise its discretionary power to regulate unqualified individuals involved in legal practice, by making an order, pursuant to s.43 of the Solicitors Act 1974.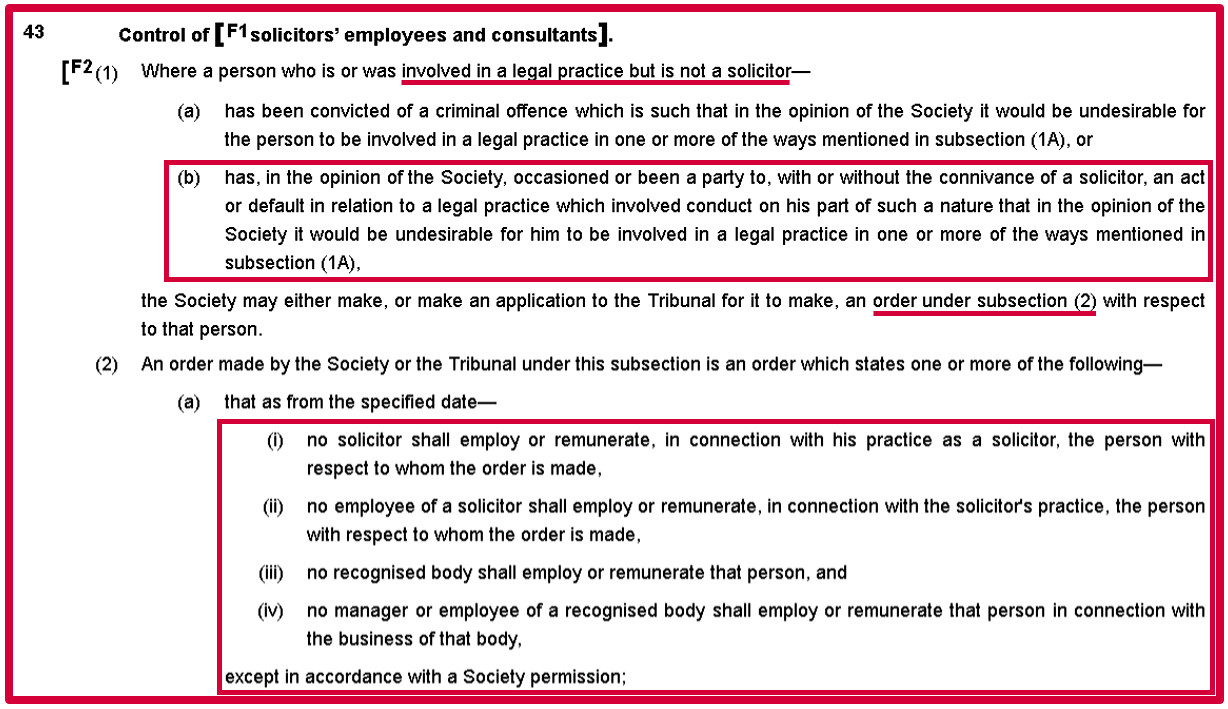 The effect of this order was to ban the former paralegal from working at a regulated firm, devoid of SRA permission, from 18 March 2020 onwards.
Mr. Parekh also agreed to pay the SRA's costs of its investigation, in the sum of £300.
[i] 'Vijay Parekh' (18 March 2020 SRA) <https://www.sra.org.uk/consumers/solicitor-check/437131/> accessed 20 April 2020.
Neil Rose, 'Paralegal banned for settling PI claim without authority' (20 March 2020 Litigation Futures) <https://www.litigationfutures.com/news/paralegal-banned-for-settling-pi-claim-without-authority> accessed 17 April 2020.
John Hyde, 'Paralegal banned after under-settling claim without authority' (25 March 2020 Law Gazette) <https://www.lawgazette.co.uk/news/paralegal-banned-after-under-settling-claim-without-authority/5103581.article> accessed 17 April 2020.