Two weeks ago (here), we recapitulated the case of Cartwright v Venduct Engineering Limited [2018] EWCA Civ 1654, in which BC Legal helped to establish that, in 'mixed success' multi-defendant personal injury (PI) proceedings, a triumphant defendant may enforce its costs against a claimant, up to the level specified by an 'order for damages' against an unsuccessful, paying defendant.
Our reason for doing so was that the Civil Procedure Rule Committee (CPRC) had just finished considering whether CPR 44.14(1) should also encompass compensation paid by Tomlin orders and Part 36 offers, which could not be described as 'orders for damages'.

In this article, we move on from enforcement (effectively set-off) of costs against damages, under CPR 44.14(1), to assess whether defendants can similarly set-off costs against costs.
In other words, can a defendant, entangled in PI claims where qualified one-way costs shifting (QOCS) applies, set-off costs (that it has been ordered to pay to a claimant) against awards for costs (in its favour)?
We consider this issue, in light of the recently decided case of Faulkner v Secretary of State for Business, Energy And Industrial Strategy [2020] EWHC 296 (QB).
The brief facts were as follows.
A claim was brought against a defendant former employer (the Government), which had exposed the claimant to tortious levels of occupational dust and allegedly caused him to develop lung disease.
At a case management conference (CMC), which ordered a trial of preliminary issue (on diagnosis and causation), the defendant was awarded costs of £3,500 [of course, these were not enforceable, due to the application of QOCS].
Before the trial took place, however, the claimant discontinued against the single defendant party, safe in the knowledge that its liability for costs was protected.
Consequently, the defendant applied to set aside the notice of discontinuance (with a view to disapplying QOCS), but this was unsuccessful and the defendant was ordered to pay the claimant's costs of the application hearing, which amounted to £7,000.
In this scenario, was it possible for the claimant's costs to be set-off against the costs that the defendant was awarded at the CMC, so that the defendant's total liability was reduced to £3,500 (£7,000 minus £3,500)?
Whilst the claimant contended that such a mechanism was not comprised in CPR 44.14(1), as costs are plainly not 'orders for damages and interest', the defendant submitted that the court had the power to circumvent QOCS by ordering a set-off against costs, under CPR 44.12(1).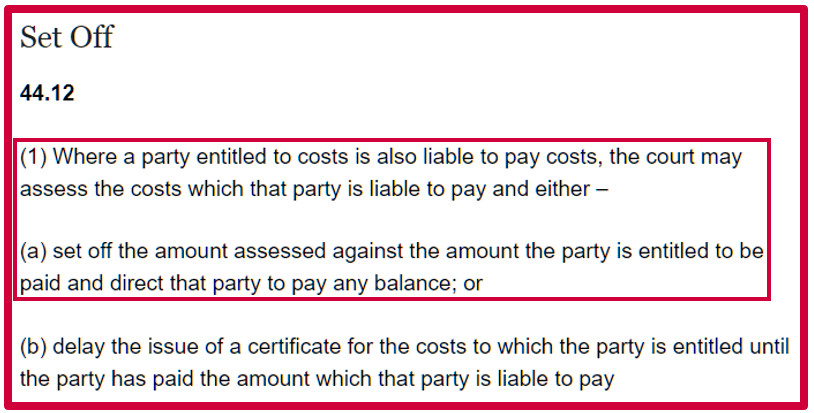 If the court was bestowed with such a power, the claimant argued that the court retained a residual discretion not to exercise it.
This issue was fell to be determined by Mr. Justice Turner, at the High Court, and judgment was handed down on 18 February 2020.
Can costs be set-off against costs in QOCS-protected claims?
In support of his argument, the claimant cited the factually comparable case of Darini & Anor v Markerstudy Group (24 April 2017, Central London County Court), which we summarised in edition 191 (here). On that occasion, His Honour Judge Dight determined that costs could not be set-off against costs, for the following reason:
'Section 2 (that is Rules 13, 14, 15 and 16) [of Part 44] is, in my judgment, a self-contained code to the extent that it gives QOCS protection to personal injury claimants. It is to be contrasted to section 1 of Part 44 and, notwithstanding the absence of words such as "subject to", it seems to me that it necessarily creates a different procedural environment for the costs of personal injury claims' [paragraph 22 of Darini].
Contrast Darini against Howe v Motor Insurers' Bureau (No 2) [2017] EWCA Civ 2523, in which Lord Justice Lewison found that the court had jurisdiction, by virtue of CPR 44.12, to order a 'set-off of costs'.
Rather than seeing 'set-off' as a 'species' of 'enforcement', the Court of Appeal segregated 'set-off' and 'enforcement' as separate processes. This was substantiated by the fact that:
'... Part 44.14 enables enforcement without the permission of the court, whereas 44.12 requires the permission of the court or at least a court order in order for one set of costs to be set off against another'.
In these circumstances, Turner J declared that Howe was the binding authority on this issue and Darini was therefore no longer good law:
'... it would be an act of hubris on my part to embark on any discussion concerning which of the two irreconcilable decisions is academically the more compelling.
...
It must follow that the defendant succeeds on this issue'.
Should the court exercise its residual discretion to thwart set-off?
Unlike the primary issue (whether set-off of costs is possible), it could not be said that there was conflicting case authority on this auxiliary issue. There was no aspect of Lewison LJ's judgment, in Howe, which was capable of casting doubt over the soundness of the approach employed in Darini.
HHJ Dight had heard full arguments on the issues relevant to the exercise of discretion and would have exercised his discretion to overturn set-off, if required:
'But for the defendant's application, the position would have been simple. The claim had been discontinued, the defendant's ability to enforce the deemed costs order in its favour by virtue of CPR 38.6 would have been effectively nil.
It cannot be correct that a defendant is able ... to bring an unsuccessful application which is dismissed with costs but, as a result, places the claimants in a worse position than they would have been but for that application. The application has been brought and has caused the claimants to incur additional costs. The court has held that the claimants should be entitled to those costs in principle, thereby placing the claimants back in the position they would have been but for the application. However, the effect of the set-off is then to prevent the claimants from being placed back in that same position, but rather to leave them effectively paying their own costs for the defendant's failed application'.
Observing the 'obvious danger' of laying down general rules on the exercise of 'procedural discretion', which is intended to provide 'flexibility ... in circumstances of infinite potential permutation', Turner J identified that when exercising discretion to set-off costs against costs, 'each case must be decided on its own facts'.
In short, depending on the material facts of the case, sometimes set-off will be appropriate and other times, it will not.
Faulkner happened to be a case where discretion was exercised against the defendant's attempted set-off, thereby entitling the claimant to gross costs of £7,000.
Although the claimant's evidence was 'vulnerable', such that the defendant would have been 'fairly confident' of success at the trial of preliminary issue, the 'strength' of the defendant's case did not amount to a CPR 44.15 QOCS exception (no reasonable grounds/abuse of process/obstruction of just disposal).
Thus, the defendant's application to set aside the claimant's discontinuance could only be described as 'very weak', while its prospective application for strike out was 'doomed to failure'.
'... the ... notice of discontinuance ... albeit served late in the day, had had the effect of saving it [the defendant] money.
I can well understand the defendant's frustration that the notice was not served earlier but the resilience of the QOCS regime is such as to limit very strictly the inroads which can be made into the scope of its application'.
Full text judgment can be accessed here.