An unfortunate by-product of qualified one-way costs shifting (QOCS) is that defendants (and their insurers) often incur costs to defend tenuous personal injury (PI) claims that will foreseeably discontinue late in the day. Defendants recognise that their costs, until the receipt of discontinuance, are as good as 'wasted'. Meanwhile, opportunistic claimants, with protected costs liability, recognise that brokering early settlement may be cheaper for defendants than winning at trial.
In these circumstances, are discontinuances truly commendable, or should defendants be pushing harder for wasted costs and/or QOCS disapplication?
Probative commentary on this subject was recently delivered by District Judge Robinson, in the County Court case of Hoy v Secretary of State for the Department of Transport (2019).
Our special thanks are due to Damian Powell,[i] of Ropewalk Chambers, for supplying BC Legal with a copy of the full-text judgment.
FACTS OF THE CASE
Hoy regarded a noise-induced hearing loss (NIHL) claim, which had been listed for multi-track trial, from 15 to 17 July 2019.[ii]
The bone of contention in this case was causation, i.e. whether the claimant's noise exposure, between 1972 and 1976, had caused or materially contributed towards the hearing loss.
Both parties instructed ear, nose and throat (ENT) Consultants to provide expert medical reports – Mr. Cox (for the claimant) and Mr. Johnson (for the defendant).
While Mr. Cox indicated that the claimant could be diagnosed with NIHL, notwithstanding evidence of asymmetrical hearing loss (AHL), Mr. Johnson did not.* What is more, Mr. Cox disagreed with Mr. Johnson, in having concluded that the claimant's calculated NIHL was not de minimis non curat lex.
Together, the experts prepared a joint statement for the Court (dated 3 June 2019). There was some consensus over the implications of asymmetrical hearing loss detection and it was agreed that supplementary MRI scans would be required to rule out alternative pathology. These scans, however, were never arranged by Walker Prestons Solicitors (the claimant's solicitors).
Vis-à-vis the extent of the claimant's actionable injury, neither expert was inclined to budge from their original positions expressed in the joint statement.
On account of the disparate medical opinion shared, DJ Cook granted permission for both parties to call their experts to give oral evidence at trial, by order of 10 June.
However, just 3-days after the order was made (13 June), Walker Prestons informed the defendant's legal representatives that its expert would not be called 'merely to be present' and would therefore not be attending trial.
The claimant firm advised that the upshot of this arrangement would be that Mr. Johnson would respond to Mr. Cox's reports on cross-examination by claimant counsel.
Having emailed Walker Prestons to find out who had been instructed as counsel, the defendant's solicitors received a response, on 8 July, which named a specific barrister from a set of Chambers in Middlesbrough as 'attending the hearing' (use of the affirmative verb, 'is', was deemed to be especially relevant).
Armed with this information, appointed defendant counsel (Rochelle Rong, of Ropewalk Chambers) attempted to exchange skeleton arguments with opposing counsel on the final working day before trial (12 July), but were soon made aware that no counsel had been instructed. The purported barrister's clerk verified that he was, in fact, unavailable on the dates of trial.
Then, in a somewhat inevitable twist, just 1-hour before the close of business (4pm), Walker Prestons filed and served a Notice of Discontinuance.
As a result of this, the defendant made an application that sought to set aside the discontinuance (though no application to disapply QOCS was made) and recover wasted costs.
THE APPLICATION HEARING
Guided by the decision of DJ Baddeley, in Mayfield v Matthews & Sheffield Smelting Company (2019), the hearing Judge was not obliged to set aside the discontinuance before the defendant's application wasted costs was appraised.
'... A formal judgment dismissing the claim cannot be a requirement before a wasted order can be made on the ground that the lawyer pursued a hopeless case' [para 34 of Mayfield].
Wasted Costs (Step 1): Was This a 'Hopeless' Case?
DJ Robison determined, firstly, that for a claim to become 'hopeless', it should fall under the definition specified by Oxford Learner's Dictionaries:
'... if something is hopeless, there is no hope that it will get better or succeed'.[iii]
'Hopelessness' must be 'clear-cut' and refer to the 'totality of evidence'. The judge was careful not to give the impression that solicitors should be deterred from proceeding with 'perceived "risky" cases', e.g. those with 20% prospects of success.
Nevertheless, DJ Robinson was not inclined to identify an objective measure of 'hopelessness':
I do not intend to set any measure by which percentage a case ceases to be "hopeless", but nor would I suggest a case with only a 1 % chance could still be considered to have hope by virtue of that 1%. Every case must be determined on its own facts, weighing all of the evidence in the balance. Factors such as the amount in dispute, the importance of the issues and the nature of the claim are all relevant to that process'.
In essence, the threshold for 'hopelessness' was judged to have been surpassed from the moment at which Walker Prestons intimated that its expert would not face cross-examination at trial (13 June).
The inference of DJ Cook's order granting permission for both experts to give oral evidence was that, without such evidence, the proceedings could not be 'resolved' (for the purposes of CPR 35.1) by the party with whom the burden of proof rested:
'In the absence of Mr. Cox the Court ... would not be able to ask anything by way of clarification or amplification, it would not be able to have both Mr. Cox and Mr. Johnson together to be able to contrast and compare their opinions and further understand the nuances of any differences'.

Put simply, the claimant had 'no hope' of discharging its burden of proof at trial (the defendant rated the opposition's prospects of success as '"possible" but "fanciful") and the claim was doomed to fail.
Hence, from 13 June 2019, 'the writing was on the wall' and the claim had become 'hopeless'.
N.B. Incidentally, it was after the 1st stage of the wasted costs assessment that DJ Robinson cogently addressed the issue of setting aside the discontinuance, as 'hopelessness' is a prerequisite for both types of order. Scrutinising correspondence between both parties' solicitors in the run-up to trial, it was deemed, on the balance of probabilities, to be 'not only disingenuous, but ... dishonest ... by the standards of an ordinary, reasonable individual who had his knowledge' for Walker Prestons to play a 'dangerous game of chicken', when lying about the instruction of counsel. This was 'abusive' and satisfied the defendant's request for the discontinuance to be set aside.
Wasted Costs (Step 2): What Are the Standards of a Reasonable and Competent Legal Representative?
Having opted not to call its expert to give oral evidence, it was, as recognised above, apparent that there would be 'no hope of success at trial', not even enough to encourage a 'nuisance offer'. In light of this, DJ Robinson declared:
'... I do not find that a reasonable and competent legal representative would have continued with the case' [per Lantham LJ, in Dempsey v Johnstone [2003] EWCA Civ 1134].
As a result, it could be said that the claimant's solicitors had acted 'unreasonably', in accordance with s.51(7) of the Senior Courts Act 1981 and Practice Direction 46 para 5.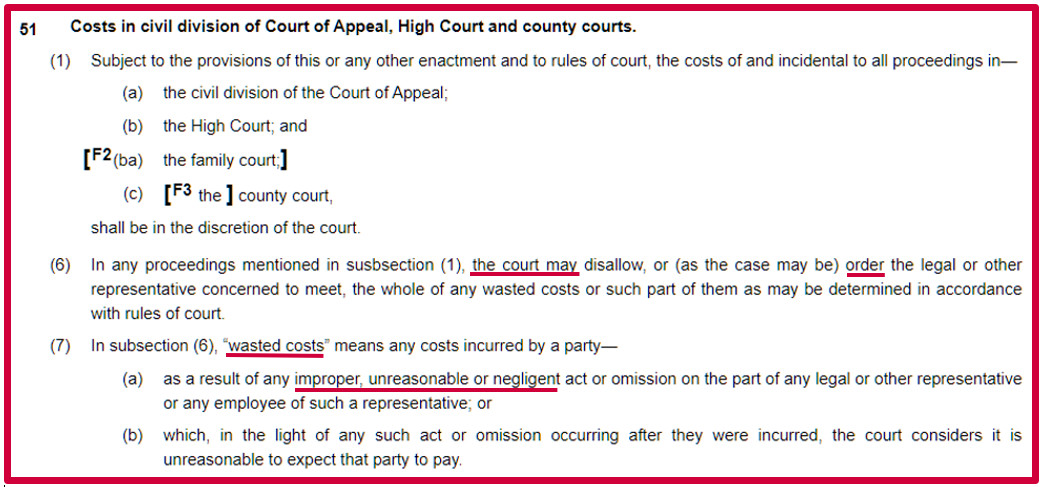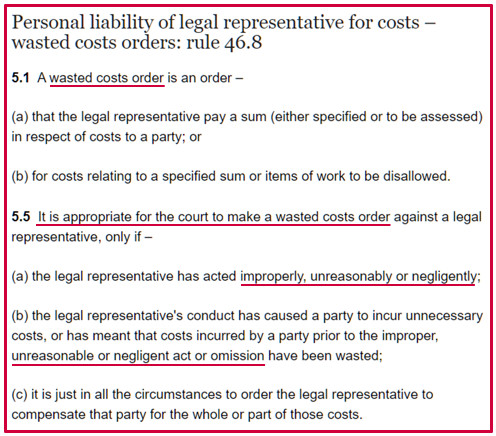 Wasted Costs (Step 3): Did Walker Prestons' Conduct Induce the Defendant to Incur Costs?
From the moment that the claim turned out to be 'hopeless', the judge found, on the balance of probabilities, that the defendant had incurred 'tangible' costs, e.g. preparing for conferences, putting together brief to Counsel, final planning, etc.
By allowing this to happen, it was his view that Walker Prestons' conduct could not be characterised as the conduct of a 'reasonable prudent solicitor'. In order to meet this description, a solicitor would be expected to 'act diligently to explore options at the earliest juncture and not leave matters to the wire', i.e. not discontinue hours before trial after the claim was rendered 'hopeless'.
Wasted Costs (Step 4): Was it 'Just' to Award Wasted Costs, in All Circumstances?
On this final question, counsel for the claimant sought to hide behind legal professional privilege, but this strategy was ultimately ineffective. DJ Robison was able to make a wasted costs order without the issue of privilege having been engaged. His decision had been based on 'findings of fact' and the 'substantive evidence'. It was significant that there had been an additional finding of 'dishonesty'.
Accordingly, the County Court judge made an order, setting aside the Notice of Discontinuance and further made a wasted costs order against Walker Prestons, in favour of the defendant, from the date that the claim became 'hopeless'. These costs were assessed at £13,800 and were payable within 21 days of the order being made.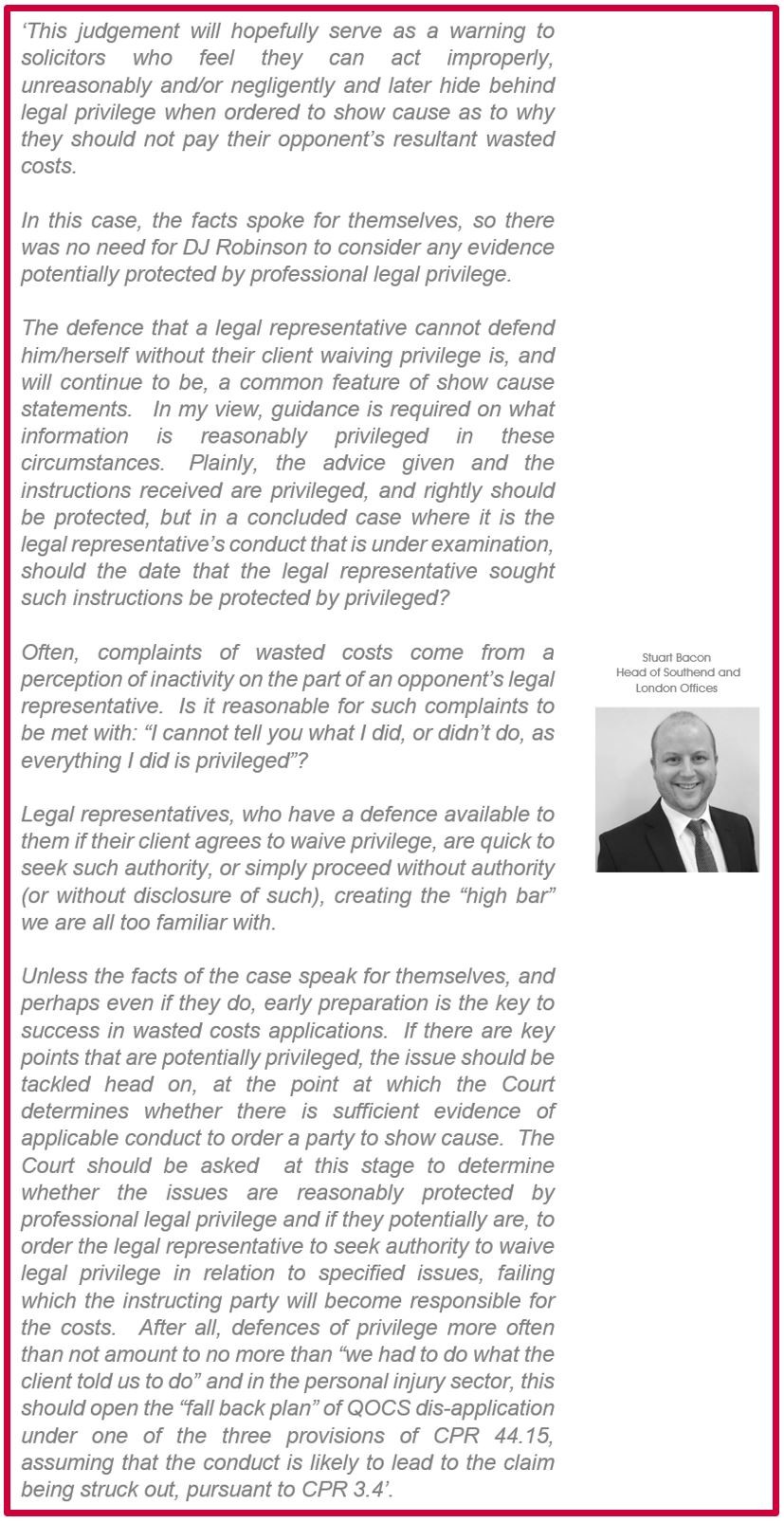 * [In edition 165 of BC Disease News (here), we analysed medical papers, produced by Dobie (2014)[iv] and Masterson et al (2016),[v] which undermined the association between AHL and occupational noise exposure. In the edition that followed (here), we quoted Her Honour Judge Staite, in Cran v Perkins Engines Company Limited, who further supported this position:[vi]
'I do not find ... that symmetrical noise exposure might, on balance of probability, cause asymmetrical hearing loss'.
More recently, in a review of de minimis decisions (here), including Harte v Hawker Siddeley Dynamics Ltd & 2 Ors[vii] and Nicholls v Osram Ltd & Anor,[viii] we observed that judges had commonly remarked that the presence of AHL had benefitted defendants, i.e. the better ear was typically taken as being the 'more reliable' ear.
[i] Damian Powell, 'Court orders Claimant's Solicitors to Pay Defendant's Wasted Costs Following Late Discontinuance in NIHL Claim' (October 2019 Ropewalk Chambers) <https://www.ropewalk.co.uk/uploads/DP%20-%20Hoy%20-v-%20Sec%20of%20State.pdf> accessed 18 February 2020.
[ii] Stephen Symington, 'Noise induced hearing loss: claimant's solicitors ordered to pay wasted costs following late discontinuance' (17 October 2019 DWF) <http://insurance.dwf.co.uk/news-updates/2019/10/noise-induced-hearing-loss-claimants-solicitors-ordered-to-pay-wasted-costs-following-late-discontinuance/> accessed 18 February 2020.
[iii] 'Hopeless' (Oxford Learner's Dictionaries) <https://www.oxfordlearnersdictionaries.com/definition/american_english/hopeless> accessed 28 February 2020.
[iv] Dobie RA., Does occupational noise cause asymmetric hearing loss? Ear Hear. 2014 Sep-Oct;35(5):577-9. <https://journals.lww.com/ear-hearing/Abstract/2014/09000/Does_Occupational_Noise_Cause_Asymmetric_Hearing.9.aspx> accessed 21 February 2020.
[v] Masterton L et al., Asymmetrical Hearing Loss in Cases of Industrial Noise Exposure: A Systematic Review of the Literature Otol Neurotol. 2016 Sep;37(8):998-1005. <http://dx.doi.org/10.1097/MAO.0000000000001104> accessed 21 February 2020.
[vi] (14 December 2012, Norwich County Court).
[vii] (Liverpool County Court, 2018).
[viii] (Newcastle County Court, 2018).