In edition 297 of BC Disease News (here), we reported on the case of Brown v Commissioner of Police of the Metropolis & Anor [2019] EWCA Civ 1724, which confirmed that QOCS does not automatically apply to 'mixed' claims, i.e. claims with both personal injury and non-personal injury elements.
Disapplication of QOCS in 'mixed' claims is subject to the court's discretion, pursuant to CPR 44.16(2)(b).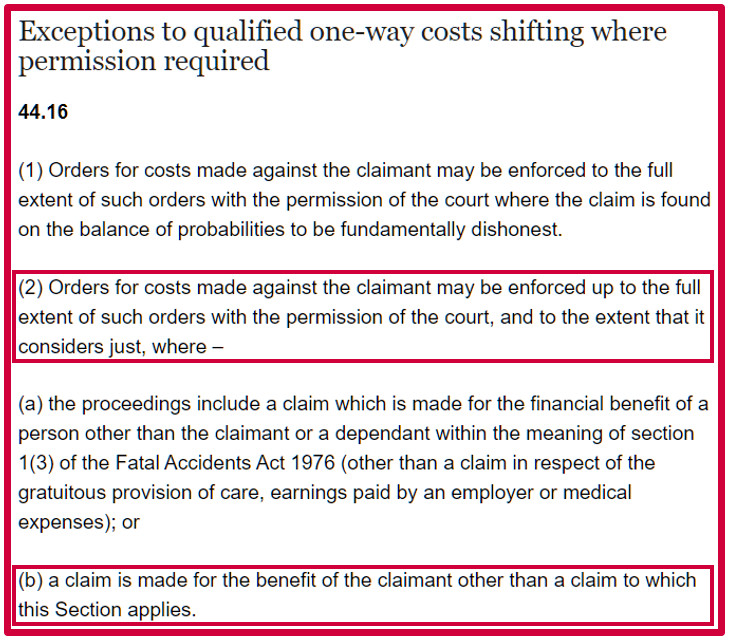 Envisaging the force of this finding in legal practice, Lord Justice Coulson considered, at paragraph 57 of his judgment, that:
'... when dealing with costs at the conclusion of such a case, the fact that QOCS protection would have been available for the personal injury claim will be the starting point, and possibly the finishing point too, of any exercise of the judge's discretion on costs. If (unlike the present case) the proceedings can fairly be described in the round as a personal injury case then, unless there are exceptional features of the non-personal injury claims (such as gross exaggeration of the alternative car hire claim, or something similar), I would expect the judge deciding costs to endeavour to achieve a 'cost neutral' result through the exercise of discretion. In this way, whilst it will obviously be a matter for the judge on the facts of the individual case, I consider it likely that, in most mixed claims of the type that I have described, QOCS protection will – in one way or another – continue to apply. It therefore follows that ... paragraph 12.6 of Practice Direction 44 ... needs to be amended as soon as possible.'
It has since emerged that the lacuna sub-committee's proposed re-draft of Practice Direction (PD) 44 para 12.6 was approved at the Civil Procedure Rule Committee's meeting, in December 2019.[i]
As such, effective from 6 April 2020, the 113th update to the CPR will change the wording of PD 44 para 12.6 to read:
By expressly omitting CPR 44.16(2)(b) from the new PD, the 'mixed' claim exception to QOCS is less 'adverse'. The amendment indicates that 'mixed' claims should not face the 'harsh' approach that befalls, for example, those who bring 'fundamentally dishonest' claims [CPR 44.16(1)].
However, it is vital that Coulson LJ's call for 'flexibility' to be 'preserved' is not eroded by this CPR adjustment.
In recent months, motor insurers have identified an unexpected rise in the number of 'common whiplash injury' claims that also seek damages for subjective tinnitus injury (we reported this here).
Whilst we are sceptical that this practice could be used as a tactic to bring low-value RTA claims out of the small claims track (the limit is expected to rise to £5,000, in line with the Civil Liability Act 2018 reforms), we also consider that 'tacking on' otologic injury claims could have dual purpose.
If, in a suppositious RTA claim, compensation is overwhelmingly vested in the credit hire element, but an abstract tinnitus element distorts the overall impression of the claim as being one of personal injury, the claimant could be allowed to 'hide behind QOCS protection'.
[i] Neil Rose, 'QOCS rule to change but not in relation to Tomlin orders' (18 February 2020 Litigation Futures) <https://www.litigationfutures.com/news/qocs-rule-to-change-but-not-in-relation-to-tomlin-orders> accessed 18 February 2020.