In 2009, a research report was prepared for the Health and Safety Executive (HSE), which provided the first long-term projections of mesothelioma mortality in Great Britain:
'Mesothelioma mortality amongst all males is predicted to peak at around 2,040 deaths with a 90% confidence interval (1959,2123) in 2016. Around 91,000 deaths are predicted to occur by 2050, with around 61,000 of these occurring from 2007 onwards'.
At the time, the Health and Safety Laboratory's model did not account for female mortality. Successive models, though, have embraced both sexes and suggest that there will be no significant decline in annual mesothelioma-related deaths (below 2,500), until after 2020.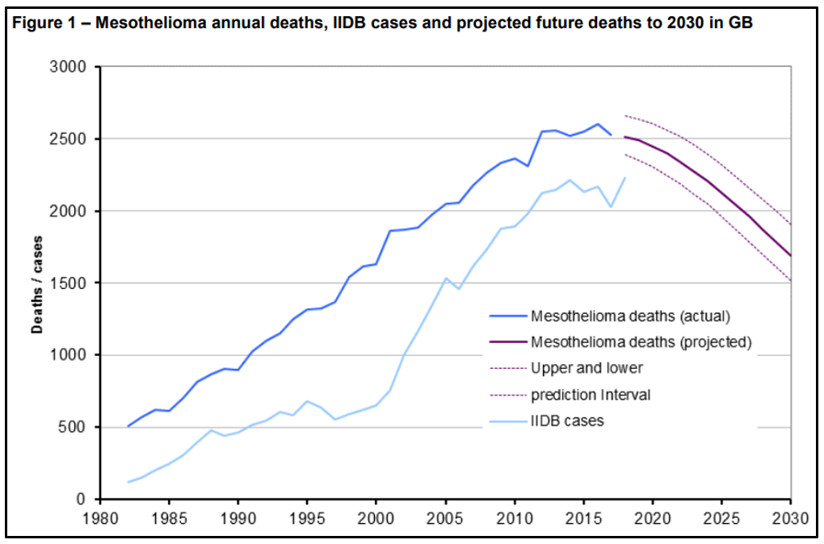 (Source: Health and Safety Executive)
In edition 300 of BC Disease News (here), we reported that 2,526 mesothelioma deaths had been recorded in 2017 [based on HSE's latest mesothelioma statistics for Great Britain, 2019, published on 30 October 2019)]. As figures continue to plateau, The Guardian cited the UK as having the highest levels of mesothelioma incidence in the world.[i]
What is the source of the current wave of deaths?
It is common knowledge that use of asbestos in dockyards was prevalent, during the 20th century.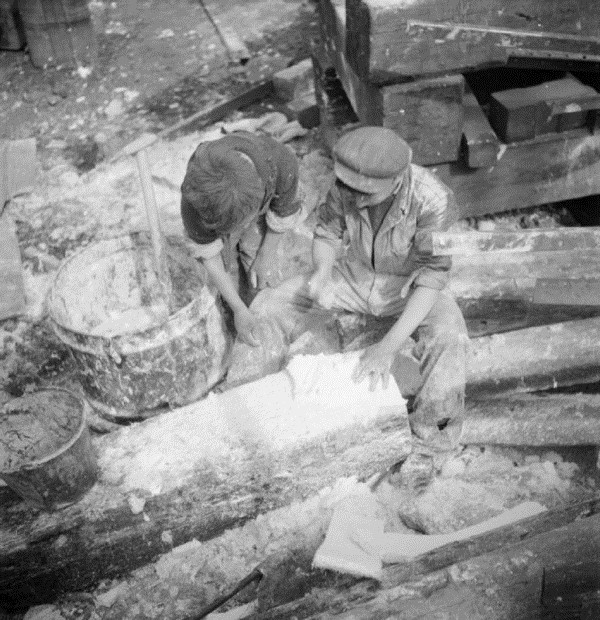 [Source: Wikimedia Commons – Cecil Beaton (Between 1939 and 1945): 'Tyneside Shipyards, 1943 - Two young workers mixing asbestos insulation']
However, new research, carried out by the National Heart & Lung Institute, at Imperial College London, has learned that 'mesothelioma deaths are becoming more dispersed' in parts of the UK where shipbuilding was rife.
To arrive at this conclusion, researchers compared the mesothelioma mortality ratio for 2002-2008 with the corresponding ratio for 2009-2015. Using HSE and OpenStreetMap data, they measured the distance between the homes of deceased participants and the nearest dockyard.
Findings were published in the European Respiratory journal, in October 2019.[ii]
Having assessed whether there was a geographical shift in mortality, Lead Author and Research Postgraduate, Dr. Carl Reynolds, stated that:
'For most districts, age-adjusted mesothelioma mortality rates increased through 2002-2015 but the relative contribution from districts with a dockyard fell'.[iii]
Essentially, the group of researchers ascertained that, while former dockyard worker are still dying of mesothelioma (there is still a strong 'spatial' connection), the association is not as strong as it used to be.
From this, it can be implied that sources of asbestos exposure, other than dockyard exposure, have contributed increasingly towards mesothelioma mortality in recent years.
[i] Frances Perraudin, 'Britain's death toll from asbestos at crisis level, figures reveal' (7 July 2019 The Guardian) <https://www.theguardian.com/society/2019/jul/07/britains-death-toll-from-asbestos-at-crisis-level-figures-reveal> accessed 12 February 2020.
[ii] Reynolds C J et al., Mesothelioma mortality in Great Britain: how much longer will dockyards dominate? Occupational & Environmental Medicine. 2019; 54: Suppl. 63, PA5251. https://erj.ersjournals.com/content/54/suppl_63/PA5251
[iii] Alex Strauss, 'Mesothelioma Linked to Shipbuilding Finally Falling in the UK' (5 November 2019 Surviving Mesothelioma) <https://survivingmesothelioma.com/mesothelioma-linked-shipbuilding/> accessed 12 February 2020.