In a May 2019 edition of BC Disease News (here), we reported that the Ministry of Justice (MoJ) had published a proposed draft Fatal Accidents Act 1976 (Remedial) Order 2019.
The purpose of this Remedial Order was to revise the restrictive wording of s.1A(2) of the Fatal Accidents Act 1976, which Sir Terence Etherton MR had deemed, in the case of Smith v Lancashire Teaching Hospitals NHS Foundation Trust & Ors (Rev 2) [2017] EWCA Civ 1916, to be incompatible with Articles 8 (right to respect for private and family life) and 14 (prohibition of discrimination) of the European Convention on Human Rights (ECHR), in accordance with s.4 of the Human Rights Act (HRA) 1998.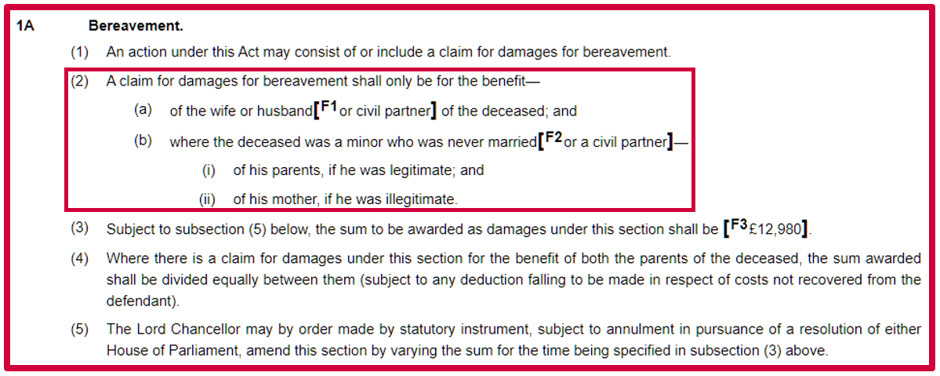 As such, s.2 of the Government institution's proposed Order would revise the wording of the existing Act by enabling 'a claimant who cohabited with the deceased person for a period of at least two years immediately prior to the death' to bring a claim for 'bereavement' damages. This was a reform first recommended by the Law Commission, in 1999.[i]
Another implication of the Order is that, should there be multiple qualifying cohabitants, e.g. a separated spouse and a new cohabiting partner, the 'bereavement' award would be divided equally.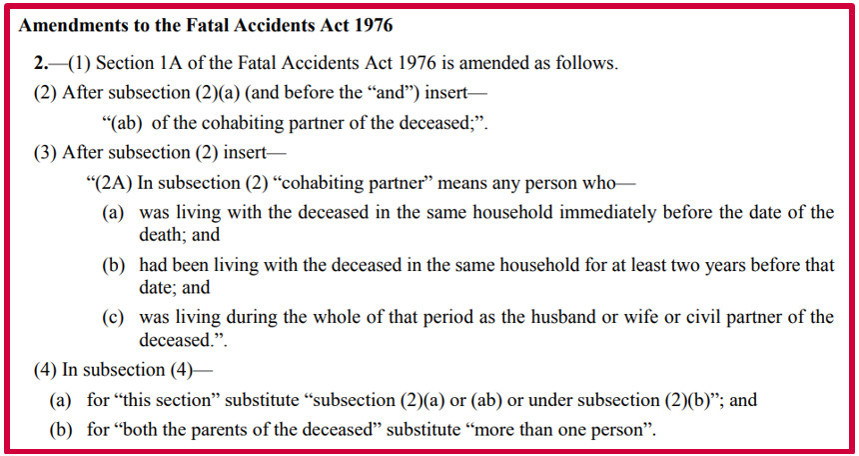 The explanatory memorandum to the proposal explained that the MoJ would not be preparing a full impact assessment because preliminary assessments had demonstrated that the 'small' financial impact and 'low' number of future orders for damages, affecting insurers, did not warrant such an exercise.
Having been initially presented under the 'non-urgent' procedure, the Joint Committee on Human Rights called for the 'views' of interested groups and individuals to be heard.[ii]
The Committee subsequently released a report, in July 2019 (at the end of the 60-day reporting period), which welcomed the fact that the Governmental proposal had remedied the incompatibility issue.
Ultimately, though, it concluded that a consultation on reform of the 'bereavement' damages scheme, 'as a whole', was needed,[iii] echoing the Association of Personal Injury Lawyers' (APIL) position.
Therefore, it could not be recommended that the draft Order be laid before Parliament 'in the same terms' as the proposal.
Last week, however, the Government confirmed that it is not anticipating a wider review of the current system through which 'bereavement' damages are awarded. [iv]
Discussing what 'little prospect' remains of launching a supplementary consultation, the MoJ stated:
'The government does not accept that the existing provisions on bereavement damages are discriminatory. It believes that the existing system involving a fixed level of award and clear eligibility criteria represents a reasonable, proportionate and practical approach, and does not have any plans for wider consultation on the bereavement damages regime or the FAA more generally'.
It went on to emphasise that 'bereavement' damages were 'only ever intended to be a token payment payable to a limited group of people'.
In response, APIL tweeted that the Government's reaction had been 'not nearly good enough' and thus, it would not be letting go of its campaign for extended reform.[v]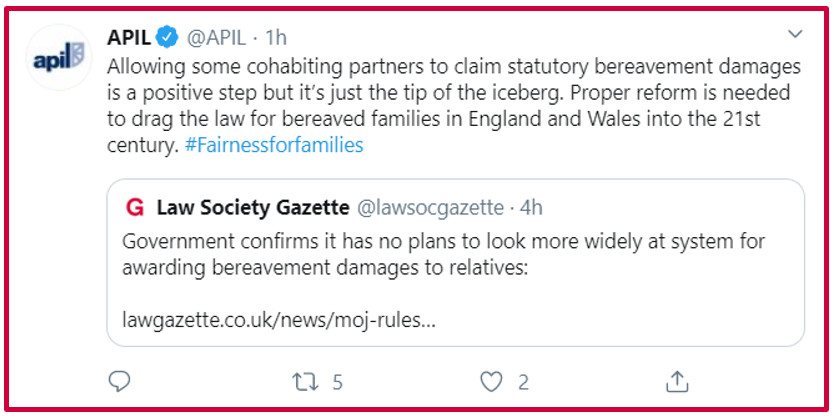 The Joint Select Committee acknowledges that wider reform would undoubtedly fall outside of the scope of the Government's Remedial Order powers and would therefore require primary legislation.
Nonetheless, it senses that without extended reform of the lingering issues, which we address below, s.1A of the 1976 Act is at risk of further legal challenge.
Reconsidering the Definition That Captures Eligible Partners
For cohabiting partners, the Committee accepts that the Government's inclusion of a 'qualifying period' will, at least to some extent, draw a 'necessary' (albeit 'arbitrary') line to identify relationships of 'sufficient permanence and commitment'. Concern remains that 2-years may not always be the 'most appropriate qualifying factor' for a 'permanent' and 'loyal' relationship. As a result, the Committee has called for the Government to publish 'clearer justification' for imposing a timeframe on cohabiting couples, which is not imposed on married or civilly partnered couples, to allow for proper scrutiny.
What about non-cohabiting partners? In its report, the Committee expressed that those who are 'in a relationship of permanence and commitment with the deceased and were engaged to be married, but chose not to cohabit prior to marriage, for personal, familial or religious reasons', should not be distinguished for their lack of cohabitation:
'We suggest that the FAA could adopt the definition of cohabiting couples as "two people living as partners in an enduring relationship"' – the definition of 'couple', under s.144 of the Adoption and Children Act 2002.
Processing the Impact of Divorce on Grief
In regards to eligible cohabitees, who are in the process of getting a divorce, the Committee's position is that, whilst it is preferable to avoid 'intrusive enquiries into personal relationships':
'… there may be some cases where awarding damages to the spouse is unfair given the purpose of the award of damages is to compensate for grief following the loss of an intimate, stable and long-term personal relationship'.
Contextualising the Extent and Territorial Application of the Fatal Accidents Act 1976
As it stands, the Remedial Order only affects the jurisdiction of England and Wales, meaning that 'bereavement' damages vary across the UK.
APIL has branded the current system a 'lottery'.
In England and Wales, the fixed lump sum for 'bereavement' damages has been £12,980, since April 2013. By comparison, the tariff is fixed at £15,100, in Northern Ireland.
While the MoJ has pledged that steps will soon be taken to account for inflation, which may bridge the gap to the Northern Irish cap, it will still bear no resemblance to the position in Scotland. There, 'bereavement' damages are referred to as damages for 'loss of society', under the Damages (Scotland) Act 2011. Each claim is assessed on an individual basis, by reference to legal precedent and the nature of the relationship between the claimant and the deceased. In the case of Anderson v Brig Brae Garage Limited,[vi] the claimant was awarded a record £140,000.
The Committee questions whether damages assessed on a case-by-case basis are fairer, analogising non-fatal general damages for pain suffering and loss of amenity (PSLA).
Adding to the List of Eligible Familial Claimants
The Committee determined, in its report, that the current list of eligible claimants, under the 1976 Act, is 'unprincipled' and unjustifiably 'discriminatory' against other 'genuine close relationships', including those between immediate family members. As such, the Committee submits that s.1A should be broadened to include:
Fathers grieving the loss of children born outside of wedlock (only mothers can receive awards for this 'type' of child);

'... reference to children as "legitimate" or "not legitimate" is archaic and stigmatising. Children should not be labelled by the marital status of their parents'.
'The death of a child will be the source of profound grief irrespective of the marital status of the parents'.

Parents grieving the loss of adult or married children;

'The grief of a parent will be no less following the loss of a child who is over the age of 18, or a child who has married or entered a civil partnership'.

Children grieving the loss of a parent; and
Siblings grieving the loss of a brother or sister.
Stay tuned for more updates in BC Disease News, as more debate can be expected before the Remedial Order is signed into law ('made').
[i] The Law Commission, 'CLAIMS FOR WRONGFUL DEATH – Item 1 of the Seventh Programme of Law Reform: Damages' (LAW COM No 263) (November 1999) <http://www.lawcom.gov.uk/app/uploads/2015/03/lc263_Claims_for_Wrongful_Death.pdf> accessed 13 February 2020.
[ii] Joint Select Committee, 'Send your views: Fatal Accidents Act 1976 (Remedial) Order 2019' (16 May 2019 Parliament.uk) <https://www.parliament.uk/business/committees/committees-a-z/joint-select/human-rights-committee/news-parliament-2017/fatal-accidents-remedial-order-launch-17-19/> accessed 13 February 2020.
[iii] Joint Select Committee, 'Fatal Accidents Act changes welcomed by Committee' (16 July 2019 Parliament.uk) <https://www.parliament.uk/business/committees/committees-a-z/joint-select/human-rights-committee/news-parliament-2017/fatal-accidents-report-published-17-19/> accessed 13 February 2020.
[iv] John Hyde, 'MoJ rules out any major changes to bereavement damages system' (13 February 2020 Law Gazette) <https://www.lawgazette.co.uk/news/moj-rules-out-any-major-changes-to-bereavement-damages-system/5103070.article> accessed 13 February 2020.
[v] APIL's Twitter page (@APIL) <https://twitter.com/APIL?ref_src=twsrc%5Egoogle%7Ctwcamp%5Eserp%7Ctwgr%5Eauthor> accessed 13 February 2020.
[vi] (Court of Session, 2015).